The S&P 500, Dow Jones Industrial Average, and Nasdaq 100 are each trading at all-time highs. Many investors see this as a good time to sell, especially given the unprecedented 8-year run-up and the ever-persistent threat of wild swings as the Trump administration gets itself involved in crisis after crisis.
I, too, was worried about the indices' lofty heights, until I looked at it from a different perspective. You see, if you put yourself in the shoes of a European, Japanese, or Chinese person, the US stock market still looks extremely attractive.
Why is that? Well, there are a couple of reasons. First, the U.S. dollar has appreciated remarkably against foreign currencies over the past twelve months.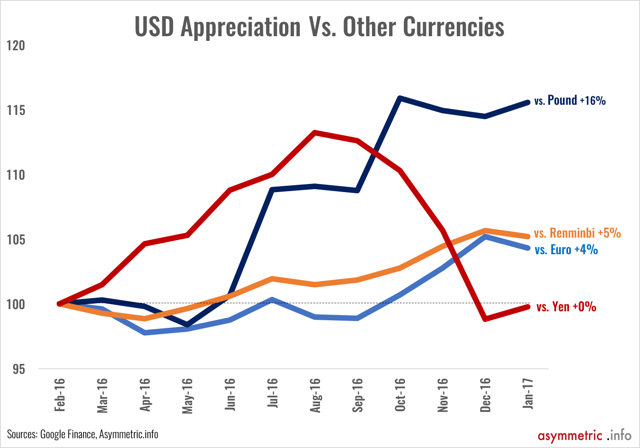 The British Pound has taken a pounding since Brexit; the Chinese Renminbi is under pressure due to massive ($1T) capital outflows; and the Euro suffers from Southern European woes and fear of an EU breakup. All of these forces make the U.S. Dollar a safe haven and this further exacerbates the other currencies' downfall.
The second reason is that U.S. companies are reporting strong profitability, and the upper echelon of corporate America have so much cash in relation to their debt, that they are better equipped to survive massive geopolitical shocks than are national governments.
The combined effect makes U.S. securities-particularly those from the leading American companies-extremely attractive to an overseas buyer.
Another U.S. asset class that has appeal is real estate. Asian and European investors have been buying up real estate around the globe as a vehicle to get large sums of money out of their home country (e.g. China) and for diversification into tangable assets. Hong Kong, Aukland, and Vancouver have been the biggest recent recipients of overseas cash, but New York, San Francisco, and Los Angeles have also benefited from huge foreign inflows.
The chart below contrasts Germany's, the UK's, Japan's, and China's view of their home markets vis-a-vis the U.S. markets after taking into account the USD exchange rate. Specifically, I evaluated:
| | | |
| --- | --- | --- |
| Country | Stock Index | Residential Real Estate Market |
| Germany | DAX | Munich |
| UK | FTSE 100 | London |
| Japan | Nikkei 225 | Tokyo |
| China | SSE Composite Index | Shanghai |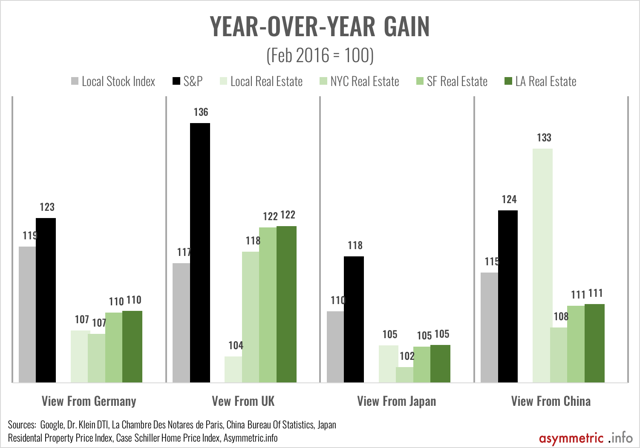 Over the past 12 months, the currency-adjusted S&P 500 significantly outperformed all of the other countries' stock indices and real estate markets except for China's over-inflated Shanghai real estate market. The DAX performed almost on par with the S&P 500, but if you look at the rest of continental Europe's major indices, the difference is quite substantial.
And this is why I have shifted 90% of my stock portfolio into the Dow Jones Industrial Average ETF. (My belief is that the 30 companies in the DJIA will be viewed favorably to even the Nasdaq 100 or the S&P 500.) In 2017, I see accelerating capital flows from Europe because of jitters about the 2017 parliamentary elections, Japan because of unsustainable government & corporate debt, and China because of a rush to get money out before draconian measures are taken or because Beijing decides to freely float the Renminbi which will sink the Yuan much further.
I'm not totally bullish though. I have placed limit orders to sell should the DJIA suddenly drop by more than 4%. I guess you can call me cautiously optimistic.
Disclosure: I am/we are long DIA.