Furmanite Corporation FRM poses a unique opportunity at its current valuation. Going through their second quarter results you find a company that increased revenues 26.1% and increased 2013 revenue and earnings guidance, all very positive signs of future growth. This company has not only beat earnings in recent quarters but is poised to continue to do so in future quarters. Current growth estimates for this year are 2000% compared to 3.70% growth expected from the sector. FRM also has a PEG Ratio that is lower than that of the S&P 500 and is expected to grow at a rate of 15% over the next 5 years after growing 12.21% in the past 5 years. In addition to this new found growth there are 3 additional factors that make FRM especially attractive right now.
1. Diversity-
FRM has a very diverse business which is in part why investors have been so negative on this stock until recently. When you have so many different sources of income it can be difficult to manage where you focus your attention and where you don't. Management seems to have unlocked the key to generating growth and feels confident in its ability to continue to deliver going forward. This in part can be attributed to FRM services, which include the ability monitor, maintain, renew and construct the global energy, industrial and municipal infrastructures. Which means even in a slowdown environment equipment and infrastructure still needs to be repaired and managed, which saves FRM from solely relying on new construction project or jobs in order to consistently beat revenues and eps.
2. China and the global recovery-
One of the most talked about stocks in 2013 has been CAT because of its exposure to China and the global economy. The hit on CAT all year has been the global slowdown and China and cause a lot of very smart people to go short not only this name but others that have exposure to global growth. The China meltdown story is over a year old now and recent PMI numbers show that things are at the least bottoming if not turning around completely. As fears of a global slowdown dissipate it will only add to the strength of a stock like FRM that is tied to global economies.
3. Stability-
This company was founded in 1920 which leaves me confident in the management and their ability to execute. Any company that is able to stick around for over 80 years and have 75 offices on six continents worldwide is a company worth taking a look at. Due to recent changes in management the stock has been on a tear along with growth estimates and outlooks for the company. Here is a statement from the CEO on last quarters results,
"These are still very early days in the transformation of Furmanite, but this quarter's results give some indication of our future performance potential as we increasingly engage our entire global team. We have had all fundamental elements of our chosen culture, strategy and structure in place now for only six months, so this initial market validation of our direction is encouraging."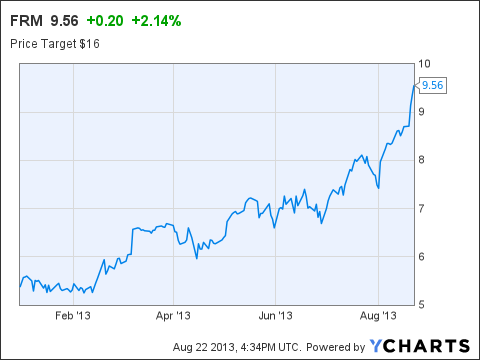 Disclosure: I am long FRM.
Additional disclosure: Price Target of $16