My early look at US companies began back in 2014 when marijuana companies took off on an epic rocket launch causing stock prices to sizzle and the same for sector coverage.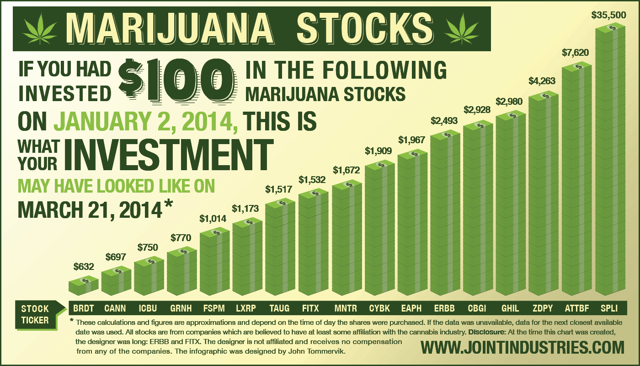 Skip forward to 2016 and you find incubating cannabis companies still struggling for cash flow but times are changing, because of further legalization of marijuana at the State level. Both medical marijuana and recreational have formed a base camp. Striking out across the nation as acceptance of above ground cannabis industry is more commonly recognized as good governance by political leaders everywhere.
The legalization of marijuana industry began spilling out slowly, first a small poodle but now a large pool of opportunity has formed around the world and the Americas. While many of the key large cap indexes have been falling, surprisingly cannabis companies market caps have been holding strong against the bear market. Overall revenues of the sector are on fire, fueled by the steady capitulation of new fertile ground around the US and Americas, a true growth opportunity.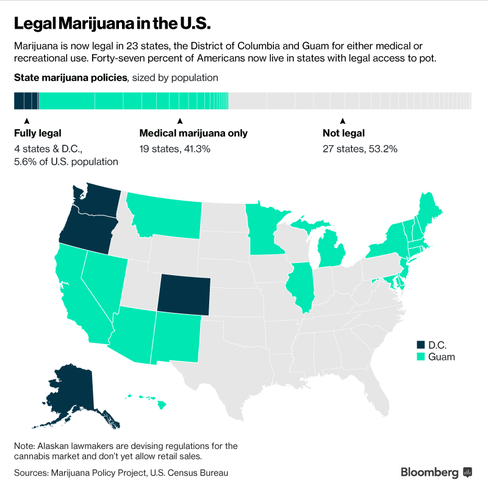 The US marijuana industry campaigns for easing restrictive business environments that impede early business initiatives. Ultra competitive and fragmented cannabis companies encounter banking, multifarious inter-state regulations, and State but to a greater degree, Federal political uncertainty. Not an easy task picking winners requiring speculators to understand the shifting dynamics of the market space when navigating the fledgling cannabis investment space.
Finding companies capitalized and at reasonable valuations is a challenge still, because future expectations inflate share prices as speculators see a prosperous industry emerging.
And one of those speculators is me.
Cannabis Plays On the Radar
GW Pharmaceuticals plc (GWPH) and Terra Tech Corp. (OTCQX:TRTC) are ones I am following more closely too, however this article is spot lighting a fairly new but Oregon favorite, Golden Leaf Holdings US ticker is expected to be authorized soon (OTC:GLDFF). Also available to European buyers (FRA: DE:9G) with the original listing in Canada C:(GLH) completing the stock markets shares trade on.
Other Canadian cannabis producers like Aphria Inc. (OTC:APHQF) are now becoming cash flow positive and very investable as well. The second quarter's level of annualized sales crossed the Company's expected break-even threshold.
Some good fortune and smart managers have carried early Canadian entrants though the tribulations of regulatory restrictions and licensing delays. I highlighted some of my favorites from Capitalizing On Cannabis In Canada - Part 1 Alan Brochstein, a synopsis written by Seeking Alpha contributor and industry expert, Alan Brochstein CFA.
Aphria (OTCQB:APHQF), which trades on the TSX Venture with the symbol APH, reported sales in excess of $2mm in the quarter ending in November. The company has a greenhouse in Ontario and has a unique model that incorporates both retail and wholesale sales.

Mettrum (OTC:MQTRF),which trades on the TSX Venture with the symbol MT, recently expanded its capacity. The company, which reported sales of $1.7mm in the quarter ending in September, holds three different licenses, including two to sell extracts, and operates three facilities in Ontario and also has a hemp functional foods business.

Canopy Growth (OTC:TWMJF), which trades on the TSX Venture with the symbol CGC, is by any measure the industry leader. It holds four different licenses, including leading brand Tweed, and acquired Bedrocan Cannabis earlier this year. The company, which reported sales of $2.5mm in the quarter ending in September, has two indoor grow facilities as well as a massive greenhouse, all in Ontario, and operates a physical storefront that helps with patient acquisition.

Supreme Pharmaceuticals (OTCPK:SPRWF), which trades on the CSE with the symbol SL and has an OTC listing, was recently inspected for the first time after a very long wait. If licensed, the company will grow cannabis in its massive Ontario greenhouse.
Terra Tech TRTC, +62.71% a cannabis-focused agriculture company, announced its acquisition of the California-based Blum Oakland dispensary on Tuesday. The merger marks the first time a fully integrated company that is directly involved with the production, extraction and sale of cannabis can be publicly traded in the US. Cannabis-related companies are mostly listed on OTC markets - and some have been added to the Nasdaq - however they are mostly ancillary businesses that don't deal directly with the product.
It is part of my hope to bring new ideas to investors as this industry takes shape. It is worth your time to understand where the value hides.
Headwinds for US Cannabis Companies
Elections coming in 2016 will be the next chance to begin a change towards less restrictive laws. Nothing is certain yet on the election results but I anticipate a day where cannabis business will be free at last, just don't know when.
The USA Federal government state any Controlled Substance cannot be relocated intrastate.
A cannabis extraction machine can be relocated from State to State, however, the weight of the machine hinders movement. The products that are generated from the Extraction machine can not travel outside state lines because they are part of the Controlled Substance Schedules of the DEA is subjected to federal prosecution.
When movement of capital and equipment and products is curtailed by inter state prohibition laws, the expansion efforts have to be constructed in ways that may otherwise be unsatisfactory. National scaling of cannabis companies awaits kinder reform of present day cannabis laws but that's the great hope of investors.
Banking for a cannabis business is also a headwind. Few banks are willing to take a chance with companies producing cannabis products preferring to stay what is termed, one step from the plant. In other words ancillary businesses are the main banking clients and few banking services are available until Federal laws are changed lowering the risk level for lenders.
Examples of Regulatory headwinds
Oregon and Washington State are both legal states for cannabis production and use and are right next to each other, however, it is still illegal to move interstate freely, so careful consideration has to be given to current State licensing rules and also the Federal enforcement of current Federal laws.
What one company in California is doing is extracting the raw food stuff and recipe to other states where cannabis is legal, then at that state, they mix the ingredient with the cannabis already at that state, by doing this, the food moves across state line but the cannabis does not since it is already at the other state.
Just like if a person kidnaps a person from California and drives to Nevada, the Nevada law enforcement has no jurisdiction since that person crossed state lines. It now belongs the Federal government, specifically the FBI (Federal Bureau of Investigation).
To summarize, the current prohibition based laws federally and with many states distort and hinder cannabis business free flow of resources, product, capital and development.
Foreign Exchange and Stock Exchange
The foreign exchange rate is a factor for Golden Leaf Holdings at this early stage because it has been listed first on a Canadian Stock exchange and the funding of those shares comes from Canadian dollar based investors. This has added some extra cost to funding Capital Expenditures and business shortfalls on any PP deals.
American dollar strength versus the Canadian loonie makes it costly to fund US business with Canadian Capital.
To the companies credit though, they have found large American accredited investors including their former Chairman of the Board, Rick Miller, to purchase shares privately with US dollars too. And the earnings will be in American dollars when the company develops steady cash flow and net profits. No currency hedging is in place that I can find.
OTC listing approval for GLDFF expected soon
Delays are unexplained and lengthy in achieving a pink sheet or better listing on the OTC. It currently exists as a grey sheet listing and buyers can purchase shares there. Check with your broker or seek professional advice if necessary.
The US Politics of marijuana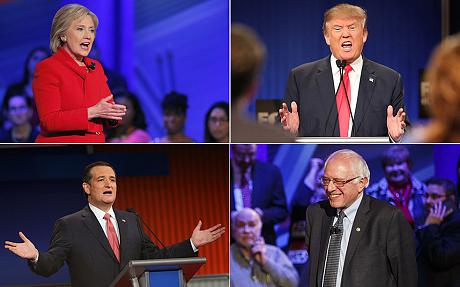 Photo courtesy of "The Telegraph"
The field of candidates for the White House have ranging views as proponents of marijuana law reforms or conversely; some stand in opposition of further Federal relaxation of current laws.
Bernie Sander's represents marijuana advocates views with strong positions as Democrats vote to choose the next leader.
Recreational Use of Marijuana: Bernie has said he would vote yes as a resident of a state considering legalization. For federal legalization, he has said that he supports ending the federal prohibition on marijuana, allowing states to opt for legalization if they so choose.
Hilary Clinton answers more cautiously on reforms but would not be coming out in support of the types of reforms legal state cannabis companies have been anxious for. She seems to want to watch and learn from these statements.
"I think that states are the laboratories of democracy, and four states have already taken action to legalize, and it will be important that other states and the federal government take account of how that's being done, what we learn from what they're doing. I think that the states moving forward is appropriate and I think the federal government has to move to make this more available for research that they can then distribute to interested people across our country.
Only really modest shift from current Federal opposition treatment of cannabis as unlawful is promised in her speech.
I do think on the federal level we need to remove marijuana from the Schedule I of drugs, move it to Schedule II, which will permit it to be the basis for medical research because it's important that we learn as much as possible. And since it was a Schedule I drug we haven't done that research. A lot of experts in the field are telling me we've got to learn a lot more." WBZ NewsRadio, January 25, 2016
Donald Trump has softened his approach heading into an election year and leading republican candidates for their representative for President.
"Marijuana is such a big thing," Trump said. "I think medical should happen -- right? Don't we agree? I think so. And then I really believe we should leave it up to the states."
With all this uncertainty facing investors because of political implications there is definite progress at the State levels and more markets expand into either MMJ or recreational or both. In 2016 there is Nevada legalization initiative qualified for the ballot and heads the list of 14 State policies as reviewed by Leafly.
Senator Ted Cruz, another front runner for the Republican nod has notably favored States deciding for themselves on the legalization issue even though he himself is opposed to recreational use.
"When it comes to a question of legalizing marijuana, I don't support legalizing marijuana," he told Hugh Hewitt in April. "If it were on the ballot in the state of Texas, I would vote no. But I also believe that's a legitimate question for the states to make a determination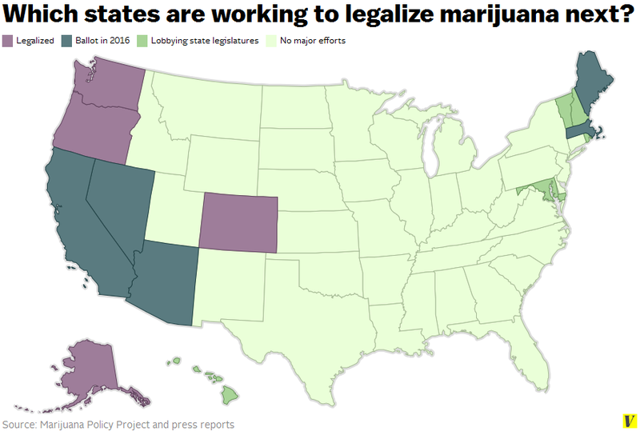 Source of photo Marijuana Policy Project
Further legalization votes are on the ballot for individual States in 2016
California is another State that investors eye eagerly because of sheer market size alone equaling all of Canada in possible consumers.
California -- Legalization advocates filed the state's ninth recreational marijuana legalization initiative, the Adult Use of Marijuana Act, but need to collect 365,880 signatures before the state's Feb. 4 deadline to appear on the 2016 ballot.
At date of December 31, 2015 here is a list of States with ballot measures or legislative bills. Arizona is another state with a legalization initiative. All in all there will be more market opening in the US states but the Federal impediments still remain for businesses in this industry.
Investors await election results and if a US President advocate for marijuana legalization wins the day, there will be substantial barriers removed from inter state mobility and investment banking as well as ordinary banking headwinds.
Marijuana lobbyists are spearheading public acceptance of marijuana as the right approach for governments of the future and controlled regulated cannabis business and small entrepreneurs an avenue for their investment.
The Rising Tide lifts all boats
There is money to be made for investors and growth potential is astronomical on the upside given all these headwinds and risks. Not all boats manage to rise with the tide especially in crowded seas and some will sink but the better the captain, the more likely the boat is to reach shore.
Investors, meet your captains.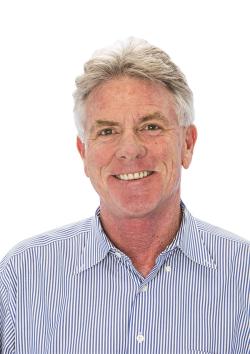 Former Cara CEO tackles marijuana Robinson, 61, has been in the food business for more than 30 years, most recently as chief executive of Toronto-based Cara Operations Ltd. Now he is running Golden Leaf, which began trading on the Canadian Securities Exchange on Wednesday.
Don Robinson spent more than 20 years with Mars Incorporated as a CEO since 1990 in various global postings, before his role as President and CEO of Cara Operations, the leading food service and restaurant operator in Canada.
Mr. Robinson was Executive Director of The Food & Consumer Products of Canada, and the Chairman of the Board of the Confectionery Manufacturers Association of Canada. Mr. Robinson has been a member of various academic councils, including Ted Rogers School of Management Advisory Council, University of Guelph School of Hospitality & Tourism Management Policy Advisory Board and the Queen's University School of Business Advisory Board
After leaving Cara in 2013, Robinson worked briefly on licensing applications for medical pot in Canada and is a relative newcomer to cannabis culture and products. Golden Leaf Director and President, Andy Hartogh.
Andy is expert and visionary in the area of Cannabis growing and processing. He has 9 years of progressive experience in the Oregon market and is highly respected in the cannabis industry. Andy has developed proprietary growing techniques that set GLH apart in terms of quality and production. In November of 2013, Andy created a CO2 extraction company turning excess marijuana material into a usable, highly profitable product. Andy's efforts and vision are the foundation that Golden Leaf builds upon for the future.
Michael Cohl recently stepped in as a Director upon the departure of former COB Rick Miller. There is not much clarification on the reasons for the Miller exit but Mr. Cohl is a definite asset to the companies legitimacy and stature.
Michael Cohl's career spans over 45 years in the entertainment business, producing worldwide music tours including The Rolling Stones, Pink Floyd, U2, Barbra Streisand, and many more, as well as films such as Pete Seeger: Power of Song (Emmy Award), LENNONYC (Peabody and Emmy Awards), Big Easy Express (Grammy Award), a film about Harry Belafonte, Sing Your Song (NAACP Image Award), and The Rolling Stones classics Live at the Max and Shine a Light. Mr. Cohl has also produced live shows such as the children's show Yo Gabba Gabba! Live! (2010 Billboard Touring Award for Creative Content) and has spent decades on and off Broadway with shows including SpiderMan: Turn Off The Dark (for which Mr. Cohl was voted Producer of the Year 2011), Rock of Ages, and Spamalot (Tony Award). Mr. Cohl was previously the chairman of Live Nation, was inducted into the Canadian Rock n Roll/Music Hall of Fame, and has received a star on Canada's Walk of Fame. Among his many other awards, Michael has also been honored with the Billboard Legend of Live Award, the TJ Martell Foundation Man of the Year Award, and a JUNO Award for Special Achievement. Michael is the founder and chairman of Iconic Entertainment Studios and is currently developing, producing, and promoting over a dozen properties.
All the tools are there to make a successful national cannabis business but raising capital was an issue with the latest convertible debenture offering being under subscribed while revenues are also experiencing a rough patch. Quick moving so far, the team has required cash infusions and is negotiating its way through a forest of restrictive laws but does look forward to the resolution of regulatory road blocks and inevitable growth.
The companies management team has some very impressive resumes and is unquestionably capable of building a company to national scale. What else is also certain, is that the road blocks to mobility enforced on cannabis companies eager to move to new States is a thorn in managements strategies.
With or without restrictions, Golden Leaf's future presides in capable hands guiding the ship through choppy waters but keeping a long term vision through early unpredictability of regulated US cannabis business. It will get better. Everyone country wide is working towards better laws especially Golden Leaf in Oregon and now Washington. Golden Leaf has a seat at the table during legislative Q&A sessions.
Golden Leaf aims to be branded nationwide as a first to market venture and is prepared to tackle the challenges as they come. Inside ownership is large and a compelling driver and motivator for management to weave a course to shareholder's benefit.
Business Outline
Golden Leaf is a vertically integrated growing operation, cannabis extraction producer and leader while also developing three brands of products and forming exciting new partnerships. Proven national brand managers attempt to leverage the pain of early year restrictions but constant change is the only thing certain.
"What Makes Us Different"

Lowest Cost Production of Highest Quality Cannabis Oils
Powerful Brand Position and Equity
Scalable and Proprietary Supply Chain
Proven Business Model Exportable to Other States
Winning Operational Practices
With the current deal that is being completed on financing of the partnership agreement of BMF and Liberty Reach brands, my hesitation as an investor is the business plan talks of exporting a proven business model to other states. The deal as I see it is not the same business model and differs substantially from Oregon's cash challenging but successful model.
The capital invested in Oregon's model demonstrates the potential for Golden Leaf Holdings as revenues lead the sector and steadily continue large quarterly gains while operating margins are improving and healthy.
Irons in the Fire
Some promising cannabis companies are privately owned like Dixie Brands, although the partnership with Golden Leaf is a way to leverage Dixie Brands success in the edibles market. Besides cultivating and extracting cannabis oils, Golden Leaf's three brands promote selling points in the cannabis market for Oregon.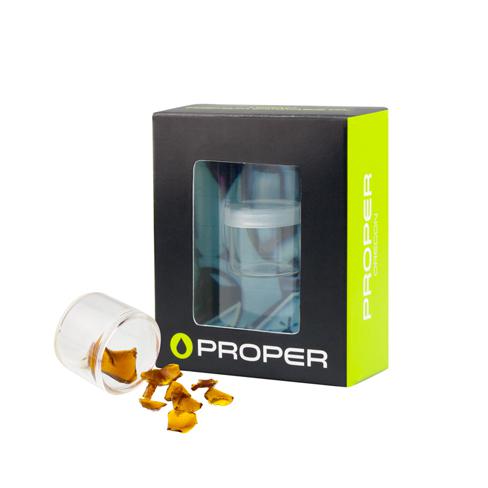 Dixie brands recently partnered with Golden Leaf signing with GLH to manufacture and distribute Dixie's Oregon line of products with promise to continue to explore ties in other jurisdictions as they become available. Dixie Brands would of course have other suppliers in States that Golden Leaf is not currently operating in. Having a partner of Dixie's magnitude is a key consideration in buying shares of Golden Leaf and looks promising.
Key brands sold in Oregon currently and conceivably will be expanded to include Washington State and other States Golden Leaf enters.
BMF Washington and Liberty Reach Acquisition
Given the limited information, investors will have to stay tuned for further word on the expected revenue projections and actual business model details. Link to frequent Updates on Partnership with BMF Liberty Reach ~ Blog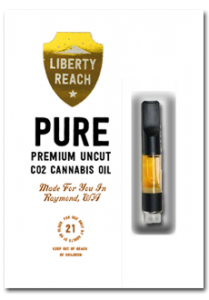 Shifting data shows that competitive forces are affecting producers and processors as more companies enter the market. Many variables make forecasting future revenues or profits unpredictable as the market, taxation formulas, licensing numbers and regulations change continuously.
With only 35% of total sales going to Producers and Processors, Retailers are calling all the shots, demanding deep discounts, and making it a highly competitive marketplace. Many Producers and Processors are struggling to break even, let alone eek out a profit. With well over 1000 applications still being processed, there is likely going to be a high degree of mergers, acquisitions, and consolidation within the Producer and Processor industry over the next 12-18 months.
Cost of BMF MERGER
30.7 MM common shares to Peter Saladino (BMF)
Cash gift to Peter Saladino $3,000,000 US ($1.5MM outstanding)
300,00 warrants issued to partner
Monthly Sales For BMF Washington LLC
| Month | Sales |
| --- | --- |
| All-2014 | $1,309,599 |
| Jan-2015 | $263,523 |
| Feb-2015 | $297,180 |
| Mar-2015 | $227,382 |
| Apr-2015 | $353,293 |
| May-2015 | $296,676 |
| Jun-2015 | $361,843 |
| Jul-2015 | $560,231 |
| Aug-2015 | $665,521 |
| Sep-2015 | $733,962 |
| Oct-2015 | $616,540 |
| Nov-2015 | $620,761 |
| Dec-2015 | $360,059 |
| Jan-2016 | $377,570 |
| Feb-2016 | $243,504 |
| Mar-2016 | $286,000 |
| Total | $7,573,644 |
Sales for BMF as shown by 502 Data have declined from a peak in September 2015 and reside at a third of the high water mark. A pesticide investigation by Washington regulators resulted in revenue disruption and sanctions. Golden Leaf appears to be rebooting Washington operations with new strengthened guidelines and practices instilling faith in product compliance to public safety concerns.
The State of Washington is also taking steps to enforce and random test producers as a deterrant to unchecked growing practices. "We'll be going out and doing our own testing," said Garza. "That costs, like, $500,000 to $1 million to do that. We'll have to look at how we're going to get the resources, but recognize that we know that we need to do that."
Building a new legal cannabis industry from the ground up has its stress points but the process allows for review and all stakeholders; business, consumers and administrators are working together to will evolve a safe, regulated method of selling a product that 40% of its citizens will consume at one point in their life, 10% of them regularily.
PP Deal 2nd Tranche Closed April 5,2016
C$7.5 million was raised total from both tranches, with insiders subscribing for C$1.5 million. Convertible Debentures at 67 cents per share was the instrument used in the financing but check SEDAR for any revised or added terms.
The Debentures and underlying common share conversion will be subject to a statutory hold period in Canada of four months plus one day from the closing date pursuant to Canadian securities laws.
Share History
Golden Leaf Holdings completed a reverse take-over of Longacre Resources Corp. and is now among the leaders in revenue for not only cannabis extraction, but surging ahead with its own brands and partnerships with other industry leaders.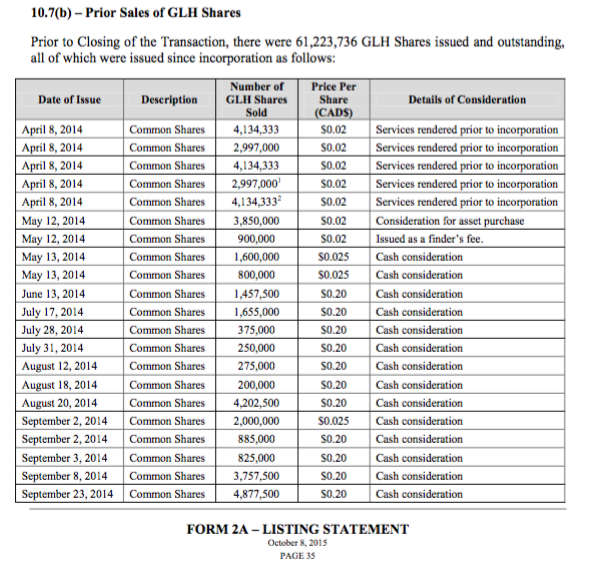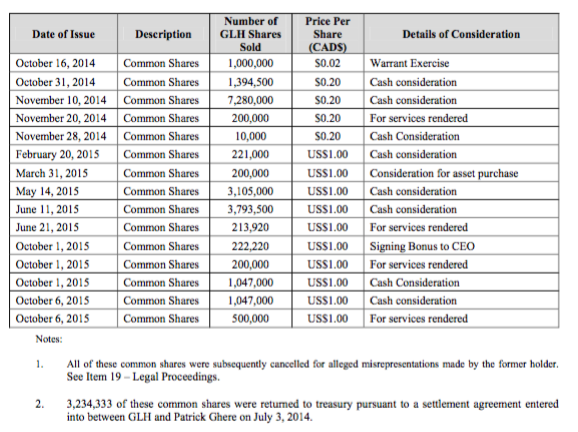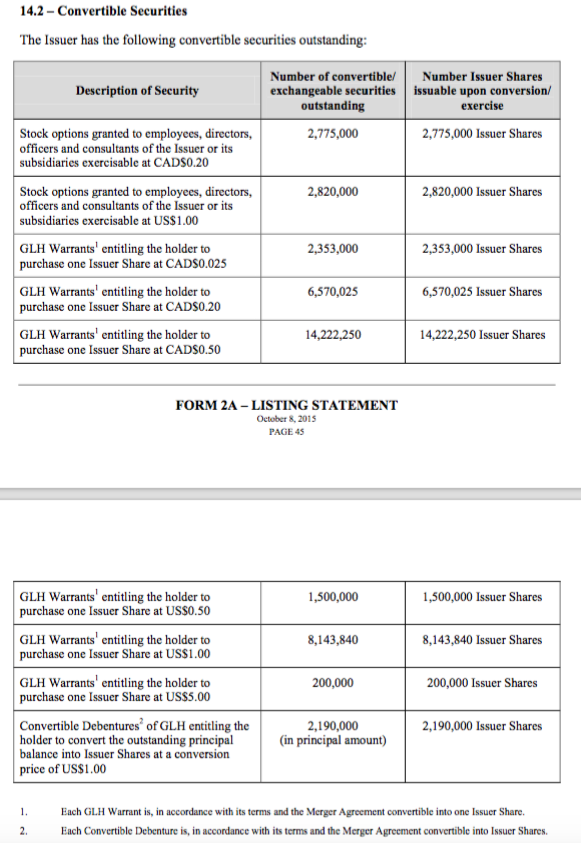 Insider ownership
Insiders hold considerable shares and Golden Leaf Holding.
Trading Positions
Massive share price decline has occurred from early peaks on really low volumes to a higher percentage of ANON selling to bring current prices below early IPO levels
Current Trading Concerns
There are founders shares hitting the market as lockup periods on how long they have to hold them begins expiring.
| | |
| --- | --- |
| (1) | Of these, 10,518,386 common shares will be escrowed pursuant to the policies of the Canadian Securities Exchange and 13,067,250 common shares of Golden Leaf are subject to a lock-up agreement, under which all shares will be release from the lock-up by June 1, 2016 |
| (2) | Of the total options, warrants and other securities exercisable or convertible into common shares of Golden Leaf, 10,142,367 will be escrowed pursuant to the policies of the Canadian Securities Exchange. |
A rapid decline in original investor enthusiasm has contrasted the underlying company which is growing madly. An important distinction is between the company and strategies versus stock performance outlooks.
6 Month Chart for Golden Leaf Holdings Ltd
Charting for Golden Leaf Holdings Ltd.

Fully Diluted Share counts April 15th, 2016 140 MM (approximate)
Non Diluted Market Cap 94.5 MM Shares @ CAN $0.365, $CN 34.5 MM
Overall Performance and Results of Operations
The Company reconciles the expected income tax recovery (expense) at the combined USA and Canadian statutory income tax rate of 28.4% (USA-34%, Canada-26.3%) to the amounts recognized in the consolidated statement of operations.
| | | |
| --- | --- | --- |
| Expressed in $US dollars | 3 month period ending September 30, 2015 | 9 month period ending September 30, 2015 |
| Revenue/Sales | 2,950,859 | 7,834,711 |
| Gross Profit | 1,231,176 | 3,092,752 |
| Total Expenses | 3,733,644 | 8,864,300 |
| Loss before income taxes | $ (2,684,216) | $ (14,618,505) |
| Net Loss | $(3,127,358) | $(15,775,673) |
Receivables payment concern
| | | |
| --- | --- | --- |
| Accounts Receivable | $2,109,229 | $ 433,361 |
| Allowance for doubtful accounts | (547,600) | (84,374) |
Capital Costs
Large capital costs are still affecting the company as they are experiencing large demand and continue to add oil extraction equipment as well as building a new Head Office to head the list of Capital Expenditures and resulting losses or investments as some prefer the scaling up costs Golden Leaf is encountering.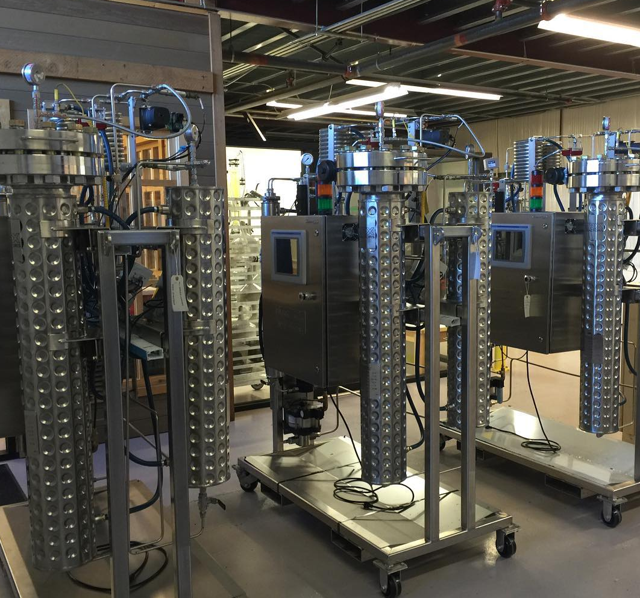 Supercritical CO2 extractors from MRX Labs. Image via Instagram
This has resulted in negative cash flows thus far and necessary cash infusions for capital expenditures and general business purposes. This has come by way of share issues and convertible debentures and has been a weakness for maintaining shareholder value thus far. The company needs to invest but that does not always translate to higher share prices quite yet. Investments take time to show so it follows the early costs are needed because of demand and they will allow future higher revenues.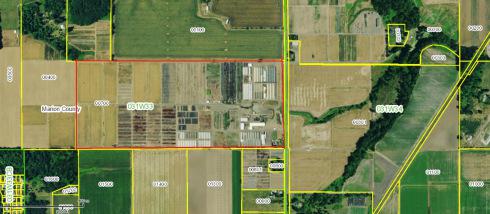 Part of Capital Expenditures will be at this location as per agreement report.
The Aurora Property was acquired for a purchase price of US $3.3 million and was financed by US $100,000 in cash from GLH; US $1.5 million secured 9% promissory note, maturing on September 14, 2017; US $1.7 million in 12% convertible debentures, convertible at US $1.00 and maturing on September 17, 2017…"
Investors presentations
Youtube 4.5 minute promo video
GLH Investor slide presentation 27 pages
Dundee Capital Peter Epstein Report
State Market conditions
Recreational Marijuana Sales for Oregon
Those living in Oregon know that the recreational market opened up on a limited basis October 1st, 2015.
Effective July 1, 2015, Measure 91 legalized the private use, possession, and cultivation of limited amounts of marijuana by adults 21 and older. The ballot measure also requires the liquor commission to license and regulate four types of marijuana businesses to produce, process, wholesale, and sell marijuana for adults' use. The state is expected to being accepting applications for these businesses in January 2016. For more information, please see our summary of the law.
Medical marijuana patients have supplied most of the revenues so far but revenues on recreational cannabis products and permitted products is still expanding. As the number one oils extraction company in the US, Golden Leaf is looking good and there is far more to the company than just oils.
Limited amounts of recreational marijuana (flower and dry leaf products, plants, and seeds) are now available for purchase through medical marijuana dispensaries to adults 21 and older. The Oregon Health Authority has regulatory oversight of recreational marijuana sales through medical dispensaries.
What about edibles? Can I buy those?
Not yet. Although licensed medical dispensaries can sell dried flowers and leaves, marijuana seeds and plants, the retail sales of concentrates, extracts and edibles are not allowed under current law. The OLCC is still working on regulations for retail sales of those products. Medical marijuana cardholders can still purchase these products with a valid OMMP card.
With Voodoo doughnuts in hand, some Portlanders got their first taste of legal, recreational, purchased-in-Oregon weed early Thursday morning.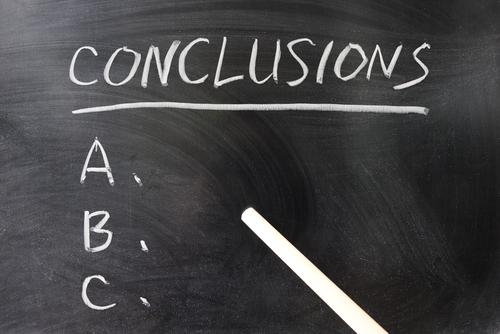 I am currently recommending a watchlist rating on Golden Leaf Holdings.
State leading revenues and good margins demonstrated by the Oregon business model are promising. Capital expenditures remain high as equipment and facilities are required to meet the expanding demand for Golden Leaf Brand offerings. The recent debenture offering fell flat of its intended goals but market financing is still necessary at this early stage of company positioning. It will be a challenge because of an already restrictive US cannabis lending drought to scale up as quickly as Mr. Robinson had hoped.
Now add in the BMF partnership and things get that much more interesting for this sector bull. The Washington State partnership with BMF is very vague so far and it will be sometime before investors truly know what they bought. There is an implicit trust in the quality management team but more proof that the business model employed in Washington works because it differs significantly from that of Oregon. In addition, BMF has been under some stress as a result of a recent pesticide infraction but have come out firmly with new procedures preventing a re-occurrence.
The added move into Washington offers potential as the market size is large and already legal on the State level. Oregon is also legal for MMJ and now recreational marijuana but there are still a few products yet to be included but new laws are being reviewed. Further expansion is expected into other States like California and Nevada.
Political uncertainty at all levels but is improving as each year and law bring positive change to cannabis business legitimacy. The lukewarm business environment dissuades larger, better capitalized companies from dominating the market. The hope is to build brands and company footprint before consolidation and industry mega companies pervade.
Aggressive pursuit of a national brand for US cannabis producers and processors is found by owning Golden Leaf Holdings shares. The unknowns will remain for some time but speculative investors should be well aware of the potential risks. Some may even wish to enter now while there is so much uncertainty because it is after all a speculative stock and demands risk but expectations of reward are high as well.
Disclosure: I am/we are long SPRWF, TWMJF, APHQF, MQTRF.
Additional disclosure: The blog is meant for discussion and would welcome any corrections or additions. Thank you for reading.