Canada House Wellness Group, SARSF or CHV.c on the Canadian exchange, just became Canada's latest licensed producer on the eve of Christmas. Let's unwrap the present and shake it a bit to see what's inside.
Canada House is organized as a vertically integrated conglomerate with 3 official subsidiaries.
Abba Medix is the licensed producer based in Pickering, Ontario.
Canada House Clinic's serves: veterans, RCMP and civilian cannabis patients.
Knalysis completes the 3, operating primarily in data collection and patient/physician management systems.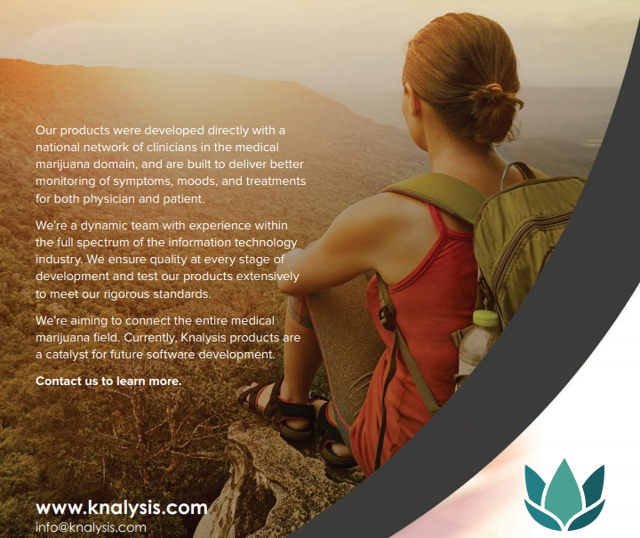 Photo courtesy of Knalysis
Together the three subsidiaries have incredible synergies that compliment each other. The sales license for cannabis completes the trio and shareholders can naturally expect additional revenue from Abba Medix. Management has plans to expand production, clinic revenues and has demonstrated adaptability to the changing market conditions while focusing on profitability.
License to sell dried cannabis and oils
First and key, Abba Medix received the license to sell dried flowers and oils on December 23rd while also previously possessing the license to sell seeds. Canada House incorporates an established clinic business that fits nicely with Abba Medix and upcoming retail store fronts. Canada House encompasses seed to sale, capturing each level of the cultivation, production, and both medical and recreational sales for finished products.
"What a way to end the year! We are thrilled to finally secure this license and begin selling premium medical grade cannabis in support of the medical market and our medical patient base," commented Chris Churchill-Smith, CEO of Canada House. "This License marks a major milestone since the very inception of our Company and is a testament to the quality of our staff, production capabilities and industry leading SOP's. As we finalize the completion of our production facility, we look forward to our new reality of being a fully licensed LP, which marks the next step in our journey to profitability and providing our shareholder base with undeniable value," added Mr. Churchill-Smith.
Curating their own premium strains of cannabis has long been awaited and a significant event for investors. The team has studied carefully and been aided by: Medicine Man Tech in design set up, Knalysis patient demand data , and the 200 strains accessed by a partnership with a UK seed bank plus feedback from their own five year existence in treating patients on the front line through Canada House Clinics. Full production can now begin at Abba Medix for oils, dried cannabis and seed sales to other LPs or microgrowers.
Riley McGee, President of Abba added "This is the culmination of what has been an amazing year for our team at Abba. To name but a few of our recent successes, we have secured the exclusive distribution rights to world class genetics, completed several seed sales to other Canadian Licensed Producers, validated Medicine Man's world class grow methodologies within our 22,000 square foot facility, completed multiple bulk purchases of cannabis, and have harvested four batches of our own premium medical cannabis. We are on track to be in full capacity flower production for the first quarter of 2019 and aim and fully expect to be an industry leader in terms of quality and consistency of our flower. This license could not have come at a better time for Canada House and its medical patients as product shortages continue to impact the medical and recreational markets."
Abba Medix is expected to begin growing in the first quarter of 2019 - 2,700 kgs per year out of 22,000 square feet currently built and up to 13,000 kgs when fully expanded.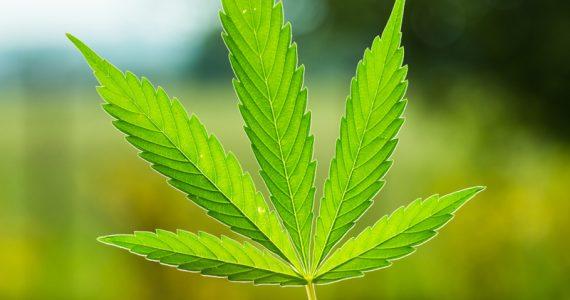 Acquisition closing
Closing is expected in the coming days for an offer to purchase 54 acres of land in a package that includes engineered drawings, zoning approvals and services near Vegreville, Alberta. The purchase price of $1,000,000 is paid incrementally in either shares or cash, mainly at Canada House's discretion and final payment is deferred until the first harvest is completed.
In exchange for the assets, Canada House will pay $160,000 in cash at the closing of the acquisition, will issue shares in the Company with an aggregate value of $125,000.00 on the fifth day following the closing, $100,000 in cash or shares, at the election of the Company, on the sixtieth day following closing, and $100,000 in cash or shares, at the election of the Company, on the one-hundred twentieth day following closing. The remaining $375,000.00 in purchase price is payable in shares in the Company, to be priced at the 5-day volume-weighted average price of the Company's common shares less 15%, upon the achievement of certain milestones related to the completion and first full harvest from the Facility. The transaction requires regulatory approval and is anticipated to close in December 2018.
The acquisition includes the advanced stage LP application, all zoning and engineering with expectations of licensing/production near the end of 2019. The Facility design has a potential of 160,000 sq. ft, capacity to cultivate 31,000 kilograms of dried product per year when fully constructed. The Facility, constructed in 4 phases, will support growing and finished product operations, research & development, extractions, and new product development. Initial production capacity of 2,000 kilograms of dried product in end of 2019, while ramping up to 31,000 kilograms of dried product per year by the end of calendar year 2022.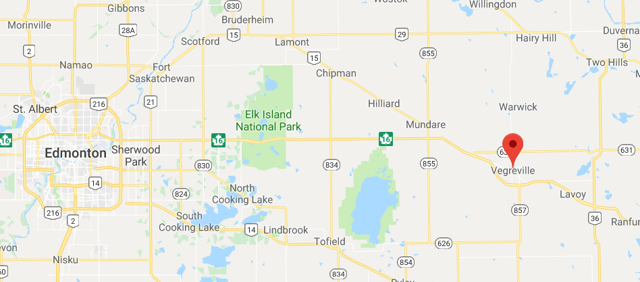 Photo Google Maps
The costs of construction will be down from prior standards because Health Canada lowered the expectations for vaults and camera requirements. Significant savings are gained for new builds while allowing the technology to be part of the design. My own estimates put the cost of phase one between 5-7 million dollars.
Canada House Clinics
Canada House Clinics have shown a resurgence under Alex Kroon's leadership, completing a fourth quarter in succession with improving revenues.
Quarter end

Jan.31/18

Quarter end, Year End

April 30/18

Quarter end

July 31/18

Quarter end

Oct.31/18

$790,000
$868,000
$1,231,000

1,240,000
Profitability should be closer and expansion has been talked about as a goal. 2100 veterans are a core strength of the Canada House Clinic business. Vets and RCMP recieve insured medical coverage up to $8.50 per gram and 3 grams a day limit. Higher limits are processed through Canada House by means of a limit exemption application, that makes it possible for the veteran to recieve an increased prescription of up to 10 grams per day.
Mental health issues including PTSD continue to be a need along with traditional injuries and illness for Canada's service population. Cannabis has been demonstrated to be an effective medicine for veterans. The Veteran Affairs committee responsible for oversight have been consulting with Riley McGee (President Abba Medix) and Alex Kroon (President of Canada HouseClinics) in recognition of Canada House's important role in treating our vets.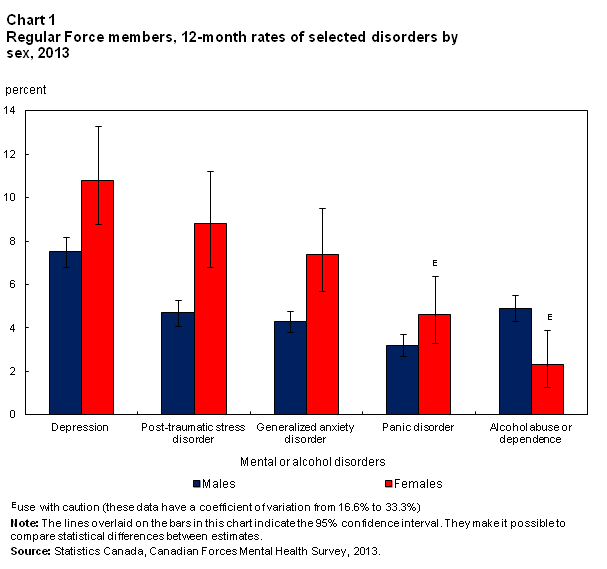 "In 2013, about 1 in 6 full-time Regular Force members of the Canadian Armed Forces reported symptoms of at least one of the following disorders: major depressive episode, panic disorder, post-traumatic stress disorder, generalized anxiety disorder, and alcohol abuse or dependence. Regular Force members had higher rates of depression and generalized anxiety disorder than the general Canadian population." Photo and quote courtesy of Statscan
The veteran population demographics are summarized in the table that follows. Canada House has 10 clinics in 6 provinces located near military bases. Expansion of clinics can be targeted effectively by close proximity to veteran communities.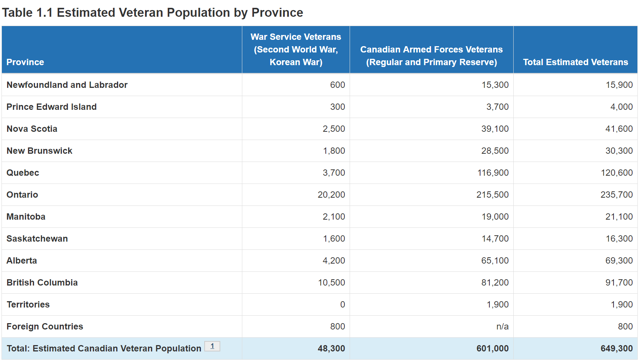 Photo courtesy of Veterans Affairs Canada
Clinic growth is Alex Kroon's primary objective and resulted in the employment of Peak Pharma Solutions channels to expand the clinic's reach and will elicit new patients through their established medical networks.
"We are leveraging our national reach to ramp up our growth," said Canada House Clinics President Alex Kroon. "We selected Peak Pharma Solutions based on the vast experience of its senior team in successfully delivering physician detailing programs. We look forward to starting our first physician campaign in a major city market after the holiday season."
Investors will be expecting news from this promotion come the new year and though the market has been defiant of rewarding positive movements, Canada House has been delivering and executing quietly and efficiently under new management changes that began in earnest during 2018. Chris Smith is guiding the company smartly and effectively positioning towards profitability with synergies from all parts of Canada House now coming together. The sales license is in place for Abba Medix and Canada House Clinics is in good stead plus growth into a second LP and retail store fronts. News is coming on all fronts.
Storefronts
Canada House was awarded an Edmonton retail cannabis store under a lottery held by the City. The grand opening will be coming soon, although renovations and location are closely held details. Limited recreational cannabis stores have opened in Edmonton, but supply chain issues caused the city to hold off granting any new licenses for up to 18 months. Good news for those already possessing a license and those awaiting supply could see some relief by this 2018's end. The delay in opening while still branding a new retail store foray should result in some of the supply problems beginning to alleviate.
Retail store profitability models show margins for wholesale cannabis and also for retail stores as cannabis prices drop because of over supply conditions in future years. It will take 2-4 years for over supply to happen by most estimates. Customers buy direct from the producer, bypassing the provincial distributor share for the medical sales model. Without the extra layer of rent seeking from provinces, medical sales have higher margins than recreational sales. Abba Medix has strength in medical markets by way of the established clinic business and also the large number of insured patients like vets, that choose Canada House Clinics.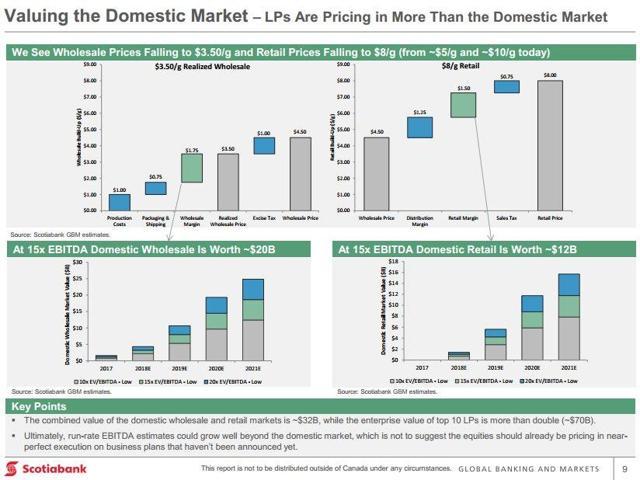 Photo Courtesy of Scotia Banks
Farm-gate sales in Ontario are expected after April 1. Ontario government has delayed store openings while realizing the same supply constraints as Alberta are affecting product procurement for Ontario stores. There will be limited licenses for retail stores upcoming but what will also be available is store fronts attached to the licensed producers (farm-gate). This added point of sale includes a location near the busy 401 in Ontario and should be well placed to capture some of the traffic.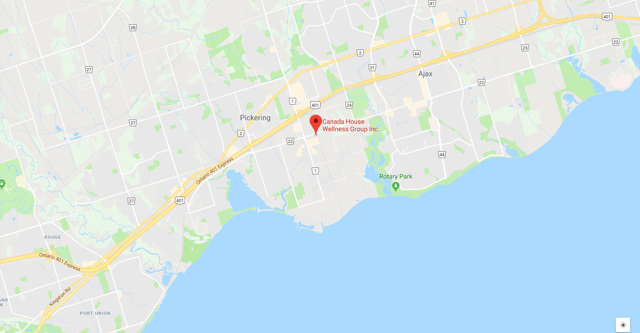 What else is new?
Brief overview of some other opportunities pursued by Canada House.
Processing Cannabis into concentrates and edibles. New market segment that has not existed before in Canada, but one that many experts consider attractive.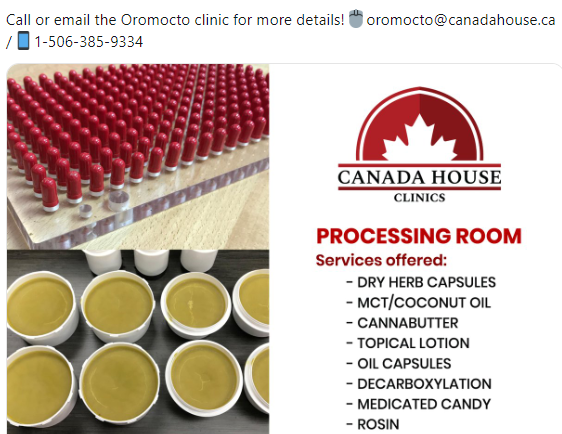 Photo courtesy of Canada House Clinics
Canada House has begun sales to new micro growers in Canada. They can provide seeds, nutrients, consultation, and even become a buyer for small farms to sell product too. I believe that capturing product from smaller craft producers for resell into medical or recreational products is an important way of lowering the cost of inputs for processed products like oils and pens. In house growing is important to maintaining a consistent, branded product but so too is expanding the supply of cannabis available. Both methods may possibly used by Canada House to attain cannabis production while realizing income from the smaller farmers as a supplier to them.
Health Canada rolled out a subclass of licenses for micro, standard, nursery, and hemp cultivation.

Micro-cultivation will allow producers to grow cannabis within a 200 200 m²/2153-sq-ft area that contains all parts of the plant within that threshold. The requirement also pertains to vertical farming.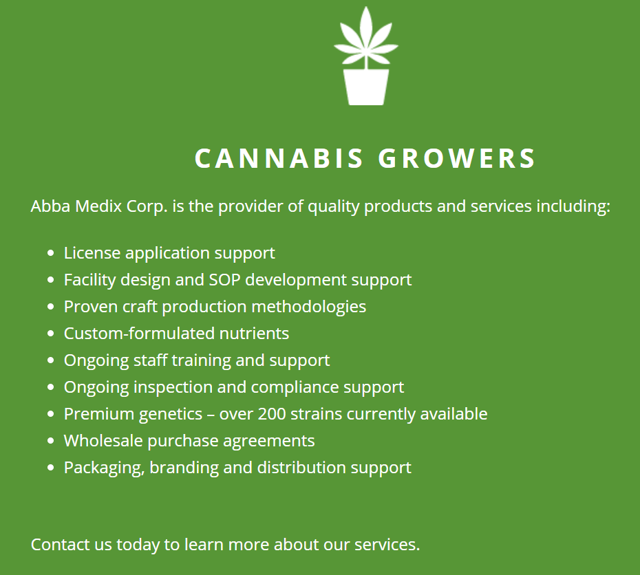 Photo courtesy of Abba Medix
Comparison to Alefia
Name
Total Rev
Clinic Rev
Market Cap

Cash

O/S
Price
Canopy Size

or

$1.24 mm

Oct 31

$1.24 mm
$34.2 mm

$3.34 mm

Oct30

214 mm
$0.16

22,000 sq. ft.

Abba Medix, Ontario

2700 kgs current license

13,000 kgs - completion

------------------------

160,000 sq. ft. Design

54 acres, Vegreville, AB

5000 kgs Module One -  Construction - Dec 2019 Full production: Q2 - 2020

Production Design Flexible ~ 8 mods = 40,000 kgs

2022 approximate timeline

ALEF.v

TSX.v

or

ALEAF

OTC

$1.6 mm

($529k)

dried

cannabis

sales

Sep 30

$1.06 mm

$215 mm

$22.8 mm

Sep30

157 mm
$1.37

Funded to 160,000 sq ft

Fort Niagra, Ontario

38,000 kgs

Early 2019 completion

-----------------------------

Outdoor cultivation

60,000 kgs Oct 2019

Proposed Port Perry cultivation facility
Clinics, Canada House Clinics recorded 4 consecutive quarters of organic growth. Total revenues increased at CH-Clinics but total revenues are higher for Alefia when including sales of dried cannabis. Canabo Clinics (Alefia) revenues slipped slightly last quarter and remain slightly lower compared to Canada House Clinics.
Market cap of Alefia is 6.28 times that of Canada House. Enterprise value better reflects and includes cash on hand and debt of each company for a better comparison.
Revenues: Alefia revenues of $529,146 from sales of cannabis for the quarter being compared under the heading total revenues. Canada House LP Abba Medix can now begin full production and target higher margin medical sales. 
Alefia has a superior balance sheet although some of that would be spoken for in completing the 160,000 square foot Fort Niagra site. Canada House does have funding in place with 24 million still left on a funding agreement with Alumina Partners LLC after taking one million of the total 25 million dollar package and updated to include a second tranche.
Canopy size advantage rests with Alefia but Canada House compares similarly in current production, including future development plans. The outdoor cultivation for Alefia constructs the bulk of their future production expectations and would be of lower quality to indoor grows. Outdoors COGS (near estimated 25 cents per gram) are cheap production though and will be an interesting addition to Canada's cannabis equation just as micro grower relationships will benefit Canada House.
Alefia is of course involved in a merger offer to EMC.v and that might be a similar fate for Canada House as the industry continues to consolidate.
Partners to Canada House
Nutritional High partnership is described below.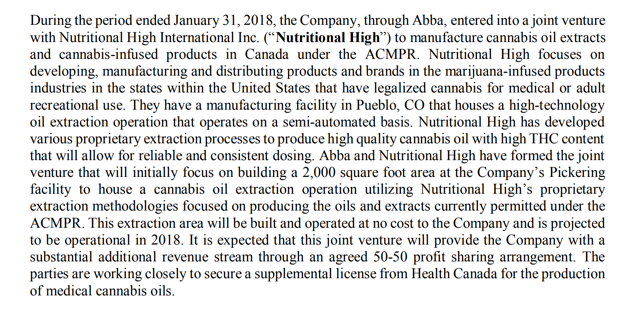 SEDAR documents
This partnership benefits Canada House by reducing costs associated with oil production and also allows Canada House to hit the ground running when the edibles market begins sometime before October 2019. Nutritional High has been branding their own line of products in the USA.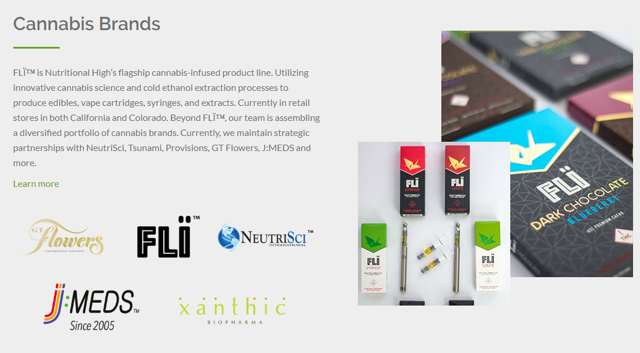 Compliments of Nutritional High
Medicine Man Tech is a key partner in cannabis strategies and has shown to be a successful company in its own rights.
Medicine Man team will be working extensively with the Canada House team to assist with transition and product development, in particular focusing on the deployment of a highly efficient network of newly announced micro-cultivator license types in Canada as well as other goods and service offerings. - Agreement Details
Peak Pharma Solutions was mentioned previously and is aimed at channeling more patients towards Canada House Clinics. News is expected soon on where, when, and how. A major Canadian city will be targeted and that may be Edmonton in support of the coming retail store, and a clinic that already operates there. Just a guess while noticing Peak Pharma Solutions is hiring for Edmonton region.
PEAK was founded by Richard Adamson and Jennifer Meldrum. Together, Richard and Jennifer have over 50 years of experience in the healthcare arena. Building and implementing sales solutions and managing successful pharmaceutical sales forces and operational teams has been their expertise for over 20 years. With each of them bringing a unique skill set to the organization, PEAK is poised to deliver extraordinary results for our clients.
Marigold Marketing Marigold is recognized as a leader and innovator in the cannabis marketing space, specializing in the development and execution of integrated marketing and PR campaigns, product development, and social media management for a number of medical and recreational cannabis brands across North America.
University of New Brunswick willingness to partner on research is another way investors can judge Canada House Clinics influence on cannabis medicine and their influence in the Maritime's in general. They are part of the community and respected. 

Photo from Oct. 31 MD&A Sedar
Projected Revenues
| | | | |
| --- | --- | --- | --- |
| CHV.c | 2019 Revenue Estimates | SARSF:OTC | Profit Estimates |
| Location | Revenues per quarter/month | Revenues Annually | Est. Annual Profit |
| Abba Medix | 650kgs x $7/gram = $4.55 million | $18.9 million | $4.75 million @$1.75/gram |
| CH Clinics | $1.25 million/qtr | $5.0 million | $nil |
| Edmonton retail | $0.500 million per mth x 10 months | $5.0 million | $1.0 million @20% net |
| Farmgate/Other | $0.500 million per mth x 6 months | $3.0 million | $0.6 million @20% net |
| Totals | $7.97 million/quarter | $31.9 million | $6.35 million |
Total Revenue expected for 2019 = $31.9 million or 7.97 million per quarter. Edmonton retail and farm-gate are delayed opening and an estimate is used in both cases for months that sales will be online. No profits are estimated for the clinics at this time based on past performance.*
EPS
If earnings for 2019 reach $6.35 million and there are estimated 250 million shares at that time. EPS = 0.0254 cents per share. At a P/E of 30 that would be typical for a growth stock, the result is an estimated share price of 76 cents. I have arbitrarily increased the O/S shares from current 214 million to 250 million, anticipating extra funding needs for the purpose of this model.
Comparison to some current sales numbers from some other publicly listed cannabis stocks. All have much higher market caps and arguably may be where Canada House could reach for, now that it has received a license to sell dried flowers and oils. Above we estimated quarterly sales in the range of $7.97 million that puts Canada house squarely in the middle of the pack. What is not middle of the pack though is the market cap for Canada House. That easily trails the pack by a large multiple and thus presents an opportunity.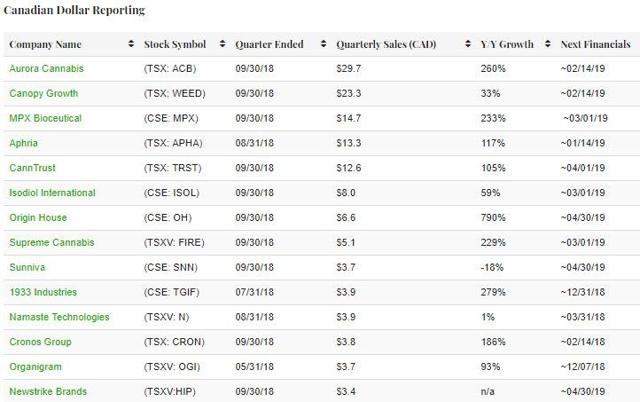 Chart courtesy of New Cannabis Ventures
Insiders have also been recorded as strong buyers.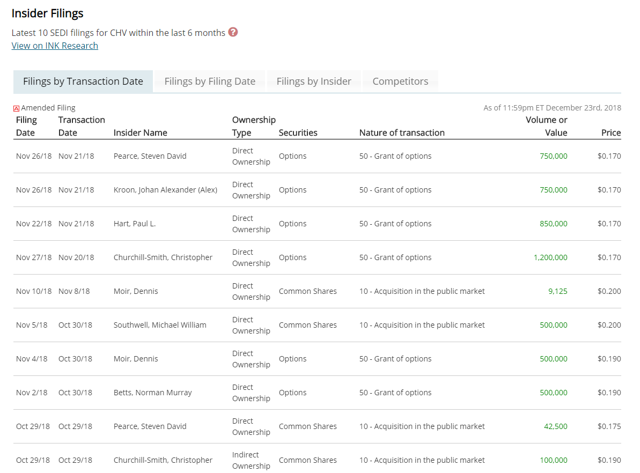 Photo courtesy of Canadian Insider
Summary
I expect Canada House to close the gap on some of the cannabis stocks above and shareholders to be rewarded. Most importantly beyond the starting of cannabis sales is the management team is new and they are executing. I put my faith on the jockey's and the strong medical component to Canada House patient base.
Though the company is small in comparison to industry leaders, the medical market allows higher margin selling and the revenues will now begin to increase substantively. There are some good reasons to invest in Canada House right now that are external and more market related. The end of tax selling season, and also a severe bloodletting in the entire cannabis market provide the proverbial blood in the streets.
Having survived more than one of those, I confidently invest in companies that are well managed and capable of profits. Canada House has gained my confidence and investment.
Long Canada House and I do not own positions in Nutritional High or Alefia.
Disclosure: I am/we are long SARSF.