This article will focus on the nano-cap stock (BSCR), readers should be aware of the risks associated with such stocks.
To start with, there are plenty of reputable solar stocks out there like; FirstSolar (FSLR), Solar City (OTC:SCTY), Sunpower (SPWR) or SunEdison (SUNE). There are also a few solar ETF's like (TAN) and (KWT) both of which had impressive gains in 2013.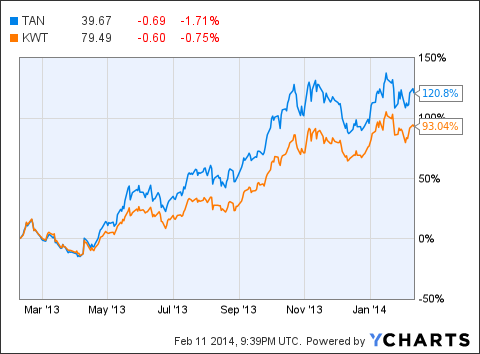 "So why am I wasting your time and mine talking about BioSolar Inc (BSRC)?"
It does not matter which of the afore mentioned companies or ETFs you own, BioSolar's technology has some real implications for the bottom line.
BioSolar Inc.
During the recent market pullback, was trading for as little as $0.10 per share. There are only 8.4 million shares outstanding, and at today's price you could buy the whole company for a little over $1.1 million. They have almost no money and have been financing operations with dilutive offerings. Unless you enjoy the occasional trip to Las Vegas, you probably do not need to read any more of this article. If on the other hand your interest has been piqued and you want to know why I have been following this company for the last six years, read on.
BioSolar DOES NOT make solar panels, or install them, or produce energy from them. They make one specific component that can be used when manufacturing of photovoltaic (PV) cells. I will not pretend to be any kind of expert on the construction or manufacturing of solar cells, but I can count and that is really all that is required to understand this. We do need a basic understanding of the components that go into the PV cells and the company has thoughtfully made this illustration available on their website.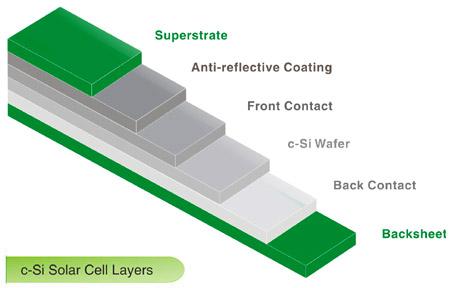 These components are laminated together, mounted in an aluminum frame and then installed on someone's roof. The two green bits are where BioSolar is focusing its efforts. The Superstrate we will cover later under the pipeline section. The Backsheet is the only product that BioSolar currently has available and so we will focus there first.
The Backsheet
BioSolar's backsheet is made from plant material. It is environmentally friendly because it is renewable, when you want more you just grow some more plants. The backsheets that are currently utilized in the production of PV cells fall into two categories.
Polyester: as we should all know, polyester is petroleum based plastic which is refined from oil.
Tedlar: a registered trade mark of Du Pont (DD), AKA polyvinyl Fluoride (PVF) is not too dissimilar to PVC or Teflon (PTFE) which we are all very familiar with. PVF is used commonly as a fire retardant but through a complicated process can be cast into sheets which are used as a backsheet. The casting process uses some pretty nasty chemical that are very toxic. You may not think that is very important, but ask the people of West Virginia about industrial solvents.
Anyway, the status quo is not particularly friendly to the environment and in a green industry like solar, marketing the most environmentally friendly panels should give you an edge. It would therefore follow that BioSolar is about to explode with orders from all over the globe. This is sadly not the case, so why not?
Expense?
Obviously it must cost more to be green.
I recently wrote a piece entitled "Eco Friendly Can Help Your Bottom Line". It covered Norsk Hydro (OTCQX:NHYDY) an aluminum company that has been able to reduce the base cost of aluminum production by being more environmentally friendly. I could easily have included BioSolar in that article, under the same title. The truth is, not only is BioSolars backsheet more environmentally friendly, it costs less than the alternatives.
OK, it's cheap. It must be an inferior product!
It's like one of those fake Rolexes that stops working after a week, or the fake handbags where the stitching rips the first time you use it. From what I can tell, the backsheet performs at least as well as the thermoplastic alternatives. Meaning, it dissipates heat buildup just as well as, or better than, polyester or Tedlar. Like you I was not willing to just take the companies word for it, there has to be some industry standard. I will now jump to a press release as it also answers many of the other obvious objections including demand.
"Santa Clarita, CA - October 26, 2011 - BioSolar, Inc. , developer of a breakthrough technology to produce bio-based materials from renewable plant sources that reduce the cost of photovoltaic (PV) solar modules, today reported that the company received the long awaited provisional Relative Thermal Index (RTI) recognition from Underwriters Laboratories (UL) for its BioBacksheet. RTI is the temperature below which a material will not be compromised by long term thermally induced chemical degradation.

UL certification is required for all electronic products and components, such as solar panels, prior to their sale in the general marketplace. BioSolar received UL materials certification for BioBacksheet in February 2011. Since then, UL has been performing long term thermal stability testing on BioBacksheet. The official provisional RTI designation from UL allows solar panel manufacturers to proceed with confidence in integrating BioBacksheet into their panels for full UL certification, which the company expects to be merely a procedural matter.

BioBacksheet is the world's first and only UL approved bio-based backsheet for use in solar panels, and it is a direct replacement for conventional backsheets currently used in over 70 percent of solar panels in the world. It is the necessary bottom layer of a fully assembled solar panel. BioBacksheet features the following unmatched properties:

Lower Cost - Innovative modification of bio-based polymers derived from caster beans result in a lower cost backsheet compared to conventional petroleum-based backsheets.
Higher Performance - Advanced materials engineering enabled BioBacksheet to exceed almost all performance characteristics of conventional backsheets
Higher Panel Efficiency -BioBacksheet dissipate heat away from solar cells 70 percent faster than conventional backsheets, allowing them to operate at a lower temperature, which results in higher power output
Green - BioBacksheet lets solar manufacturers improve their profit margins while being socially responsible. BioBacksheet has also received the USDA BioPreferred Certification, giving BioBacksheet solar panels preferred purchase consideration by all United States government procurement agencies.

Dr. David Lee, the company's CEO, commented, "This is a defining moment for BioSolar. By receiving the official provisional RTI designation from UL, we have completed the final product development milestone for BioBacksheet. I am pleased to report that we are finally ready to accept commercial orders. During the past two years, we have worked closely with several key solar manufacturers that will now be sending their panel to UL for final certification. Once their revised panels are re-certified with BioBacksheet, these customers will be able to sell their solar panels in the general marketplace."Link
The company recently reported that it added a number of sizable foreign and domestic solar companies to its growing list of manufacturers that have received samples and are actively evaluating BioBacksheet for use in their solar panels. The company has also announced its plans to uplist its shares to a senior stock exchange to access institutional capital to fuel its commercial growth."
Yeah, that was 2011! It is apparently a superior product at a lower price point. I told you all you needed to understand this was math. The Green bullet point emphasizes demand, exactly what I was saying earlier in this article.
"in a green industry like solar, marketing the most environmentally friendly panels should give you an edge."
The USDA BioPreferred Certification means the government will buy your solar panel instead of others because you use this backsheet;
"According to a USDA website (www.biopreferred.gov), the purpose of the USDA BioPreferred program is to promote the increased purchase and use of biobased products. To the extent that the BioPreferred program achieves its purpose, the increased purchase of biobased products may be expected to reduce petroleum consumption, increase the use of renewable resources, better manage the carbon cycle, and, may contribute to reducing adverse environmental and health impacts. The program is also expected to promote economic development, creating new jobs and providing new markets for farm commodities.

USDA BioPreferred program has two major initiatives: USDA certifies and awards labels to qualifying products to increase consumer recognition of biobased products. Secondly, USDA designates categories of biobased products that are afforded preference by Federal agencies when making purchasing decisions." link
So the money must be rolling in.
All that was two years ago, so by now the money should be just rolling in. Err, no. In order to explain this phenomenon I will refer to "My Dad the Scientist."
My Dad was a microbiologist, during his career he invented a process called, Time of Flight Mass Spectrometry. Live mould particles in a vacuum tell you something about something! He also designed and built mass spectrometers and discovered that you could micro-wave Semtex without it blowing up. Why is this important?
In the early nineties he discovered that if you micro-wave everyone's travel baggage you would know for certain which aftershave or perfume they were using as well as more important things like; do they have a bomb in their bag. By analyzing the vapors that came off the luggage you could not only tell if there was a bomb, you could have identified where the explosive was manufactured due to its chemical signature. Apparently the average 40 minute delay was more than the airports were willing to deal with and so that idea went nowhere. Please remember this the next time you are stuck in a TSA line for two hours.
According to many sources, if we did not have Time of Flight tech, we would have run out of antibiotics about a decade ago. The interesting thing is that my Dad left this world just as broke as he entered it. The science was enough for him; he had some great ideas about monetizing the research but just never got round to it.
I fear there may be a similar issue at BioSolar.
THE FIRST COMERCIAL ORDER
Perhaps I was wrong, last March the company hit us with this bombshell.
"Santa Clarita, CA - March 13, 2013 - BioSolar, Inc. , developer of breakthrough products and materials that reduce the cost of photovoltaic (PV) solar modules, today announced that it has received its first commercial BioBacksheet order. The first shipment of BioBacksheet will be used for the manufacture of specialty PV panels for electric utility vehicles with anticipated further shipments to be used by military and other mobile applications. The customer's PV panels feature lightweight, high-power-to-weight ratio, highly durable, customizable shapes, sizes and colors.

Dr. David Lee, the company's CEO commented, "This first commercial order marks an important event in the history of our company. In spite of recent turmoil in the solar market, we have found success. Customers are attracted to the unique product features of BioBacksheet, including single layer composition, reliability, efficiency and cost competitiveness. Though the sales cycle for specialty PV panels can be shorter than mainstream PV panels, it is important to note that the durability requirements in this market segment are much more stringent than what is normally expected from standard PV components."

"The length of time it takes for mainstream PV customers to complete the full purchase cycle is long, but it also creates a barrier of entry for the competition," Lee added. "BioSolar is now in position to expand sales into mainstream PV market as we have completed successful internal testing, qualification, and UL material certification. Our sales and support efforts during the past 12 months have resulted in certain large customers obtaining panel level UL or IEC certifications. We look forward to achieving our next major milestone which is receiving purchase commitments from large scale solar manufacturers."

Dr. Lee concluded, "Solar is one of the fastest growing markets in the world and BioSolar is very well positioned to benefit from the surge in demand. Our patent pending BioBacksheet is the world's first and only UL certified solar panel backsheet made from renewable materials and features two distinct benefits that are unmatched by existing backsheets. First, BioBacksheet's high thermal conductivity rapidly draws heat away from the solar cells, which can increase the power output of the entire solar panel and also improve long term durability by decreasing temperature fluctuations. Second, BioBacksheet's USDA BioPreferred Certification allows solar panels to be marketed as more sustainable and socially responsible, and preferred by U.S. government agencies."" Link
Yay, they are finally going to have some money coming in the door, no more dilutive offerings. As anticipated the government and the US military wants what they have got. Who wants a fuel dump next to their command center when you can have less explosive solar power? All of this is true apart from the "money coming in the door" bit.
Monday, November 4, 2013
Thursday, October 31, 2013
Friday, October 25, 2013
Friday, July 26, 2013
Friday, May 10, 2013
Wednesday, March 13, 2013
I have included links to these filings for reference only. If you bother to wade through them you will discover that BioSolar has reported zero revenues in any form.
So, did they just give that "first commercial order" away?
Was it part of some proof of concept marketing scheme?
Do they have any follow up orders coming?
All of these are reasonable questions for a shareholder. In November I sent an email to the company asking questions along the same line.
I am still waiting for a response.
The Pipeline
"If the government mandated that the entire 2151 mile corridor of the Keystone-XL pipeline had to be covered with solar panels would they still want to build it?"
"How much energy would that produce?"
"Would the environmentalists be placated by the trade off?"
A different pipeline altogether but still all good questions. The BioSolar pipeline has some real potential but in some ways also misses the boat. So let's look at what they are doing. In the previous illustration they had also highlighted the Superstrate which I anticipate being their second commercially viable product.
(OK I can not get SA article thing to work) For those of you who would like to view the image it is available here.
Thin film solar cells are flexible. They are the type of solar cell that was highlighted in all the innovations displayed at this year's auto show. Unlike the ridged solar cells they do not have a backsheet, instead they utilize a substrate which is normally made from stainless steel or petro based plastics. The company believes that it can deliver a bio based substrate that is more economical than the current alternatives. The superstrate is a common element to both Thin Film and conventional solar cells. If BioSolar is able to deliver a transparent bio-based material that can be produced to replace this layer and further reduce the cost of current and next generation PV solar modules. Then even glass manufacturers like Corning (GLW) should start to pay some attention.
In addition to these solar components the company anticipates creating a line of bio based plastics that could easily replace plastics derived from petro-chemicals. Where I think they are missing the boat, is in developing a bio based alternative to the silicon wafer. The fact that they are able to create inert compounds from organic material, that also disperse heat better than the conventional alternatives should be of interest to companies like Apple (OTC:APPL), Microsoft (MSFT), Hewlett Packard (HPQ), Dell or Lenovo (LNGVY)!
If I were Elon Musk,
I think I would try to trade the company for 10 or 12 P85's. That's about one car for everyone that serves on the board, and another one for their spouse. Obviously you could not put them on the waiting list and you would have to bump them up the queue, but this is a good illustration of how undervalued the BioSolars technology is. Would a model S benefit from some thin film flexible solar panels that could trickle charge while you are at work?
Would SolarCity prefer to spend money with DuPont or one of its subsidiaries? Especially if that subsidiary gave them a lock on US government contracts.
The Conspiracy
I entitled this article as a conspiracy in the solar industry. At face value you may think that is sensationalistic or true dependant on your own political bent. Yes I used the word political, and it is apt when describing why BioSolar languishes in obscurity on the OTC. It all comes down to leverage.
If Elon Musk bought BioSolar, then they could turn round to their manufactures and say,
"Use this product because it is cheaper."
Until there is a vested interest DuPont et al, control the game. It is a bit like running for congress, you know the guy is an idiot but you vote for him anyway because he has the money and support behind him. You might have voted for the other unheard of individual, because he had some good ideas, but there was no way he was going to win and so why waste your vote. Better to go with the status quo and get the person who is most closely aligned with your beliefs, that actually has a chance of winning.
If I were Dr David Lee (CEO of BioSolar)
I would recognize that Wall St really does not care if you call yourself doctor. It is more important that you deliver the goods than what you choose to call yourself. We are half way through February and still awaiting full year and fourth quarter financials. This is not unheard of for multinational conglomerates, but even I can count to zero pretty quickly. There are four possible outcomes for this company;
Management actually does something effectual and creates some intrinsic value for shareholders.
Some other entity realizes that there is potential in BioSolars work and buys them for less than the cost of a good steak dinner.
BioSolar goes bust and someone picks up their patents on the even cheaper
No one is reading this article, BioSolar goes bust and this technology is rediscovered sometime in the future by a guy named Buck Rodgers or Obi-Wan Kanobi.
Conclusions
Even with all the dripping distain, I know that this is earth changing technology. Why else would I have bothered to write this article? I can offer you no guarantees that this company or its stock is going to do well in 2014. However, if some other entity comes in, you cannot afford to ignore it if you are currently invested in the Solar Power Industry. Here is Papa's plan;
I currently own 232 shares at a DCA of $0.28. I used to have many thousand more, but I sold them on a recent run up. My intention is to buy a few thousand more at current levels and thus reduce my DCA. I will not increase my position to over $500, without some indication that a real management is involved.
This is exactly why I referenced a trip to Vegas, do not invest anything you cannot afford to lose, but do not ignore what this company is doing. I will not make any changes in my position for at least the first 72 hours after the publication of this article.
Disclosure: I am long BSRC. I wrote this article myself, and it expresses my own opinions. I am not receiving compensation for it. I have no business relationship with any company whose stock is mentioned in this article.
Additional disclosure: This article may contain certain forward-looking statements. I have tried, whenever possible, to identify these forward-looking statements using words such as "anticipates," "believes," "estimates," "expects," "plans," "intends," "potential" and similar expressions. These statements reflect my current beliefs and are based on information currently available. Accordingly, such forward-looking statements involve known and unknown risks, uncertainties and other factors which could cause actual results, performance or achievements to differ materially from those expressed in or implied by such statements. I undertake no obligation to update or provide advice in the event of any change, addition or alteration to the information contained in this article including such forward-looking statements.