Upstream mlps have had quite a run up in the last few weeks. One indication of the power of the rally is the steepness of the post SPO rally in MEMP: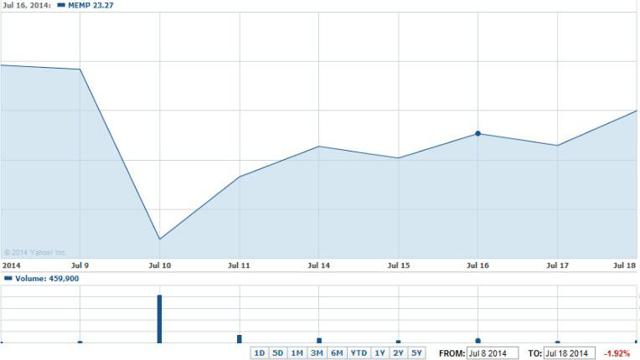 For the group prices average 9x dcf as opposed to 8x dcf only 6 months ago. Some (VNR, LGCY, BBEP) trade above 10x dcf. This naturally raises questions how much higher the prices can go.
Looking back in history can give us clues. Back in 2007 BBEP and LINE traded at about 5% distribution yield, so perhaps 19x dcf, as opposed to 9% yield/10 x dcf now. Can we go back there?
If you plot against each other: BBEP, LINE, APA, CHK and OIL you discover they all had a sharp peak about 7 years ago: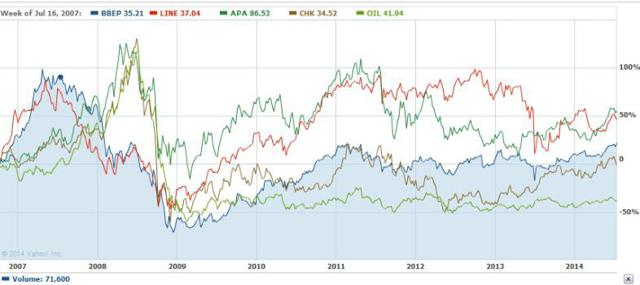 APA and CHK had a peak in June 2008, corresponding to the peak in OIL (and the "peak oil" brouhaha). This is what you would expect. But, mysteriously, the peak in BBEP and LINE came a whole year earlier (May 2007). By the time of "peak oil" BBEP and LINE, though experiencing a bit of an up blip, were both down 30%+.
This seems a little weird. Does anyone around here remember what happened? Why were the upstreams so sharply up in 2007 and so sharply down by 2008 despite "peak oil"?
(Interestingly, following the 2009 crash, LINE went on to recover much of its May 2008 peak during 2010-2011 when it traded at 7% yield - right until the Hedgeye attack last fall which took it down to its present valuation; but BBEP never climbed back anywhere near its 2007 highs).