I had made what I believe was one of the more valuable decisions of my business life. This was to confine all efforts solely to making major gains in the long-run. The Father of Growth Investing (Philip Fisher)
In the past 52-week, the shares of Strongbridge Biopharma (NASDAQ:SBBP) - a bioscience firm, focusing on the development and commercialization of therapeutics to service the rare diseases market - traded $6.2 higher at $8.70 (for 248% total profits). Like many stocks that we recommended to our partners at Integrated BioSci Investing, there are key catalysts powering Strongbridge. All that being said, the elephant in the room is whether there are further upsides to this firm.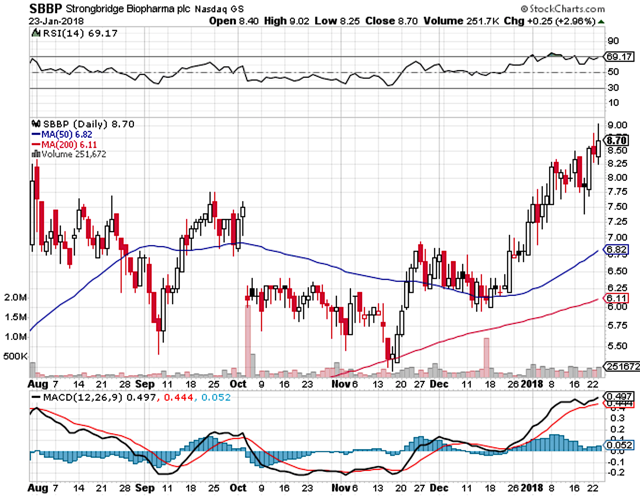 Figure 1: Strongbridge BioPharma stock chart. (Source: StockCharts)
At Integrated BioSci Investing ("IBI"), we have much success in finding robust performers. For instance, Nektar Therapeutics (NASDAQ:NKTR) appreciated over 310% for subscribers. Since our initial recommendation on Exelixis on June 6 at $19.13, the stock added another $10.34, for 54% total profits.  In this report, we'll elucidate the substantial unlocked value of Strongbridge (and assess various unlocked catalysts that can catapult the share price to new highs).
Fundamental Analysis
Based in Trevose, PA, Strongbridge is brewing an interesting pipeline servicing the orphan (RARE) diseases market. The company has two FDA-approved products: (1) dichlorphenamide (Keveyis), which was in-licensed from Taro Pharmaceuticals Industries (NYSE: TARO) in 2017. Keveyis is indicated for the management of primary periodic paralysis; (2) macimorilen (Macrilen) a molecule employed in the diagnosis of adult growth-hormone deficiency. Of note, the firm disclosed on Jan. 17, 2018, it acquired the rights to Macrilen in the US and Canada from Aeterna Zentaris (NASDAQ:AEZS). Re the developing pipeline, the company is brewing two highly interesting medicines for the rare diseases market - levoketoconazole (Recorlev) and veldoreotide.
Recorlev For Cushing Syndrome
In the pipeline, we are most interested in Recorlev, which is currently in the phase 3 investigation (as the potential management of Cushing's syndrome ("CS"). As the rare endocrine disease, CS is caused by the prolonged exposure to excessive stress hormone (cortisol). This ultimately leads to various symptoms such as upper body obesity, fatigue, high blood pressure/blood sugar, and easy bruising. CS is due to either endogenous or exogenous factors, but the most common cause is the latter. For the management of endogenous causes, surgery is employed to remove the tumor (producing excess cortisol). Prior to surgery, patients are treated with medications and/or radiation to lower the cortisol level (and/or to shrink the tumor size). Medications for treating CS include the followings: Ketoconazole, mifepristone (Korlym) of Corcept Therapeutics (NASDAQ:CORT) and pasireotide (Signifor) of Novartis Pharmaceuticals (NYSE:NVS).
Interestingly, Recorlev has several advantages over conventional treatments. For instance, the active enantiomer (mirror) form of the approved drug ketoconazole, Recorlev bypasses the main limitation of ketoconazole (i.e. liver toxicity). As alluded, molecules come in two forms (or mirror images that are analogous to our right and left hands). The approved drug for the CS treatment (ketoconazole) is the (racemic) mixture of both enantiomers (of which 50% is in the inactive form while 50% is the active constituent). As follows, Recorlev proves to be more superior because it is 100% active. Moreover, this purity tends to lower incidence of liver toxicity as said. Furthermore, it causes less inhibition of CYP7A (the key liver enzyme that makes bile acid for fat metabolism as well as to detox drugs/toxins).
Final Remarks
In all, Recorlev is currently being investigated in two clinical studies. SONICS is the single arm phase 3 trial with its topline data anticipated in H2 2018. To ensure regulatory approval, Strongbridge will initiate (in Q1 this year) the enrollment of another phase 3 trial (LOGICS). With the double arms to improve clinical quality, LOGICS is expected to post topline data in Q4 this year. Of note, there is an in-depth Integrated BioSci version of this research, published in advance to subscribers of Integrated BioSci Investing (a community of expert physicians, scientists, executives, market leaders, and everyday investors).
Author's Notes: We're honored that you took the time out of your busy day to read our market intelligence. Founded by Dr. Hung Tran, MD, MS, CNPR, (in collaborations with Dr. Tran BioSci analyst, Ngoc Vu, and other PhDs), Integrated BioSci Investing ("IBI") marketplace research is delivering stellar returns since inceptions. To name a few, Nektar Therapeutics (NASDAQ:NKTR) procured more than 280% profits; Spectrum Pharmaceuticals (NASDAQ:SPPI) delivered over 150% gains; Kite Pharma netted 82%. Atara Biotherapeutics (NASDAQ:ATRA) earned greater than 110% capital appreciation. Our secret sauce is extreme due diligence coupled with expert data analysis. The service features a once-weekly exclusive in-depth Integrated BioSci Alpha-Intelligence article (in the form of research, reports, or interviews), daily individual stocks consulting, and model portfolios.
Notably, we'll increase our price soon. SUBSCRIBE to our marketplace research now to lock in the legacy price and save money in the future. To receive real-time alerts on our articles as well as blogs, be sure to check out our profile page and CLICK the orange FOLLOW button . Asides the exclusivities, this article is the truncated version of the research we published in advance to IBI subscribers. Further, you can read up on Dr. Tran's background by following this link.
Disclosure: I/we have no positions in any stocks mentioned, and no plans to initiate any positions within the next 72 hours.