Acquire worldly wisdom and adjust your behavior accordingly. - Charlie Munger
Trading Analytics
Welcome to the edition of Integrated BioSci Rounds Report for May 09, 2018. As usual, we'll elucidate notable trading analytics for the day, recent insider transactions, and interesting market developments. Without further ado, let's take an overall assessment of the bioscience space. As follows, the iShares of NASDAQ Biotechnology Index (NASDAQ:IBB) traded down $0.59 (-0.57%) at $102.41. Moreover, the SPDR S&P Biotech (NYSE:XBI) exchanged hands $0.43 lower at $88.07 (for -0.49% losses). It's likely that investors were trading with negative sentiment for the day. Regardless of the daily inclination, there are substantial prospects in the bioscience sector: one that delivers hope for patients while rewarding supporters with substantial wealth in the long haul.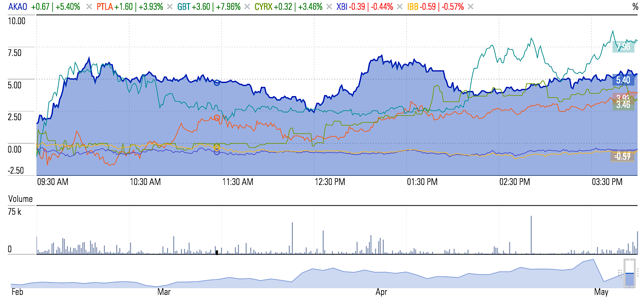 Figure 1: Notable BioSci movers. (Source: Morningstar)
Moving to specific equities, Global blood therapeutics (NASDAQ:GBT), won the highlight of the day. As follows, the stock rallied over 7% to close the trading session at $3.60. Based in South San Francisco CA, the firm focuses on the innovation and commercialization of medicine to treat serious blood disorders like sickle cell disease ("SCD"), as depicted in figure 2. SCD is a hemoglobinopathy that causes red blood cells to form a sickle shape - in the oxygen deprivation states. As a result, patients suffer from the repetitive extremely painful vaso-occlusive crises. As the developmental drug in its own class (an -elotor), the oxygen affinity modulator voxelotor is most likely to fill the strong demand for better therapeutic options. Already granted the Breakthrough Therapy Designation, voxelotor is currently being assessed in the phase 3 ("HOPE") trial for both adults and adolescents afflicted by SCD.
Final Remarks
This is a preview of the Integrated BioSci Rounds Report that was published in advanced and exclusively for subscribers of Integrated BioSci Investing. Of note, we periodically send out a completely FREE Integrated BioSci Research to people in Dr. Tran BioSci's mailing list. Be sure to sign up for our mailing list HERE to not miss a single article.
We Invite you to try our FREE 2-week trial (and, to lock in the current price to save money for the future).
Author's Notes: We're honored that you took the time out of your busy day to read our market intelligence. Founded by Dr. Hung Tran, MD, MS, CNPR, (in collaborations with Dr. Tran BioSci analyst, Ngoc Vu, and other PhDs), Integrated BioSci Investing ("IBI") marketplace research is delivering stellar returns since inceptions. To name a few, Nektar Therapeutics (NASDAQ:NKTR) procured more than 314% profits; Spectrum Pharmaceuticals (NASDAQ:SPPI) delivered over 111% gains; Kite Pharma netted 83%; Atara Biotherapeutics (NASDAQ:ATRA) appreciated +182%. Crispr Therapeutics (NASDAQ:CRSP) garned plus 165%. Our secret sauce is extreme due diligence coupled with expert data analysis. The service features a once-weekly exclusive in-depth Integrated BioSci Alpha-Intelligence article (in the form of research, reports, or interviews), daily individual stocks consulting, and model portfolios.
Notably, we'll increase our price soon. SUBSCRIBE to our marketplace research now to lock in the current price and save money in the future. To receive real-time alerts on our articles as well as blogs, be sure to check out our profile page and CLICK the orange FOLLOW button . Asides the exclusivities, this article is the truncated version of the research we published in advance to IBI subscribers. Further, you can read up on Dr. Tran's background by followingthis link. If you'd like to get our other once weekly ideas sent to your mailbox, check out Dr. Tran BioSci and sign up with our mailing list.
Disclosure: I/we have no positions in any stocks mentioned, and no plans to initiate any positions within the next 72 hours.