Without a saving faith in the future, no one would ever invest at all. To be an investor, you must be a believer in a better tomorrow. - Benjamin Graham
In a Seeking Alpha interview back on Sep. 23, 2017, the ingenious market strategist (Robyn Conti) inquired, "What's one idea you feel strongly about in the biotech space, and what's the story?" Without hesitation, we responded Alpine Immune Sciences (NASDAQ:ALPN) - a young bioscience having an extremely favorable chance of either getting acquired or becoming the next 150-bagger, Jazz Pharmaceuticals (NASDAQ:JAZZ) in the long run. Accordingly, Alpine is leveraging on its extremely powerful therapeutic innovation platform to brew ALPN-101 and -202 (molecules that have strong multi-blockbuster prospects). Despite that the wait for Alpine's shares to move has been over half-a-year, the stock is now trading northbound. In this research, we'll analyze the latest earnings report and what Alpine has in store for shareholders.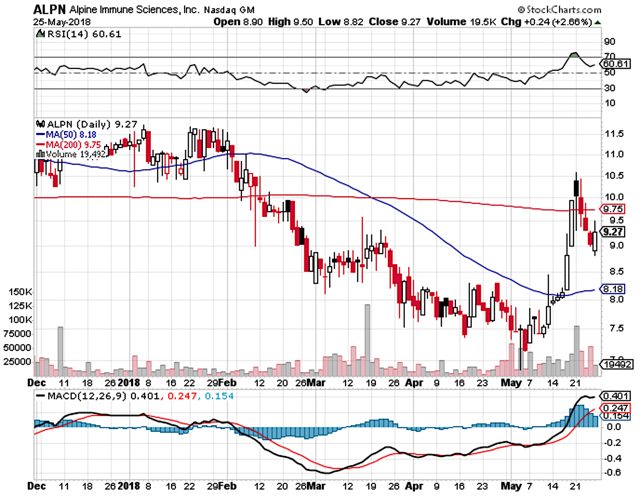 Figure 1: Alpine stock chart (Source: StockCharts).
About The Company
As usual, we'll go over the corporate background for readers new to Alpine. We stated in the prior research,
Headquartered in Seattle WA, Alpine leverages on the power of the naturally-occurring immune system proteins to develop a technology coined "direct evolution." The aforesaid tool is used to engineer enzymes native to the immune synapses, thereby innovating them for the treatment of cancers, autoimmune and inflammatory diseases (as shown in figure 2). It is interesting to note that direct evolution is highly versatile. Accordingly, the ingenious science enabled vIgD to concurrently turn on an immune molecule while inhibiting another. Ultimately, this makes vIgD a superbly flexible designing tool with the vast applications for many autoimmune and inflammatory disorders. In addition, TIP delivers the second knockout punch for Alpine shareholders, as it enhances the functioning of next-generation cancer therapeutic, chimeric antigen receptor and T cell receptor (CAR-TCR). Consequently, the leveraging-power allowed Alpine to secure the $535M dealback in 2015 with Kite Pharma (NASDAQ:KITE), a firm under our coverage that was acquired by Gilead Sciences (NASDAQ:GILD). Of note, the company is currently brewing two stellar molecules. The most advanced is ALPN-101(the first-in-class dual ICOS/CD28 antagonist) that has a planned initial new drug application ("IND") in Q4 2018. The other drug (ALPN-202) is a dual PD-L1 and CTLA-4 blocker as well as a CD28 agonist (projected to be available in the clinic in 2019).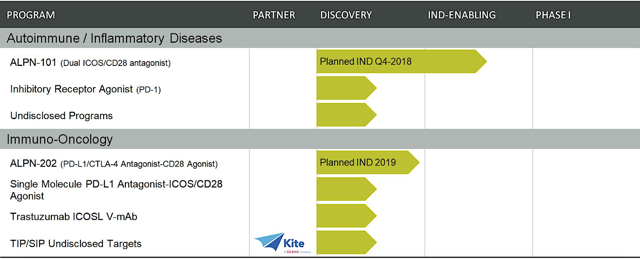 Figure 2: Therapeutic pipeline (Source: Alpine).
Final Remarks
This is a preview of the Integrated BioSci Research that was published in advanced and exclusively for subscribers of Integrated BioSci Investing. Of note, we periodically send out a completely FREE Integrated BioSci Research to people in Dr. Tran BioSci's mailing list. Be sure to sign up for our mailing list HERE to not miss a single article.
We Invite you to try our FREE 2-week trial (and, to lock in the current price to save money for the future).
Author's Notes: We're honored that you took the time out of your busy day to read our market intelligence. Founded by Dr. Hung Tran, MD, MS, CNPR, (in collaborations with Dr. Tran BioSci analyst, Ngoc Vu, and other PhDs), Integrated BioSci Investing ("IBI") marketplace research is delivering stellar returns since inceptions. To name a few, Nektar Therapeutics (NASDAQ:NKTR) procured more than 324% profits; Spectrum Pharmaceuticals (NASDAQ:SPPI) delivered over 144% gains; Kite Pharma netted 83%; Atara Biotherapeutics (NASDAQ:ATRA) appreciated +258%. CrisprTherapeutics (NASDAQ:CRSP) garned plus 257%. Our secret sauce is extreme due diligence coupled with expert data analysis. The service features a once-weekly exclusive in-depth Integrated BioSci Alpha-Intelligence article (in the form of research, reports, or interviews), daily individual stocks consulting, and model portfolios.
Notably, we'll increase our price soon. SUBSCRIBE to our marketplace research now to lock in the current price and save money in the future. To receive real-time alerts on our articles as well as blogs, be sure to check out our profile page and CLICK the orange FOLLOW button . Asides the exclusivities, this article is the truncated version of the research we published in advance to IBI subscribers. Further, you can read up on Dr. Tran's background by followingthis link. If you'd like to get our other once weekly ideas sent to your mailbox, check out Dr. Tran BioSci and sign up with our mailing list.
Disclosure: I am/we are long ALPN.
Additional disclosure: Our research articles are best used as starting points in your own due diligence. We are not registered investment advisors and our articles are not construed as professional investment advice. Many new research are requests from private investors of our services (Integrated BioSci Investing and Dr. Tran BioSci), who either paid or donated us to support our efforts (in assisting investors and bioscience innovators to deliver hopes to patients). That aside, I like to inform readers of Seeking Alpha's recent policy change, in which the company implemented the paywall (not only to our articles but to all articles that are published over 10-day). This is in place, as the company is, after all, a business. And, the revenues from ads are not adequate to support the high-quality research that the company is providing. If you are a REAL TIME FOLLOWER, you will be notified immediately of our new research for you to continue to benefit from our due diligence. You can also gain access to all of my old articles and much more by taking the 2-week FREE trial of my marketplace, Integrated BioSci Investing.