There is only one difference between a bad economist and a good one: the bad economist confines himself to the visible effect; the good economist takes into account both the effect that can be seen and those effects that must be foreseen." – Frederic Bastiat
Welcome to Q2 2018 portfolio review on July 1, 2018. In following the teaching of the Father of Growth Investing (Philip Fisher), we foster IBI as a long-term growth-oriented investment community. Hence, our long-term portfolio is powering 30 high-quality bioscience stocks. Concurrently, we realize the demand for trading and thereby feature a vast number of new companies almost daily in our quest to better assist our members. Without further ado, we'll present the Q2 2018 portfolio review.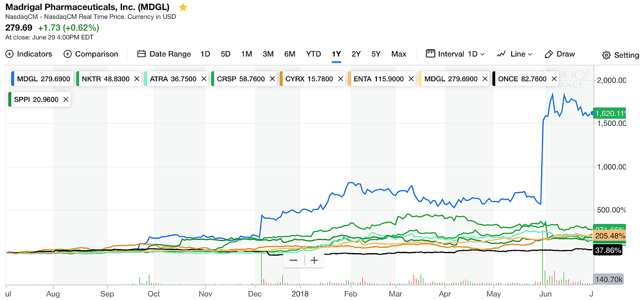 Figure 1: Notable IBI Performers. (Source: Yahoo Finance).
Part I. Outperformance Compared To Benchmarks
After two months of operations, IBI generated 8% returns in Q3 2017. As more time elapsed for the thesis to play out, our performance increased to 20%, 30%, and 35% for Q4 2017, Q1 2018, and Q2 2018, respectively. Our results were tabulated based on the data produced since inception (back on June 6, 2017). As alluded, we tallied our returns since inception to best reflect our long-term oriented approach to investing. For the similar period of comparison, the SPDR S&P Biotech (NYSE:XBI), DOW, and iShares of NASDAQ Biotechnology Index (NASDAQ:IBB) correspondingly procured 34%, 12%, and 14%.

Table 1: Comparative market performance calculated as of July 1, 2018. (Source: Dr. Tran BioSci).
Part II. Winners Analysis: Catalysts, Acquisitions, And Expectations
Kite Pharma (KITE) and Juno Therapeutics (JUNO) are two acquisitions that correspondingly generated 83% and 48% profits. Per table 2, other big winners for this quarter, Nektar Therapeutics (NKTR), Spectrum Pharmaceuticals (SPPI), Crispr Therapeutics (CRSP), Atara Biotherapeutics (ATRA), Amicus Therapeutics (FOLD), Madrigal Pharmaceuticals (MDGL), Sparks Therapeutics (ONCE), EnantaPharmaceuticals (ENTA), and Cryport (CYRX) earned 159%, 172%, 200%, 162%, 239%, 56%, 107%, and 87%, respectively.
Final Remarks
This is a preview of the Integrated BioSci Portfolio Review that was published in advanced and exclusively for subscribers of Integrated BioSci Investing. Of note, we periodically send out a completely FREE Integrated BioSci Research to people in Dr. Tran BioSci's mailing list. Be sure to sign up for our mailing list HERE to not miss a single article.
We Invite you to try our FREE 2-week trial (and, to lock in the current price to save money for the future).
Author's Notes: We're honored that you took the time out of your busy day to read our market intelligence. Founded by Dr. Hung Tran, MD, MS, CNPR, (in collaborations with Dr. Tran BioSci analyst, Ngoc Vu, and other PhDs), Integrated BioSci Investing ("IBI") marketplace research is delivering stellar returns since inceptions. To name a few, Nektar Therapeutics (NASDAQ:NKTR) procured more than 159% profits; Spectrum Pharmaceuticals (NASDAQ:SPPI) delivered over 172% gains; Kite Pharma netted 83%; Atara Biotherapeutics (NASDAQ:ATRA) appreciated +162%. Crispr Therapeutics (NASDAQ:CRSP) garned plus 200%. Our secret sauce is extreme due diligence coupled with expert data analysis. The service features a once-weekly exclusive in-depth Integrated BioSci Alpha-Intelligence article (in the form of research, reports, or interviews), daily individual stocks consulting, and model portfolios.
Notably, we'll increase our price soon. SUBSCRIBE to our marketplace research now to lock in the current price and save money in the future. To receive real-time alerts on our articles as well as blogs, be sure to check out our profile page and CLICK the orange FOLLOW button. Asides the exclusivities, this article is the truncated version of the research we published in advance to IBI subscribers. Further, you can read up on Dr. Tran's background by followingthis link. If you'd like to get our other once weekly ideas sent to your mailbox, check out Dr. Tran BioSci and sign up with our mailing list.
Disclosure: I/we have no positions in any stocks mentioned, and no plans to initiate any positions within the next 72 hours.
Additional disclosure: Our research articles are best used as starting points in your own due diligence. We are not registered investment advisors and our articles are not construed as professional investment advice. That aside, we would like to inform readers of Seeking Alpha recent policy change, in which the company implemented the paywall (not only to our articles but to all articles that are published over 10-day). This is in place, as the company is, after all, a business. And, the revenues from ads are not adequate to support the high-quality research that the company is providing. If you are a REAL TIME FOLLOWER, you will be notified immediately of our new research for you to continue to benefit from our due diligence. You can also gain access to all of our old articles and much more by taking the 2-week FREE trial of my marketplace, Integrated BioSci Investing.