My model for business is The Beatles. They were four guys who kept each other's kind of negative tendencies in check. They balanced each other and the total was greater than the sum of the parts. That's how I see business: great things in business are never done by one person, they're done by a team of people. - Steve Jobs
Insmed (NASDAQ:INSM) is an intriguing company brought to our attention by a member of the Integrated BioSci Investing ("IBI") community. As a growth bioscience, Ismed is targeting several promising rare diseases. If the developing franchises prove to be successful, Insmed can become a multi-bagger investment. In observing the share price movement for the past 52-week, we noticed that the stock has enjoyed a gain of $7.63. It is currently exchanging hands at $24.98 for +43.9% profits for the said period. Despite the significant appreciation, we'll assess whether there are further upsides via a fundamental analysis. Moreover, we'll focus on the upcoming catalyst, ALIS for non-tuberculous mycobacterial lung infections.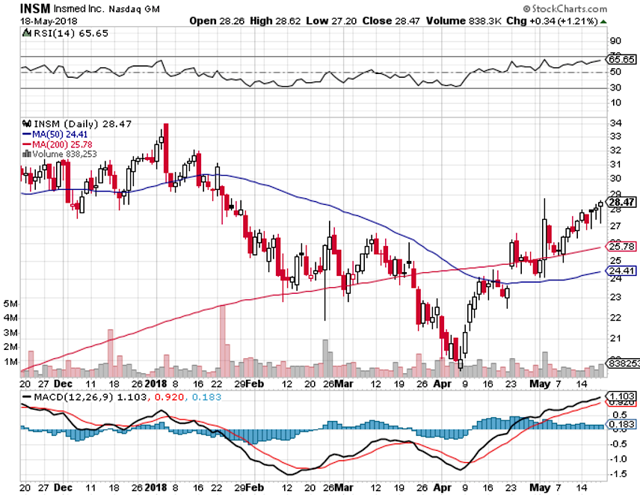 Figure 1: Insmed stock chart. (Source: StockCharts)
Final Remarks
This is a preview of the Integrated BioSci Research that was published in advanced and exclusively for subscribers of Integrated BioSci Investing. Of note, we periodically send out a completely FREE Integrated BioSci Research to people in Dr. Tran BioSci's mailing list. Be sure to sign up for our mailing list HERE to not miss a single article.
We Invite you to try our FREE 2-week trial (and, to lock in the current price to save money for the future).
Author's Notes: We're honored that you took the time out of your busy day to read our market intelligence. Founded by Dr. Hung Tran, MD, MS, CNPR, (in collaborations with Dr. Tran BioSci analyst, Ngoc Vu, and other PhDs), Integrated BioSci Investing ("IBI") marketplace research is delivering stellar returns since inceptions. To name a few, Nektar Therapeutics (NASDAQ:NKTR) procured more than 158% profits; Spectrum Pharmaceuticals (NASDAQ:SPPI) delivered over 209% gains; Kite Pharma netted 83%; Atara Biotherapeutics (NASDAQ:ATRA) appreciated +180%. Crispr Therapeutics (NASDAQ:CRSP) garned plus 198%. Our secret sauce is extreme due diligence coupled with expert data analysis. The service features a once-weekly exclusive in-depth Integrated BioSci Alpha-Intelligence article (in the form of research, reports, or interviews), daily individual stocks consulting, and model portfolios.
Notably, we'll increase our price soon. SUBSCRIBE to our marketplace research now to lock in the current price and save money in the future. To receive real-time alerts on our articles as well as blogs, be sure to check out our profile page and CLICK the orange FOLLOW button. Asides the exclusivities, this article is the truncated version of the research we published in advance to IBI subscribers. Further, you can read up on Dr. Tran's background by followingthis link. If you'd like to get our other once weekly ideas sent to your mailbox, check out Dr. Tran BioSci and sign up with our mailing list.
Disclosure: I/we have no positions in any stocks mentioned, and no plans to initiate any positions within the next 72 hours.
Additional disclosure: Our research articles are best used as starting points in your own due diligence. We are not registered investment advisors and our articles are not construed as professional investment advice. This research on FBIO was a request from a subscriber of our marketplace service to assist our members in their own research. That aside, we would like to inform readers of Seeking Alpha recent policy change, in which the company implemented the paywall (not only to our articles but to all articles that are published over 10-day). This is in place, as the company is, after all, a business. And, the revenues from ads are not adequate to support the high-quality research that the company is providing. If you are a REAL TIME FOLLOWER, you will be notified immediately of our new research for you to continue to benefit from our due diligence. You can also GAIN ACCESS TO ALL OF OUR OLD ARTICLES and much more by taking the 2-week FREE trial of my marketplace, Integrated BioSci Investing.