Biotech Secrets: Can You Turn Your Losing Portfolio Into Winners?
Please Note: Blog posts are not selected, edited or screened by Seeking Alpha editors.
Integrated biosci research, consultant
Seeking Alpha Analyst Since 2013
As an astute devotee of Warren Buffet, Ben Graham, Phillip Fisher, Sir John Templeton, and Peter Lynch, Dr. Harvey devoured any resources/books on these gurus to learn their craft for over two decades. In the process, he refined their investment approaches specifically to biotech and founded Integrated BioSci Investing: The Number #1 Biotech Service for Long-Term Growth Investing and Power Catalyst Trading. 

Since inception, our flagship portfolio has delivered over 31.23% annual average (i.e. 187.39% for roughly six years). As you can appreciate, we're adept at assisting and serving institutional/retail investors/traders who are looking for alpha. Dividend investors wanting to boost your return can also benefit greatly from our investment research. We currently have over 20 docs in our service for us to tap into their clinical insight for your gains.

Check out some of our binary event forecasts that lead to meteoric gain like the 359% single-day pop from Madrigal Pharmaceuticals (MDGL)'s NASH data release. During his training at the world-renown Columbia University, Harvey Tran, M.D., M.S., developed a passion/edge for analyzing the intricacies of various preclinical/clinical studies, biostatistics, and science/medicine. Importantly, it allowed the physician-scientist Harvey to realize the internal working of various therapeutic in-development that the market tends to overlook.

In recent years, Dr. Harvey founded and led two healthcare roll-up companies. The endeavor helped him gain deep insight into the inner working of a corporate board. His experience as a consultant to common/professional investors and institutions gave him a huge advantage in biotech analysis. The combination of elite training and a passion for biotech provided Dr. Harvey with an aptitude for delivering highly accurate clinical data forecasting that is crucial to picking winning biotech investments for you.

Follow us for the latest research. And, take our FREE 2-week trial to Integrated BioSci Investing to start your winning process now!

Check out Dr. Harvey's LinkTree for his complete experience. You can make your one good decision a year as Mr. Buffett recommended by checking out  Integrated BioSci Investing!
Summary
I share with you a case study of someone who failed and then achieved glorious success.
Biotech investing is lucrative but you have to do it right!
If you haven't bank profits, don't you think you owe it to yourself to change?
IBI undergoing tremendous improvement, see what they are.
I recently published another research on ITCI that you don't want to miss out on.
To the bold & brave investors, 
Did you lose money in biotech? And then you did something different which completely changed your investing success?
Here's what an IBI member shared in our community today ...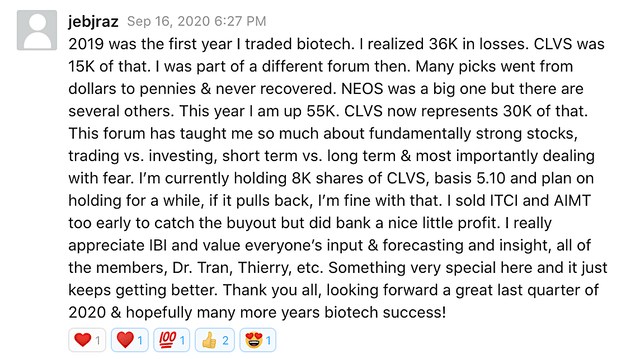 There you saw it, Jebjraz successfully turned his early biotech failure into glorious success! 
Why can't you achieve the same success? Can you be the one flying in first-class? Well, you deserve it if you start to make changes ...
Let me break down what Jebjraz said for you to learn from his success. That way, you can use the wisdom to improve your own investing ...
2019 was the first year I traded biotech. I realized 36K in losses. Clovis (CLVS) was 15K of that. - Jebjraz
When you started out doing something, do you expect instant success? No. Failure is just part of any successful process.
But if you never try, you will never succeed. And if you tried and failed and then you quit, you'll never earn. 
I was part of a different forum then. Many picks went from dollars to pennies & never recovered. NEOS was a big one but there are several others. - Jebjraz
I don't know what forum Jebjraz talked about. I simply do not care. In my view, all communities have their unique strengths and weaknesses.
In our community, IBI, we're a member-led community. More than anything, we're a global family of expert investors.
And, we're unique in who we are and what we do.
You'll see that IBI has many experts from various areas of life. They include docs, scientists, CEO, fund managers, investment advisors, wealthy investors, Pharma experts, and analysts ...
If you've been reading my blog, you'll see that our unique strength is in FORECASTING. 
We're the only community that forecasts countless clinical trial data and FDA approvals (i.e., binary events).
If you don't forecast binary events in biotech investing, you're like driving on the highway blindfolded.
With stellar forecasting, you can look forward rather than using hindsight. And, it's like you're driving in a Rolls Royce Cullinan with a superior navigation system that looks ahead.
Don't take my words for it,
check our results for yourself ...
As you can see, many young bio-stocks will go bust. After all, the hurdles to success are quite high.
As such, you need to size up the pipeline.
You see which pipeline has the best chances of passing clinical data, gain FDA approval, and generate blockbuster sales, or getting bought out.
That's where the money's at!
Despite the high percentage of failure, you can bet that a smaller number of successful stocks will give you multiple folds profits.
These mega performers will offset all your other losses.
While you can do it on your own, having experts with years of experience can save you hours of headaches. And it'll improve your results too.
Don't you think you deserve better results? Make more money? And enjoy investing/trading more? ....
You can leverage my years of experience, over 10 years as a Columbia physician/scientist. Use me to help you with forecasting and spotting out winners.
Don't take my words for it!
Take a lot at my winning picks like Crispr Therapeutics (CRSP), CryoPort (CYRX), Mirati Therapeutics (MRTX), Alpine Immune Sciences (ALPN), Intra Cellular Therapies (ITCI), etc,
Here are some examples of my picks that are bought out ...
Sparks Therapeutics (ONCE), Corium International (CORI), Juno Therapeutics (JUNO), Kite Pharma (KITE), Tesaro (TSRO), Aimmune Therapeutics (AIMT), Immunomedics (IMMU), etc.
While you can say that I'm lucky and full of S.
Sure, I'm lucky, I'll take that.
But I also carefully research IBI stocks.
And I only choose leading companies with drugs having high chances of success.
As such, pharmaceuticals companies are more likely to consider such stocks for acquisitions. Would you buy subpar companies if you run a large Pharm, or would you rather pick the cream of the crops?
Now if you've been with communities that do not deliver results, why not try new communities? Go see for yourself?
I put in over 100 hours weekly, working 7-days a week, 365-days in a year to help you.
More importantly, there are other experts rather than me alone to assist you in your due diligence process.
This year I am up 55K. CLVS now represents 30K of that. - Jebjraz
As I said, you have to go through failure to achieve success. Now you've got to do things differently and learn your lessons. Else, you'll suffer the same failure.
So if you lost money in CLVS and you gave up, would you be able to capture the recent rally like IBI members? No. 
Again, if you're with a group that kept on telling you to sell, sell, sell, what do you think you will do? Sell out at a loss.
At IBI, I help you boost up your market psychology and strategy ... you might overlook that. But managing your internal risk is crucial to your investing success.
In conquering yourself, you become more patient! You become the King or Queen of your most important kingdom, i.e, your mind!
And if you haven't sold your fundamentally strong stocks (when it encounters a period of unpopularity), your unrealized losses are simply paper losses.
Robust stocks like AIMT, ITCI, and CLVS are most likely to rebound. Time is on your side when you hold fundamental equity.
This forum has taught me so much about fundamentally strong stocks, trading vs. investing, short term vs. long term & most importantly dealing with fear. - Jebjraz
FEAR is the most powerful human emotion. But it's really just False Expectations Appearing Real. In biotech investing, if you don't overcome your fear, you'll be victimized by volatility.
When you're with a group of experts and mentors who help you overcome your fear, what will happen to your results? Improve substantially.
If you haven't enjoyed success, focus on overcoming your fear.
There's also a lot more to investing than just buying, selling, and reading charts/news ... You have to size up the fundamentals!
You have to seize the opportunity!
See if you're investing or trading (and take appropriate strategy for each).
Look at whether you're in it for the short-term vs. long term (i.e., market sentiment vs. fundamentals) ...
I'm currently holding 8K shares of CLVS, basis 5.10 and plan on holding for a while, if it pulls back, I'm fine with that. I sold ITCI and AIMT too early to catch the buyout but did bank a nice little profit. - Jebjraz
As you know, AIMT was bought out and ITCI rallied over 71% lately due to stellar data report. IBI forecasted that in advance to help members.
As you can see, I do not force members to hold. Jebjraz sold out a bit early to enjoy that. But the good thing is that he sold at a profit.
One of the strategies inside IBI is to take profits if you're trading. And make sure you know when you're trading vs. investing.
I really appreciate IBI and value everyone's input & forecasting and insight, all of the members, Dr. Tran, Thierry, etc. Something very special here and it just keeps getting better. Thank you all, looking forward a great last quarter of 2020 & hopefully many more years biotech success! - Jebjraz
A big part of success if to appreciate your expert community. It's like you have to water a tree that bears you fruit. And, it's great to see Jebjraz being appreciative of our community.
I look forward to many years of success with him.
I recently featured another in-depth research on ITCI. We also discussed other stocks with mega potentials.
For those who already tried IBI in the past ...
We now have new leadership and we've evolved greatly from what we were back in 2017, 2018, and 2019.
Nowadays, there's the Decision Tree that our Portfolio Manager and President of Business Development (Mr. Thierry) made for you. We distilled investing even more scientifically.
Check out what you've missed this year ...
At IBI: Everyone is getting smarter. Everyone is respected. You don't feel like a fool. And you're a part of something bigger than yourself.
Inside IBI, you'll stay ahead of the market!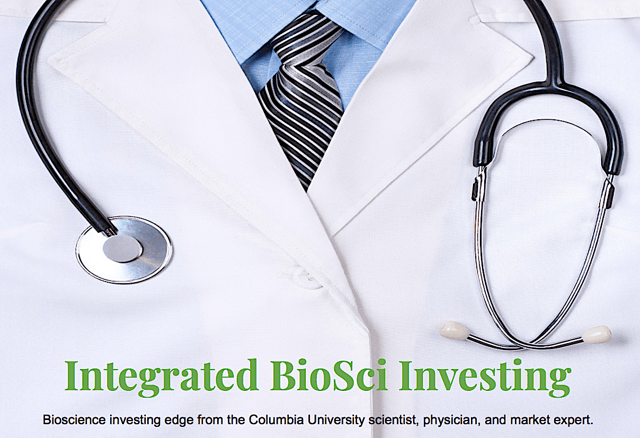 I'm so confident in the value of my service that I'm giving you a 2-week FREE trial, money-back guarantee.
Analyst's Disclosure: I am/we are long ALPN.
As a medical doctor/market expert, I'm not a registered investment advisor. Despite that I strive to provide the most accurate information, I neither guarantee the accuracy nor timeliness. Past performance does NOT guarantee future results. I reserve the right to make any investment decision for myself and my affiliates pertaining to any security without notification except where it is required by law. I am also NOT responsible for the actions of my affiliates. The thesis that I presented may change anytime due to the changing nature of information itself. Investment in stocks and options can result in a loss of capital. The information presented should NOT be construed as a recommendation to buy or sell any form of security. My articles are best utilized as educational and informational materials to assist investors in your own due diligence process. That said, you are expected to perform your own due diligence and take responsibility for your actions. You should also consult with your own financial advisor for specific guidance, as financial circumstances are individualized.
Seeking Alpha's Disclosure: Past performance is no guarantee of future results. No recommendation or advice is being given as to whether any investment is suitable for a particular investor. Any views or opinions expressed above may not reflect those of Seeking Alpha as a whole. Seeking Alpha is not a licensed securities dealer, broker or US investment adviser or investment bank. Our analysts are third party authors that include both professional investors and individual investors who may not be licensed or certified by any institute or regulatory body.