Powerful ICE: Wednesday, Dec 09, 2020
Please Note: Blog posts are not selected, edited or screened by Seeking Alpha editors.
As IBI member's voices are important, I capture some notatble discussion in this Powerful IBI Community Experience (i.e., ICE) for you.
Leveraging their wisdom and experience can help you uncover hidden gems and opportunities that you'd miss out on.
zengoofDec 9, 2020 7:53 AM
It's cleared all FDA hurdles, but cannot be formally approved until 1Q22: "In granting tentative approval, the FDA has concluded that Tlando has met all required quality, safety and efficacy standards necessary for approval, but Tlando has not received final approval and is not eligible for final approval and marketing in the U.S. until the expiration of the exclusivity period previously granted to Clarus Therapeutics, Inc. with respect to Jatenzo®, which expires on March 27, 2022." PM price action reflects this confusion.
vlay88Dec 9, 2020 8:11 AM
Bumper! LPCN falling .. So Tlando is approved but can't market till 2022..?
fireburryDec 9, 2020 8:22 AM
LPCN -- I don't get it..with this approval..the valuation of the company would be a lot more even if they can only start after March right? Is this a market pricing misinformation like what happen to MYOV when it drops to 14 dollars?
flammanDec 9, 2020 8:25 AM
March 2022. That is over a year away. Crazy. The shorts will beat us up with this news. Maybe a good entry point sometime in the next month.
drendo4u123Dec 9, 2020 8:29 AM
LPCN- the short will take it down and then probably run it back up. This stock will eventually drop down between 1-1.20. I will load up and wait for next year.
flammanDec 9, 2020 8:58 AM
I think your thoughts are good with LPCN. I am concentrating on accumulating AMRN and ITCI now.
biosci.capital.partnersDec 9, 2020 9:08 AM
flamman the Doc drendo4u123 has a good strategy here. B/c Tlando met all requirements for approval. And it gained a tentative approval. By the time that Jatenzo time is over, Tlando will take its place.
flammanDec 9, 2020 9:09 AM
The question we have is the time value of money. If the price gets cheap enough then waiting is a good idea.
drendo4u123Dec 9, 2020 4:25 PM
I think over time, we will see it below $1 since it's a year out. Buy when no one cares about it. I'm hoping to buy at around .80-.90 I'm sure there will be dilution during that time to take it down.
Biosci.capital.partnersModeratorLeaderDec 9, 2020 9:07 AM
zengoof Essentially, Tlando is FDA approved. But the agency won't let it be marketed until another drug Jatenzo exclusivity went out.
vlay88 The thing with FDA approval is if it doesn't work out, just move on to the next one, my friend. Life is too short to keep thinking about it. I like doc Drendo's strategy here. Shorts are likely to take it down. And then it will run up again to a new high come next year.
bilo.sellhiDec 9, 2020 9:11 AM
I don't see how the tentative approval for LPCN with a hold on commercialization until March 2022 can be seen as good news. Unless they can resolve prior to that with Clarus re exclusivity and patent issues a more than 1-year delay in launch is a huge negative. The premarket price reflects this. Look forward to Dr. Tran's comments regarding NASH prospects but even that is far in the future. Not selling at under $1.5 but see it as dead money for a good while.
Biosci.capital.partnersModeratorLeaderDec 9, 2020 9:11 AM
bilo.sellhi Will look into the NASH molecule later, my friend.
bilo.sellhiDec 9, 2020 9:13 AM
Biosci.capital.partners Thanks. Was typing my text above and didn't see your comments until I finished typing.
Biosci.capital.partnersModeratorLeaderDec 9, 2020 9:13 AM
My interpretation is that the tentative approval was definitely not favorable like the full approval. But with what they disclosed to us that After Clarus' Jatenzo went out of exclusivity, then Tlando will be marketed. So it's good in the sense that the drug is good. Nothing wrong with it. The FDA gave it a nod. But it has to wait in line before going.
bilo.sellhi No worries, my friend.
biosci.capital.partnersModeratorLeaderDec 9, 2020 9:16 AM
bilo.sellhi Let me go ahead and check out the NASH drug for you while I'm at it. So 114 is a pro-drug. Prodrugs are usually good. That is to say, it's a drug that has to be processed in the body, into another drug before being biologically active.
I believe that LPCN's drug is converted into an active form of testosterone. The idea behind 114 is that it boosts the lower testosterone associated with NASH. But you have to ask the question, why patients suffering from NASH have low testosterone?
When you take a profile of a patient with NASH, they usually have the triad (obesity, diabetes, high blood pressure). By being obese, these patients have lots more fats cells than usual.
Interestingly, there is an enzyme called aromatase found abundantly in fat cells. Aromatase breaks up the testosterone into estrogen. As you know, estrogen is the women's hormone. It stimulates more beautiful skin, larger breasts, etc.
People who take testosterone will experience the great effects of looking younger, having more energy, improving muscle mass. But it's not healthy in the long run. That is to say, the health parameters like blood pressure, blood sugars, etc run rampant.
A better way is to exercise and eating healthy, which naturally ramps up the biological testosterone. At the same time, it improves insulin sensitivity, reducing blood pressure, reduces heart disease risk, etc.
In all, 114 could work. But it's important for the patient to exercise. At the same time, I believe if you give it with a Beta-thyroid agonist (MDGL's drug) or an OCA (ICPT's drug), it'll work much better.
Giving a beta-thyroid agonist is like turning up the biological furnace in the liver to burn more liver fat. That helps tackle NASH at a deeper level.
I'm going to take a pass on 114. It's not superb therapeutic design by any means which is what I go after. But it's certainly better than GNFT's drug.
Now let's say, data next year is good. And there is a chance it could be good. For a small company with positive NASH data, the stock will embark on its extremely robust rally. I just don't know if the data will be positive. You'll have to wait to see on that one. Regardless of how the market reacts, Tlando approval is definitely a fundamental improvement. It's not what you and I want to see, but it's a step in the right direction. I believe that over time, LPCN will get the credit it deserves for Tlando, and possibly for NASH. Hope that gives more clarity to LPCN Nash drug and Tlando.
flammanDec 9, 2020 11:15 AM
Out of LPCN at $1.51.
Biosci.capital.partnersDec 9, 2020 12:37 PM
flamman Sometimes you win, sometimes you lose. But you have to keep swinging at the bat to win. Thanks for sharing, Mr. Flamman.
sideburnDec 9, 2020 11:42 AM
Thanks for the analysis of LPCN's NASH molecule. I'm going to steer clear unless it really drops to an incredible value. Lots of other great plays out there! I'm lucky I decided not to look a gift horse in the mouth -closed my LPCN position before the halt yesterday.
carlos54Dec 9, 2020 11:57 AM
Great discussion on LPCN. Since the time value of money isn't that important to me with interest rates substantially less than 1% I bought a very small position at $1.50 just to keep track of the stock when I am doing my twice daily scans. I figure if they get 1/10 of a rapidly rising testosterone replacement market that bodes very well for a company with a market cap of just $110 Million. The high prevalence of deficiency of testosterone all over the world is estimated to foster the growth of the global testosterone replacement therapy market over the timeframe of analysis, from 2019 to 2029. A fall in the level and release of testosterone leads to the development of hypogonadism in men, which is the major factor attributed to the growth of the global testosterone replacement therapy market in the years to come. Of course these days maybe guys don't care as much about losing testosterone, but still.
Biosci.capital.partnersModeratorLeaderDec 9, 2020 12:35 PM
carlos54 You are correct. The TRT market is rising due to the increasing prevalence of hypogonadism, which is related to obesity. As the global population increasingly becoming overweight, LPCN will see an expanding market. For this stock LPCN, you'd have to wait a while for its catalysts to materialize.
homonnayaDec 9, 2020 12:36 PM
The overall biotech market sentiment seems rather negative to me at the moment (apart from a few names like CRISPR, which are going off the roof). The market seems to shrug off the good news for a number of companies I own/track. LPCN is also such an example. I don't think a 15-month delay should be such a big drama (anyway the company needs time to set up the marketing operations). However, the sp will be beaten up for sure. Where do you think is a good entry point?
Biosci.capital.partnersDec 9, 2020 10:28 PM
homonnaya I missed your comment until now. The choice to buy, sell, or hold is always yours to make. In my view, you should buy a little at $1.30. And if it continues to go lower, you can average down at $1. Use LPCN as a diversification play and don't go overweight on it or any particular stock.
Biosci.capital.partnersModeratorLeaderDec 9, 2020 12:52 PM
Just a quick scan of the market.
XBI is trading on the downtrend. I suppose today is one of those days where biotech gives up some gains.
AXSM is down a bit, with -1.5%
ITCI also -1.5%is
ALPN essentially trading flat
AMRN down by -2.7%
CLVS also down by -3.4%
NASH stocks also down
MDGL -3.2%
ICPT -1.1%
Gene-editing stock is interestingly up
CRSP logging in +4%
CRSP is now trading red hot at $153.08.
Just a month prior, CRSP encountered temporary volatility. There were some misunderstandings regarding its data. As such the stock tumbled to $90.
At that point, I issued my buy recommendations, because I believe in the fundamentals of this stock. So I bring it to IBI for discussion. Members who bought have enjoyed over 50% gains in a month.
Is that all CRSP has to give?
In my view, there is a lot more from CRSP. After all, CRSP is a leading gene-editing stock.
tjrippeDec 9, 2020 12:58 PM
Hi Dr. Tran. Have you had a chance to look at TGTX's MS drug?
biosci.capital.partnersModeratorLeaderDec 9, 2020 12:58 PM
When you try to find multiple-fold winners, be sore to look for a young industry leader. That's your best bet.
tjrippe Thanks for the reminder. Will look at it for you soon, my friend. Give me a few minutes.
tjrippeDec 9, 2020 1:00 PM
No problem. As you and I know TGTX has a lot in the pipeline, but MS is supposed to report this month, or any day now.
biosci.capital.partnersModeratorLeaderDec 9, 2020 1:00 PM
The other company to give you multiple-folds is turnaround stocks. A prime example is IMGN. It brought in over 1 fold returns already. And I believe there is much more. Though IMGN is down slightly today, I strongly believe it will rally again on an up day.
tjrippe I see that's why you want to prioritize it.
tjrippeDec 9, 2020 1:01 PM
Yes. I mean they have big news in Feb and other times in 2021, but MS is the "crown jewel" as you would say.
Final Remarks
There are other interesting discussions inside IBI. There are talks about one potential acquisition.
If you want in-depth/timely coverage, community interaction, higher-level & more profitable research, check out IBI.
I do a lot of stock research and recommendations inside IBI. And I help you become the newer and better you. Some of our big winners include CRISPR Therapeutics (CRSP), CryoPort (CYRX), Intra-Cellular Therapies (ITCI), Axsome Therapeutics (AXSM), Corium International (CORI), Kite Pharma(KITE), Juno Therapeutics (JUNO), Sparks Therapeutics (ONCE), Tesaro(TSRO), Mirati Therapeutics (MRTX), etc ...
At IBI: Everyone is getting smarter. Everyone is respected. You don't feel like a fool. And you're a part of something bigger than yourself.
Inside IBI, we stay ahead of the market.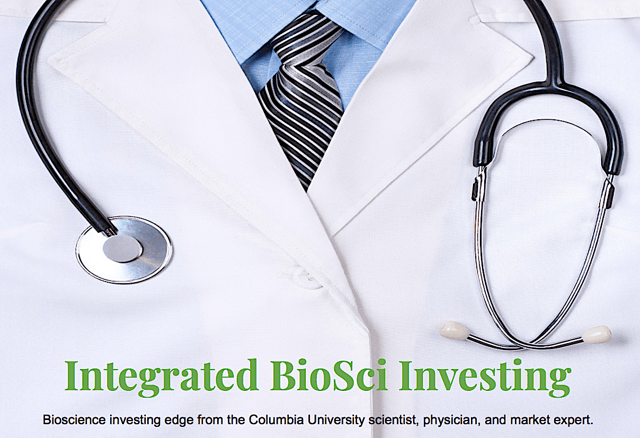 I'm so confident in the value of my service that I'm giving you a 2-week FREE trial, money-back guarantee.
Analyst's Disclosure: I/we have no positions in any stocks mentioned, and no plans to initiate any positions within the next 72 hours.
As a medical doctor/market expert, I'm not a registered investment advisor. Despite that I strive to provide the most accurate information, I neither guarantee the accuracy nor timeliness. Past performance does NOT guarantee future results. I reserve the right to make any investment decision for myself and my affiliates pertaining to any security without notification except where it is required by law. I'm also NOT responsible for the action of my affiliates. The thesis that I presented may change anytime due to the changing nature of information itself. Investing in stocks and options can result in a loss of capital. The information presented should NOT be construed as recommendations to buy or sell any form of security. My articles are best utilized as educational and informational materials to assist investors in your own due diligence process. That said, you are expected to perform your own due diligence and take responsibility for your action. You should also consult with your own financial advisor for specific guidance, as financial circumstance are individualized.
Seeking Alpha's Disclosure: Past performance is no guarantee of future results. No recommendation or advice is being given as to whether any investment is suitable for a particular investor. Any views or opinions expressed above may not reflect those of Seeking Alpha as a whole. Seeking Alpha is not a licensed securities dealer, broker or US investment adviser or investment bank. Our analysts are third party authors that include both professional investors and individual investors who may not be licensed or certified by any institute or regulatory body.