Powerful ICE: Sunday, Dec 13, 2020 (ALXN, AMRN & AXSM)
Please Note: Blog posts are not selected, edited or screened by Seeking Alpha editors.
What if I tell you that you don't need to know it all to succeed in biotech? Now, I don't mean just sitting there doing nothing. And, I don't mean you keep on waiting for luck to favor you.
What I mean is that you harness other people's intelligence and genius to help you bank your own gains.
In the spirit of generosity, I'd like to share with you some of our powerful IBI Community Experience ("ICE"). That way, you can leverage our member's intelligence to help you capture the most profits.
But first of all, I'd like to thank our members for generously sharing your wisdom and experience. Without further ado, let's see what Dinesh has to say ...
dinesh.sDec 12, 2020 11:55 AM
AstraZeneca to Acquire Alexion, Accelerating the Company's Strategic and Financial Development
banderson1Dec 12, 2020 4:15 PM
Interesting...I had looked at this but not bought any. ALXN closed at 120 on Friday. What will it open on Monday? Can someone still buy it?
mtbradDec 12, 2020 7:22 PM
it will go to just below buy out price nearly instantly. See UROV chart.
Biosci.capital.partnersDec 13, 2020 5:09 AM
mtbrad Very interesting, doc. Thanks for sharing.
FlammanDec 12, 2020 8:20 PM
Intra-Cellular initiated with a Buy at Goldman Sachs 04:55 ITCI Goldman Sachs analyst Graig Suvannavejh initiated coverage of Intra-Cellular Therapies with a Buy rating and $38 price target. In the near term, the focus will be Intra-Cellular Caplyta launch in schizophrenia, Suvannavejh tells investors in a research note. However, the analyst's enthusiasm for the shares lies in Caplyta's opportunity in bipolar depression. There are few drugs approved for this indication, giving the company a $1.4B incremental sales opportunity, says Suvannavejh.
flammanDec 12, 2020 10:16 PM
Amarin Reports Encouraging Efficacy and Safety Results from Pilot Study Treating COVID-19 Infected Outpatients with VASCEPA® (Icosapent Ethyl) in Late Breaker Presentation at National Lipid Association (NLA) Scientific Sessions 2020
Biosci.capital.partnersModeratorLeaderDec 12, 2020 10:19 PM
flamman The symptom improvement for Vascepa treated patient is more than double that of the standard of care. That tells me anti-inflammatory med is great for treating COVID.
Since I believe COVID is never going away for good (i.e., it being like the seasonable flu), that can be a huge market for Vascepa.
flammanDec 12, 2020 10:25 PM
Liking AMRN more every day!
biosci.capital.partnersModeratorLeaderDec 12, 2020 10:34 PM
flamman Most people don't like to buy a stock when it's beaten down like AMRN. But that's the best time to buy. It's counterintuitive and going against conventional wisdom, but it works.
all Enjoy your weekend reading, my friends. I push hard to get this research for you because you are like my extended global family of investors. IBI Research On TG Therapeutics: What's Next After The MS Conquest?
sideburnDec 13, 2020 2:15 PM
I loaded the boat on Friday. Hopefully, the market reacts positively. But this was a bonus -the main course is still waiting in the months ahead.
Biosci.capital.partnersDec 13, 2020 2:28 PM
sideburn With the market surging relating to COVID vaccine optimism, I see that helps AMRN.
Biosci.capital.partnersModeratorLeaderDec 13, 2020 6:16 AM
I'd like to welcome the newcomers to IBI. As you'll see, we are an inclusive community. We welcome your feedback, insights, and questions. Be sure to participate in the community discussion to make new friends. We're all learning from one another and leveraging one another expertise to take our skills to the next level.
lrnmo25Dec 13, 2020 11:28 AM
Welcome new members! Be sure to check out the IBI catalyst portfolio and our different rooms to maximize your takeaways. If you're not sure of anything, just ask.
David.SingleDec 13, 2020 2:38 PM
When those brief times where AXSM drops below $79.00 I continue to add to my position even tho had to sell 1k shares to meet medical bills and now re-accumulation makes for a "wash" trade I remain stalwart in that this fine company over the coming several years will reward Long positions!
Biosci.capital.partnersModeratorLeaderDec 13, 2020 2:49 PM
David.Single I like AXSM's long-term prospects. It's a great company with tremendous upsides. Unless we have either a bear market or a black swan, I see AXSM going up tremendously. I was wondering what's your average cost?
flammanDec 13, 2020 3:32 PM
Evidence of thrombotic microangiopathy in children with SARS-CoV-2 across the spectrum of clinical presentations
Biosci.capital.partnersModeratorLeaderDec 13, 2020 3:35 PM
flamman I see you are very persistent and patient with OMER. I admire your courage and wisdom.
Biosci.capital.partnersModeratorLeaderDec 13, 2020 3:40 PM
Last week, I was so happy when my friend from medical school days, sent me a whiskey bottle with my name and my wife's name on it.
That doc, she's been a very good friend to me. Always supporting me and encouraging me when I have not a single dime until I'm much more successful.
So I was very happy and I drank the whole bottle of whiskey with my friend. As a result, I got alcohol poisoning and almost die. I'm a very tough guy, as I grew up in Vietnam. I'm one of those kids who got into lots of fights etc.
I didn't see the whiskey as a big thing and I just chug it down like it's water. Back when I was very poor, I could only afford to drink beer. So whiskey and red wine are new to me.
Anyhow, the doc from the ED advised me about alcohol and whiskey, not to drink it. I told her: "doc, I now realized life is too short. You never know when the Lord will call your name. Life is just way too short ... when we're still alive, it's very important to ... just DRINK as much while we can." Hope you enjoy that joke. Cheers!
I drink a little every day and only drink a lot on special occasions. Drinking in moderation is good for your health. Just don't do the whole bottle of whiskey.
homonnayaDec 13, 2020 3:48 PM
Personally, I enjoy a glass of good wine every now and then. But as I get older I drink less and less. Perhaps it's because the hangovers are getting worse and worse.
biosci.capital.partnersModeratorLeaderDec 13, 2020 3:49 PM
homonnaya The red wine, one glass a day, will reduce your chances of dying from heart disease. Just don't think too much like a bottle, my friend.
You know the French, despite their big size like Americans, do not suffer much from heart disease. Researchers attributed that to the red wine they drink.
homonnayaDec 13, 2020 3:52 PM
I think it's also because the French know they are the greatest. (no offense, please).
Biosci.capital.partnersModeratorLeaderDec 13, 2020 3:53 PM
homonnaya No offense taken. Parle vous Francais?
homonnayaDec 13, 2020 3:54 PM
No, I don't speak French. Only Hungarian (my mother tongue), English and a little bit of German.
David.SingleDec 13, 2020 4:03 PM
Dr. T: Present cost base is $52.25.
lrnmo25Dec 13, 2020 4:28 PM
That's a great cost basis! Hope your medical situation improves. Have a good night. Going to squeeze in a run.
Biosci.capital.partnersDec 13, 2020 4:38 PM
lrnmo25 Enjoy your run, my friend. Always a pleasure to read from you and to listen to your wisdom.
Biosci.capital.partnersModeratorLeaderDec 13, 2020 4:03 PM
homonnaya Very interesting. After the Vietnam War in the 70s, most Vietnamese are dispersed all over the world as part of the Diaspora.
I came to America when I was a little boy. And nowadays, I'm more American than Vietnamese.
Biosci.capital.partnersModeratorLeaderDec 13, 2020 4:04 PM
David.Single You've gained quite a bit from AXSM. Have you considered taking half of the profits off the table?
David.SingleDec 13, 2020 4:05 PM
Dr. T - Nope. Still incrementally increasing position.
Biosci.capital.partnersModeratorLeaderDec 13, 2020 4:06 PM
homonnaya This is Lynn when she's older now. Still gorgeous. When she's in her 20s, she's like a model. https://www.youtube.com/watch?v
David.Single Congrats on your decision. I respect that. You have a lot of courage in holding and accumulating AXSM.
Any company having strong investors like you are blessed. That's because the stock price will have the best chances of doing very well.
Final Remarks
Buying a stock after it tumbled takes tremendous courage. That's because you have to overcome your fear. By overcoming your fear (i.e., False Expectations Appearing Real), you can make a tremendous amount of money in biotech. With his courage and patience, David is now 52.5% up for his position in AXSM. And David bought a lot of stocks.
As you can see, I would take profits on half of my position if I'm David. But the choice to buy, sell, or hold is always up to IBI members. And you should always trust your gut instinct (i.e., intuition) because it's more powerful than any analytic or market strategy.
If you want to be bolder and overcome your fear, surround yourself with people who are fearless. Be a part of a supportive community of experts.
I do a lot of stock research and recommendations inside our private investment community. And I can help you become the newer and better you. Some of our big winners include TG Therapeutics (TGTX), CRISPR Therapeutics (CRSP), CryoPort (CYRX), Intra-Cellular Therapies (ITCI), Axsome Therapeutics (AXSM), Corium International (CORI), Kite Pharma(KITE), Juno Therapeutics (JUNO), Sparks Therapeutics (ONCE), Tesaro(TSRO), Mirati Therapeutics (MRTX), etc ...
At IBI: Everyone is getting smarter. Everyone is respected. You don't feel like a fool. And you're a part of something bigger than yourself.
Inside IBI, we stay ahead of the market.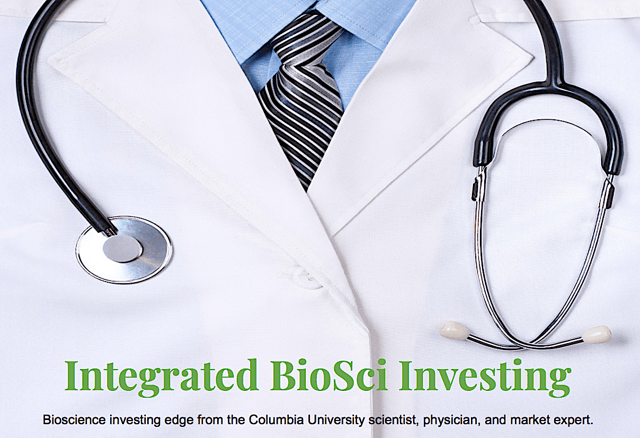 I'm so confident in the value of my service that I'm giving you a 2-week FREE trial, money-back guarantee.
Analyst's Disclosure: I/we have no positions in any stocks mentioned, and no plans to initiate any positions within the next 72 hours.
As a medical doctor/market expert, I'm not a registered investment advisor. Despite that I strive to provide the most accurate information, I neither guarantee the accuracy nor timeliness. Past performance does NOT guarantee future results. I reserve the right to make any investment decision for myself and my affiliates pertaining to any security without notification except where it is required by law. I'm also NOT responsible for the action of my affiliates. The thesis that I presented may change anytime due to the changing nature of information itself. Investing in stocks and options can result in a loss of capital. The information presented should NOT be construed as recommendations to buy or sell any form of security. My articles are best utilized as educational and informational materials to assist investors in your own due diligence process. That said, you are expected to perform your own due diligence and take responsibility for your action. You should also consult with your own financial advisor for specific guidance, as financial circumstances are individualized.
Seeking Alpha's Disclosure: Past performance is no guarantee of future results. No recommendation or advice is being given as to whether any investment is suitable for a particular investor. Any views or opinions expressed above may not reflect those of Seeking Alpha as a whole. Seeking Alpha is not a licensed securities dealer, broker or US investment adviser or investment bank. Our analysts are third party authors that include both professional investors and individual investors who may not be licensed or certified by any institute or regulatory body.