IBI Blogs On Retirement Secrets: Focusing On The Few Not The Many
Please Note: Blog posts are not selected, edited or screened by Seeking Alpha editors.
Integrated biosci research, consultant
Seeking Alpha Analyst Since 2013
As an astute devotee of Warren Buffet, Ben Graham, Phillip Fisher, Sir John Templeton, and Peter Lynch, Dr. Harvey devoured any resources/books on these gurus to learn their craft for over two decades. In the process, he refined their investment approaches specifically to biotech and founded Integrated BioSci Investing: The Number #1 Biotech Service for Long-Term Growth Investing and Power Catalyst Trading. 

Since inception, our flagship portfolio has delivered over 31.23% annual average (i.e. 187.39% for roughly six years). As you can appreciate, we're adept at assisting and serving institutional/retail investors/traders who are looking for alpha. Dividend investors wanting to boost your return can also benefit greatly from our investment research. We currently have over 20 docs in our service for us to tap into their clinical insight for your gains.

Check out some of our binary event forecasts that lead to meteoric gain like the 359% single-day pop from Madrigal Pharmaceuticals (MDGL)'s NASH data release. During his training at the world-renown Columbia University, Harvey Tran, M.D., M.S., developed a passion/edge for analyzing the intricacies of various preclinical/clinical studies, biostatistics, and science/medicine. Importantly, it allowed the physician-scientist Harvey to realize the internal working of various therapeutic in-development that the market tends to overlook.

In recent years, Dr. Harvey founded and led two healthcare roll-up companies. The endeavor helped him gain deep insight into the inner working of a corporate board. His experience as a consultant to common/professional investors and institutions gave him a huge advantage in biotech analysis. The combination of elite training and a passion for biotech provided Dr. Harvey with an aptitude for delivering highly accurate clinical data forecasting that is crucial to picking winning biotech investments for you.

Follow us for the latest research. And, take our FREE 2-week trial to Integrated BioSci Investing to start your winning process now!

Check out Dr. Harvey's LinkTree for his complete experience. You can make your one good decision a year as Mr. Buffett recommended by checking out  Integrated BioSci Investing!
To the bold and brave retiree investors/traders,
As you're now approaching or already entered retirement, you don't believe you should learn anymore.
That's what conventional wisdom tells you.
As such, you stop wanting to learn.
But if you want to live longer, getting more out of your life and your stock, you have to break away from conventional wisdom. Be adaptable. Free yourself from the Financial News Matrix.
I know my message isn't for everyone. So if you want to close my article now, you won't offend me.
Read on if you dare ...
That being said, here's a question for you, my friend: Have you ever wondered what the uber-rich do to make their money?
Ever wondered how they can fly first-class flight?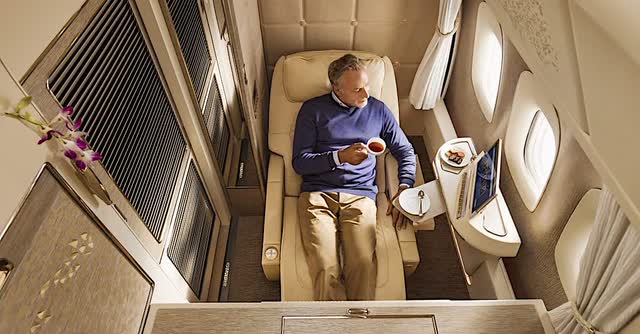 Well, my friends, they focus on the few rather than the many!
Success leaves clues. As such, I blog about them for you to learn from them. That way, you can improve your investing success.
So after many years in the market, I see countless investors/traders picking on too many types of stocks.
I, myself, made that same mistakes early in my investment journey.
I invested in oil refineries, retails, biotech, airline, restaurants, mining, etc.
You name the sector. Chances are that I've been there done that.
When you invest in too many sectors, you won't have enough time to develop expertise.
As you can see, it's just impossible to know all the intricacies of an industry.
Let's face it. Even with biotech alone, there's too much information for you to learn.
After 10 years as a physician/scientist from Columbia, there are always more things in biotech for me to learn.
And it's tough to assimilate knowledge in certain biotech sub-niches like gene therapy. You need prior background knowledge to excel.
Simply put, there's way too much to learn. And you need to master the expertise to make the most lucrative profits.
Now that you are aware of the problem, why don't you just pick one investing niche, says biotech?
Better yet, pick one sub-niche in biotech like cell-based therapy, oncology, or psychiatry?
If you're focused on psychiatric medicine, chances are that you've found Axsome Therapeutics (AXSM) when I first recommended it back in 2017.
At the time, AXSM was trading at $6.87. Since then, it has rallied to $80.05 as of this writing. That's a 1064.4% gain (i.e., 10 baggers).
If you bought $100,000 worth of AXSM, you'd have $1M by now.
As you know, expertise is crucial for investment success. By focusing on developing expertise, you'll have enough time to learn a niche in-depth.
What you know makes a huge difference between profits and losses in biotech.
You don't have to believe me. Just look at when a drug is FDA approved or rejected.
Following a "binary event," the stock usually rallies or tumble over 50%.
If you've been jumping around too much, make a change NOW!
And if you want the support of a community of experts to help you make positive changes, checkout IBI.
I do a lot of stock research and recommendations inside IBI. And I help you become the newer and better you. Some of our big winners include TG Therapeutics (TGTX), CRISPR Therapeutics (CRSP), CryoPort (CYRX), Intra-Cellular Therapies (ITCI), Axsome Therapeutics (AXSM), Corium International (CORI), Kite Pharma(KITE), Juno Therapeutics (JUNO), Sparks Therapeutics (ONCE), Tesaro(TSRO), Mirati Therapeutics (MRTX), etc ...
At IBI: Everyone is getting smarter. Everyone is respected. You don't feel like a fool. And you're a part of something bigger than yourself.
Inside IBI, we stay ahead of the market!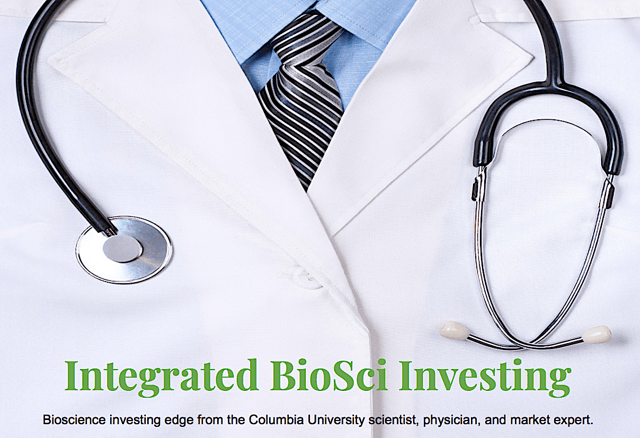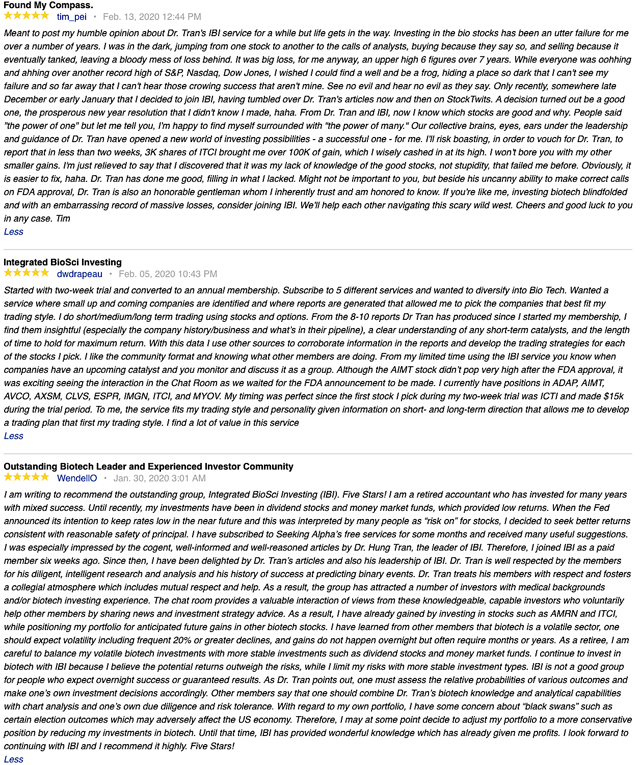 I'm so confident in the value of my service that I'm giving you a 2-week FREE trial, money-back guarantee.
Analyst's Disclosure: I/we have no positions in any stocks mentioned, and no plans to initiate any positions within the next 72 hours.
As a medical doctor/market expert, I'm not a registered investment advisor. Despite that I strive to provide the most accurate information, I neither guarantee the accuracy nor timeliness. Past performance does NOT guarantee future results. I reserve the right to make any investment decision for myself and my affiliates pertaining to any security without notification except where it is required by law. I'm also NOT responsible for the action of my affiliates. The thesis that I presented may change anytime due to the changing nature of information itself. Investing in stocks and options can result in a loss of capital. The information presented should NOT be construed as recommendations to buy or sell any form of security. My articles are best utilized as educational and informational materials to assist investors in your own due diligence process. That said, you are expected to perform your own due diligence and take responsibility for your action. You should also consult with your own financial advisor for specific guidance, as financial circumstances are individualized.
Seeking Alpha's Disclosure: Past performance is no guarantee of future results. No recommendation or advice is being given as to whether any investment is suitable for a particular investor. Any views or opinions expressed above may not reflect those of Seeking Alpha as a whole. Seeking Alpha is not a licensed securities dealer, broker or US investment adviser or investment bank. Our analysts are third party authors that include both professional investors and individual investors who may not be licensed or certified by any institute or regulatory body.