Powerful ICE (12/09/21): Some Intriguing Stocks Amid Biotech Bear Market
Please Note: Blog posts are not selected, edited or screened by Seeking Alpha editors.
Summary
SESN needs three (3) years to gather data for resubmission and approval.
It'll be a long way until CLVS FAP-2286 development matures ADGI is a good stock to keep an eye on.
Refiling is the best option for ICPT's obeticholic acid (OCA).
Dear Maverick IBI and Biotech Investors,
We're very proud to be part of this community composed of maverick investors who are gracefully sharing their insights on our powerful ICE discussions.
As a member's lead community, your insight drives our intelligence in uncovering highly profitable stocks.
In the spirit of generosity, we'd like to share some of what we discussed with all our readers.
Without further ado, let's start with the latest news on SESN for which they have announced an anticipated regulatory path forward for Vicineum.
Enjoy! 
George.mani Dec 9, 2021, 10:20 PM
What is the view on the latest news on SESN? How long will the new test and approval process take?
biosci.capital.partners Dec 9, 2021, 10:54 PM
george.mani Let me take a look into it for you, Mr. Mani.
george.mani It'll likely be three years. The trial is going to take roughly 2 years long + roughly one year for data gathering and resubmission and approval.
Sesen Bio Announces Anticipated Regulatory Path Forward for Vicineum™
Flamman Dec 9, 2021, 10:24 PM
Clovis Oncology Highlights FAP-2286 Preclinical Data Presented at the Targeted Radiopharmaceuticals Summit
biosci.capital.partners Dec 9, 2021, 10:58 PM
flamman FAP-2286 seems quite promising. This technology works. The key is that it'll take a while for them to advance it through trial b/c it's quite early.
flamman What are your thoughts, Mr. Flamman? Thanks.
Flamman Dec 10, 2021, 1:47 AM
I like the new Radiology treatment but they have a long way to go. I am not expecting much from CLVS. I am hoping for the unexpected. Like a nice revenue increase on new sales. Or 1st line ovarian cancer maintenance. It is not where I am putting in new money. I think we have better options.
Biosci.capital.partners Dec 10, 2021, 4:31 AM
flamman Congrats on your solid strategy, Mr. Flamman. 1st line ovarian cancer Rx would be very nice. It'll be a long way until FAP-2286 development matures.
Biosci.capital.partners Dec 9, 2021, 11:06 PM
all Dear, IBI members. Keep your eyes on ADGI. After a HUGE rally to the moon, ADGI cooled off, and momentum is now building again.
It seems like a good COVID play because their drugs have good chances of working against Omicron as well as other variants.
By focusing on the conservative region of the virus that does not evolve much, they can ensure much longer efficacy as well as hitting nearly all variants. Of course, that's theoretically, we'll have to wait for the full data. Thus far, I like ADGI.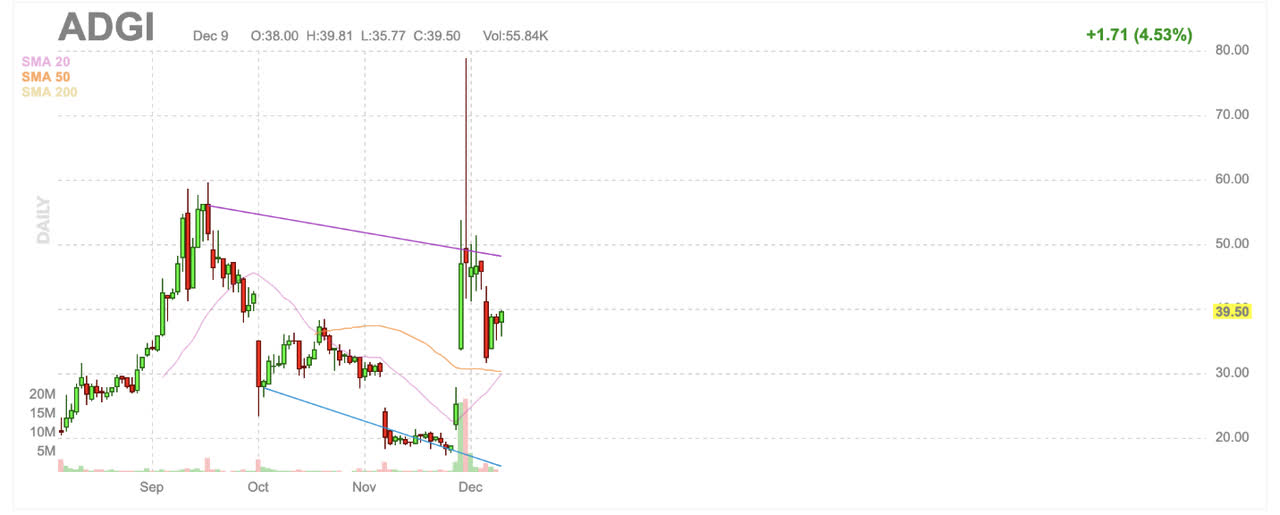 Flamman Dec 9, 2021, 11:23 PM
SESN path is filled with thorns!!
Biosci.capital.partners Dec 9, 2021, 11:28 PM
flamman We had a small prior discussion on this one, Mr. Flamman. As you and I and other IBI members expected, SESN will have to run a new trial. So the question now is how long would it take for the whole process until approval.
Biosci.capital.partners Dec 9, 2021, 11:47 PM
It's a "downmarket" today as biotech is hit again. I'll continue to keep my eyes on the market to cue you in on the best time to initiate more purchases.
Jw221 Dec 10, 2021 12:02 AM
Reata plunges after announcing outcome of AdCom vote (NASDAQ:RETA)
Biosci.capital.partners Dec 10, 2021, 1:15 AM
jw221 Biotech companies are being hit quite hard lately. ADCOM usually makes the right decision. If they voted no, the drug will unlikely get through the FDA.
jw221 What are your thoughts on strategies for RETA? Thanks.
Biosci.capital.partners Dec 10, 2021, 8:14 AM
kevinjohnston Does the TA indicate any upcoming recovery? Thanks, Kevin.
jw221 Dec 10, 2021 7:06 PM
I initially wanted to open an option position to capture the premium but hesitated. RETA is currently trading around MCAP of 1b, they have 700m cash in hand.
If Bardo does not receive approval, what are your thoughts on their other pipeline (Oma)?
Kevinjohnston Dec 11, 2021, 12:50 AM
I would avoid RETA for now. It's recovery is weak and has no support or bottom confirmed. I recommend watching it from the sidelines.
Alina17 Dec 10, 2021 12:18 AM
ICPT. Intercept Pharma to pull marketing application for NASH candidate in Europe
Intercept Pharmaceuticals (NASDAQ:ICPT) has lost ~9.3% in the pre-market after the company announced that it notified the European drug regulator of its decision to withdraw the Marketing Authorization Application (MAA) for obeticholic acid (OCA). With the MAA submitted to the European Medicines Agency (EMA), Intercept (ICPT) had sought the approval for OCA in liver fibrosis due to nonalcoholic steatohepatitis (NASH).
While the MAA was based on the data from the ongoing pivotal Phase 3 REGENERATE study, plans are in progress to generate additional data from the trial. However, the timeline for MAA could not be further extended to incorporate these data, anticipated in 2022.
Meanwhile, in its review, based on the data submitted so far, EMA's Committee for Medicinal Products for Human Use (OTC:CHMP) was not able to establish "a positive benefit-risk" for the drug, the company said in elaborating its reason to withdraw the application.
OCA, indicated in U.S. with ursodeoxycholic acid (UDCA) for primary biliary cholangitis netted $92.8M in sales for Intercept (ICPT) in Q3 2021 indicating ~17% YoY growth.
Flamman Dec 10, 2021, 12:27 AM
I would have thought this was obvious that it was likely they would have to refile. They do not have the data they need ready yet, but will have it soon and the EMA said they cant extend time further they have to refile.
They also have to refile with the FDA. So I am not sure why this is big news. Any negative sends the stock lower. Doesn't matter if we all know this info.
Alina17 Dec 10, 2021, 12:59 AM
Thanks for your comment flamman
Biosci.capital.partners Dec 10, 2021 1:17 AM
flamman Alina17 You're correct. They don't have the necessary data but EMA won't extend the timeline. As such, refiling is their best option.
Biosci.capital.partners Dec 10, 2021 8:14 AM
kevinjohnston How's the TA looking for ICPT, Kevin? Thanks.
Kevinjohnston Dec 11, 2021 12:41 AM
biosci.capital.partners It is very close to a bottom. An entry here is interesting. It has a strong support at 12.83 and is holding pretty well at 14.32 If it collaspe I would sell however, as the base is not solid yet.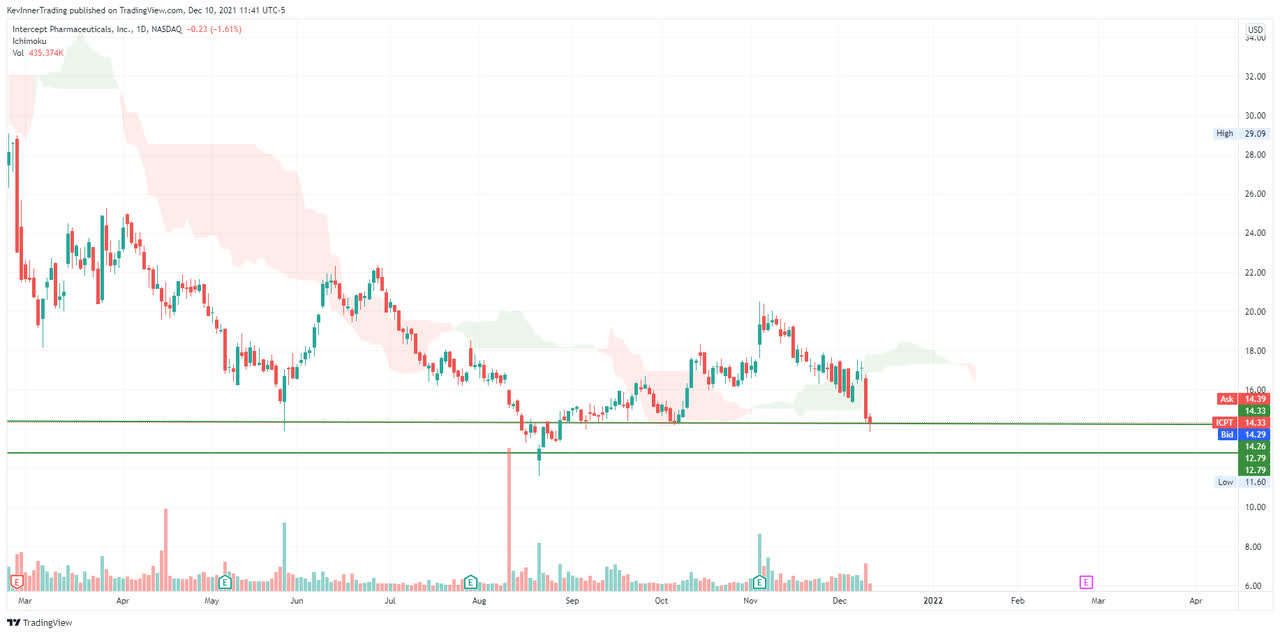 Biosci.capital.partners Dec 11, 2021 1:22 AM
kevinjohnston Excellent insight, Kevin!
Contrary to conventional wisdom, a bear market is when you will make the most money. After all, you can pick up stocks at a fraction of their true worth. And then, you hold patiently for the next upturn to take at least some profits. 
Now, that's just part of our strategies for the 2021 Biotech Bear market. There are more approaches to safeguard your portfolio and to bank further gains.
We hope you all enjoy this Powerful ICE that is the IBI Community Experience article. 
We encourage you to check more inside IBI during this Biotech Bear market for support and leads to build for the next upturn.
To your success,
Dr. Harvey Tran and IBI Portfolio Manager
Analyst's Disclosure: I/we have no stock, option or similar derivative position in any of the companies mentioned, and no plans to initiate any such positions within the next 72 hours.
As a medical doctor/market expert, I'm not a registered investment advisor. Despite that I strive to provide the most accurate information, I neither guarantee the accuracy nor timeliness. Past performance does NOT guarantee future results. I reserve the right to make any investment decision for myself and my affiliates pertaining to any security without notification except where it is required by law. I'm also NOT responsible for the action of my affiliates. The thesis that I presented may change anytime due to the changing nature of information itself. Investing in stocks and options can result in a loss of capital. The information presented should NOT be construed as recommendations to buy or sell any form of security. My articles are best utilized as educational and informational materials to assist investors in your own due diligence process. That said, you are expected to perform your own due diligence and take responsibility for your action. You should also consult with your own financial advisor for specific guidance, as financial circumstances are individualized. That aside, I'm not giving you professional medical advice. Before embarking on any health-changing behavior, make sure you consult with your own doctor.
Seeking Alpha's Disclosure: Past performance is no guarantee of future results. No recommendation or advice is being given as to whether any investment is suitable for a particular investor. Any views or opinions expressed above may not reflect those of Seeking Alpha as a whole. Seeking Alpha is not a licensed securities dealer, broker or US investment adviser or investment bank. Our analysts are third party authors that include both professional investors and individual investors who may not be licensed or certified by any institute or regulatory body.