This morning.  
Equity futures point to a modestly lower open, following weakness in Asia and Europe on monetary policy concerns. China hiked bank reserve rates by +0.50%, following South Korea's rate hike yesterday.  Comments from the ECB's Trichet and Weber were interpreted as "hawkish". In the U.S., March SPX futures are at 1276.20, down -3.76 points after fair value adjustment.  Yesterday, the four major indexes closed modestly lower, on mixed volume. Market breadth was negative.  Markets are in a confirmed uptrend.  The number of recent distribution days (index losses of more than -0.25%, on increased volume in the past 25 trading days) was unchanged.  Next SPX resistance is at 1286.82.  Next support is at 1280.59.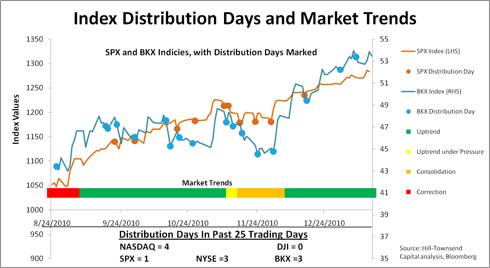 On concerns that further rate increases will inhibit growth, Asian equity markets closed mixed, with Chinese equities lower on higher volume. The Nikkei, Hang Seng, and Shanghai closed -0.86%, +0.18%, and +1.29%, respectively.  Volume was +2.87% higher on the SHCOMP, with basic materials and technology both off more than -3.0%.  Financials were middling performers, ending -0.95% lower.  The SHCOMP posted its 1st distribution day since markets confirmed a new uptrend on December 28th, ending a sharp -13.5% correction that started November 9th. European equity markets are lower. The Eurostoxx50, FTSE, and DAX are down -0.69%, -1.21%, and -0.62%, respectively.  On the EuroStoxx, financials are middling performers, down -0.50%.
LIBOR trends remain unremarkable.  Overnight USD LIBOR is 0.23875%, down from 0.24000% Thursday, and down from 0.25188% at year-end.  USD 3-month LIBOR is 0.30313%, unchanged since January 6th and compared to 0.30281% at year-end.  In early trading, the dollar is slightly stronger against the euro and yen, but slightly weaker against the pound.  The euro trades at US$1.33347, compared to US$1.3364 Thursday and US$1.3131 the prior day.  The euro's technical breakdown eased this week, rising back above its 50- and 200-day moving averages, US$1.3310 and USD$1.3071, respectively.  The dollar trades at ¥82.92, compared to ¥82.81 Thursday and ¥83.00 the prior day.  Treasury yields are slightly higher, with 2- and 10-year maturities yielding 0.609% and 3.313%, respectively, compared to 0.577% and 3.297% Thursday.  The yield curve spread narrowed to +2.704% compared to +2.720% the prior day.  In the past year, the 2- and 10-year spread has varied from a low of +1.959% on August 26, 2010, and a high of +2.90% on January 11, 2010.  Commodities are generally lower, with mixed petroleum and natural gas, lower precious metals, aluminum, and copper, and generally lower agricultural prices.
U.S. news. 
Economic reports include December CPI, retail sales, industrial production and capacity utilization, the University of Michigan confidence report, and November business inventories.
Overseas news.
   This morning, German Bundesbank President Weber reiterated European Central Bank President Trichet's comments yesterday that the Euro-zone's economic outlook has improved and inflation risks could increase.  In December, the Euro-zone's inflation rose above a 2% annual rate for the first time in two years.  Last night, China's central bank hiked the reserve requirement ratio by 50 basis points. 
·

        
JPM – reports GAAP EPS of $1.12 with operating earnings of $1.16 after excluding $0.18 per share benefit from securities gains and a $0.22 per share loss from litigation reserve provisioning. 
Thursday's equity markets.
 Markets kept their losses small, while shrugging off a raft of negative news – a weak weekly initial jobless claims report, a rate hike in South Korea, accelerating inflation in India, and "hawkish" comments from ECB authorities. Markets opened lower, found support enough mid-morning to recover to breakeven at noon, and then lost ground through the afternoon until a final half-hour rally reduced losses to less than -0.25%. The DJI lost -0.20%, followed by the SPX (-0.17%) and the NASDAQ and NYSE down -0.07% and -0.04%, respectively. Volume was mixed, higher on the DJI, SPX, and NASDAQ, but lower on the NYSE.  Telecommunications, consumer goods, and consumer services fared best. Financials, health care, and basic materials were the worst performers.
Trading desks reported complaints that markets are tired. Given the absence of meaningful recent market pullbacks, traders express concerns that earnings releases will provide the excuse for investors to take profits. Thus, there's little high conviction trading in a market that appears overbought in the short-term, at least by some measures.
Still, technical indicators are positive.  Markets are in a confirmed uptrend that began in early September, which after consolidating in November, extended robustly through one of the strongest Decembers on record.  For the 2nd consecutive week this year, markets appear likely to close higher. All major indexes closed above their respective 200-week and 20-, 50-, 100-, and 200-day averages.  Markets are in a bullish configuration, with 50-day moving averages above respective 200-day moving averages.  New 52-week highs minus new lows fell to +125 from +263 the prior day, but the HILO trend is positive, as the 10-day moving average is at 184.10, above respective 20- and 50-day moving averages (169.55 and 158.64).  Directional movement indicators are positive, and the trend is strengthening.  Relative strength indicators suggest that the market is overbought, though markets currently trade at large discounts to average price/earnings multiples.  Prospective resistance levels are 1290 on the SPX, followed by 1295, and 1305; technical support is at 1278, followed by 1270, and 1260.
Market volatility indicates continued complacency. The VIX rose +0.92%% to end at 16.39, up from 16.24 the prior day.  Market sentiment is positive, probably excessively so, though off recent highs.  The latest week's (January 13h) AAII Investor Bullish Sentiment index fell -6.34% to an elevated 52.34, from 55.88 on January 6th, but below the 63.30 reading of December 23rd.  Sentiment indicators are highly variable and are often best read as contrarian in their aspect.  Despite positive sentiment, there are many market skeptics, too, and they have hardly capitulated, based on endless business network interviews and research that passes this desk.
Financial stocks closed lower, as the XLF, BKX, and KRX declined -0.35%, -0.72% and -0.91%, respectively.  While the broader indices are near two-year highs and have recovered their post-September 2008 losses, bank stocks have not, with the BKX closing -7.73% below its April highs and -35.2% below its best level of 82.55 in September 2008.
NYSE Indicators. 
Volume fell -4.04% to 924.63 million shares, from 943.92 million shares Wednesday, and compares to a 989.6 million share 50-day moving average.  Market breadth was negative, and up volume lagged down volume.  Advancing stocks trailed decliners by -271 (compared to +1274 Wednesday), or 0.83:1.  Up volume led down volume by 0.64:1.
4Q2010 Earnings. 
The quarter's first earnings results have so far exceeded EPS expectations and matched revenue estimates.  Of the 5 S&P500 companies that reported earnings to date, 80% (4 of 5) beat operating EPS estimates, versus the historical average of 62%.  Companies beat by an average of +12.1% (versus a historical average of +2%).  EPS is up +48.3% over the prior year.  Though challenged in the current operating environment, 3 companies (60%) reported increased revenues and 3 companies (60%) beat revenue estimates. 
Valuation. 
The SPX trades at 13.5x estimated 2011 earnings ($95.05) and 11.9x estimated 2012 earnings ($107.59), compared to 13.5x and 12.0x respective 2011-12 earnings yesterday.  The 10-year average median Price/Earnings multiple is 20.0x.  Since the beginning of 2010, analysts increased 2011 and 2012 earnings estimates by +2.8%, and +3.4%, respectively.  Analysts expect 2011 and 2012 earnings to exceed 2010 earnings by +18.6% and +34.2%, respectively.
Large-cap banks trade at a median 1.56x tangible book value and 14.0x 2011 earnings, compared to 1.59x tangible book value and 14.6x 2011 earnings yesterday.  These compare to the 10-year average median multiples of 3.08x tangible book value and 15.9x earnings.  Analysts expect 2011 large-cap bank earnings to exceed 2010 earnings by +34.3%.  Analysts' estimates for bank 4Q2010 earnings are 18.9% higher than were estimates for 3Q2010 earnings.  In 3Q2010, large-cap banks earned $13.78 (the sum of 31 banks' operating EPS), compared to $5.32 in 3Q2009.  In 3Q2010, the BKX earned $0.71 per share, compared to -$1.24 per share a year earlier.
Quarterly Bank Balance Sheet Analysis. 
According to the Federal Reserve's latest weekly H.8 report (data through 12/29/10), the 25 largest domestic banks collectively reported a +1.0% increase in period-end loans over the third quarter, a -6.3% drop in reserves (to 3.81% of total loans, or a -$10.2 billion drop from the prior quarter), and a +3.4% increase in deposits. 
Regarding loans, C&I loans increased approximately +2.2% over the third quarter levels, residential real estate climbed +2.0%, and credit card loans increased +1.2%, while home equity loans declined -3.9% and commercial real estate loans declined -3.2%. 
SPX.
  On higher volume, the SPX fell -2.20 points, or -0.17% to 1283.76.  Volume rose +0.28% to 737.15 million shares from 735.08 million shares Wednesday, below the 777.95 million share 50-day moving average.  For the 60th consecutive day, its 50-day moving average closed above its 200-day moving average (1231.80 versus 1151.05, respectively).  The SPX closed above its 200-week moving average (1183.88). 
The SPX opened flat with negative momentum, falling four points to 1282 by 10:00.  Buyers bought the dip and brought the index back to break-even by 11:30.  The index struggled to stay above water, and took several steps lower through the afternoon.  A 2:20 sell-off took the index below 1283.  A moderate rally followed before a 2:45 sell-off dropped the index below 1282.  Another rally followed, but he index took its final leg down at 3;15, crossed 1281 by 3:30, and set an intra-day low of 1280.47 at 3:34.  The SPX staged a strong rally into the close, but only made up half its losses.  The index closed +4.22% above its 50-day moving average, closing above that average for the 92nd consecutive day, and +11.53% above its 200-day moving average.  The 20-, 50-, 100-, and 200-day moving averages rose.
Technical indicators are positive.  The SPX closed above its April highs for the 30th straight session, above 1270 for the six time in the previous seven sessions, and above 1280 for the second straight session. The directional momentum indicator is positive, with an increasing trend.  Relative strength fell to 73.09 from 75.63, an overbought range.  Next resistance is at 1286.82; next support is at 1280.59. 
BKX.
  On lower volume, the KBW bank index closed at 53.47, down -0.39 points or -0.72%.  The index closed +24.41% above its August 30 closing low of 42.98, the trough of the recent prior correction, but -7.73% below its April 23rd closing high. 
Financials underperformed the market, and regionals underperformed large-cap banks.  Trading mirrored the broader markets.  The BKX opened slightly up at the 53.90 level, but negative momentum moved financials to losses quickly.  A sharp 10:00 sell-off brought the BKX to 53.40, where a buying-the-dip rally took hold and pushed the index back to gains by 11:30.  The index set an intra-day high of 54.02 at 12:05 before a gradual afternoon decline retraced gains.  The index hovered at 53.60 through 2:15, when another sell-off pushed it down 10 basis points.  The day's low of 53.27 came at 3:40.  The BKX's closing bell rally was tepid.  The index closed above 50 for the 18th straight day.   Volume fell -9.98% to 133.66 million shares, down from 148.47 million shares Wednesday, and below the 159.46 million share 50-day average.
Technical indicators are positive.  The BKX closed above its 20-, 50-, 100-, and 200-day moving averages (52.33, 49.34, 47.71, and 49.11, respectively), closing above the 200-day average for the 26th straight session.  The 20-, 50-, 100-, and 200-day averages all increased.   The 50-day moving average closed (by +0.23 points) above the 200-day moving average, closing above it for the second straight day.  The directional movement indicator is positive, with a stable trend.  Relative strength fell to 64.31 from 68.09, the high end of a neutral range.  Next resistance is 53.91; next support at 53.15.
Disclosure:
I am long
JPM
.