Disclosure: I have no position on HLF stock.
Note: SEO = Search Engine Optimization
In Herbalife's self-narrative, just a handful of experts and anti-MLM zealots have suggested a correlation between multilevel marketing companies and scams. If monthly consumer search volume data from Google showed Herbalife's self-narrative to be a complete hoax, what would be implied about the company's ability to report the facts about itself? Further, if Herbalife used fake Seeking Alpha accounts to pose as pyramid scheme experts in the online discussion of its own stock value, would it support the accusation that the company relies on the use of deception? What if Herbalife had also put up a fleet of websites and fleet of deceptive YouTube videos designed to misinform consumers when they asked the most common questions about Herbalife on Google and Bing? If all of this were true, what would be implied about Herbalife's relationship with unfair and deceptive business practices?
Before starting an SEO and analytics consulting firm, I worked as a web analyst for The Integer Group, an international marketing agency whose clients include Starbucks, Michelin and Pepsico. In analytics departments of agencies that size, important tasks include the identification of paid/fake social media accounts that a client's competitors may employ, the measurement of consumer search volume for branded keywords and the analysis of competitors' SEO strategies.
Herbalife SEO report
Let's start by debunking the myth that only experts and zealots associate multilevel marketing companies like Herbalife with scams. To do this, we'll look at the scam related searches that US consumers run on Google: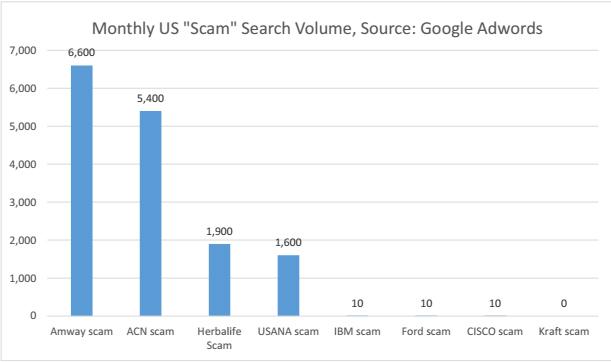 According to this data, when US consumers search the name of a company and the word "scam," they are between 160 and 660 times more likely to be searching for an MLM than a non-MLM. In the perception of US consumers with internet access, there is a strong correlation between MLM companies and scams. The data show that multilevel marketing companies like Herbalife are suspected of being frauds by the general US public, not just by experts. Herbalife's narrative has been a hoax. Let's confirm by drilling down and comparing US consumer searches run on Herbalife to those run on GNC: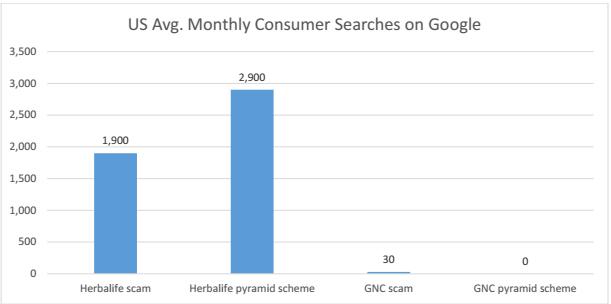 Again, on the left side of the graph is a multilevel marketing company and on the right is a non-MLM that sells similar health supplements. This data strongly suggests that the public's mistrust of Herbalife is related to its multilevel marketing structure, not its products.
At this point, Herbalife's brand is so shattered from an SEO perspective that it could be considered beyond repair. For example, the company has lost complete control over common Google searches like, "Herbalife scam."
Paid Seeking Alpha Accounts?
I asked an HLF long where I could go to get a good education on pyramid schemes. The SA account, named Hershall Muzzy, referred me to the SA account, Ben Nimaj, a self-proclaimed pyramid scheme expert who posts in favor of Herbalife.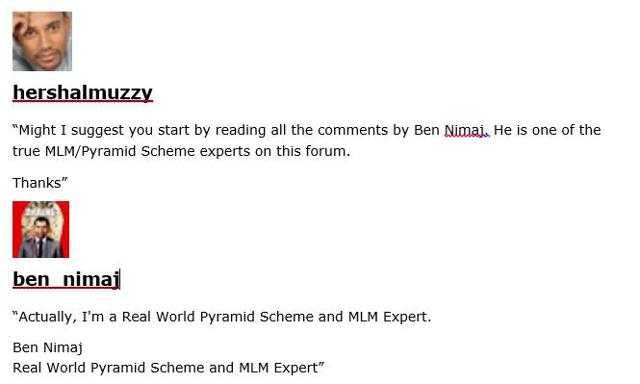 The Hershall Muzzy account verifies the expert status of the Ben Nimaj account. There's a problem fellas. These are shills or plants in the crowd. Let's take off the masks. Hershall Muzzy has stolen the visual identity of television actor Hill Harper: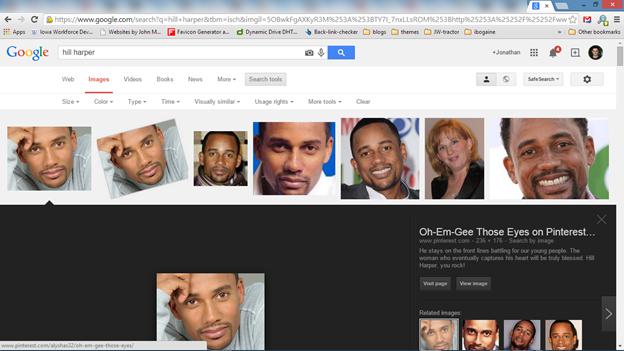 And here's where it gets sillier, both accounts also have Twitter accounts under the same names, and post non-stop about the value of HLF stock. They post about nothing else. Google, Bing and Yahoo have never heard of Ben Nimaj, pyramid scheme expert outside of SA. There is no social media history for the Ben Nimaj account that predates the Ackman thesis! From a corporate perspective, these are paid accounts and we can dismiss everything they have to say. You should read what they've said on SA. Is it illegal to pose as experts in the online discussion of your stock's value?
Herbalife SEO Fraud
Based on monthly search volume data across MLM brands, it is absolutely essential for every multilevel marketing company to own the top search results when consumers search its name plus the words, "reviews" "scam" or "pyramid scheme." In other words, for Herbalife, it was absolutely critical to own the SEO for the Google searches shown below.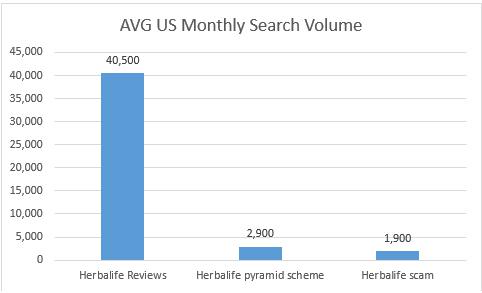 If there are any doubts that Herbalife and other MLM schemes deliberately targeted the keywords above, I will drill down into the data because it tells a chilling story of fraud. It was so vital for Herbalife to own the first page of Google and YouTube search results for "Herbalife scam" that a new branch of the SEO profession emerged to serve the specific need of flooding first page search results for (MLM name) + "scam." Salty Droid first demonstrated the fleet of fraudulent Herbalife YouTube videos here: https://www.youtube.com/watch?v=gYNoK-_EFVI Flooding the first pages of search results with misinformation is such a profitable business for multilevel marketing companies that the SEOs who can pull it off for one MLM don't stop there. The data from http://manifestwitharmando.com/ and countless other recruiting sites, show that the same web designers who write sites to come up first for the search "Herbalife scam" also put up sites with identical snippets of html code at the same IP address and URL designed to misinform consumers who search for "Amway scam" "Dubli scam" "Wake Up Now scam" "Organo Gold scam" and many others. Check the links.
To be clear, the only reasons to target a company's name and the word "scam," are to report a scam or to sell a scam. There are no other motives for wanting to own those keywords.
If Fitzpatrick and Dr. Taylor have correctly identified a loss rate greater than 99% across all MLM business opportunities, it would explain why so many consumers are skeptical enough to type the word "scam" after any given MLM brand and search it on Google. It could explain why MLMs seek to control the scam information consumers can find online surrounding their brand. The data here all suggest that distributors for Herbalife and virtually all multilevel marketing schemes are using SEO in a premeditated fashion to deceive consumers who try to investigate business opportunities and scam claims. In terms of Herbalife and the several hundred MLMs using its business model under the DSA, what does this mean about their use of deceptive and misleading business practices?
Let's continue to drill down and see what kind of story the data tells about the MLM industry's use of deception and misinformation. The demand for such deception is so great that as soon as con artists find a niche, such as the ability to come up first on YouTube for the search, "Shaklee scam," they continue to do business with as many multilevel marketing companies as possible. Spamming YouTube was Shaklee's response to losing its first place ranking for the Google search, "Shaklee scam" in 2013. Consider career MLM defender, Kate McShea, and her premeditated use of SEO fraud to deceive consumers who try to search YouTube or Google for Beachody, Primerica, Shaklee, Sesil, Telexfree, Viridian, Vitel, Xango, Ambit,Momentus, ROI Unlimited, Asea, Monavie and Nerium scams. Check the links. McShea's meta tags, meta descriptions and transcribed audio content all indicate that her video content targets consumers looking for (MLM name) + "scam" (or) "reviews" (or) "pyramid scheme." There are thousands of Herbalife distributor websites that use the exact same algorithm to intercept consumers before they can access real information on an MLM brand. These websites usually claim to be written by independent, objective third parties who are investigating the possibility of an Herbalife scam. These sites list the merits of Herbalife and within one or two link clicks, they offer to sell consumers lead generation tools. In other words, the sites that came up for the search "Herbalife scam" before the Ackman thesis, all appeared to be third party, positive reviews of Herbalife that would also sell you lead tools and recruiting. Herbalife distributors were effectively blocking consumers from getting real information on what we know are the most common searches. Further, the claim cannot be made that a handful of rogue Herbalife distributors are to blame for this or that their efforts could be stopped without shutting Herbalife down.
From a supply and demand perspective, data show a strong consumer demand for information on MLM scams. So long as the product-based pyramid scheme model operates, these "rogue sites" will continue to misinform consumers about scams. It doesn't matter if they are hosted in the US, in India, whether they are paid for in US dollars, in Bitcoins, under real names or aliases, they will always present the threat of misinformation in response to the public demand for truthful scam information.
Is Herbalife really using fake SA accounts to pose as experts in the online discussion of its stock price? That remains to be seen. Perhaps the accounts mentioned in this article could provide SA readers with some contact information so that their real names can be verified. They should also account for their online activities in the decade leading up to the Ackman presentation.
If the math behind a mature multilevel marketing scheme leaves more than 99% of consumers doomed to lose their investment, the cult doctrine that says participants fail because they don't work hard enough is like saying that if participants jump from a plane and hit the ground, it's because they don't flap their arms hard enough. The data presented here indicate the urgent need for a Federal agency to protect consumers from unfair and deceptive business practices. In particular, such an agency would need to set a precedent by fully protecting US consumers from DSA member companies such as Herbalife.
Disclosure: The author has no positions in any stocks mentioned, and no plans to initiate any positions within the next 72 hours.