An Unprecedented Opportunity to Profit Very Handsomely by trading VIX Options
Section 1: The VIX and how to trade VIX options
Section 2: An unprecedented opportunity to profit handsomely
Section 3: When to put your money on the table
Section 4: Are there any risks to buying VIX calls? On September 2nd Acampora predicted market risks.
***
The VIX is an indicator: stocks go up, the VIX goes down; VIX goes up, stocks go down. While that's correct, there's a bit more to be said.
(1…) The VIX and….
More specifically, S&P's VIX® index is the leading measure of expected stock market volatility, as E-trade makes clear. As a barometer of stock-market fear, the VIX may signal whether the market is about to fall or about to rise. "When the VIX spikes up sharply, it can mark a meaningful bottom for the stock market, which often means we're poised for a rally," says Dave Whitmore, senior strategist at E*TRADE. On the other hand, when the VIX stays in the lower part of its range for an extended period, it may indicate that the market has become too complacent. "Complacency as measured by the VIX can mean there is too much bullish sentiment," explains Whitmore. " When that's the case, "it may be time to put on a helmet in anticipation of the market dropping."
According to the usual reliable source, "the VIX is quoted in percentage points and translates, roughly, to the expected movement (with the assumption of a 68% likelihood i.e. one standard deviation) in the S&P 500 index over the next 30-day period, which is then annualized. For example, if the VIX is 15, this represents an expected annualized change, with a 68% probability, of less than 15% over the next 30 days; thus one can infer that the index option markets expect the S&P 500 to move up or down 15%/√12 = 4.33% over the next 30-day period. That is, index options are priced with the assumption of a 68% likelihood (one standard deviation) that the magnitude of the change in the S&P 500 in 30-days will be less than 4.33% (up or down)." Leaving aside the math, the VIX is intended to be an indicator of the volatility of the S&P over the next 30 days.
The CBOE tells us that "VIX is often referred to as the "investor fear gauge." While the VIX itself cannot be traded or owned, as Investopedia points out: VIX options allow traders to trade volatility.
According to Investopedia, "one advantage of the VIX is its negative correlation with the S&P 500. According to the CBOE's own website, since 1990 the VIX has moved opposite the S&P 500 Index (SPX) 88% of the time. On average, VIX has risen 16.8% on days when SPX fell 3% or more. This makes it an excellent diversification tool and perhaps the best market disaster insurance. Buying VIX calls seems to be an even better hedge against drops in the market (S&P) than buying SPX puts. The chart in Figure 2 shows how the VIX moves in opposition to the SPX in big moves down in the SPX. In 2008, the VIX reached its highest close at 80.86."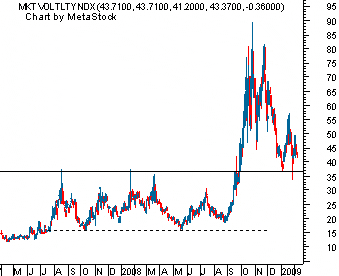 Figure 1
Source: MetaStock
With Figure 1, Investopedia shows the VIX indicator from April 2007 to February 2009. As you can see, as Investopedia tells us, "the VIX spiked in September 2008. This unprecedented rise in the VIX coincided with extreme panic and one of the sharpest drops in the history of the financial markets. The VIX values near the dotted trendline portray a much different picture; they could be used to predict bullish sentiment and a much less volatile period of investing. Given the unfolding of the credit crisis in late 2008 , it is not surprising to see that the VIX was suggesting that panic was dominating the market."
The dramatic rise of the VIX in 2008 offers a clear example that serious money can be made on the VIX. Now consider Figure 2, which shows the inverse relationship between the VIX and the S&P: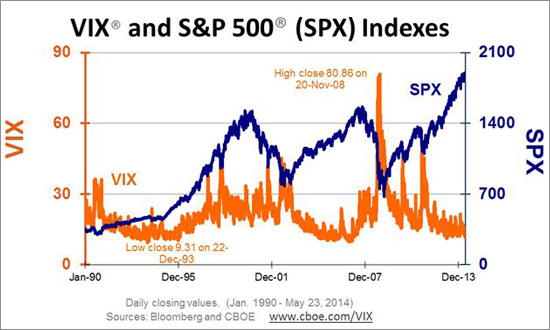 FIG 2: Jan, 1990 to December, 2013: The Relationship between VIX and S&P
As you can see in figure 2, the VIX trades within a given range. It bottoms out around 10, as Investopedia reports, because if it were to go to zero, that would mean that the expectation was for no daily movement in the SPX. On the other hand, the VIX has spiked upward to around 80 when the SPX has dropped, but for the VIX to stay there would mean that the market expectation was for very large changes over an extended time frame.
Enhancing the effectiveness of VIX options for investors is their volatility. According to the CBOE, the volatility for the VIX itself was more than 80% for 2005, compared to about 10% for SPX, 14% for the Nasdaq 100 Index (NDX) and about 32% for Google. The value of the options is not direct from the "spot" VIX, rather, it is the forward value using current and next month options; volatility for the forward VIX is lower than that of the spot VIX (about 46% for 2005). However, this is still higher than most stock options out there. An instrument that trades within a range, cannot go to zero and has high volatility, can provide outstanding trading opportunities.
Following the tracks of Investopedia, unlike standard equity options, which expire on the third Friday of every month, VIX options expire one Wednesday every month. With their good volumes, these options provide excellent liquidity, as confirmed by Traders Laboratory. According to the CBOE's website, when VIX options were launched in 2006, CBOE set a new single-day trading record in options on the VIX on March 29, 2006, when 31,481 contracts traded. For all of March 2006 - the first full month of trading for VIX options - total volume was 181,613 contracts, with an average daily volume of 7,896. At the end of March, Investopedia noted that open interest already stood at a very healthy 158,994 contracts. In February of 2012, the volume for options averaged above 200,000.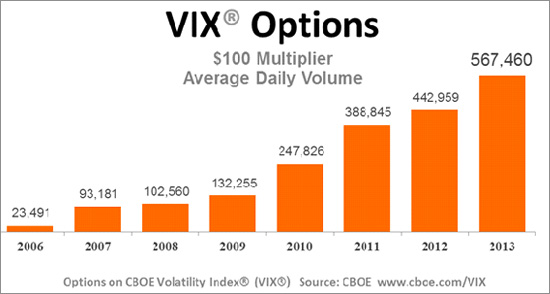 With a new instrument in their trading arsenal, one that isolates volatility, trades in a range, has high volatility of its own and cannot go to zero, option traders have an exciting way of trading volatility.
(…1) ...and how to trade it [VIX]
The VIX is not traded directly and itself has no dollar value. Instead, we can purchase calls or puts on the VIX. Unlike calls and puts on stocks, the calls and puts on the VIX are intended to mark where the VIX will be at the expiration of that particular call or put. For example, the VIX closed on Friday, August 22, at 11.47, at the bottom of it's day range from 11.47 to 12.48. In the history of the VIX , this falls into part of the seven year low range. Here's a chart over a five year period to give you an idea of its trading range and how low it is today: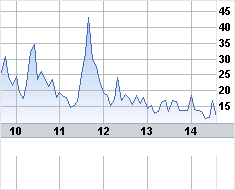 You can see from the chart that for three of these years the VIX was above 15.
Since the VIX has no value and cannot be purchased, we trade it by purchasing calls or puts.
____________________________________________________________________________________
Top of Form
Trade

Quote

Open
Interest

Volume

Net Change

Last

Bid

Ask

Expire
Month

Bid

Ask

Last

Net Change

Volume

Open
Interest

Quote

Trade

4,736

106

-0.03

2.46

0.05

0.00

436

28,433

1,800

41

0.00

3.30

0.11

-0.04

129

18,548

856

12

0.10

4.00

0.10

-0.03

25

3,923

787

16

0.17

4.50

0.10

-0.03

150

2,698

18

0

0.00

5.20

0.15

0.00

0

450

1

4

-0.07

5.53

0.10

0.00

0

12

Closing Price : August 22, 2014 4:14:00 PM EDT

__________________________________________________________________________________

What we have above is the closing information on August 22nd for the calls and puts for the VIX for September, 2014. Note that the expiration date of these options is not the Friday following the 15th of the month, but the following Wednesday.

Here is a trading example of what would have happened if you purchased calls on the VIX on July 30th or a few days before (on July 30th the VIX was 13.3). On Thursday, July 31, 2014, the Dow Jones industrial average .DJI fell 317.06 points or 1.88 percent, to 16,563.3, while the S&P 500 .SPX lost 39.4 points or 2.0 percent, to 1,930.67 and the Nasdaq Composite .IXIC dropped 93.13 points or 2.09 percent, to 4,369.77. The VIX jumped 27.2% to close at 16.95, its highest level since April 11. Had you purchased calls a few days earlier, you would have made a very tidy profit.

(2) An unprecedented opportunity to profit handsomely

The S&P has crossed over into the 2000s on Monday, which is a dandy rise from the 2008 lows. It has been trading at or within a few points of the 2000 threshold for three days now. The S&P 500 is "arguably overbought on a short-term basis. To that end, the S&P 500, at today's [Monday's high], was up 4.8% since August 7."

There is a reasonable chance the market won't remain above 2000. But falling below 2000 hardly presents an opportunity to profit handsomely. There are two reasons this is an situation in which we might enjoy extraordinary profits.

The first is that the VIX and markets generally have been lulled "into a false sense of security". The BIS (Bank of International Settlements), usually dubbed the "central banks' central bank," urged policy makers to begin to normalise rates. "The risk of normalising too late and too gradually should not be underestimated," the BIS said. The FTSE all-world share index is up 5% so far this year, while the VIX, a measure of US market volatility known as the "fear index" , is at a seven-year low. Growth has disappointed even as financial markets have roared. "Overall, it is hard to avoid the sense of a puzzling disconnect between the markets' buoyancy and underlying economic developments globally," the BIS said in its annual report.

The BIS was founded in 1930 and is the world's oldest international financial institution. Its 60-strong membership includes the Bank of England, the European Central Bank, the US Federal Reserve, the People's Bank of China and the Bank of Japan.

That is a sobering warning. Slightly more lively and focused on the VIX is the statement by investwithalex.com: "The VIX is scratching the bottom of the barrel here, indicating outright complacency in this highly speculative and overpriced market. ….VIX is not that far from it's all time low. Just as a reference point, we faced a very similar situation in 2007 when VIX got into $10 territory. Right before the 2007-2009 collapse initiated. Today, we face a very similar situation. Not only in VIX, but in market's fundamental setup. As per ou[r] mathematical and timing work the bear market of 2014-2017 is just around the corner. When it starts expect VIX to spike."

The VIX is in an unprecedented complacency zone. It's not been here for seven years. Investors have become so relaxed and calm that this fact itself makes investors nervous. Money Banking asks and answers the conundrum question: This may sound perverse: why would low volatility be associated with high risk? The logic goes like this. When implied volatility is high, investors are cautious because they anticipate a great deal of risk. Conversely, when implied volatility is low, investors are confident that the risk of big price changes is low. They are willing to take greater risk - to pay a higher price for small expected gains - because they see little downside.

Even the Fed is concerned that low volatility has made investors complacent about risk. According to the minutes of the June 18 FOMC meeting: "…low implied volatility in equity, currency, and fixed-income markets as well as signs of increased risk-taking were viewed by some participants as an indication that market participants were not factoring in sufficient uncertainty about the path of the economy and monetary policy." When investors underestimate market risks, the prices of risky assets rise to levels unwarranted by fundamentals. Lofty asset prices can plummet, leading to volatility to surge, which only adds more to investor caution.

One item that has been keeping investors comfortable is the continuation of low interests. "There's a lot of complacency right now, and if you look at the market path for interest rates relative, for example, to ... the FOMC's projections, you will see that those have been far apart," said Kansas City Fed President Ester George a week ago Thursday.

The minutes from the Fed's July meeting, released Wednesday, showed that policymakers discussed raising rates sooner than expected, but they continue to disagree on how much the U.S. labor market is improving. "I think the economy is already showing signs [of improvement]," Fed President Ester George told CNBC. "I don't want us to be behind the curve in beginning to normalize interest rates."

In response to the fact that many economists expect the Fed to pull the trigger on rates next summer, Kansas City Fed president George said, "The markets should always be looking at how the economy is unfolding, because I doubt that the committee will be picking a date." There will be no fixed date, she said, but advised that "when you see the economy getting as close as we are to full employment, to stable inflation , it would suggest to me that the time has come to do that," she continued. "It's a process though."

The widespread assumption that interest rates won't rise before next summer and a warning from the BIS provide serious evidence that the US markets may be much too complacent. The interest rate factor also affects the markets directly and could derail our aging bull market. Let's turn to what factors could cause this bull market to stumble or even expire.

We need first to be clear how much age is on this market. The S&P 500 has almost tripled since its March 2009 low, helped by three rounds of Fed stimulus, coupled with better-than-projected corporate earnings. The S&P 500 has not had a decline of 10 percent in almost three years. It trades at 17.8 times the reported earnings of its companies, near the highest level since 2010.

Bloomberg's Michael Regen in an interview pointed out we are at record highs and the round number 2000 is a player here. It took the market about two weeks to climb from 1900 to 1950, and the last 50 points took over two and a half months. People are worried about the low volume but the value traded has remained about the same. Its generally believed we'll see a slow steady increase of interest rates next summer but most arenot worried about the market moving down significantly before that. A hiccup, yes, but not a serious move.

Of course there are always pessimists who expect a severe correction or worst before that. It's these conflicting opinions that make a market. The interest rate issue is overshadowing and there are conflicting opinions here too. Bank of St. Louis President James Bullard said in an interview that the US central bank may begin tightening monetary policy earlier than officials previously expected, while Atlanta Fed President Dennis Lockhart urged more patience. "The evidence is leading toward an earlier increase than would have been in the works earlier this year," Bullard said on Bloomberg Radio in Jackson Hole. "Labor markets have improved quite a bit relative to what the committee was thinking."

Another major factor threatening the market is the value of the dollar. After the US abandoned the gold standard, the main support for the dollar has been its role as the currency of international trade. Smaulgld reminds us that the US worked out a deal with Saudi Arabia and eventually with the OPEC so that only United State dollars could be used to purchase oil. As the international currency for oil, the dollar has remained strong. . The dollar's vulnerability in the 21st century begins with Bernanke's qualitative easing, which did not inspire other nations to feel as secure about the value of the dollar In the past few years some countries, notably Iran, Russia, China and Brazil, have made efforts to reduce their need to hold dollars for settling their trade accounts. Any country dropping the dollar for another currency to settle international trade weakens confidence in the dollar and risks putting the dollar on a slippery slope.

The centrality of the dollar as the currency of international trade, particularly the trade of oil, is now under pressure with the creation of BRICS, which will form an international bank that will compete with the US controlled IMF that trades in US dollars. According to a joint statement from Russia and China on the partnership and strategic cooperation, Russia and China are planning to bypass the dollar and increase the volume of direct payments in their national currencies. This would threaten even more the dominance of the petrodollar and could be a huge blow to our US economy if other nations follow suit. The dollar will eventually be losing its dominance in petro-trade and the formation of BRICS is a clear indication that this will happen sooner than later.

Those are the technical and structural threats to the market over the coming months and years. There are also the unknown threats which could turn complacency into panicky fear. Suppose the Michigan Militia mobilizes and begins to move toward Furgeson to support the unarmed blacks who are being harassed by police and other US forcs? Suppose Fuckishima has another bad day and three of its holding tanks burst? Suppose one of our own aging US nuclear reactors finds itself shaken "to the core" by a serious earthquake? Suppose ISIS overruns the Green Zone in Iraq, killing hundreds of Marines, taking our ambassador prisoner, and destroying our opulent embassy? Suppose Israel gets mad at the loss of world support and drops one of its atomic weapons on one of its neighbors? Suppose a huge glacier in Greenland begins sliding so fast into the ocean that it becomes obvious the oceans will rise by two feet within ten days week?

We live in a highly volatile world. Much of what is happening-politically, economically, and environmentally-is beyond the control of any one country. Even if we assume the FED and others who have tremendous influence on the markets are able to do what they do perfectly, that's no guarantee currency surprises, ecological surprises, or currently unknown surprises aren't going to tip this creature over.

(3) When to put your money on the table

That is a very personal decision. There are lots of reasons for thinking serious volatility lies ahead. There are no guarantees. So far last week and today, September 2nd , the S&P was boringly docile. Briefing.com reflected on what we could do last week: "You have a choice: you could watch the stock market today or you could watch paint dry. It's tough to determine which would be more exciting." Today, the first trading day after the Labor Day weekend, there's been a slight bit more action. As Briefing.com wrote of the day: "Presumably, a holiday weekend that did not feature a flare-up of geopolitical conflict also led to some unwinding of safety trades that had been established ahead of the weekend. The latter point notwithstanding, it was not a "risk-on" trade in the stock market. It tried to run early. The S&P 500 even set a new intraday high at 2006.15 shortly after the start of trading. The follow-through was lacking, however, as participants were battling the notion that the market has gotten overextended on a short-term basis, as well as the recognition that some key, market-moving events are waiting at the back half of the week." Ralph Acampora, one of Wall Street's most-respected technicians, suggests that a drop of 5% to 7% is possible in the coming two months.

(4) Are there any risks to buying VIX calls?

Of course. There are risks to any trade. In this case, there are meaningful risks to failing to purchase VIX calls: you might see your portfolio lose 30% before you can catch up with the market. Of course if you do buy and you might watch the old bull climb another and even another hill. My own opinion is that this is a very old bull who's already over his shoulder:

Russ Koesterich is the chief investment strategist at the world's largest asset manager. CNBC tells us that the Koesterich warns that a correction is likely ahead-and that it's time to get some sort of protection.

"In the near term, I think you could keep pushing higher, which is why we've remained overweight stocks versus bonds. What investors may want to consider, though, is that even with all the good news, there's a lot of complacency in the market," Koesterich said on Thursday's "Futures Now." "It's hard to predict the timing, but we know that with volatility this low, there's not a lot of bad news discounted into the price of stocks."

What could cause this (admittedly long-awaited) correction?

Koesterich fingers a pair of potential factors on CNBC. "I think there are two things in the near term that could lead to a correction, one of which is impossible to predict. If the geopolitical situation worsens in Ukraine or the Middle East in a way that impacts oil-to me, that's the key transmission mechanism-that can derail the rally. The second issue, which I think is going to come up closer to the fall, is when investors start to think about when the Fed's going to tighten rates, changing monetary conditions at the margin. That typically leads to higher volatility, but that may still be a few months away."

On CNBC Koesterich claimed the ultimate takeaway is simple. "We know that while valuations are reasonable, stocks are no longer cheap. So if they can use this low-volatility environment to get some longer-term insurance," such as by purchasing relatively inexpensive out-of-the-money put options, "that's a way to still be in the market and have some insurance for where and if that correction does happen." From my point of view, VIX calls are a candidate for inexpensive insurance.

You never want to discount Ralph Acampora, perhaps the most respected technician on Wall Street. Today CNBC reported : "What does he [Acampora] make of the recent cases for a mega-downturn made by analysts such as Abigail Doolittle, who calls for a 50 to 60 percent 'correction' based on her technical analysis? 'I hear that and I see what they're talking about, but these people have been saying that for a long time,' he said Thursday on CNBC's 'Futures Now.' 'And honestly, if you look at the technicals as I do, there's just no way I can make those downside targets'…. it's not that Acampora doesn't think the market could falter. 'If you have a shorter time parameter-let's say, the next weeks or a month or two-it could slow down,' he said. In terms of a correction, 'I could see 5, 6, 7 percent maybe. But in the order of 20, 30 percent? No. No way. No, I don't see it. No, ma'am.'

So should we purchase a few VIX calls that expire in a month or two? Why not? If we don't profit handsomely, we'll may make a few bucks and feel more secure that we have a hedge against any correction, small or large. That kind of security, to me, is psychologically worth every penny. Like me, though, you might feel more secure purchasing calls that expire in 2015. More time to feel secure. Maybe that one, huh?
Bottom of Form
Top of Form
Top of Form