Update: Part Two now available.
Perion (NASDAQ:PERI) works hand-in-hand with torrent sites and movie pirates to monetize their websites, and these toolbar distribution methods put it in breach of its search partnership agreements with Google (NASDAQ:GOOG), Yahoo (YHOO), and Microsoft (NASDAQ:MSFT). In our extensive analysis, we counted thousands of websites that are distributing Perion's and its merger partner Conduit's toolbars. If Megaupload was a pirate, then Perion is the banker. Perion and Conduit's impending merger is fundamentally flawed, simply bringing together two of the largest bankers of online movie and music piracy. Perhaps the mere fact that these two companies are headquartered outside the US give them the illusion that they are beyond the reach of US law and Hollywood lawyers.
Exhibit A is KickAssTorrents (KAT), one of the most popular torrent sites in the world and merely one of thousands of similar websites that is part of Perion's vast underground advertising network. The website, kickass.to, is among the top 100 sites in the world, according to Alexa, and enables users around the world to pirate the latest music and movies. The MPAA calls KAT a "notorious market" for piracy. Perion will try to explain away advertising on pirate sites by blaming third-party advertising networks, but we found incontrovertible evidence that Perion is working with the owner of KickAssTorrents and knowingly profiting from copyright infringement. Every page on KAT contains a "download faster" link that is hard-coded to lead to a Perion-powered landing page where users are misled into thinking that they will be downloading copyrighted content for free, but are instead given Perion's SweetPacks product, which is powered by Conduit.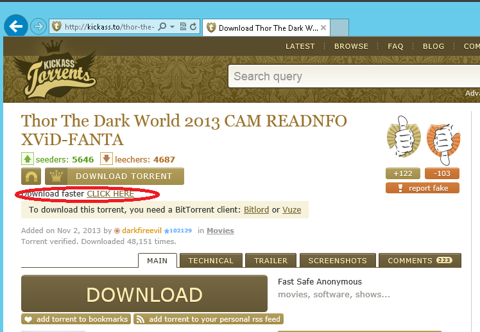 The Sweetpacks product has a privacy policy link that directs to a Conduit webpage, which indicates how closely Perion and Conduit are working together pre-merger. This could possibly be explained away as an "accidental" media buy gone wrong, but the Perion link is coded directly into the source code the website and is not placed there through a third-party ad server or ad network. Furthermore, the Perion toolbar installer clearly states the title of the pirated content, which is only possible if both the website owner and the toolbar owner are working together to seamlessly move the user through the toolbar installation process by promising copyrighted content, but delivering only a Perion toolbar instead. In the screenshots, the movie title "Thor: The Dark World" is mirrored on both the landing page and in the Perion installer even though the installer does not give the user a copy of the movie.
After completing installation of the Perion product, the user's browser settings are changed to direct to Microsoft's Bing search engine. With Yahoo's recent crackdown on Babylon's practices in toolbar distribution, Perion and Conduit's days of helping monetize the distribution of pirated content are numbered. Google has already terminated Babylon's contract for similar practices. Yahoo in turn has forbidden third-party distribution of Babylon products for their egregious violations of their distribution agreement.
Perion's distribution practices are exactly the same as Babylon's. Our research encompassed over 1000 copyright infringing websites such as movie piracy and torrent sites, and we reached the undeniable conclusion that Perion's business is a house of cards that is about to collapse. The MPAA recently compiled a list of two dozen piracy websites that it calls "notorious markets" for online piracy and submitted it to the United States Trade Prepresentative, a government body responsible for US trade policy and negotiations. Perion and Conduit are two of the largest advertisers on these sites. Every website we checked contained links and advertising banners distributing Perion and Conduit products which indicates that both companies work very closely with these sites to ensure that their products are well-integrated into the user experience and customized for each site.
It is impossible for these two companies to deny that they knowingly work with piracy sites. Some of the top pirate sites that Perion and Conduit work with include: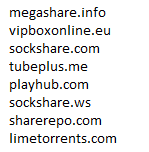 A key indication that Perion and Conduit knowingly advertise on illegal torrent and movie sites is their use of "download" or "play now" banner ads that appear to be functional buttons on these websites so users believe they will be able to watch or download movies by clicking, but actually lead to landing pages that distribute Perion and Conduit toolbars. These type of advertisements are ubiquitous on piracy sites and are one of the main sources of monetization of such sites, and we have included a representative sampling of Perion's ads below.
Google, Yahoo, and Microsoft explicitly forbid partners from distributing their search products through prohibited activities like copyright infringement and piracy. Although Perion and Conduit have been able to hide their tracks for a long time, recent changes in enforcement by Google and Yahoo point to a more rigorous scrutiny of distribution practices. It is highly unlikely that Perion and Conduit will be able to continue funding and profiting from online piracy for much longer. Their practices are clear grounds for termination of any existing partnership agreements that Perion or Conduit may have. Perion's Google Search and Advertising Services Agreement clearly states that Perion will not allow any third party to "display on any Site, Approved Client Application or Feed, any content that violates or encourages conduct that would violate any applicable laws, any third party rights, the Google Program Guidelines or Google Technical Protocols applicable to the AdSense Services or Search Services, or the ADX Guidelines applicable to the ADX Services." Noncompliance allows Google to "suspend provision of all (or any part of) the applicable Services." These highly risky sources of revenue put investors at significant risk of capital loss due to the significant concentration of revenue sources from agreements with Google, Yahoo, and Microsoft that account for nearly 100% of Perion's and Conduit's search revenues.
Perion's and Conduit's consumer email and application products are simply a facade that they present to investors to hide their true source of revenues. We believe they are significantly overvalued since their actual source of revenue will soon be forcibly dismantled and discontinued. Perion has $30M of cash on their balance sheet, which would imply a share price of $2.48. Stripping the company of illegal sources of revenues, the company would quickly burn through cash reserves, and it's viability as an ongoing concern would be threatened. The management teams of Perion and Conduit have hidden behind a mirage supported by private equity investors, including JP Morgan Chase (NYSE:JPM), who have turned a blind eye for the sake of profits. Conduit's investors have smartly engaged Perion in a merger to exit their investment in a last ditch effort to disassociate themselves from an unsavory business. There is no reason shareholders should approve the merger of these two enterprises since it only creates a larger company with even more exposure to these questionable distribution channels. If their search agreements are terminated, Perion and Conduit would have zero residual value. Google has already cracked down on the practices of their search syndication partners, which prompted toolbar companies to seek deals with Yahoo and Microsoft earlier this year. However, Yahoo's warning letter to Babylon indicates that it too is ready to start enforcing the rules. Being forced to follow the rules eviscerated 75% of the value of Babylon. Perion and Conduit are simply a much larger version of Babylon. At best if they are forced to be compliant, they would end up in a situation similar to Babylon. At worst, they are at risk of losing their agreements altogether and left with nothing.
The entire toolbar industry is riddled with companies who profit from piracy, and Babylon is only the first company to be exposed. USC's Annenberg Innovation Lab publishes a monthly Advertising Transparency Report that named and shamed advertising companies like Google's Doubleclick and Yahoo's Right Media for placing advertisements on illicit file sharing sites, which led to corrective action by Google and Yahoo to police their publishers more carefully. Google and Yahoo are merely middlemen, however. It is only a matter of time before advertisers like Perion and Conduit, who actually pay the bills, are similarly exposed.
We are seeking comment from Google, Yahoo, and Microsoft.
Disclosure: I am short PERI.