Part Three of a Muddy Insights Special Report on the Toolbar Industry
60 million Ask Toolbars/year are delivered by P2P & piracy websites
At least $240 million in revenue generated by illegal distribution partners
Our target price for IAC is $14 due to undisclosed risks to the business
Our previous report on Perion (NASDAQ:PERI) exposed a vast underground advertising network of movie piracy and torrent sites that is being actively used to distribute Perion's search toolbars. During our investigation, we also noticed the parallel distribution of IAC/InterActiveCorp's (IACI) Ask toolbar through copyright infringing channels with products like iLivid.com, which buys so much traffic from pirate sites that they are an Alexa top 500 website, and FrostWire, a popular P2P file sharing program with millions of users. We estimate at least 15% of Ask.com's traffic comes from toolbar distribution partnerships with these channels. IAC's search division makes about $400 million in revenue/quarter so this channel drives almost one-quarter of a billion dollars in revenue/year. IAC categorizes search revenue into two segments: application and website revenue. The application segment covers toolbars and generates $800 million/year in revenue so we estimate that 30% of their application revenue is generated by P2P and piracy. Management's guidance is $400 million of EBITDA/year, and if we believe that this channel is pure contribution due to an abnormally low cost of traffic, up to 60% of EBITDA could be coming from this business, which is one letter of breach away from evaporating once Google decides to enforce its contractual rights.
Given IAC Chairman Barry Diller's investment in Aereo, which is being sued by content creators for re-transmitting television programs without authorization, it is perhaps not too surprising to see a track record building with IAC's permissive attitude toward other people's intellectual property. After all, P2P programs like FrostWire are simply novel and revolutionary means of transmitting content. But it would be a stretch to believe that Google (NASDAQ:GOOG), which has strict guidelines on how its partners distribute toolbars, would see things the same way.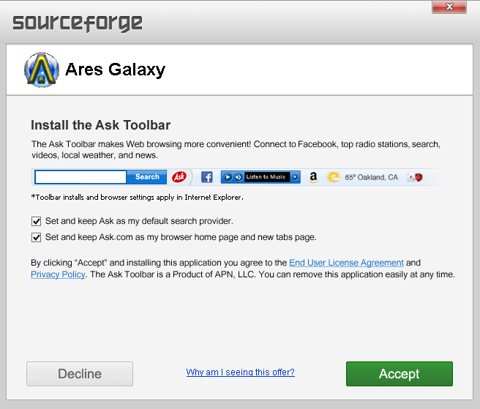 Simply put, IAC has been using their $1.6 billion Google search syndication partnership to do business with pirates. IAC is very selective in what companies they partner with. They don't do small deals. Like Perion, IAC is no stranger to working hand-in-hand with pirates with a direct distribution relationship with FrostWire, a notorious P2P file sharing software. The business model of FrostWire needs no explanation even to the average consumer. It's only purpose is to facilitate piracy. A button on the Ask toolbar for FrostWire allows the user to launch FrostWire with one-click. It might be possible to argue that this is an isolated incident, but FrostWire is not the only P2P software that IAC is working with. IAC also has direct deals with Ares Galaxy, BearShare, and iMesh to distribute Ask toolbars. IAC may claim that BearShare and iMesh are "legal" P2P programs with RIAA legal settlements behind them, but the same cannot be said for FrostWire and Ares, which are still rogue P2P programs. Users of Web of Trust discovered that iLivid, BearShare, and iMesh are all owned by one company, which goes by various names such as "Bandoo Media", "Musiclab, LLC", and "iMesh Inc". IAC acts like the PayPal of piracy and essentially launders the profits from piracy. These deals amount to IAC's "organic" toolbar distribution through copyright infringing channels.
On the other end of the spectrum, a partner like iLivid actively buys advertising on movie streaming and torrent sites for its video downloader program. A customized "Movies" toolbar by Ask is included with iLivid, indicating that IAC knows very well where the traffic is coming from. iLivid buys traffic directly from one of the most popular torrent sites, The Pirate Bay, and buys so much of it that a Pirate Bay user pleaded for mercy on Facebook (NASDAQ:FB), "Could you kindly stop advertising Ilivid on your site?" The Pirate Bay uses an anonymous advertising network to place ads on its site , which has been linked to spreading malware, and all media buys on the site must be negotiated through email so it is not possible for a buyer to claim ignorance of who they are buying advertising from.
To illustrate the scale of P2P toolbar distribution, we examined the P2P software Ares, which had almost 4 million downloads in October 2013, according to SourceForge. We noted during our investigation that IAC is directly hosting the Ares installer on one of its own servers (click "download" on SourceForge and the installer is delivered from apnpartners.com, which is owned by IAC). If we assume, conservatively, that only 25% of downloaders accept the Ask toolbar, then Ares contributes at least 1 million Ask toolbars per month. If we further assume that Ares (hosted on SourceForge so impossible to rank via Alexa), BearShare (Alexa rank 4524), FrostWire (Alexa rank 64608: this is probably an Alexa sampling error since FrostWire is one of the most popular P2P programs), iLivid (Alexa rank 473), and iMesh (Alexa rank 1664) all average 1 million toolbar installs/month, then over 60 million toolbars/year are delivered through the channel. It is important to note that the official websites are not the sole distribution points for the software so these are minimum numbers. IAC also has deals with other partners who promote via pirate sites which we have not included in this analysis.
To do a sanity check on our estimates, we used another approach and looked at the unique visitors per month that each website received. Compete.com has uniques for only US visitors, but that still gives us a starting point: BearShare (1.6M unique US visitors), FrostWire (700K), iLivid (4.4M), iMesh (2.8M). This totals 9.5 million visitors/month. Add in Ares, which had 166K US downloads in October, and we get almost 10 million monthly US uniques. This completely excludes international visitors, which in some cases make up the majority of the traffic that these sites get. Using this methodology also implies that tens of millions of Ask toolbars are delivered through the channel every year. Ask.com only has 73 million monthly US uniques so we believe that almost 15% of Ask's traffic comes from this channel which amounts to almost $250 million in revenue every year.
On the Q3 conference call, IAC CEO Gregory Blatt claims to play by a different set of rules, stating that competitors employ "a mix of download practices and monetization techniques we don't employ." We wondered why IAC's CPCs dropped during the quarter after Blatt explained away the drop as due to having "a user base with less disposable income than the average Internet audience." Could it be because IAC is signing deals with P2P file sharing software where the average user is a child without a credit card?
More embarrassingly, IAC board members include Chelsea Clinton, Michael Eisner, former Disney (NYSE:DIS) chairman, Edgar Bronfman, former Warner Music (NYSE:TWX) chairman, and Bryan Lourd, partner at Creative Artists Agency, who appear to have no idea what is going on. One would think that these respected industry figures would be providing independent oversight of the company, but IAC is literally robbing Mickey Mouse to pay movie pirates. The only plausible explanation is that this distinguished group of directors had no idea the company they were supposed to oversee was profiting from piracy, and that management has succeeded in pulling a veil over their eyes over a period of many years. After all, why question a winning formula that is delivering this embarrassment of riches? "It's going to grow next year, it's almost $400 million of EBITDA or whatever it is," according to Mr. Blatt. That is IAC's plan, as long as Google is willing to tolerate their creative toolbar distribution practices. Former Google partners like Babylon have found out the hard way after losing both its Google deal and 75% of its market capitalization due to its non-compliant toolbar distribution strategy. We anticipate that IAC's most-favored nation status as a Google partner will come under intense scrutiny once the true nature of IAC's toolbar practices come to light.
Shareholders may also want to consider the possibility of action taken by Hollywood movie studios against P2P programs like Ares and FrostWire and their financial backers such as IAC. Now that the $200M LimeWire lawsuit has been formally dropped due to LimeWire's bankruptcy and a recent $110M victory against intransigent torrent site Isohunt has been won, rightsholders are surely looking for their next litigation target. While it would surely be difficult to enforce a judgment against the developers of FrostWire, the same could not be said for a multinational conglomerate like IAC that does business with file sharing programs and movie pirates. The piracy ecosystem has many players from the most obvious operators of movie piracy sites to the middlemen who supply the advertising to the end advertisers who ultimately fund the entire operation. That ecosystem is gradually being disassembled, but so far, despite legal victories against sites like Isohunt, Hollywood studios have not made a dent in online piracy because the ultimate financiers of piracy have been free to operate without interference.
Investors are not baking in the downside. We see only two outcomes for IAC: either IAC is forced to shut down its illegal distribution partnerships, or IAC loses its Google deal entirely. In scenario one, IAC's revenue from search will drop from $1.6 billion to $1.36 billion. In scenario two, IAC loses its deal with Google entirely. If we assume they manage to strike or retain a partnership with Microsoft or Yahoo, then their search revenue would be lower by at least 30-40% due to poorer monetization of the Bing advertising platform. Add in the shut down of their illegal distribution partnerships, and we estimate revenues would shrink to $800 million/year, half of what management is guiding and what analysts have been baking into their models.
Perion trades at 6x EBITDA, and Babylon trades at 3x EBITDA. Both of these are very challenged businesses. We believe IAC will face similar challenges. Even if we give them the benefit of the doubt, this is a 6x EBITDA business. Without this channel, EBITDA drops to $160 million, and applying a 6x multiple gives a value of $960 million. The company has $200 million of net cash so the total value would be $1.16 billion. The current market cap is $4.7 billion so there is a 75% downside risk to IAC that has not been realized by investors. We believe a fair value for IAC is $14. There will also be knock-on effects from slowing cash flow that will affect other lines of business that are funded by their search division. If IAC is unable to finance their expenditures using ill-gotten gains, then IAC will be forced to cut investment in areas like other segments which will further reduce growth and apply pressure on their growth thesis. Like Babylon, IAC is at risk of losing three-quarters of its market cap overnight.
We have reached out to Google for comment, but have not received a response by press time.
We will conclude, for the purposes of clarity, by sharing a few selected videos of how IAC works with pirate sites to distribute the Ask toolbar:
Ask Toolbar on KAT: Watch Video
Ask Toolbar on FlashX.tv: Watch Video
Ask Toolbar on TorrentReactor: Watch Video
Ask Toolbar on Seedpeer.me: Watch Video
Disclosure: I am short IACI.