Thesis
BSQUARE Corp. (NASDAQ:BSQR) has just broken out. In the last quarter, revenues and earnings grew at 25.20% and 189.60% rate. Because the company is a micro-cap stock, there is practically zero Wall Street coverage. Attentive investors can take advantage of the potential future growth. Not only is BSQR a growth story, but it is slightly undervalued as well. EV/Revenue and EV/EBITDA are 0.39 and 6.47 respectively. The company is debt free with a cash position that equals ~40% of the market cap. Because of the former, BSQR has a limited downside.
Business Summary
BSQR was founded in 1994 and IPOed in 1999. Since 1994, the company has become one of the market-leading providers of smart connect system software solutions. BSQR works with top OEMs, ODMs and other similar enterprises. The company also has a worldwide sales and services footprint which has allowed them to attract some of the top companies in the world: Ford (NYSE:F), Caterpillar (NYSE:CAT), Honeywell International (NYSE:HON), and Microsoft (NASDAQ:MSFT), to name a few. The products that BSQR sells are software products, 3rd party licensing, consulting, custom software, services and tools. I believe that BSQR has situated itself to be one of the leaders in the Internet of Things (IOT).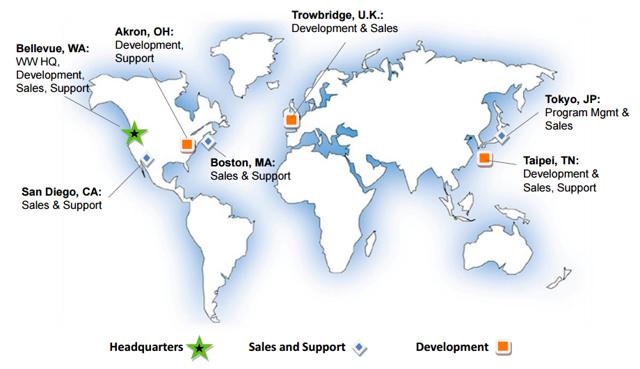 Source: Company Presentation
I have provided a detailed picture of BSQR's customers and partners below. This picture really showcases exactly how integrated BSQR is. As their business grows, I am expecting their customer base and partner base to expand as well.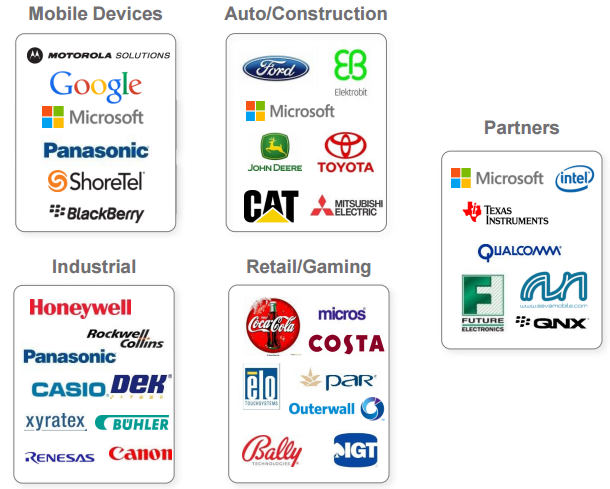 Source: Company Presentation
The Basis behind the Pop in Revenues and Earnings in Q2
Before I illustrate my theory on why BSQR's revenues and earnings skyrocketed, let's first take a look at the Q2 results.
$5.8mm increase in revenues, $1.2mm increase in net income, $1.3mm increase in adjusted EBITDA, $234,000 reduction in OpEx and finally a $5.3mm increase in the cash position.
Total revenue was $28.9mm which was an increase of ~25% YOY and an increase of 10% sequentially.
Operating expenses decreased 6% YOY and QOQ in which they were down to $3.4mm.
Net income was $1.9mm or $0.15/share which can be compared to net income of $651,000 or $0.06/share YOY.
Adjusted EBITDA was up 109% to $2.3mm from $1.1mm YOY.
For Q3, the company expects revenues to range from $26mm-$28mm. They expect third party software revenues to be lower in 2H15 because of the MSFT fiscal year-end incentives in 2Q. Gross margins are expected to range around 20% and the company is expected to remain GAAP EPS positive.
So the third party software sales generated 81% of the net revenues for BSQR in Q2, while engineering services were 18% of the top line and the rest was in proprietary software products. Third party software sales increased 37% YOY due to strong MSFT licensing sales (Windows Mobile Licenses).The continuation and growth in BSQR's core business is mainly the reason why BSQR has been performing. The company expects their DataV products to give the company revenue growth going forward (the company's IoT segment). Because the company is going to focus on their IoT business, investors should expect operating margins to fall slightly in the 2H15.
Once DataV starts to produce revenue for the company (expected to in 2H15), the company will have a very promising growth direction. All in all, DataV will allows the company to transition from reactive repairs to proactive maintenance and systems optimization.
What Does the Future Hold?
Will BSQR be able to continue growing revenues at an astounding rate? Or will revenue growth be at a lower incremental rate going forward. Or, will revenues start decreasing going forward. Was this jump in revenues a one-time thing? Thus is the recent jump in the stock price a start or something more to come, or just a dead-cat bounce?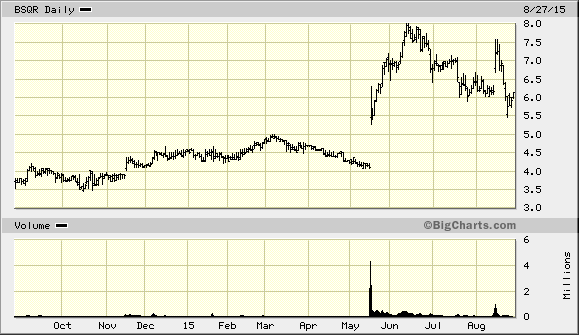 BSQR does have a great product offering and their growth into the IoT is just beginning. The company also services and works with some of the biggest companies in the world, which to me is icing on the cake. When their customers grow, BSQR will grow with them. BAQR has helped deliver Coca-Colas (NYSE:KO) Coca-Cola Freestyle machine, which in my opinion is a very innovative way to deliver soft drinks to customers. Below highlights the results and what BSQR did to help create the Coca-Cola Freestyle machine:
Intuitive user-interface. The first time I used the new Coca-Cola Freestyle machine I thought I was in the future, literally.
The machines are now connected to KO's direct network. This provides enhanced operational ability for the company.
The majority of all operational activity can now be managed remotely. I believe that this will cut down expenses for KO, which in turn will benefit BSQR. BSQR has helped one of the biggest worldwide companies enhance their profitability.
These new machines will be able to collect valuable customer usage data. Brand development will be enhanced by the former.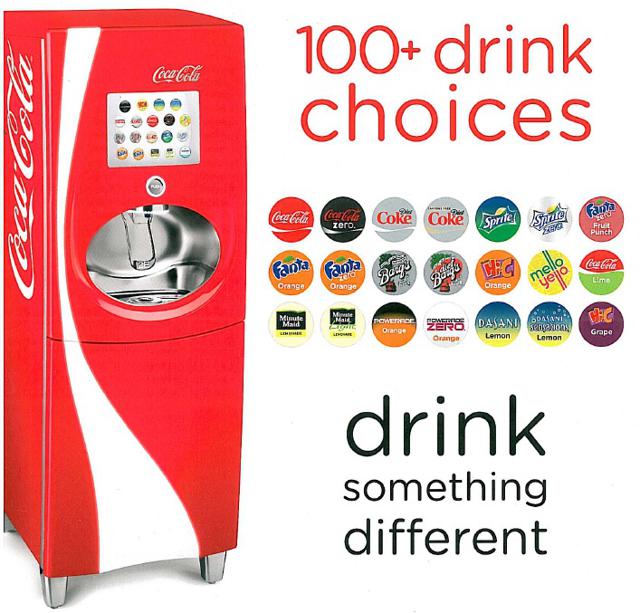 BSQR also helped deliver MyFord Touch. They helped deliver MyFord Touch by using their Systems Integration and QA Teams. Thus they provided all 3rd party component integration (the biggest revenue producing segment for the company). Below highlights the results of MyFord Touch.
MyFord Touch won the "Award Winning Software and Tester of the year" for this new innovative product. Since BSQR was the 3rd party component integrator, they will also receive recognition for their ability to deliver.
The development cycle was shortened with the use of a Stability Lab and testing framework.
MyFord Touch was delivered to the market on-time. This shows that BSQR has the know-how and skill to effectively perform.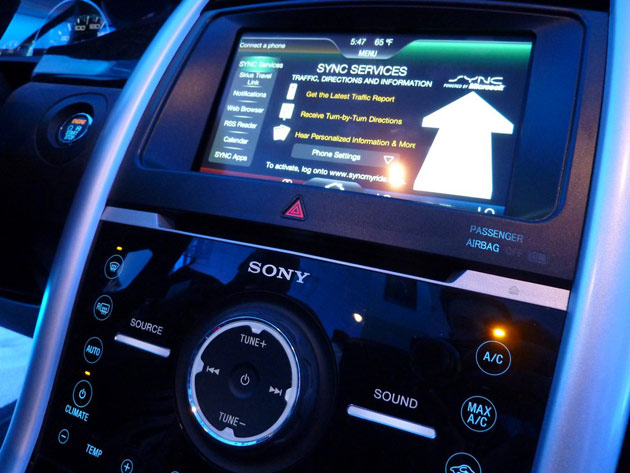 BSQR has a huge ability to grow their revenues and EBITDA at a decent rate going forward. I have provided below a historical look at revenues and EBITDA.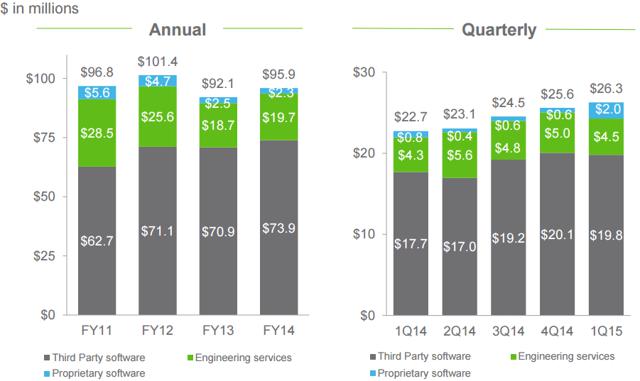 Source: Company Presentation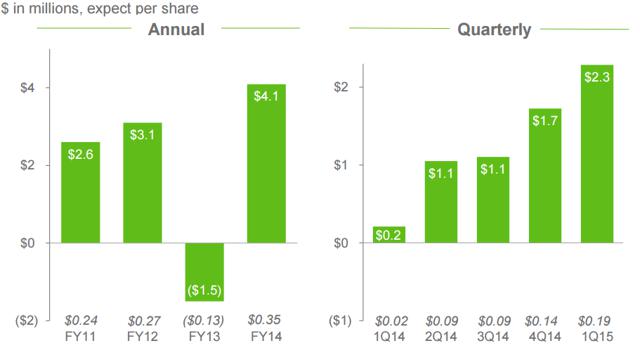 Source: Company Presentation
In Q2, BSQR posted EBITDA of $2.3mm, the same as Q1 EBITDA. For conservative purposed I am going to assume that EBITDA for Q3 and Q4 will be $2.0mm in both quarters. All together for the year, I am predicting that EBITDA will be ~$8.6mm. I have provided a valuation model below with an assumed EBITDA of $8.6mm and a multiple of 7.0x.
| | |
| --- | --- |
|   | Valuation |
| EBITDA | 8.6 |
| Multiple | 7.0 |
| EV | 60.2 |
| +Cash | 29.43 |
| -Debt | 0.00 |
| Total Equity | 89.63 |
| Shares Outstanding | 11.94 |
| Estimated Equity Per Share | 7.50 |
(All numbers in millions expect for per share items)
BSQR is slightly undervalued if my valuation plays out. I believe that there is a high chance of BSQR reaching EBITDA of $8.6mm considering that management expects revenues in each quarter to be $26-$28mm for the rest of the year (they have met their guidance in the past, so it gives me confidence they will meet it as well in the future). My model is also based on the short-term performance as well (12-18 months). In the long-term, BSQR has the potential to be worth a lot more than they are now, if they continue to perform well.
Risks
Since BSQR is a company that operates in the technology segment, there is a chance that they will need to spend tons of money on R&D in the future to keep up with competition. Technology companies are known for not having a competitive edge. Competition could come in and wipe BSQR out, by offering better products or by lowering their prices. Since BSQR has contracts with tons of Blue-Chip companies, the former will be much harder for competition to do. Investors should remember though that the technology sector is one of the hardest sectors to compete in. BSQR will have to continue being innovative in order to succeed in the future. They are not a company that can sell the same product for 100 years without changing it up (like KO). Innovation is key to success.
Conclusion
The recent break-out has shot the stock price of BSQR up. My valuation method shows that the company is still slightly undervalued. BSQR has contracts with Blue-Chip companies which in my opinion will help the company grow its revenues at a decent rate in the future. BSQR is also planning on unlocking additional revenue by investing in the IoT, which will start producing revenue for the company in 2H15. I will continue watching BSQR. Investors who want to buy BSQR are advised to buy on the dips. Remember, the downside is limited with this company due to its growth story and debt-free balance sheet.
Disclosure: I/we have no positions in any stocks mentioned, and no plans to initiate any positions within the next 72 hours.
I wrote this article myself, and it expresses my own opinions. I am not receiving compensation for it (other than from Seeking Alpha). I have no business relationship with any company whose stock is mentioned in this article.