Finding good microcap investments can be challenging, to say the least. You may find a company that looks great from looking at a few key metrics (EV/EBITDA, EV/REVENUE and low P/B), but after doing deeper due diligence, you come to find that the company you did think was a hidden gem, was just hidden junk. Other times you run screen after screen after screen and just find terribly valued companies that really just don't catch you eye. Then there are the times when the debt outstanding scares you so much that you run as fast away from that company as you can.
If you are a microcap investor, and more importantly a microcap investor who does their own personal due diligence, then you can contest to the feeling you get when you find that hidden gem (I know you have felt it before). In this article we will be taking a look at three hidden gems that I have found over the past three months. Before we take a look at these hidden gems, we will first be looking at what I like to see in a company before I spend time researching their given security.
My Personal Criteria before Researching
I spend the majority of my day researching investments. When I am looking for a company to dig into there are a few criterion that need to be met for me to continue the due diligence process. The first thing I look for is if there is an undervaluation present in the share price. There are a few different ways I spot an undervalued security. These ways are discount to NCAV, low EV/EBITDA and EV/Revenue, and an undervaluation compared to the future valuation (more speculative in my opinion though).
I love finding a great company that is trading lower than its NCAV (I know, is there even such thing as a great company trading below its NCAV, pun intended). What I mean is, I love finding a great investments in the NCAV realm (if you find a great company in the NCAV realm let me know). Every week I look for investments that are trading for a significant discount to their NCAV. They are very limited and hard to find (especially in the US markets). But when you do find a NCAV stock, investing in it can be very rewarding. I have listed below some NCAV stocks I have written about this year.
Surge Components (OTCPK:SPRS)
Deep Down (OTCQB:DPDW)
Emerson Radio (NYSEMKT:MSN)
STR Holdings (STRI)
Richardson Electronics (NASDAQ:RELL)
Universal Power Group (OTCPK:UPGI)
JLM Couture (OTCPK:JLMC)
Echo Trading (7427)
Solitron Devices (OTCPK:SODI) - published on netnethunter.com
Currently I have only taken a position in one NCAV stock and that would be SPRS. One NCAV stock that looks very interesting is eRoomSystem Technologies (OTCPK:ERMS). The company is trading for ~$0.08/share and its current cash position is $0.05/share (it has zero debt as well). For being a ~$1.94mm market cap company, it actually trades decently (avg. 9,455 past three months). ERMS may be a company that I end up digging into this month.
The second metric that I look for, when finding a good microcap stock to invest in, is a company that has a low EV/EBITDA and EV/Revenue. One company that is interesting that has low EV/EBITDA and EV/Revenue is inTest Corp. (NYSEMKT:INTT). INTT's EV/EBITDA and EV/Revenue is a low 3.19 and 0.45, respectively. The company also has $23.47mm in cash (the market cap is $42.78mm), they have zero debt and insiders own a decent amount as well (27.59%). I have done research on INTT as well and can be found here for investors who find INTT's metrics interesting.
An undervaluation compared to a company's future valuation is a little more speculative to invest in, at least in my opinion. An example of this kind of investment would be the following. Let's say you find company XYZ and you realize it is not overvalued but at the same time it is not undervalued, thus it would be moderately valued. As you dig a little deeper into this company you come to realize that it is growing its earnings at a 25% rate (and has been for the past three years). Currently the P/E is ~20, the price is $2.00/share and earnings are $0.10/share. I have made a chart below to simplify this example.
| | | | | |
| --- | --- | --- | --- | --- |
| Year | Price | Earnings Growth | Earnings | Forward P/E |
| 2015 | 2.00 | - | 0.10 | 20 |
| 2016 | 2.00 | 25% | 0.125 | 16 |
| 2017 | 2.00 | 25% | 0.156 | 12.8 |
| 2018 | 2.00 | 25% | 0.20 | 10 |
As you can see, if you ended up buying company XYZ with a P/E of 20 yet its earnings continued to grow at a 25% rate for the next three years, you really would have bought it with a forward P/E of 10 in 2018. Investors should note that buying a company based on its forward projections is speculative. This situation can get hairy fast, especially if earnings did not meet estimates. I would stay away from these kind of situations unless you really know what you are doing.
Note: Having a margin of safety may be one of the best things to look for before investing. You will want the odds in your favor, and a margin of safety will give you those odds.
I have listed some of the criteria that I like looking for in an investment below. Investors should take note that all of these criterion do not need to be present, at least for me to make an investment decision.
Trading below NCAV.
Low P/B, P/E and P/S.
Low to no debt.
High cash compared to market cap (I like seeing >50% cash to market cap).
High insider ownership >25% (although, sometimes it's bad to see the CEO of a company owning >50% of the shares, read this report and you can see why).
High growth rates (revenues and earnings in the double digits)
Three Microcap Companies that Deserve a Second Look
In this section of the article we will be looking into three microcap stocks that I believe deserve a second look (for they have potential to perform well for investors). The first company we will be taking a look at is a company I covered on Seeking Alpha on July 29th, 2015. Since I wrote about them and recommend them, the company has ran up over >40%. I never took a position (mainly due to the lack of funds at the present time). I believe that the company has a lot more room to run as well (could hit >$10/share relatively soon). The company I am talking about is Otelco Inc. (NASDAQ:OTEL) and it is a $20mm market cap company
Note: Within two months, the company has almost hit my base case scenario (a 57% appreciation). In the original bull case, I argued that the company could hit around ~$10.53/share. Currently the company is priced at ~$6.20/share.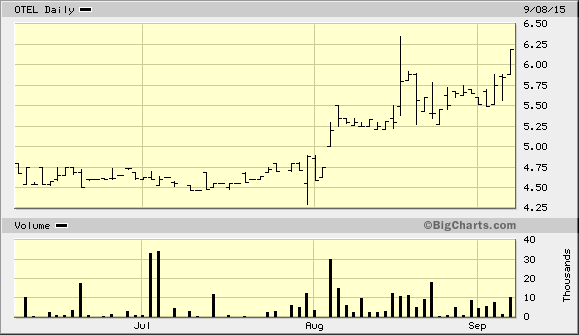 When I first started to look at OTEL, I almost decided to pass on researching the company. The reason why was due to their outstanding debt of $105.09mm coupled with a low cash position of $6.86mm. If you dig a little deeper into OTEL though, you can see that they are on a roll to pay down their outstanding debt (they have paid more down on their debt than is currently necessary, which has lowered their interest payments). What is very interesting is that their operating cash flow is $20.16mm while their market cap is $20.02mm (one of the biggest undervaluation's I have yet to see in an equity).
One thing that is troubling, which is probably the reason why their stock is trading for such an undervaluation is that their debt outstanding will need to get paid within one year. With their current FCF and cash position, the company will need to refinance the loan. Thus far management has not refinanced the loan and will not talk about it in the conference calls. I believe that management will be successful in refinancing the loan and when it does get refinanced, investors should expect this stock to take off.
OTEL is still undervalued as well, check out the below metrics.
EV/EBITDA and EV/Revenue 4.34 and 1.64, respectively.
Trailing P/E of 3.29.
Enterprise value is $118.28mm while the market cap is a low $20.02mm.
Quarterly earnings growth of 26.50% and insiders own 13.98% of the shares outstanding.
OCF of $20.16mm with a market cap of $20.02mm.
EBITDA of $27.22mm with a market cap of $20.02mm (a huge undervaluation).
The second company we are going to be looking at is a company that I just found, which I am still doing due diligence on. This company is OurPet's Company (OTCQX:OPCO). OPCO is trading for ~$0.70/share and its market cap is $12.29mm. It is a very thinly traded security with an avg. of 2,856 trades in the last three months. What I like about the company is that it has a very easy to understand business model (they sell pet toys and accessories). I also like how they are in a ton of big name retail stores (Walmart (NYSE:WMT), Pet Supply Co, Meijer, Kroger (NYSE:KR), Petco, and Wag to name a few). They are also the number one seller on Amazon (NASDAQ:AMZN) within their category.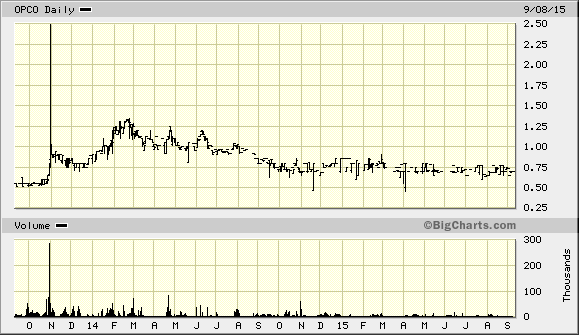 Management has a plan in which they will be able to grow revenues at a >20% rate going forward. They plan to do this organically and by acquiring other companies. I am expecting revenues to hit between $27-25mm for 2015, which if happens would put the share price ~$1.00/share. OPCO is one of the only non-retail pure pet plays left in the industry, which means they have a chance of being acquired (we must take the high insider ownership into account though >60%).
The company is not severely undervalued though, which means if the growth estimates do not transpire, an investment in this security could be deemed speculative. Currently the company has an EV/EBITDA and EV/Revenue of 7.41 and 0.71, respectively. Their P/E ratio is a moderate 14.00 as well. I am also hesitant of making an investment decision in this company due to the fact that their cash position is a low $38.40K while the debt is an outstanding $4.25mm. The company also has very low FCF and OCF <400K.
Note: Revenues have grown at a 9% CAGR rate since 2009, and they have been grown every year in the past ten years. The only year in which the company was not profitable was in 2008. Revenues did end up growing ~17% from 2008-2009 though which suggest that they are in a recession proof industry.
I am currently writing up a very detailed report (which should be published sometime this month). I have a call set up with the IR team this week and they are going to be setting up an appointment for me to speak to management. Their HQ is only 4 hours from where I live so I may visit it as well. Overall this company looks very interesting and could be a decent investment. As of right now though, its security is more speculative than investment grade, at least in my opinion. A 20% drop in its equity could present itself as very attractive.
Note: OPCO is very seasonal in nature. The last two quarters are historically the best for the company. Investors may be able to play the upside from the seasonal trend. Last year after December, the price of its stock shot up from ~$0.50/share to ~$1.25/share. If this happens again, there could be a quick double.
The final company highlighted in this article is a great way to play the downside in the energy sector. ENGlobal Corp. (NASDAQ:ENG) is an undervalued microcap stock that is also in a growth industry (energy infrastructure). The company currently is undervalued on an EV/EBITDA and EV/Revenue basis in which they are 3.06 and 0.20, respectively. ENG is also cash rich with $9.31mm in cash (the market cap is $29.24mm) and a low debt position of $416.00K.
ENG is a turnaround story as well (I like buying into already transpired turnaround, rather than waiting for a turnaround to transpire). The current management has turned the company back into profitability by selling off the companies unprofitable divisions. Management also owns the perfect amount of shares outstanding (43.77%), not too low and not too high.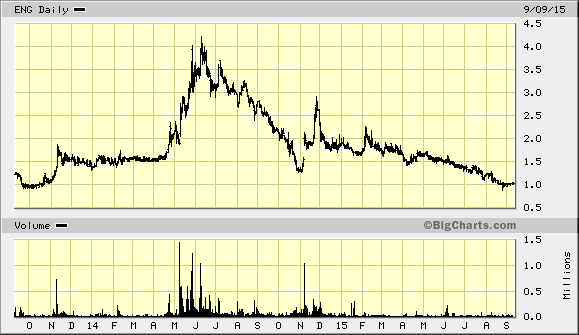 Currently the backlog of ENG is $48mm. The backlog has decreased from $68mm (from December 27th, 2014) to now. The main risk that I foresee is a canceling of more projects or a reduction in backlog as a whole. This could be detrimental to the firm. Once the price of oil stabilizes, ENG should also begin seeing more orders coming in as other firms raise their capex budget. I believe that ENG has enough resources to make it through the current downturn in the energy sector.
In Conclusion…
As I have stated before, microcaps can be very lucrative and alpha rich. My favorite idea out of all three presented in this article would be OTEL. After OTEL would be ENG. OPCO does look speculative to me at this point in time but with further research, and a chat with management, the speculative factors may diminish. I plan on following these three companies very closely and providing updates to the reader as I see necessary. If you are a microcap investor, I urge you to comment some of your ideas in the comment section below, or send me a message and let's have a chat sometime.
Good luck everybody, and happy investing.
Disclosure: I am/we are long SPRS.
I wrote this article myself, and it expresses my own opinions. I am not receiving compensation for it (other than from Seeking Alpha). I have no business relationship with any company whose stock is mentioned in this article.