Summary
U-Swirl (OTCPK:SWRL) offers frozen yogurt in a café style offering. The company has a national chain of self-serve yogurt café's. All cafés are built and operated by SWRL and the company franchises the brand name to other business owners. The concept of self-serve frozen yogurt was thought of in 2008 following the opening of the first U-Swirl in 2009. Since 2008, the company has went through multiple strategic acquisitions and has grown its revenues from ~$1.0mm to ~$8.0mm today. Earnings are finally starting to break out and FCF has been positive for the past three years. The company owns >260 stores.

Source: Company Homepage
| | | | |
| --- | --- | --- | --- |
| Market Cap | 2.87 M | Cash | 3.16 M |
| Revenues | 7.11 M | Debt | 7.46 M |
| EBITDA | 1.11 M | Insider Ownership | 62.05% |
| Shares Outstanding | 22.67 M | 2015 FCF | 1.10 M |
| EV/EBITDA | 6.46 | EV/Revenue | 1.01 |
Premise on the Investment Thesis
The investment thesis into SWRL is based on a continual growth in revenues via strategic acquisitions (and organic growth) and a break though to positive profitability on a GAAP EPS standpoint. SWRL is currently in the nano-cap realm, so if the former two assumptions transpire, there is a very high chance of substantial capital appreciation. The company has recently been trading near an all-time low due to missed expectations (they broke rule number one as a nano-cap; never give forward guidance), shareholder dilution, debt concerns with their top stock holder, and more recently weak Q1 results. The company currently trades at an undervaluation on an absolute basis. This is either a multi-bagger in the making or shareholders will get destroyed via further dilution. Which side of the trade will you be on?
Analyzing SWRL's FCF and Forward FCF
Happiness is positive cash flow- Fred Adler
Positive FCF is a very important attribute to have, especially in the nano-cap realm. Sometimes when I analyze investment opportunities to write about, I will opt out of analyzing the company if they have had multiple years of negative FCF. I was very surprised to see that SWRL had three consecutive years of positive FCF (I thought they were going to be a money losing nano-cap, like the majority of nano-caps). The year of 2015 could actually be deemed an inflection point for SWRL, since it was the first year in four years in which they had positive operating cash flow (more on this subject later). Overall I was very pleased to see top line growth coupled with positive FCF.
| | | | | |
| --- | --- | --- | --- | --- |
| Free Cash Flow Statement | 2015 | 2014 | 2013 | 2012 |
| Revenues | 7,501,943 | 5,528,649 | 2,978,253 | 2,804,221 |
| Cash Operating Costs | 6,522,425 | 5,749,795 | 3,161,936 | 2,864,280 |
| Operating Cash Flow | 979,518 | (221,146) | (183,683) | (60,059) |
| Change In Working Capital | (127,630) | (1,954,897) | (277,847) | 48,052 |
| Capex | - | - | - | - |
| Free Cash Flow | 1,107,148 | 1,733,751 | 94,164 | (108,111) |
| Weighted Avg. Shares Diluted | 21,682,665 | 15,332,233 | 6,111,947 | 4,928,718 |
| Free Cash Flow Per share | 0.05 | 0.11 | 0.02 | (0.02) |
| Earnings Per Share | (0.01) | (0.14) | (0.03) | (0.10) |
(All numbers in millions except for per share items)
Note: I chose to leave capex at zero due to the fact that it's sporadic and not really that much (at least in the past four years).
SWRL has had very impressive top line growth in the past four years. Revenues have grown at a 27.93% annualized CAGR rate from 2012-2015. The reason for the rapid rise in revenues was derived from strategic acquisitions. The growth from 2013-2014 was from the acquisition of Aspen Leaf Yogurt and franchise rights to Aspen Leaf Yogurt and Yogurtini self-serve yogurt chains from Rocky Mountain Chocolate Factory (NASDAQ:RMCF). Also in in 2013, SWRL acquired the assets of Josie's Self-Serve Frozen Yogurt system.
Note: RMCF now owns 60% of SWRL due to the former acquisition.
Top line growth from 2014-2015 was also derived from a two big acquisitions and one small bolt-on acquisition. There were two rather large yogurt operators acquired; Cherry Berry Enterprises and Yogli Mogli (this added 182 cafes). The small bolt-on acquisition was the Fuzzy Peach Franchising in which the company acquired 17 cafes. Investors should be aware that SWRL has diluted existing shareholders by issuing common stock to fund their acquisition spree. Since 2012, there has been a 43.88% annualized increase in common stock on a CAGR basis.
One rather new remarkable aspect about SWRL is that they have just experienced, for the first time since before 2012, positive OCF. The reason that OCF has increased is due to the top line growth mixed with lower operating expenses. Take the year of 2014 for an example. In 2014, cash operating costs equaled ~104% of revenues. In 2015 on the other hand, cash operating costs were only equal to ~87% of revenues. The more franchise owners SWRL gets in the future, the lower the percentage of operating cost to revenues will be. Break even has just happened, now all we need is continual growth, and you will have yourself a very profitable yogurt chain.
Note: Before we go into examining SWRL's FCF, investors should be aware that the reason why FCF was so high in 2014 was due to a huge change in working capital (coming from accounts receivable and accounts payable). Without these positive changes in working capital, SWRL would have posted FCF around ~$100,000 (still positive FCF though).
2015 was a big year for SWRL. They posted positive OCF and they have a huge jump in FCF (that wasn't caused by changes in working capital). What the positive FCF means is that SWRL is becoming a much better ran business. The company thus has enough cash to continue running operations plus they have extra cash they can use to pay down debt, fund acquisitions, or pile up in the bank. I believe the company will do the former two rather the latter in the forthcoming future.
SWRL has finally managed to almost get to that breakeven point on a GAAP EPS standpoint. In 2015 the company posted ($0.01/share), just shy of breaking even for the first time in history. As the company continues to grow, they have a high potential of finally posting positive fiscal year EPS. We will expound upon this topic later, but in the first three months of 2016, SWRL has been profitable.
Key Takeaways from the Historical FCF Overview
Revenues have grown at a 27.93% annualized rate since 2012.
SWRL has finally posted positive OCF in the year of 2015.
FCF in 2015 was ~$1.1mm. This represents 38% of the market cap.
The company has a high potential to continue expanding top line growth via small bolt-on acquisitions and larger acquisitions.
An Overview of 1Q16…Is it really that bad?
From July 15th until around August 15th, the share price of SWRL collapsed. The reason for the dramatic fall can be contributed to weaker Q1 results compared to Q1 in the comparable period from last year (Q1 was released on July 14th). Now was Q1 really that bad? Bad enough to make it look like the company is headed toward bankruptcy? Bad enough for the stock price to plunge ~81%? In my opinion, the answer is no. This section of this article will explain why the fall in SWRL's stock price should be taken advantage of, by the attentive microcap investor.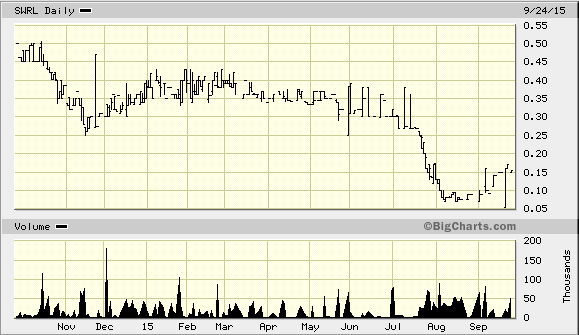 As stated above, I am attributing the fall in the share price of SWRL to weaker than expected Q1 results. In 1Q16, revenues dropped 16% to $2.1mm from $2.5mm, YOY. The decline in Q1 sales was from the closing of four company owned locations (last year there were 13 company owned locations, now there are only 9). Because of the closure of the company owned locations, sales from company owned locations were down 30%, YOY. Finally because of the reduction in sales YOY, EPS fell to $0.01/share from $0.02/share, YOY.
| | | |
| --- | --- | --- |
| Free Cash Flow Statement | First Three Months of 2016 | First Three Months of 2015 |
| Revenues | 2,108,375 | 2,501,079 |
| Cash Operating Costs | 1,534,818 | 1,992,170 |
| Operating Cash Flow | 573,557 | 508,909 |
| Change In Working Capital | (180,509) | (1,431,279) |
| Capex | - | - |
| Free Cash Flow | 754,066 | 1,940,188 |
| Weighted Avg. Shares Diluted | 22,673,999 | 23,308,533 |
| Free Cash Flow Per Share | 0.03 | 0.08 |
| Earnings Per Share | 0.01 | 0.02 |
(All numbers in millions except for per share items)
There were a lot of positive aspects that came from Q1 as well. Franchise and royalty fees increased 5% (which has a potential to increase going forward if the company continues to expand). U-Swirl franchisees opened up 3 new self-serve yogurt café's, bringing the company total to 243. Cash and cash equivalents also increased 35% (resulting from positive FCF).OCF was also actually higher in 1Q16 compared to the quarter a year ago. Finally the company also completed the acquisition of Let's Yo! LLC, which operates 12 self-serve yogurt locations in New Jersey, Pennsylvania, Massachusetts and Florida (the strategy of small bolt-on acquisitions).
Overall, I believe that the selloff in SWRL's share price was irrational. The company continues to perform well in their market, becoming one of the industry leaders in the past 18 months. New management has been able to reduce SWRL's net loss by 85% and management also stated that SWRL has a high probability of achieving sustainable profitability in the current and future fiscal years.
Valuation
I will be valuing SWRL a couple of ways. First I will analyze what SWRL's forward FCF is. This will give me an understanding on if SWRL is an undervalued security on the basis of FCF. There will be a base, bull and bear scenario in this first method. The second way of valuing SWRL will be done on an EV/EBITDA method. This way will also have a base, bull and bear case scenario. To make things short and sweet, SWRL is an undervalued security on an absolute basis and the undervaluation should be taken advantage of by the attentive microcap investor.
FCF Bull: Revenues growth of 27%
FCF Base: Revenues growth of 20%
FCF Bear Revenues growth of 12%
| | | | |
| --- | --- | --- | --- |
|   | Bull | Base | Bear |
| Revenues | 9,527,476 | 9,002,331 | 8,402,176 |
| Cash Operating Costs | 8,288,896.3 | 7,832,028 | 7,309,893 |
| Operating Cash Flow | 1,238,570 | 1,170,303 | 1,092,282 |
| Change In Working Capital | (639,204) | (473484) | (284,090) |
| Capex | - | - | - |
| Free Cash Flow | 1,877,775 | 1,643,787 | 1,376,373 |
(All numbers in millions except for per share items)
Currently SWRL has a tight cash position of $3.16mm (their current cash position is higher than their market cap). If the bull case transpires, SWRL's cash position will grow to ~$5.03mm, totally outstripping the current market cap. In the base case, the cash position will grow to ~$4.80mm, still putting the company in a great financial position. Finally if the bear case transpires, the cash position will grow to ~$4.53mm, still rather impressive. Investors should be aware that this FCF estimation is for the current fiscal year. As the company continues to grow organically and through acquisitions, FCF will continue to grow. SWRL is very cheap at its current price.
Note: On January 16th, 2016, SWRL will need to pay back all of the debt owed to RMCF ~$7.0mm. From the looks of it, the company will not have enough money to pay back the outstanding debt, fully. In event of a default the company can convert the loan into preferred stock, which will result in 68% more preferred stock issued compared to now. Due to the fact that RCMF owns a majority position in SWRL, I do not believe they will let SWRL become an insolvent firm.
| | | | |
| --- | --- | --- | --- |
|   | Bull | Base | Bear |
| EBITDA | 1.30 | 1.20 | 1.00 |
| Multiple | 7.5 | 7.0 | 6.5 |
| EV | 9.75 | 8.4 | 6.5 |
| +Cash | 3.16 | 3.16 | 3.16 |
| -Debt | 7.46 | 7.46 | 7.46 |
| Total Equity | 5.45 | 4.1 | 2.17 |
| Shares Outstanding | 22.67 | 22.67 | 22.67 |
| Estimated Equity Per Share | 0.24 | 0.18 | 0.09 |
(All numbers stated in millions except for per share items)
SWRL is an undervalued firm on the basis of an enterprise multiple (by a lot). As the contractual agreement gets paid off and FCF continues to come in, the multiple will continue to appreciate in value. The valuation method that I used above is for the next 12-18 months. If SWRL continues to grow at the rate in which they have in the past, they have a high potential for sales north of $15mm with a stock price >$1.00/share. From my research, there really isn't anything holding this company back from breaking out.
Are Frozen Yogurt Shops a Fad? Will the Growth Continue?
SWRL operates under eight different brands; U-Swirl, Aspen Leaf Yogurt, Yogurtini, Josie's, CherryBerry, Yogli Mogli, Fuzzy Peach and Let's Yo. Since this is practically an unfollowed nano-cap stock, I have taken the initiative to research the popularity of each of these brands.
U-Swirl: 34 locations
Facebook (NASDAQ:FB) Followers: 24,100
Twitter (NYSE:TWTR) Followers: 2,247
Aspen Leaf Yogurt: 6 locations
FB Followers: 1,011
TWTR Followers: 1,167
Yogurtini: 25 locations
FB Followers: 11,700
TWTR Followers: 989
Josie's: 4 locations
FB Followers: 3,621
TWTR Followers: 1,124
CherryBerry: 126 locations
FB Followers: 46,192
TWTR Followers: 2,825
Yogli Mogli: 23 locations
FB Followers: 21,489
TWTR Followers: 836
Fuzzy Peach: 20 locations
FB Followers: 14,614
TWTR Followers: 1,732
Let's Yo: 12 locations
FB Followers: 7,569
TWTR Followers: 809
I have provided each subsidiary website in the hyperlinks above. All together SWRL has 130,296 FB followers and 11,729 TWTR followers. We must ask ourselves though; will this trend in frozen yogurt continue?
What I find interesting is that back in the 1980's, there was the first wave of a frozen yogurt trend. From 1980-1990, frozen yogurt stores popped up on virtually every street corner in every major city. After the first decade, the trend started to die down. Thus according to the Agricultural Marketing Resource Center, the retail sales started to fall from 1998-2003, while ice cream sales grew by 24%.
One of the reasons for the newly found trend back into frozen yogurt, or froyo, is due to the unique flavors sold at the self-serve yogurt shops; cran-raspberry, green tea, cotton candy, Georgia peach, etc. Not only is are there a wide variety of unique flavors offered by self-serve yogurt chains, but there is also a ton of different toppings customers can put on their froyo.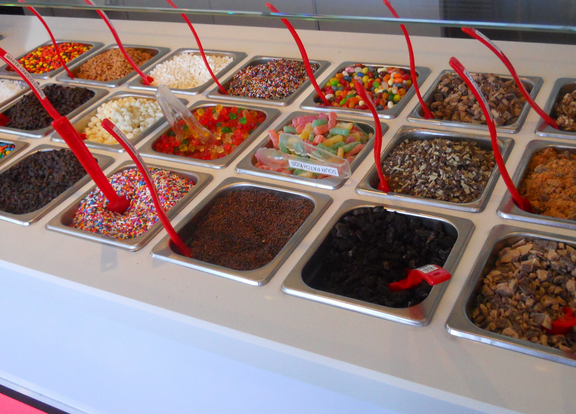 Source: Indeedtext
Source: Biteintoboulder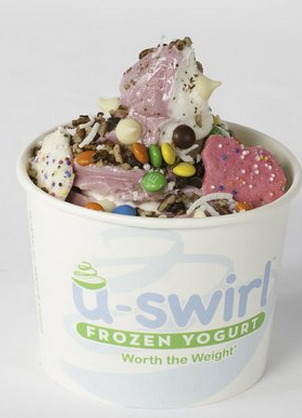 Source: Stocksecerts
The ingenuity of the new flavors and the self-serve style is not the only way frozen yogurt shops are making a comeback, and creating a trend. The atmosphere of these self-serve froyo shops attracts customers, the same way the atmosphere of Starbucks (NASDAQ:SBUX) entices their customers. Froyo stores are focusing on style, comfort, design and music. The corporate plan is to turn self-serve froyo into a hangout spot such as the coffee café.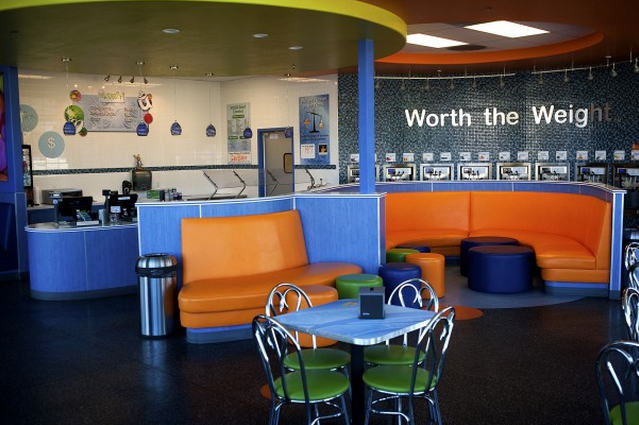 Source: Heraldextra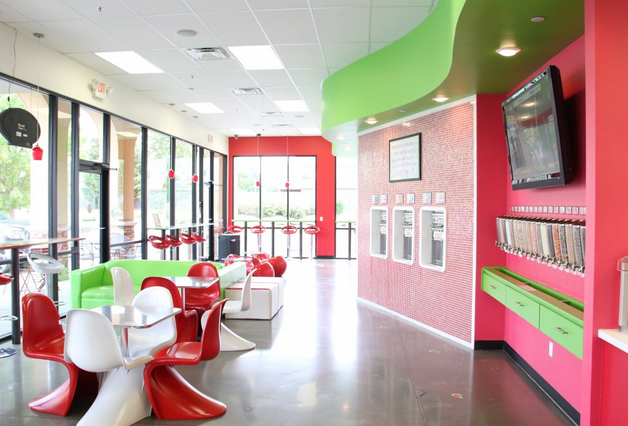 Source: CherryBerry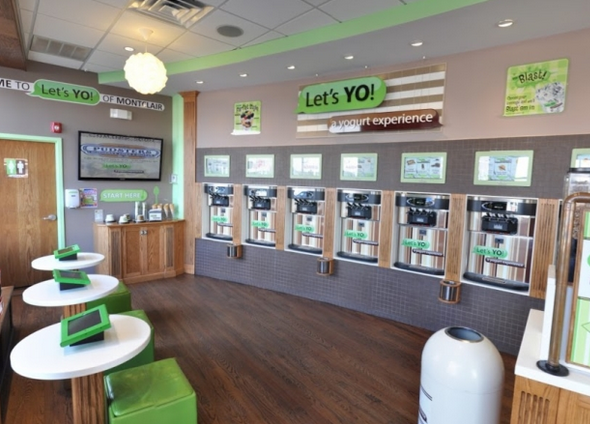 Source: Baristanet
There are many health benefits to frozen yogurt as well. Borris Marjanovic and Bull Investor each present a great case as why frozen yogurt is a healthy alternative and here to stay. If the health benefits are true such as good for your bones, support wellness, low cholesterol and low sodium, then the new trend in health foods may help promote future revenue growth. You can read more about the health benefits of frozen yogurt here.
The Downside
Note: The other writers on Seeking Alpha (Borris Marjanovic and Bull Investor) have listed the more conventional risk such as seasonal, highly competitive/fragmented industry, liquidity concerns, limited resources, zero competitive advantage, potential of a failure in acquisitions, and financial health (could deteriorate). These are all risks that should be expounded upon and both Borris Marjanovic and Bull Investor have done a great job on doing so. The risk I am listing will be ones they did not touch up upon. I would suggest reading their articles as well, for a more clear understanding of the associated risks of investing in this situation.
Trends are the last thing before tacky-Karl Lagerfeld
America has a history of the infatuation with certain kind of desserts. One article I read said that someone could/should write a book on America's serial fixations with one type of dessert. As I stated before, in the 1980's the fixation was frozen yogurt. In the 1990's donuts were the new fixation, with Krispy Kreme (KKD) leading the charge. Finally in the early 2000's, gourmet cupcakes took over the dessert fad. In 2013, the Wall Street Journal released a compelling piece pretty much stating the gourmet cupcake trend is dead.
Investors can learn a lot by learning history. Because of the past, the froyo trend now has a very high potential to be a short-term trend (around 10 years). This means that SWRL is not a company you buy and hold forever. It can be a way to play the growing trend though. Usually I would not try to invest in and out of trends, but with SWRL trading for such a low valuation and price, I really do not see a downside playing this trend (unless the company becomes insolvent). You must be aware that desserts are a trend with high potential to lose ground after a decade of growth.
The other very notable risk that investors should be aware of is the contractual agreement with RMCF. As of the last quarterly report, SWRL owed $6,824,414 to RMCF all due on January16th 2016. Currently SWRL has $3.16mm in cash and around 2.5 quarters of operations left until the debt is due. The 2.5 quarters left are also the slowest time of the year which means SWRL will most likely have ~$4.5-4.0mm in cash when the debt is due. The recent quarterly report says what will happen in the event of a default.
In the event of a default, RMCF may charge interest on all amounts due under the Loan Agreement at the default rate of 15% per annum, accelerate payments of all amounts due under the Loan Agreement, and foreclose on its security interest. Also, RMCF may convert outstanding principal, or any portion thereof, into shares of preferred stock by dividing the principal to be converted by $0.90/share. The conversion price is subject to adjustments for traditional recapitalizations. In the event of a default, RMCF has the right to convert the Convertible Note into shares of preferred stock at the lessor of $0.45/share or the implied equity value, as defined in the loan agreement, multiplied by 3.
I believe that it would be in RMCF best interest to convert the outstanding debt in 2016 into preferred shares. This would not only be cheaper than having SWRL go into bankruptcy, but they will profit on the rise in SWRL's common stock (they own ~40% of the common stock). This will be dilutive to investors, which brings us to our final risk.
There are a ton of warrants, options and other convertible notes that SWRL has on its back. These are all very dilutive for investors. As I have stated before, existing shareholders have been diluted at >40% rate in the past four years. From the way this management team runs things, I would not be surprised to see a similar dilutive rate in the future. Sometimes raising equity over spending cash does have its advantages. If SWRL can grow to be >$15mm company (in terms of revenue growth), then the diluteness can be warranted.
In Conclusion…
As I stated before, SWRL is either going to be a multi-bagger or it will continue to dilute shareholders, resulting in the continual declination in the share price. Because of the risks associated with their current debt issue, I would not make SWRL any more than 1% of your portfolio. When the debt issue with RMCF is solved, an increase in the position could be warranted, on proper debt terms. If you are interested in SWRL, I would advise to continue to watch insider selling (the former CEO of CherryBerry has been unloading shares lately, which could be deemed another reason for the fall in the share price). As of right now I am currently trying to contact management (if I am successful, there will be updates concerning my interview with management). If the company dips down to ~$0.05/share (again), I will start a 1% position. The reward is high, and the risks are real. Invest wisely.
Happy Microcap Investing and Good Luck!
Disclosure: I/we have no positions in any stocks mentioned, and no plans to initiate any positions within the next 72 hours.
I wrote this article myself, and it expresses my own opinions. I am not receiving compensation for it (other than from Seeking Alpha). I have no business relationship with any company whose stock is mentioned in this article.