As with all commodity related businesses, Rex American Resources (NYSE:REX), has not fared the best in the past few years. Tightening crack spreads and a low commoditized environment have hindered the topline, contracted the bottom line and have cut the stock price by more than half. If you do shallow analysis on REX, it looks like a clear avoid from the weak environment. However, the company is well managed, has a strong balance sheet and has a significant amount of cash that can be put to work. I believe that there is an asymmetric risk/reward with a skew towards the upside, in REX's common security.
Summary
In short, REX is an ethanol production company. Currently, REX has interests in six ethanol production facilities and shipped 631mm gallons of ethanol in the last fiscal year. Originally, REX was a specialty retailer, however, they dramatically switched business models in 2006 when they started producing ethanol. What really intrigues me is that REX is one of the smallest public comp pure plays in the ethanol industry.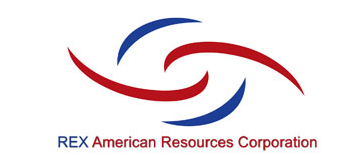 Source: Rex Stores
| | | | |
| --- | --- | --- | --- |
| Market Cap | 349.35 M | Enterprise Value | 202.91 M |
| Shares Outstanding | 6.86 M | Cash | 136.63 M |
| TTM Revenues | 456.91 M | Debt | 0.00 |
| TTM EBITDA | 70.53 M | Insider Ownership | 18.39% |
| TTM EV/EBITDA | 2.88 | TTM EV/Revenues | 0.44 |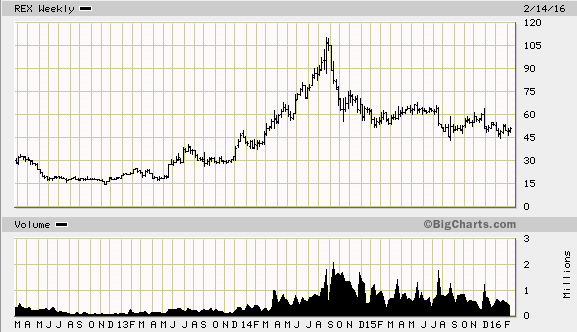 The Ethanol Industry
By furthering the use of ethanol, farmers are presented with an opportunity to produce a cash crop by collecting their agricultural wastes- Richard Lugar
It's extraordinary how inventive one can be with ethanol right now- Daniel Yergin
Ethanol has a great potential to help the US kick our oil habit, but that's 20 or 30 years away- David Friedman
The ethanol industry is a highly controversial industry and topic of debate amongst some of the world's brightest minds. To prove the controversy, below is a negative quote on the ethanol industry…
Ethanol doesn't burn cleaner than gasoline, nor is it cheaper- Jeff Goodell
What exactly is so controversial about the ethanol industry and what drives production/demand? Since controversy is fun and 'edgy', let's break the ice right away and dig a little into the controversy.
There are significant amount of defenders for ethanol production and use, which I wholly agree with. First, ethanol helps cut the reliance of oil from foreign countries. Furthermore, ethanol is considered a clean fuel, which can help cut back on carbon emissions. Finally, the ethanol industry has created jobs, lowers the price of gasoline, and helps the US get closer to the energy sustainability is it reaching for.
Before you go jumping the gun and writing a comment about how all of the former positive statements are false, continue to read. What makes the ethanol industry so controversial is that many professionals do not agree that the ethanol industry helps the US at all and in fact hinders it. For an example, many anti-ethanol users say ethanol raises consumer's fuel costs, is bad for the environment due to the production implications, and has other negative externalities such as higher food prices (for corn related products) and uses too much water (think California drought issues).
I could go on and on debating the controversy of the ethanol industry, however, this is an investment report. If you feel the need to learn more about the controversy of the ethanol industry, I suggest readers read these great articles here, here and here. To end this, I believe that investors should be aware of the inherent controversies surrounding the ethanol industry if they make an investment decision in REX.
Let's now move onto the fun stuff (supply, demand and production).
One of the biggest headwinds for REX as a whole has been negative commodity prices. In short, ethanol operators/producers are very dependent upon commodity prices, especially corn, distiller grains, non-food grade corn oil and natural gas. As of recently, the biggest headwind that REX is facing is lower ethanol prices and contracting crack spreads.
In the past few years the average selling price of ethanol have been decreasing. Check out the price declination in the first three and nine months of 2015.

Source:3Q16 Report
Now look how the average price of ethanol started to show signs of weakness from 2014-2015…

Source: 2015 Annual Report
However, you can notice that average cost per bushel of grain has also been falling since 2013, which has helped stabilize margins somewhat…

Source: 2014 Annual Report
There are a few reasons for the collapsing price of ethanol. First and foremost, low gasoline prices have helped fuel the downside in ethanol. Another, yet not so obvious reason for the price declination in ethanol, is due to price competition from other octane 'enhancers' such as toluene, xylene and benzene. Furthermore, there are probable supply side theories that suggest the price declined because more players saw the money ethanol producers were making so they jumped in the game, thus reducing prices. I am sure there are other theories on why the price of ethanol has fallen in the most recent years, but the three former ones I mentioned make a lot of sense. Further predictive reasoning can be found here and here, for the interested investor.
Another concern with the ethanol market is the price lag between corn and ethanol prices. Moreover, the market price of ethanol almost always tends to lag the price movements in corn. This can cause serious concern to ethanol producers. For an example, corn prices could jump up from disease, weather relatable issues or other supply disruptions. Due to the existing lag between corn and ethanol prices, high corn prices coupled with low ethanol prices can lead to a serious margin compression.
Stepping away from the headwinds in the ethanol industry, we can see that there are tailwinds in relations to the Federal government. From 1999-2014, the ethanol industry has grown from a 1.5bn gallon per year industry to a 14.3bn gallon per year industry. Significant growth to say the least. In fact, as of June of 2015, the ethanol industry is now producing in 29 states with 198 operating plants and 213 overall plants.
All industry data in the former paragraph is sourced from the recent annual report.
What continues to drive demand for the industry is governmental plans/hopes of sustainability. One of the major governmental interventions that has helped and continues to help the industry is the Energy Independence and Security Act of 2007. Tailwinds from this act are derived by; new and higher levels of renewable fuel mandates. What also could be considered a potential major tailwind/topline influencer is that the industry wants to expand more rapidly into the E-85 market and raise the Federal cap on ethanol blend above the 10% mark. In fact, the EPA recently just approved use of 15% ethanol blend for cars, SUVs and light trucks for 2001 vehicles and beyond.
What really shows that government intervention is a tailwind, is the fact that after the announcement of the raise to the level of ethanol produced to 18.11bn gallons in 2016, major ethanol producers' stock prices rose. Thus any positive announcement from the EPA in regards to boasting US renewable fuel targets will have a positive correlation to ethanol producing companies such as REX. Due to the ever shifting ways of the US economy from fossil fuels to cleaner and greener energy, I am expecting further government intervention which will positively affect REX.
Relative Valuation and Potential Acquisition
REX presents itself as an attractive security based on the relative and absolute undervaluation.
| | | |
| --- | --- | --- |
|   | EV/EBITDA | EV/Revenue |
| Green Plains (NASDAQ:GPRE) | 4.44 | 0.19 |
| Pacific Ethanol (NASDAQ:PEIX) | 12.56 | 0.29 |
| The Andersons (NASDAQ:ANDE) | 10.26 | 0.28 |
| Rex American Resources | 2.88 | 0.44 |
REX is also very attractive to its peers based on a pure profitability standpoint.
| | | | | |
| --- | --- | --- | --- | --- |
|   | TTM | 2015 | 2014 | 2013 |
| GPRE |   |   |   |   |
| Gross Margins | 7.04 | - | 11.58 | 5.69 |
| Operating Margins | 4.00 | - | 8.85 | 3.55 |
| Net Income Margins | 1.73 | - | 4.93 | 1.43 |
| PEIX |   | - |   |   |
| Gross Margins | 1.52 | - | 9.80 | 3.62 |
| Operating Margins | -0.45 | - | 8.25 | 2.08 |
| Net Income Margin | -0.63 | - | 1.81 | -0.23 |
| ANDE |   |   |   |   |
| Gross Margins | 8.95 | - | 8.75 | 6.52 |
| Operating Margins | 1.02 | - | 1.72 | 1.55 |
| Net Income Margins | 1.37 | - | 2.40 | 1.60 |
| REX |   |   |   |   |
| Gross Margins | 15.68 | 24.80 | 9.63 | 2.06 |
| Operating Margins | 11.37 | 21.41 | 6.95 | 0.15 |
| Net Income Margins | 10.56 | 15.26 | 5.27 | -0.35 |
I actually believe that REX would make for an accretive and attractive acquisition target to one of its peers. The main reason why I believe that REX would make for an attractive acquisition target is due to; the absolute undervaluation, the very attractive balance sheet (zero debt with 42% of the market cap in cash), low insider and institutional ownership, attractive returns (high margins), and zero takeover defenses.
There are also some key signs/signals that suggest consolidation will continue to happen going forward. One looming sign of continual consolidation is found when looking at other successful industries and how they essentially 'grew up'. Take the auto or even oil industry as an example. Both of these industries had hundreds of companies when they first started. Fast forward in time and now there is just a few dominating companies.
Interestingly, the auto, oil and ethanol industries each support very volatile business models. Furthermore, the biggest consolidation in volatile industries mainly happens during downturns. Based upon reduced ethanol prices and squeezing crack and profit margins, it can easily be seen that the ethanol industry is in a downturn of its volatile business cycle. Does this mean there will be an uptick in M&A activity in the ethanol industry? If I was a betting man, I would throw money down on it.
A further sign of consolidation in the overall ethanol industry is suggested by slowing growth (maturing industry) and costs/regulations it takes to fully build out a fully functioning ethanol plant.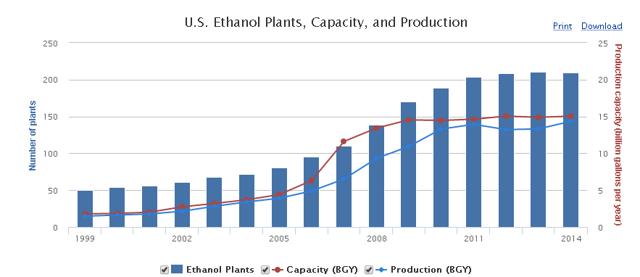 Source: AFDC Energy
Per the picture above, you can see that the number of ethanol plants in operation has started to slow down since 2011 and actually from 2013-2014, the number of plants in operation fell by one. This is an indicative sign that the industry as a whole is maturing. A maturing industry with hundreds of independently operated companies competing with each other, is a clear sign that continual consolidation of the industry as a whole may happen.
Another further sign of future consolidation is from the plentiful regulations that surround the ethanol industry. Yes, current regulations are a tailwind that has been helping companies like REX. However, there are so many regulations in this industry (from production to consumption), that actually hinders new plant expansion builds. I mean when the EPA, DOT, TTB, FDA, OSHA and FTC all get involved in an industry, the initial investment into the industry is complex and costly. In our opinion, the opportunity cost saved from buying an existing production facility, beats jumping over all of the regulatory hoops in producing your own production facility.
So why do I think that REX is a potential accretive and attractive acquisition target besides from the obvious (attractive balance sheet, low ownership, no takeover defenses, and strong margins)? Well first, REX is in middle of the biggest corn yielding areas and ethanol plant locations…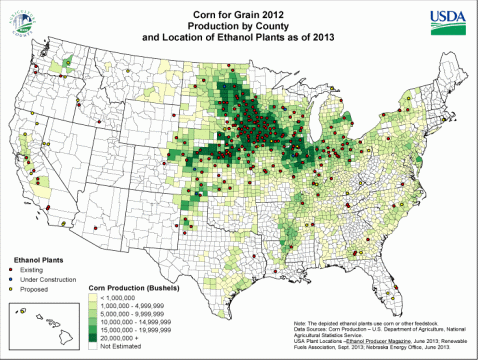 Source: USDA NASS
Being in the middle of the ethanol industry activity, instead of being in say Texas or Georgia, is a huge leg up for REX. The reasoning is simple. First, REX has access to the biggest corn producing areas in the United States. This allows the company to cut down on unnecessary transportation costs and can be used as leverage if an M&A opportunity ever comes knocking. Secondly, with REX in the midst of the industry, a potential buyer (who is also in the middle of the booming industry), can use their locations together to form synergies.
Finally, on June 1st, 2015 Patriot completed a merger with CHS Inc, in which CHS acquired 100% of Patriot. Before the merger of Patriot, REX owned a 27% interest in the company. After the merger, REX was paid $45.5mm with a net gain of $10.4mm. As a whole, this was a small buyout. However, it helps support our thesis that REX may make for a great acquisition target down the road.
Going Forward
If REX is not acquired in the near-term, I still believe they represent a great standalone play, with significant opportunities for investors to take advantage of. One of the biggest bullish forward cases for REX is that the company is amongst the best in the industry and has a very strong management team driving the company forward.
In terms of best in the industry, find me an ethanol producing company that has higher earning metrics than REX. From the digging that I did, well, I really could not find a company that has comparable margins to REX. I guess when you have great locations in the corn belt, have some of the most efficient production plants and a great rail access for transportation, well, it's hard for competition to keep up.
With regards to a great management team, just read the follow excerpts from the recent conference calls…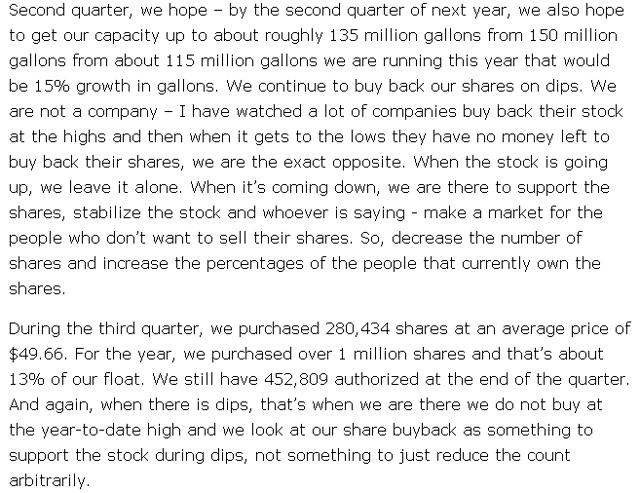 Source: 3Q15 Call
It is rare finding a management team that utilizes dips in the stock price to take advantage of share repurchases. When you find a company that has bought back 13% of the float YOD, at dips and at the 52/week low, that's a huge sign of competent management. Management can't decide where the stock price goes. However, they can use the dips to their advantage for buybacks (which they have done).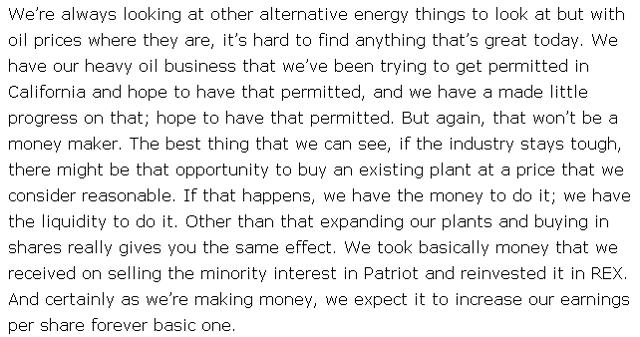 Source: 2Q15 Call
The company also has plans going forward for their rather large cash position that will help grow the topline. Currently the company is investing and jumping through the regulatory hoops so they can produce heavy oil. However, management is taking their time with this due to the low oil price environment. Although, if they do get through the regulatory hoops, producing heavy oil will help grow the topline in the years to come (3-5 years down the road).
Secondly, management recognizes that if the industry continues to stay in a downturn, they may be able to pick up a production plant at a fire sale price. The way management uses the term 'reasonable' suggests that they are not going to jump into any acquisition unless its accretive and attractive for the shareholders (presents a larger ROI). With the strong cash position and FCF generating ability, they are in a perfect position to snatch up another production plant down the road.
Finally, in the Q3 call, management plans on increasing the topline by expanding production at their existing facilities that they own. In 2016, management's goal is a 15% increase in production capacity. This would put the capacity to 135mm gallons. If everything goes as planned, by 2Q16, production capacity will be up 15%. Ceteris paribus, this will drive topline growth.
I have provided our hypothetical base and bull cases below for REX.
| | | |
| --- | --- | --- |
|   | Base | Bull |
| EBITDA | 70.00 | 98.00 |
| Multiple | 3.25 | 4.00 |
| EV | 318.5 | 392 |
| +Cash | 136.63 | 136.63 |
| -Debt | 0.00 | 0.00 |
| Total Equity | 455.13 | 528.63 |
| Shares Outstanding | 6.86 | 6.86 |
| Estimated Equity Per Share | 66.35 | 77.06 |
In millions
For the base case I am going to assume that EBITDA runs at ~$70mm, with a multiple expansion to 3.25x. A multiple of expansion to 3.25x is still under all comps used in the above sections. As for the bull case, an EBITDA run-rate of $98mm with a multiple expansion to 4.00x is also conservative. I believe that it is conservative due to the fact that in 2014 and 2013, EBITDA was $172mm and $81mm, respectively. With the recent announcement of the capacity expansion, hitting $98mm EBITDA should not be out of the question. Consequently, the multiple expansion to 4.00x is still lower than all of the comps used above.
Downside is limited due to the margin of safety established by the current absolute and relative undervaluation, high cash position with zero debt, management's knack to aggressively buy back shares that are undervalued, and the ability of REX to support some of the highest margins in the industry.
Risks
Profits at REX are determined by the price of corn and ethanol. The biggest risk in our opinion going forward is if the price of corn rises coupled with the price of ethanol falling. This is the worst of both worlds. However, REX utilizes forward grain purchase and forward ethanol and distiller grain sale contracts. This will help mitigate unattractive commodity price movements.
The majority of secular demand for ethanol is derived by governmental regulations. As I have shown above, positive news in regards to the increase in clean energy such as ethanol, correlates with positive price movements in stock prices such as REX. On the flipside, if there is a reduction in governmental intervention in the ethanol industry, REX has potential to see downside correlated movements.
The price of corn is a very volatile commodity. Corn prices are influenced by weather conditions, transportation costs, farmer planting decisions, the value of the US dollar and other general economic factors. Any substantial increase in the price of corn may have adverse effects on REX. However, due to the strong US Dollar and historically low corn prices, this risk can be somewhat mitigated in the near-term.
REX also relies heavily upon third party natural gas producers. Any substantial rise in natural gas will hinder the company's bottom line. With the price of natural gas trailing historical lows, natural gas prices have currently been helping REX's bottom line. REX does not have hedges against natural gas so a rise would have adverse effects.
I believe that a lot of the non-systematic risk has been reduced due to proper managerial aspects such as high cash to debt levels and buyback program.
Conclusion
REX is an attractive security for numerous reasons. An attractive balance sheet will help the company during this current downturn. A competent management team gives investors the security they need at night, due to the fact (for lack of better words) management won't do something stupid with their high cash position. Finally the absolute and relative undervaluation coupled with the best margins in the industry makes REX an attractive takeover target during this downturn. There is a significant amount of bullish indicators with REX and in my opinion there is an asymmetric risk/reward skewed towards the upside for long-term value investors.
Disclosure: I/we have no positions in any stocks mentioned, and no plans to initiate any positions within the next 72 hours.
I wrote this article myself, and it expresses my own opinions. I am not receiving compensation for it (other than from Seeking Alpha). I have no business relationship with any company whose stock is mentioned in this article.