Camtek
Camtek (CAMT) has been working production process in industrial sectors of semiconductor fabrication and packaging. It is included printed circuit boards and IC substrates. Company also is given solution from micro to Nano technology. It is an innovation leader in this industrial sector. Camtek is a multinational company with operations in Asia, North America and Europe in 34 countries where the sale of products provides system solutions technology with maximum yield and minimum costs in this industrial sector.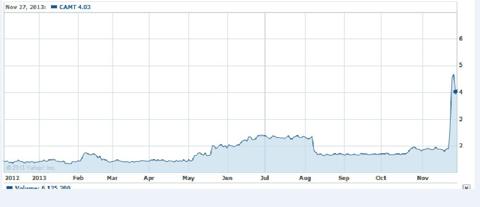 Price Fluctuation
During 2013 price per share ranged from $1.68 to $2.40 per share.
Price has fluctuated throughout the year. On the 7th November the price was closed $1.89 per share when the company released third quarter earnings. The price sharply increased of $6.43 dollars per share and consolidated at 4.11 dollars per share. In last 52 weeks price range was $1.40-$6.43 per share. It means that the minimum price was 1.40 dollar per share and maximum price was 6.43 dollars per share.
The main reason for this sharp rise in prices was the presentation of the new product of the company. It is a 3D printer for the circuit board market for the next market year. Camtek will be expected to sell this product during the 2014 and also it will expect more revenue from sales.
The Main Competitors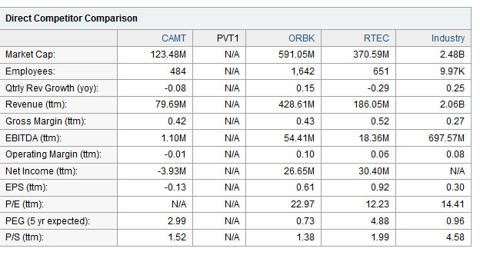 This table shows the main competitors and includes the P/E ratios of the company and its competitors.
Highlights of the Third Quarter 2013
Revenues of $21.7 million;
Non-GAAP operating income of $819 thousand; GAAP operating income of $600 thousand;
Non-GAAP net income of $545 thousand; GAAP net loss of $122 thousand;
Positive operating cash flow of $3.1 million;
Quarter-end net cash position of $20.3 million;
This is 2% decrease in relate to the previous quarter revenue of $22.3 million and 8% decrease in relate to the third quarter 2012 revenues of $23.7 million. This operative income affected drop in prices.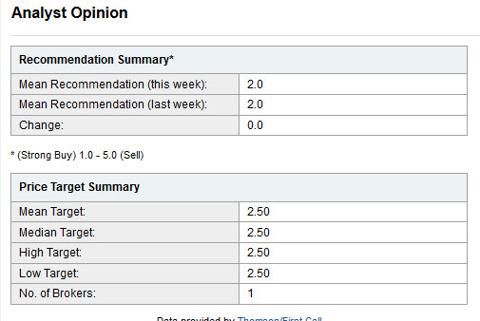 Analysts recommended target price $2.50 per share.
Earnings and Revenues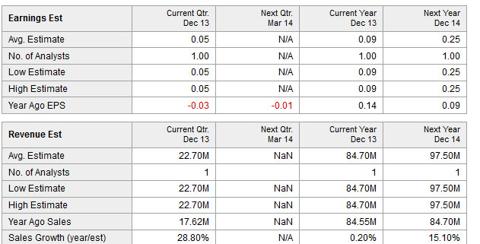 This table shows that the sales growth will rise at a rate of 15.10%.
Trends

Camtek is oriented to the customers of the largest manufacturers worldwide in this area of industry. It is also included in the main semiconductor manufacturers and subcontractors. The company has prepared a new product which will be launched next year.
Conclusion
Wall Street insiders mentioned that investing in shares in innovation technology in the United States provided more than 250% earnings. It is also encouraged investors to invest their money in this industry of the market. This industry sector has represented potentially profitable innovation. This refers to the actions of the company. My personal opinion that currently stock prices of the company is overpriced currently. I agreed with analysts' forecasts and their opinion. Real price ranges in the interval $2.50-$3.50 per share currently.
When market prices rise sharply as the example in this case the price went up to $6.43 per share. After that, it is expected drop in prices and balancing markets. Price has to fall a minimum of 50%. In this case it is $3.20 per share. It has to wait for a further drop in prices from $4.11 per share to be able to buy it at the lowest price possible. The price will rise in the future after the current retracement.
Disclosure: I have no positions in any stocks mentioned, and no plans to initiate any positions within the next 72 hours. I wrote this article myself, and it expresses my own opinions. I am not receiving compensation for it. I have no business relationship with any company whose stock is mentioned in this article.