Critical limb ischemia (NYSE:CLI) is a severely debilitating disease with a high mortality rate. It afflicts over five million people in the U.S. and Europe. Critical limb ischemia and intermittent claudication(IC) are both peripheral artery diseases caused by fatty deposits that obstruct blood flow in the arteries of the leg. In CLI, blood flow is reduced to the point where tissue dies, so that patients experience leg pain at rest, non-healing wounds, gangrene, poor quality of life, and a high risk of leg amputation and death. With the current standard of care many patients face poor health outcomes. A study of data gathered from 68,074 Medicare patients diagnosed with CLI in 2007 showed that 33% underwent their first amputation and 30% died within a year of their diagnosis.
The standard of care for CLI is revascularization of the leg via arterial bypass, balloon angioplasty or stent placement. This approach has clear parallels to the treatment of cardiac ischemia due to arteries blocked by cholesterol. A significant portion of patients, however, are unable to undergo bypass grafting or angioplasty, or have had these procedures previously and are no longer suitable candidates, creating an enormous unmet medical need. Those patients not suitable for an invasive vascular procedure are left with few options, leading to a high amputation rate.
Cell therapy can offer an entirely new, non-invasive method to treat CLI. Pluristem Therapeutics (PSTI) is developing cell therapies to jump start and support the body's own unique systems for regenerating damaged tissues. Pluristem's cells are particularly well suited to treating complex, chronic diseases such as CLI because they communicate with damaged tissues and secrete a range of therapeutic proteins as needed to direct and support the body's healing mechanisms. PLX-PAD cells are placenta-derived, mesenchymal-like adherent stromal cells that are designed to be given to patients without the need for tissue or HLA matching, in contrast to cell therapies such as blood transfusions or bone marrow transplants.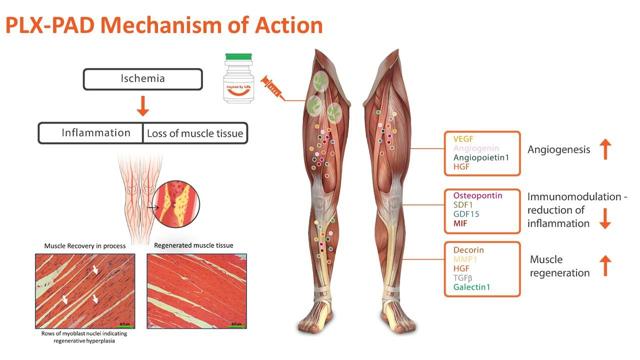 PLX-PAD cells are being evaluated in a pivotal Phase III trial in CLI currently recruiting in the U.S. and Europe. The study aims to enroll 246 patients with CLI. Each patient receives two doses of cells or placebo, administered by intramuscular injections, and are followed for a minimum of twelve months to see if they survive with their leg intact.
Pluristem just announced top-line results from a Phase II study of PLX-PAD in the treatment of intermittent claudication, a less severe form of peripheral artery disease. The Phase II study showed that PLX-PAD cells reduced the incidence of revascularization and improved patients' mobility. In those who received the optimal PLX-PAD regimen, at 52 weeks the improvement in maximal walking distance from baseline was 42% better (p=.043) versus the placebo group. The need for vascular surgery was eliminated through week 65 in patients who received the optimal dosing regimen. This was a fairly large study, with 172 patients treated in 28 sites in the U.S., Germany, South Korea, and Israel.
Efficacy data validated the key elements of the protocol for the ongoing multinational Phase III study in CLI including the number of cells per dose, dual dosing, and sourcing each of the two doses from different placentas. The optimal dosing regimen in the Phase II study in IC is the same regimen used in the Phase III CLI trial and bodes very well for the pivotal study.
Regulators are eager for an innovative new therapy to address this severe unmet need and have selected PLX-PAD for rapid regulatory pathways in the U.S., Europe and Japan. The U.S. FDA has also approved the use of PLX-PAD in CLI through its Expanded Access Program, for patients who do not qualify for Pluristem's Phase III CLI study. When 12 months of data are available on the first 50% of patients in this trial, European regulators may allow for interim results to be evaluated in support of early conditional marketing approval under the EMA's Conditional Marketing Authorization program.
It is important to highlight the astronomical cost of caring for patients with this disease. In the U.S. it is estimated that it costs $45,000 a year to care for a patient with CLI. Risk factors for the condition include age over 65 years, smoking, uncontrolled diabetes, high blood pressure, obesity, and hypertension. As our population ages and rates of diabetes and obesity continue to rise, the medical and supportive care costs for this population are expected to reach tens of billions of dollars a year.
Cell therapies such as Pluristem's PLX-PAD product could potentially address the urgent needs of CLI patients who cannot undergo revascularization, and might one day improve outcomes for all categories of peripheral artery disease. In addition, a simple set of intramuscular injections of PLX-PAD cells might significantly reduce the cost of healthcare for aging populations in the U.S. and around the world.
Disclosure: I am/we are long PSTI.
Additional disclosure: I am an employee of Pluristem Therapeutics and own stock in the company. Except for historical information contained herein, the statements in this article regarding Pluristem Therapeutics are "forward looking" within the meaning of the Private Securities Litigation Act of 1995. These forward-looking statements and their implications are based on current expectations only, and are subject to a number of factors and uncertainties that could cause actual results to differ materially from those described.