I'd like to start postings here on SeekingAlpha with one of my favourite charts which combines the relative strength of gold-miners vs. metal gold, and gold metal price.The chart is hourly, and I use its signals for the short-term speculative trades in gold ETF, GLD.
The reasoning behind it is that stocks usually lead metal. The most interesting opportunities occur at the times when the relative strength of stocks vs metal diverges from the price dynamics of the metal itself.
This is exactly what is going on right now. On Monday close the GDX/GLD ratio holds the level of the beginning of November while metal price, GLD, is about 3% lower. I am expecting this gap to be closed with GLD catching up. With respect to price, I am expecting GLD to reach 127,5 (currently 123,87) in 1-2 week period.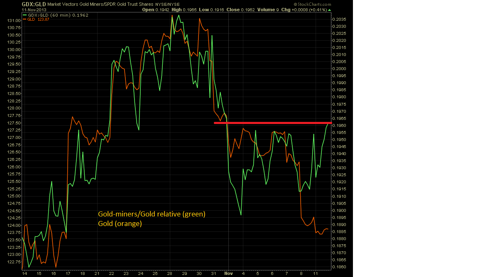 Disclosure: I am long GDX.