Featured Chart: UK Service PMI (orange) - UK GDP Y/Y (white)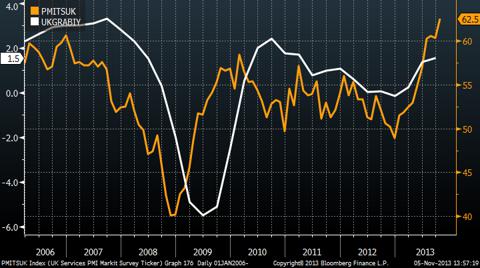 Economic data in the UK continued to impress on Tuesday as the October Service PMI reading came in at 62.5, the highest since May 1997 and well ahead of the 60.3 mark in September. Service PMI data is typically ignored in countries like China, where manufacturing makes up the bulk of employment, but services are very important in a mature economy like Britain's. The Bank of England pledged in August not to raise interest rates until unemployment falls to 7%, something it expected would take more than three years at the time. Many economists are now predicting that the timeline will be brought forward when the BoE updates their forecasts next week. Also on Tuesday, the European Commission raised its forecast for UK growth next year to 2.2%, and considering how closely GDP tracks the service PMI, the estimate could be too low.
Gold in the Headlines:
Appetite for gold rises to six-month high - The Telegraph
India's Gold Demand Fell by Half Ahead of Diwali This Year - WSJ
Prospectors find gold in Iowa and Illinois - WQAD
Where's the Nazi gold? The mystery of still missing treasures plundered by the Nazis - Mirror
Overnight Macro Developments:
Asia
China's government is one of the big obstacles keeping home prices elevated; local governments are having a hard time withdrawing from the practice of selling land at elevated prices - Reuters
China will adopt flexible working hours and suspend school classes when air pollution warnings are at its highest - Bloomberg
China is considering the introduction of international law in a big push to get free-trade zones (FTZs) up and running to promote the use of the yuan in global trade - South China Morning Post
Japan - BOJ minutes in focus - some BOJ officials expressed concern w/the uncertain nature of US policy (both monetary and fiscal). Sluggish EM demand also was a worry (given these are large buyers of Japan exports) - WSJ
Japan - BOJ officials warn wages aren't rising as quickly as other price measures - FT
Europe
ECB - Juergen Stark, the ECB's former chief economist, sees no risks of deflation in the euro zone - Reuters
Germany - factory orders for Sept were very strong, coming in +3.3% M/M (vs. the St +0.5% and -0.3% previously)
UK IP came in ahead at +2.2% Y/Y for Sept vs. the St +1.8%
Eurozone retail sales - retail sales in Sept came in -0.6% M/M vs. the St -0.4% - Bloomberg
Eurozone PMIs - the aggregate services PMI came in better at 51.6 (vs. the St 50.9); the overall composite PMI was 51.9 (vs. the St 51.5). France services was 50.9 (vs. the St 50.2); Germany was 52.9 (vs. the St 52.3); Italy was 50.5 (vs. the St 51.2); Spain was 49.6 (vs. the St 49)
LIBOR rigging - the EU is poised to hand down multi-billion euro fines against banks that took part in the LIBOR rigging scandal. RBS, DB, and SocGen are set to pay the fines next month. In aggregate, banks could wind up paying EU5B in LIBOR-related fines - FT
Germany - the country denied a report it was considering a plan that would scrap industry discounts on renewable energy - Reuters
Germany - Barroso urged Germany on Tuesday to do more to address economic imbalances in the euro zone - Reuters
Italy sees strong demand for bonds - investors ordered over 20 billion euros ($27 billion) of Italian government inflation-linked bonds aimed at retail investors - Bloomberg
Americas
Fed - according to a new research report published by a senior Fed staff member, lowering the UR ZIRP threshold from the current 6.5% (possibly to as low as 5.5%) would help lower unemployment faster than the present set of policies. An optimal policy would keep ZIRP in place until 2017. The research paper doesn't suggest an imminent shift in Fed policy and some officials (inc. Williams) appear reluctant to move lower than 6.5% Fed officials have been looking to shift away from QE and towards other policies, such as ZIRP and forward guidance; "even after roughly five years of experimentation with bond buying, many Fed officials think they don't have as firm a grasp of the costs and benefits of these programs" - WSJ
Washington fiscal policy - Larry Summers doesn't expect another shutdown or ceiling brinksmanship. Summers predicted that the U.S. will avoid another round of the political gridlock that last month brought the world's largest economy to the edge of a record default. "Those who shoot themselves in the foot rarely do it again" - Bloomberg
Virginia governor race surprisingly close; McAuliffe won by less than 300bp (polls heading into election night showed him w/much larger margins); it looks like ObamaCare backlash almost killed McAuliffe - Politico
Pentagon preparing for major changes - increasingly Hagel realizes the sequester probably won't change materially and is preparing the military for stark new budget realities - Politico
AIG - the co is preparing to sue the world's largest banks for fraud, alleging they mis-sold mortgage securities leading up the financial crisis. AIG has held "intensive discussions" with a number of banks and was able to reach confidential settlements w/a number of them. But talks are continuing w/other banks and may result in lawsuits - FT
Fidelity and BlackRock will both be studied by US regulators who are in the early stages of determining whether asset managers post a risk to the financial system - Bloomberg
Graduates from elite business schools are selecting tech over finance - WSJ
Commodities
Art market - Christie's auction falls short but this may not be a sign that the art bubble is bursting - CNBC
Grains: A law that would have required foods with genetically modified components to be labeled as such was defeated in Washington state - Reuters
Israel + nat gas: The FT writes that Israel is on the cusp of become a major energy power in the Middle East and that geopolitics and economic relations in the region could be in for a major shift. Delek and NE are currently working on a $3.5B project to export nat gas from Tamar. The article says the project could add 1 percentage point to the nation's GDP - FT
Start-up oil and metals trader Clearsource sees opportunities in shipping crude and oil products to Asia, sending gasoil from Asia to Europe and metal storage, as it targets rapid growth in turnover. Clearsource Pte Ltd is one of several new Singapore-based commodities trading firms set up by veteran traders aiming to tap cheap financing and low taxes in the city state as it services rising energy demand in Asia - Reuters
Metals/Mining
Third quarter profit at Brazilian global miner Vale SA VALE5.SA is expected to nearly double compared with a year earlier as a result of higher iron ore prices and sales volumes. Profit, or net income, is also expected to rise as a result of sharp cuts in the company's expansion programs and the weakening of Brazil's real against the U.S. dollar, analysts said - Reuters
A committee charged with reviewing mining deals in Guinea has given BSG Resources a month to respond further to a string of allegations including that it paid bribes to secure contracts, setting a hearing date of Dec. 10. BSGR, mining arm of Israeli billionaire Beny Steinmetz's business empire, is battling for the right to develop half of the Simandou deposit in Guinea's south, one of the world's richest undeveloped deposits of iron ore - Reuters
GBI Data Points*: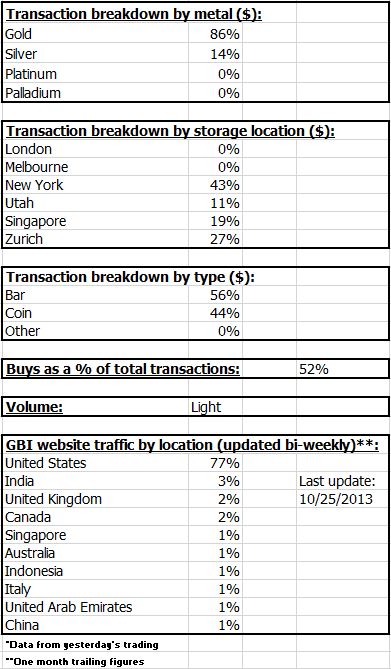 Ruminations:
The total amount of New York Stock Exchange margin debt is at an all-time high, which has some investors worried considering the correlation between margin debt as a percentage of GDP and peaks in the stock market (chart below). While this might seem ominous, margin debt on the NYSE currently amounts to roughly $400bn, is only 5% higher than the previous June 2007 high of $380bn and well below the all-time high as a percentage of GDP.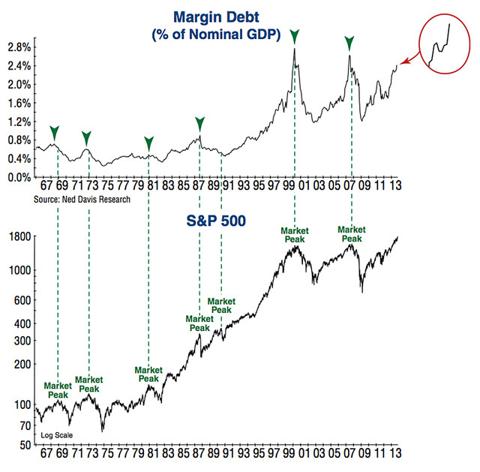 However margin debt is petty compared to total household debt which currently amounts to nearly $13trn. Total household debt is nearly 78% of GDP and falling rapidly. This is a clear indication that the US is still going through a massive deleveraging in the private sector.
Total Household Debt as a Percentage of GDP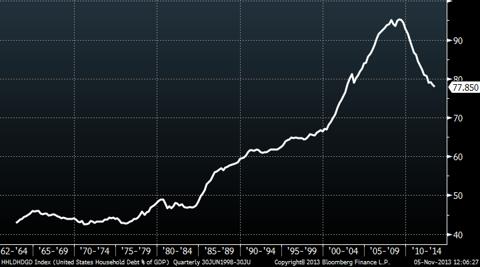 The other thing to consider is that when margin debt as a percentage of GDP peaked previously interest rates were much higher. Even though nominal margin debt is currently at an all-time high, the interest expenses is likely minimal because interest rates are at the zero-bound. With that being said, the correlation in the first chart is clear; so when margin debt starts to decline it's probably an ominous sign.
Bonus: Electrical fireball passes through a power line in Montreal.
Disclaimer
The information in this letter is not intended to be personalized recommendations to buy, hold or sell investments. GBI is not permitted to offer personalized trading or investment advice to subscribers. The information, statements, views and opinions included in this publication are based on sources (both internal and external sources) considered to be reliable, but no representation or warranty, express or implied, is made as to their accuracy, completeness or correctness. Such information, statements, views and opinions are expressed as of the date of publication, are subject to change without further notice and do not constitute a solicitation for the purchase or sale of any investment referenced in the publication.
SUBSCRIBERS SHOULD VERIFY ALL CLAIMS AND DO THEIR OWN RESEARCH BEFORE INVESTING IN ANY INVESTMENTS REFERENCED IN THIS PUBLICATION. INVESTING IN SECURITIES AND OTHER INVESTMENTS, SUCH AS OPTIONS AND FUTURES, IS SPECULATIVE AND CARRIES A HIGH DEGREE OF RISK. SUBSCRIBERS MAY LOSE MONEY TRADING AND INVESTING IN SUCH INVESTMENTS.