11/19/13
Featured Chart: TRAN Index / S&P 500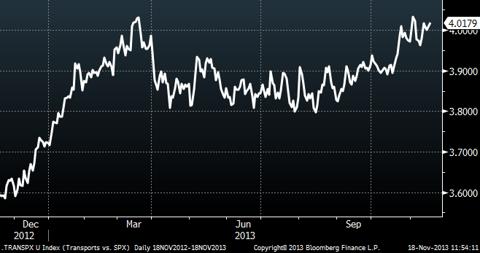 Investors have already started switching their focus to the upcoming holiday sales season, which is expected to be solid. This optimism is further supported by the Dow Jones Transportation Average (TRAN Index), which tracks 20 transportation stocks, trading well relative to the S&P 500. Transportation stocks are often seen as a bellwether, giving early signs of a strengthening or weakening economy, which makes sense because weaker shipping volumes is an easy way to see that retailers are anticipating lackluster sales. A strong holiday sales period would certainly give the economy a shot in the arm this year, but we'll have to wait and see whether transportation stocks are sending mixed signals.
Gold in the Headlines:
John Paulson's gold bet signals ETF rout ending - The Telegraph
The latest report by the World Gold Council has placed much of the blame for the malaise hanging over prices on a structural shift between East and West that is under way. As western investors in ETFs have cut their positions, retail buyers, predominantly in Asia and the Middle East, have continued to pile in to the market, but not in sufficient numbers to significantly halt the slide. However, most analysts agree that without this support for demand, the drop in gold's value could have been much worse.
Treasure Discovered By Indonesian Oyster Gatherer Is Chock-Full Of Gold Coins - Huffington post
According to the Jakarta Post, a woman who was collecting oysters stumbled across a treasure chest in the Indonesian village Tuesday. When she broke open the box that was covered in coral and oyster shells, hundreds of gold coins spilled out.
Gold Falls as Investors Sell After Advance on Stimulus Outlook - Bloomberg
"Investors are either quick to book profits and/or sell rallies," Joni Teves, an analyst at UBS AG in London, wrote today in a report. "Gold price action will be driven by clues on the direction of monetary policy, particularly on the likely timing of tapering."
Overnight Macro Developments:
Asia
China - house prices rose further in Oct - The National Bureau of Statistics (NBS) released 70-city house price index for October. Compared to the previous month, new home prices declined in 2 cities, stayed flat in 3 cities and increased in 65 cities. As such, 92.9% of the cities posted m/m price increases in October. On average, national house price increased
0.6%m/m in October, compared to 0.7%m/m in September
China foreign-direct investment - China drew $97 billion in foreign direct investment between January and October, with October's inflow up 1.2 percent Y/Y; "We can see that foreign investment from Asian countries, the European Union and the U.S. all kept relatively fast growth in the first 10 months" - Reuters
China - the PBOC will "basically" exit from normal intervention in the foreign- exchange market, Governor Zhou Xiaochuan said; the PBOC will widen the yuan's trading band in an "orderly" way as it seeks to enhance the currency's two-way flexibility - Bloomberg
Japan - the country's economy minister Tues said the gov't will forgo issuing new bonds to fund its economic stimulus. The overall package, worth ~$50B, will be compiled in early Dec - Reuters
South Korea said Tuesday that it will raise electricity prices and impose taxes on the use of thermal coal in power plants as the country struggles to meet rising power demand - DJ
Global growth forecasts trimmed at OECD - it now sees global growth +2.7% and +3.6% in '13 and '14, respectively (previously it had been modeling +3.1% and +4%) - OECD
Europe
Germany - the ZEW current situation reading was 28.7 (vs. the St 31) while the expectations came in at 54.6 (vs. the St 54) - Bloomberg
ECB's Asmussen says not out of options; "I said that we are not at the end of our monetary policy possibilities…if the inflation situation requires it, we can act again…and to do so, one possible instrument would be the so-called negative deposit rate," he said. "But I would be very cautious with this instrument, but I don't want to completely exclude [its use]." - Reuters/DJ
ECB - as Draghi debates whether to adopt QE, many are wondering what he would actually buy. The decision isn't as easy as it was for the Fed, BOE, and BOJ. Purchasing gov't bonds could be "political dynamite". The ECB could acquire private-sector credit assets from the banking system or securitizations but this would also present its own set of problems - WSJ
Greece - tourism revs are expected to rise 13% in '14 to EU13B, a new record high - Reuters
Italy - Letta said on Monday he was confident the country can reduce its deficit in 2014 - Reuters
Americas
Tax plan to be published Tues; Baucus to propose repatriation holiday - according to the WSJ, the chairman of the Senate Finance Committee, Max Baucus, will release his proposal for overhauling the US corporate tax code on Tues. Baucus, along w/his Republican counterpart in the House (Camp), are hoping to have substantive legislation on the table during the current Congress (although most people are skeptical the measure can actually make it to Obama's desk anytime soon). One of the main features of the Baucus plan will be a repatriation tax holiday (i.e. a temporary reduction in the rate levied on int'l earnings, a move that would in theory spur US firms to repatriate overseas cash) - WSJ
Health Care - hospitals are considering buying ACA insurance coverage for certain at-risk patients as part of an overall effort to lower costs. Hospitals think the coverage will steer patients towards preventive care instead of the emergency room - "Hospitals shouldn't be on the front lines delivering preventive care that patients should be receiving in a clinic or doctor's office. That doesn't make sense for anyone". The White House and insurance industry are concerned this move will actually damage the economics of the ACA by skewing the risk pool towards older and sicker patients - FT
Immigration is bypassing the US - according to the US, migrant workers are no longer relying exclusively on the US for job opportunities and instead are locating in such countries as Chile, Brazil, and Malaysia - WSJ
Easy money policies in the US slow bankruptcy filings - WSJ
Commodities
Sugar: The US gov't is being forced to provide loans to support sugar prices despite $280M of tax revenues being used in this effort - WSJ
Metals/Mining
GS to resume talks on selling its metals warehouse unit now that the new LME rules have been published; more than 12 parties have expressed an interest in buying the business - Reuters
Rio Tinto Ltd, one of the world's top mining companies, has sold most of its stake in aluminum products maker Constellium NV for about $330 million, according to a regulatory filing on Monday. Rio which had a 28 percent stake, sold 19,316,355 shares of Constellium on Nov. 14 at a price of $17 per share, less the underwriting discount. It retained a 9.22 percent stake, or some 9,597,570 shares, according to the filing with the U.S. Securities and Exchange Commission - Reuters
GBI Data Points*: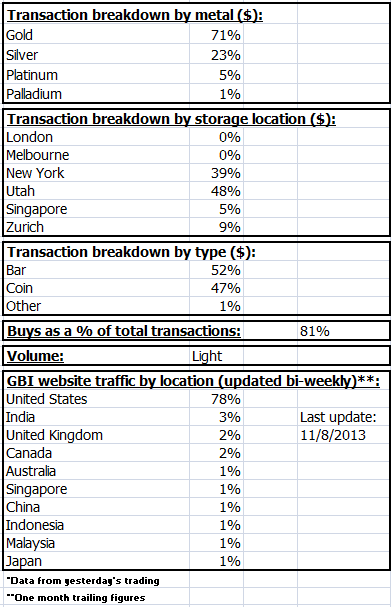 Ruminations:
At a time when the British government is extremely sensitive to reducing carbon dioxide emissions, coal is enjoying a resurgence as a generator of electricity. During the first week of November, coal supplied 39% of Britain's electricity generation; outpacing gas turbines (28%), nuclear (17%), and wind (8%). Natural gas is powering an increasingly large percentage of electrical needs in the US but that's largely because gas prices in the US are so much lower.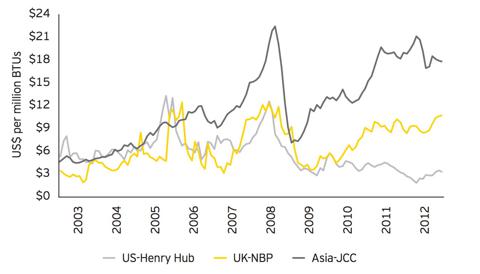 Prices in Asia are even higher than the UK, which is a problem because demand has exploded after Japan shut down its nuclear reactors following the Fukushima disaster in 2011. Cheap natural gas is a major competitive advantage in the US and looks likely to stay that way for a while. Natural gas is difficult to transport long distances, and even though other countries have sizable shale reserves they lack the technology to extract it.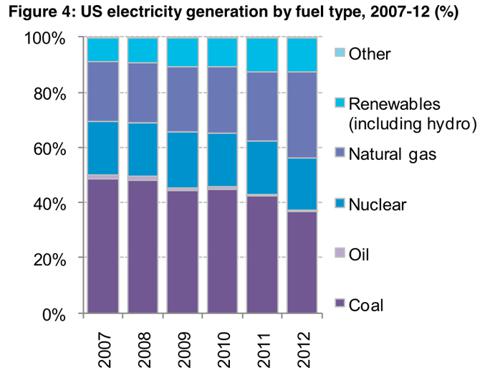 Not only has the shale gas renaissance lowered gas prices in the US but tax revenues have increased, international businesses have relocated, and coal emissions have dropped all as a result. So while the economics don't make sense for England to shift away from coal right now, ultimately environmental concerns will force some kind of change; creating an investable opportunity in the process.
Bonus: Sleepy Man Banjo Boys - 8 year old Jonny Mizzone