11/20/13
Featured Chart: Chinese Yuan (12-month forward)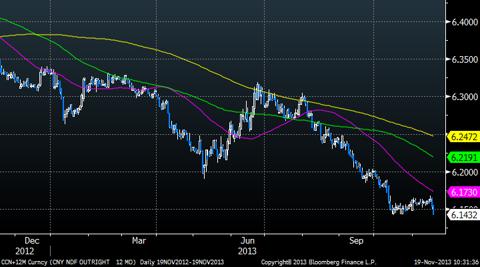 On Tuesday, the head of the People's Bank of China, Zhou Xiaochuan, said in a book on reforms that China will gradually expand the Yuan (NYSEARCA:CNY) trading band to help make the currency more flexible and market driven. This followed reform plans last week to let the market play a "decisive" role in the economy. A stronger CNY has been a theme all year, surprising many strategists, and signals that the Chinese are earnestly beginning to shift towards a consumption-driven economy. With that being said, flexibility is a two-way street and it will be interesting to see how the CNY responds during the next financial downturn or recession.
Gold in the Headlines:
Gold 'Death Cross' Signals Slump to $1,200: Technical Analysis - Bloomberg
The death cross forms as a short-term moving average falls below a long-term measure. Yesterday, the 50-day average was $1,315.58, and the 100-day measure was $1,319.97. The first bearish target is $1,250, and the next is $1,200, O'Neill said. On June 28, prices touched $1,179.40, a 34-month low.
Paulson-Endorsed South Africa Split Weighs on Gold Fields - Bloomberg
In the months following more than 40 deaths in protests over South African mineworkers' pay last year, GoldFields Ltd. CEO Nick Holland hatched a plan to spin off his company's mines in the country. The strategy, endorsed by billionaire hedge-fund manager John Paulson, has been a success - though not yet for Holland.
Gold treads water after sharp losses; stimulus outlook weighs - Reuters
Gold was unable to recover on Tuesday from sharp losses incurred the previous day, with investors filled with uncertainty over when the U.S. Federal Reserve would begin to taper its monetary stimulus, while physical demand for the metal remained weak.
Overnight Macro Developments:
Asia
China will relax controls on deposit rates at "an appropriate time," and eventually allow the market to set interest rates - DJ
China state firm profits - annual profit growth at China's state firms moderated to 10.1 percent in the first 10 months of the year from 10.5 in the January-September period - Reuters
China - Gary Locke, the current US ambassador to China, will step down from his post in early '14 - WSJ
Japan - pension urged to shift away from "bond-centric" portfolio - a government advisory panel advised the massive $1.2T Government Pension Investment Fund to consider riskier assets such as infrastructure, real estate and private equity - WSJ
Japan reports strong trade numbers - exports for Oct came in +18.6% (vs. the St +16.2%) and imports were +26.1% (vs. the St +19%) - Bloomberg
Australia - the government painted a somewhat grim picture of the economy and urged parliament to raise the debt ceiling - WSJ
India - the country will lift gov't controls over diesel pricing within the next 6 months - WSJ
Europe
European banks accelerate the repayment of LTRO funding ahead of stress tests scheduled to take place next year. Banks don't want to be perceived as having to rely on ECB funding ahead of the tests - FT
ECB official discusses possibility of QE - ECB Vice President Vitor Constâncio said the bank could conduct QE if needed; he is just the latest ECB official to hint at the prospect of asset purchases. Simply raising the idea of quantitative easing marks a significant shift in rhetoric from the central bank - WSJ
Europe - US fund managers are pouring billions into European bank equities in anticipation of a sector rebound. The value of shares owned by US-based funds in Europe's 10 biggest banks has risen 40% since June - FT
Ireland - two major int'l investors are booking profits in Irish bonds following a strong recent rally - FT
Germany - coalition talks are said to be deadlocked over labor-related matters (in particular the minimum wage); Merkel and the SPD may miss a self-imposed deadline of forging a coalition agreement within the next 7 days - Bloomberg
Americas
Volcker Rule faces fresh hurdles - according to the WSJ, Kara Stein at the SEC and Gary Gensler at the CFTC are concerned the present Volcker Rule draft doesn't go far enough to clamp down on proprietary trading and are pushing for tougher language as a result. Their objections could delay publication of Volcker beyond the year-end deadline - WSJ
Fed update from Hilsenrath; minutes out Wed could shed light on how Fed would handle debt ceiling crisis; Fed could take number of steps, such as accepting delinquent T-bonds as collateral, in the event of crisis - WSJ
Immigration - Obama Tues suggested he would be open to a piecemeal approach to immigration; speaking before a WSJ event the President said he doesn't care if it takes 5 separate bills to get immigration done - WSJ
Health care - some cyber experts are urging that the ACA website be shutdown as it is riddled with security flaws - Reuters
Architecture Billings Index slows down in Oct - The American Institute of Architects (NYSEARCA:AIA) reported the October ABI score was 51.6, down from a mark of 54.3 in September. "There continues to be a lot of uncertainty surrounding the overall U.S. economic outlook and therefore in the demand for nonresidential facilities, which often translates into slower progress on new building projects," said AIA Chief Economist Kermit Baker, Hon. AIA, PhD. "That is particularly true when you factor in the federal government shutdown that delayed many projects that were in the planning or design phases"
Warren Buffett: Stocks in 'zone of reasonableness' -"I would say that they're in a zone of reasonableness.....Five years ago, I wrote an article for The New York Times that said they were very cheap. And every now and then, you can see that that they're very overpriced or very underpriced. Most of the time, they're in an area where maybe they're a little high, a little low, and nobody really knows exactly. They're definitely not way overpriced. They're definitely not underpriced...we've come back a long way from where we were five years ago, and you'll see, if you live long enough, you'll see a lot higher prices." - NBC/CBS
Commodities
Keystone XL + Crude by rail: Bloomberg writes that group such as 350.org are expanding their fight against the Keystone XL pipeline by trying to block other ways for heavy Canadian crude oil to enter the US ie crude by rail - Bloomberg
Sinopec: The co is in advanced talks about a site for a potential LNG export terminal in British Columbia - Reuters
Metals/Mining
Coldeco: The world largest copper producer plans to hike its fee to Chinese customers by 41% in FY14 as demand strengthens. The premium added to the metal will rise to $138/to from $98/ton this year - Bloomberg
Gold + UK: Bloomberg reports that the British Financial Conduct Authority is looking at gold benchmarks as a part of a wider probe for how global rates are set - Bloomberg
Global gold producer Gold Fields GFIJ.J said on Wednesday it saw no major impact from South African power utility Eskom's ESCJ.UL declaration of a power emergency the previous day. Chief executive Nick Holland told Reuters the company halted hoisting for several hours at its South Deep operations after Eskom urged key industrial customers to reduce consumption by 10 percent to ease pressure on the grid - Reuters
China, the world's top gold producer, produced 37.642 tonnes of the precious metal in September, bringing total output in the first nine months of the year to 307.809 tonnes, the industrial website China Gold Association said on Wednesday. Total gold output in the first nine months of this year was up 6.8 percent compared with the same period a year ago, the Association said - Reuters
GBI Data Points*: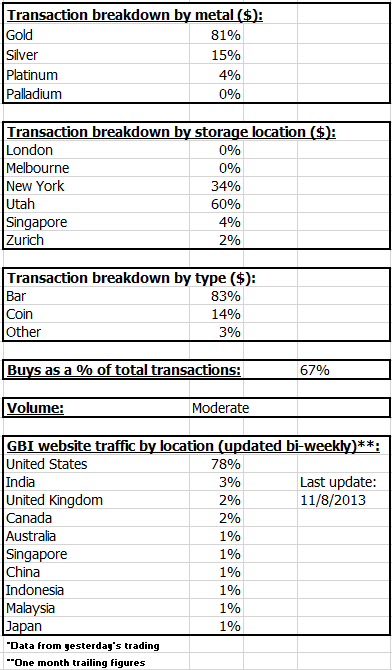 Ruminations:
Iran's national gas company now says that it's facing bankruptcy, with a reported debt load of 100trn Rials, or $4bn USD. This is the latest sign that Iran's economy is essentially dying as economic sanctions related to their nuclear program choke off any potential for growth. Iran sits on the world's second-largest gas reserves, estimated to be around 15% of the world's total.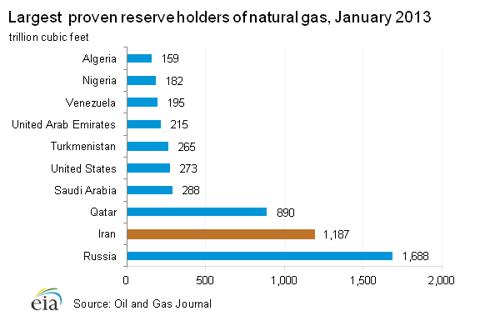 If the sanctions were removed and Iran was able to develop its natural gas fields, officials believe the country could earn as much as $130bn a year from natural gas sales - which would surpass oil revenues. Gas revenues were estimated at $10.5mn per day in 2012, a fraction of what Iran earns from oil.
Iranian Rial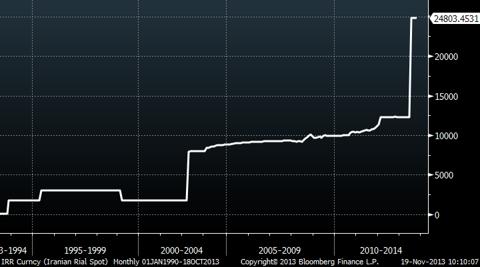 In addition to the declining oil revenues the Iranian economy is struggling with frozen banking assets. Their currency, the Rial (chart above), has lost more than 50% of its value and reported inflation is above 40% Y/Y. The US has reached out to strike a nuclear agreement but it is a very contentious issue that is sure to irritate Israel further. Otherwise a further deterioration in the Iranian economy could fuel even larger protests.
Bonus: A better question might be: why is his tie so long?