11/21/13
Featured Chart: Inflation-Adjusted S&P 500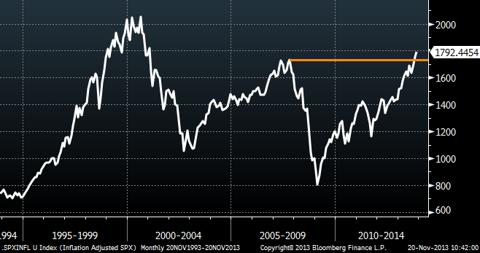 Despite pessimistic comments from market luminaries, such as Carl Icahn and Larry Fink, the S&P 500 has clearly broken above its inflation-adjusted peak from 2007; although it's still 12% below the all-time high in 2000. Another icon, Warren Buffett, said on Tuesday that stocks are "in a zone of reasonableness." Even with equity prices soaring higher, participation in the rally is minimal as stock volumes remain extremely depressed. While monetary policy remains as loose as ever, the US fiscal position is less supportive and consumers don't have confidence in either. The Fed wants to generate inflation through the wealth effect but if a select few are reaping all the benefits, it's tough for trickle-down capital to have any impact.
Gold in the Headlines:
India: Gold Bars Worth $1M Found in Plane Lavatory - ABC News
Cleaners found a stash of 24 gold bars worth more than $1.1 million hidden in an airplane lavatory after a flight from Bangkok arrived in eastern India, officials said Wednesday.
Why did the gold price plunge $10 in 10 seconds? - The Telegraph
Traders in London were left scratching their heads on Wednesday morning when a rapid-fire 10-second spell of selling sent gold prices quoted on a Bloomberg monitor down suddenly by about $10 (£6) to trade near $1,260 an ounce.
Gold No Slam-Dunk Sell in China as Aunties Buy Bullion - Bloomberg
Yang Cuiyan, a 41 year-old housekeeper from Anhui province, is one reason China is poised to topple India as the world's top consumer of gold even as investors desert the metal. Standing outside Beijing's busiest jewelry store, wearing a thick coat against the autumn chill, she clasps a gold necklace that cost her 10,000 Yuan ($1,640), or five months' wages.
Gold Benchmarks Said to Be Reviewed in U.K. Rates Probe - Bloomberg
The UK Financial Conduct Authority is reviewing gold benchmarks as part of its wider probe of how global rates are set, a person with knowledge of the matter said. The FCA review is preliminary and hasn't risen to the level of a formal investigation, said the person, who asked not to be identified because the matter isn't public.
Overnight Macro Developments:
Asia
China's flash reading for November Markit manufacturing PMI moderated to 50.4 (consensus: 50.8), compared to the final reading of 50.9 in October
China - the PBOC said it is no longer in China's interest to continue increasing FX reserves - Bloomberg
Japan - BOJ leaves policy unchanged (as was widely expected) although it dropped hints that further accommodation could be on the way; Kuroda during the press conf said the BOJ wouldn't hesitate to take further measures if the economy stopped moving inline w/its projections. The bank "has room to act against upside and downside risks" - FT
Japan - foreigners are buying Japanese stocks at levels not seen since Apr - WSJ
Singapore - the country has raised its '13 growth outlook from +2.5-3.5% to +3.5-4% - WSJ
Australia's central bank Governor Glenn Stevens said he remains "open-minded" on currency intervention - Bloomberg
Europe
Eurozone PMI - overall a mixed-to-mildly-disappointing PMI print; Germany shines, France slips. The overall Eurozone composite flash PMI was 51.5 (vs. the St 52). Manufacturing was inline (51.5 vs. St 51.5) while services was light (50.9 vs. the St 51.9). Germany was the highlight - the manufacturing was 52.5 (vs. the St 52) and services came in at 54.5 (vs. the St 53). France was the big disappointing (once again) - manufacturing was 47.8 (vs. the St 49.5) and services came in at 48.8 (vs. the St 51).
Spain - to use remaining medium/long-term bond sales to pay back short-term bills and lengthen average debt maturity - Reuters
Credit Suisse takes actions to ring-fence its Swiss ops from riskier IB activities in the US and UK; the steps are part of an effort to end the "too big to fail" problem - WSJ
Americas
Fed update - the minutes made clear that Fed officials would like to gradually draw down LSAPs in favor of other policies (in particular strengthened forward guidance). Fed officials hope the economy strengthens enough in the coming weeks that tapering is justified - WSJ
Fed Suggests It Would Accept Treasurys Even if Government Missed a Payment - WSJ
Fed + Treasuries - PIMCO doesn't think 10yr TSY yields will get north of 3%; PIMCO anticipates tapering in Jan or Mar - Bloomberg
Fannie/Freddie - the White House said it won't support the recapitalization plans floated for Fannie/Freddie in the last few days - DJ
US budget talks generate "cautious optimism" - the FT is the latest newspaper to speak optimistically re the ongoing Senate/House budget negotiations. Increasingly it looks like a "mini-deal" may be possible as the two sides have "experienced a breakthrough in recent days" - FT
Volcker Rule - Bart Chilton, a member of the CFTC, said he would vote against the Volcker Rule as it is presently written. "There would be no sense even doing a final rule if what is currently being considered on hedging remains the same" - Bloomberg
GS - the co's weak FICC numbers in Q3 were driven in part by an FX trade that wound up going against the company. According to the WSJ, GS made a wrong bet on the direction of the USD/JPY and that led the overall FX desk to post a loss in the period - WSJ
Commodities
Uralkali - Belarus has agreed to extradite the jailed CEO of Uralkali; the move suggests the dispute between the co and its former Belarusian partners may be nearing resolution - WSJ
Potash prices: Bernstein lowered their potash price estimates for FY14 and FY15 to $300/ton, but keep their long term PT at ~$350. The firm sees increased competition pushing prices down as the market remains oversupplied. Extreme case: potash prices move towards $200/ton in NA - Bloomberg
Commodities: According to Bloomberg, Goldman Sachs thinks that gold, iron ore, soybeans, and copper will fall at least 15% in FY14. The firm believes iron ore is the most at risk and that gold, copper, and soybean will fall to their lowest levels since 2010 - Bloomberg
Metals/Mining
Mongolia hopes the $5 billion expansion of the giant Oyu Tolgoi copper and gold mine can start next year as it works to resolve a dispute with global miner Rio Tinto, its partner on the project, a government source said. But Rio Tinto may be reluctant to push on too quickly due to bleak market conditions, the source said, with copper prices down more than 10 percent in 2013 and expected to drop further on a flood of new supplies from South America and Africa - Reuters
Miners are becoming increasingly vulnerable to cyber-hacking as they slash costs, automate equipment, rely more on the internet, and run mines from hundreds of kilometers away, a survey of nearly 40 mining companies has found. Threats can come from criminals looking to make money from supply disruptions, rivals hunting business secrets, governments and state-owned firms looking for a leg up in contract talks, and political and anti-mining activists, according to a report by Ernst & Young - Reuters
GBI Data Points*: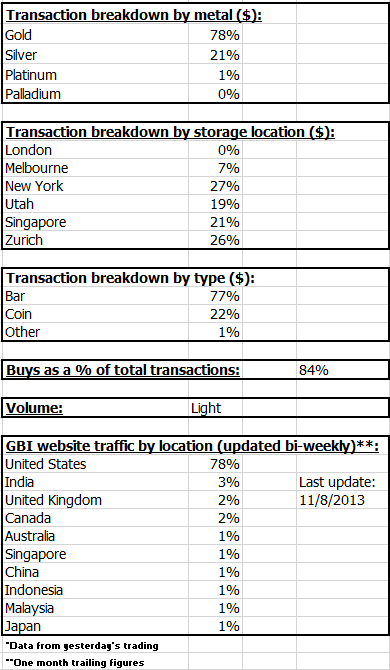 Ruminations:
Back in May when the Fed first hinted (and subsequently balked) that it might begin tapering asset purchases, emerging markets took the brunt of it. A new report from the Institute of International Finance shows that a sizeable amount of capital (chart below) did leave EM equities / debt and hasn't returned since.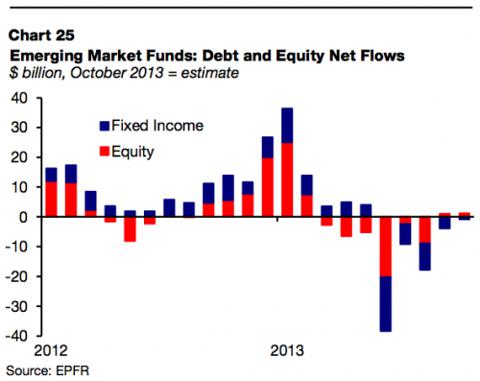 This has led some to conclude that the Fed must take into account the impact on flows to and from emerging markets when designing policy - as if they don't have enough to worry about already. The outflow of capital unnerved a lot of EM investors but equities have held fairly strong (chart below), although lagging their DM counterparts.
MSCI EM Index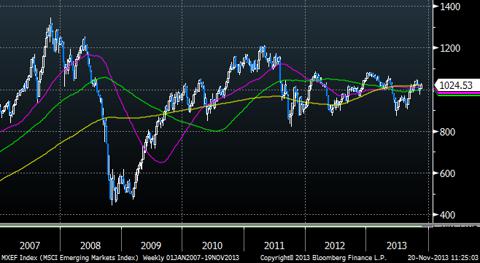 It's reasonable to say that emerging markets are doing better during crises these days partly because of their experience during the 1990's when the Asian debt and Tequila Crisis roiled markets. Floating exchange rates, greater FX reserves, and mature debt markets give developing countries a greater margin for error during turmoil and should bode well going forward.
Bonus: Prank Artist of the Day: Revealing Personal Information from Nearby Social Media Posts