12/5/13
Featured Chart: Shanghai Property Index (orange) - Baltic Dry Freight Index (white)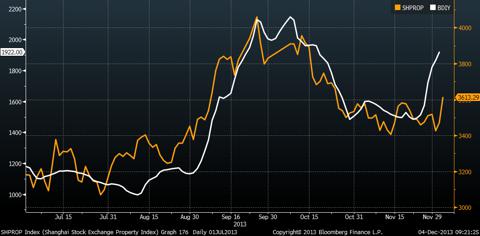 It appears as though the Shanghai Property market will be moving higher if Baltic Dry Freight rates are any indication. It's logical that the two indices have such close correlation because Baltic freight rates are heavily influence by bulk commodities, like iron ore, which is in heavy demand when construction is increasing. As the global bellwether for commodity demand growth, China plays an outsized role in iron ore pricing. While this chart does seem to indicate that the Shanghai Property Index is headed higher, it is concerning that 3Q Australian GDP growth was so weak. Real GDP growth Down-Under was 2.3% Y/Y vs. 2.6% expected and previously. As a major supplier of bulk commodities to China, the Australian economy seems like it should be a lot stronger if this rally were to be sustainable.
Gold in the Headlines:
Gold mining stocks look like value traps - FT
US stocks have been a veritable gold mine this year. But gold mines have not. In an equity market rally remarkable as much for its uniformity as for its strength, the underperformance of gold mining stocks sticks out ever more. But that does not yet mean that they deserve to be bought.
Underground Cities And 'Ghost' Miners: What Some People Do For Gold - NPR
Gold is assumed to have eternal, inherent value, but what makes it valuable? And what determines its value now that it's no longer the basis of our currency? In the book Gold: The Race for the World's Most Seductive Metal, journalist Matthew Hart examines the new gold rush driven by investors. He travels to gold mines - including the Mponeng mine in South Africa, where he descended into the deepest man-made hole on Earth - and investigates why gold and crime sometimes go hand in hand.
Gold smugglers adopting methods of drug couriers - The Economic Times
SINGAPORE/MUMBAI: Gold smugglers are adopting the methods of drug couriers to sidestep a government crackdown on imports of the precious metal, stashing gold in imported vehicles and even using mules who swallow nuggets to try to get them past airport security.
Overnight Macro Developments:
Asia
China - VP Biden told Chinese President Xi that the US doesn't recognize Beijing's new air defense zone; Biden urged Xi to reduce tensions in the region - WSJ
China + bitcoins - the Chinese government has ruled that Bitcoin isn't a currency and banned any bank from doing business in it - FT
Japan - the government approved an $182B stimulus package (this move was widely expected); the headline figure is a bit misleading as a lot of the spending includes loans from gov't-backed lenders and spending by local governments that was already scheduled. The plan won't require new debt issuance - Reuters
Japan + wages - Toyota to help Japan break deflation - Toyota's labor federation will push for a unified rise in base wages. The move marks "a major step towards permanent wage increases that will be key to ending Japan's decade and a half of deflation….would make it the first of Japan's big labor federations to seek base pay increases, potentially setting the pace for wage demands at other big firms" - Reuters
South Korea, Australia sign trade deal; the pact could result in a trade boost between the two countries of $4.5B - WSJ
Indonesia - Bank Indonesia said the currency is "undervalued" - Bloomberg
Europe
European investment banks are poised to continue shrinking; lenders in the region probably will cut at least 5 percent of trading and advisory staff next year - Bloomberg
Norway - leaves rates unchanged in a move that was expected
Americas
Greenspan calls Bitcoin is a "bubble"; "It has to have intrinsic value. You have to really stretch your imagination to infer what the intrinsic value of Bitcoin is. I haven't been able to do it. Maybe somebody else can." - Bloomberg
TSY Sec Lew to declare big progress in financial reforms during Thurs speech; the Sec will claim the US is close to shielding society from the dangers posed by large banks - NYT
Volcker Rule - even tougher - according to the WSJ, the final Volcker Rule language won't allow banks to engage in portfolio hedging; regulatory agencies are expected to sign-off on the language on 12/10 - WSJ
AAPL vs. BBRY - Obama reveals he isn't allowed to use an iPhone for security reasons; the President still uses a Blackberry - Apple Insider
Commodities
Farm bill makes some progress in Congress; both sides made progress following a Wed Meeting - Politico
Major US companies are beginning to price in the cost of carbon into their long-term financial plans; the move marks a dramatic shift and suggests Corporate America anticipates the government eventually charging firms for carbon consumption - NYT
Iran conducting "charm offensive" throughout Gulf in an effort to ease tensions w/Arab nations - NYT
Metals/Mining
ABX - the co announced some board changes and said it may look to hedge its exposure to the price of gold. John Thornton will replace Peter Munk as chairman, a move that was widely expected. ABX unwound its gold hedges back in 2009 - Reuters
The Hong Kong bourse plans to build up its commodity business by co-listing global benchmarks in metals and other products and matching them with key contracts traded on China's exchanges, its CEO said. By hosting both Chinese and global benchmark contracts, the Hong Kong Exchanges and Clearing Ltd (HKEx) aims to tap opportunities from arbitrage trade and the growing acceptance of China's renminbi currency internationally - Reuters
Bill Whelan, the Michigan-based mastermind behind the creation and sale of one of the world's biggest metals warehousing firms, is making a comeback, seeking to rejoin the London Metal Exchange network as new rules roil the storage business. Three years after leading the sale of Detroit-based Metro International Trade Services to Goldman Sachs Group Inc for some $550 million, Whelan has applied for LME approval to store aluminum and other base metals at his warehouse and distribution company WF Whelan Co in Detroit, he says - Reuters
GBI Data Points*: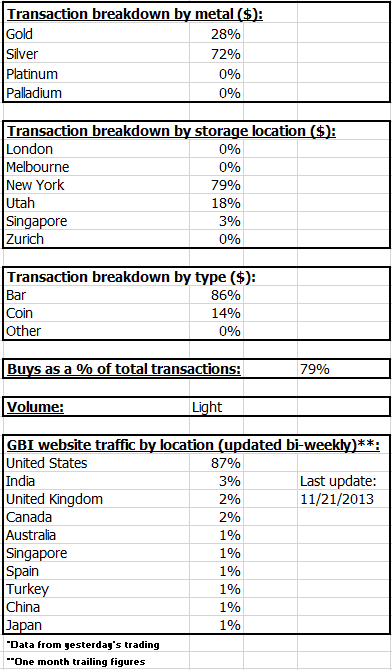 Ruminations:
The infamous BRIC countries, or at least the BRI countries, are starting to look like they might be in real trouble. India's struggles have been well documented this year but it is increasingly clear that Russia and Brazil are struggling just as much. 3Q GDP growth in Brazil was only 2.2% Y/Y, down from 3.3% Y/Y previously and the Q/Q reading was -0.5% vs. 1.5% previously. When you consider that inflation is in the 6% Y/Y neighborhood, and the population is already very restless (see: World Cup Protests), President Dilma Rouseff has to be scrambling.
Brazilian IBOV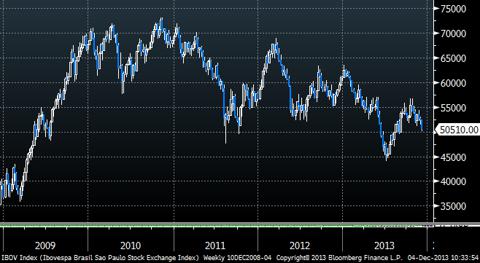 The situation in Russia is no better. The Economic Ministry cut its 2013-2015 GDO growth forecast again on Tuesday. New forecasts show 2014 growth at 2.5% Y/Y and 2.8% Y/Y in 2015; down from previous forecasts of 3% and 3.1% respectively. Beyond that the ministry expects growth to average 2.5% over the next two decades, which seems awfully low for a supposedly "emerging" economy.
Russian GDP Y/Y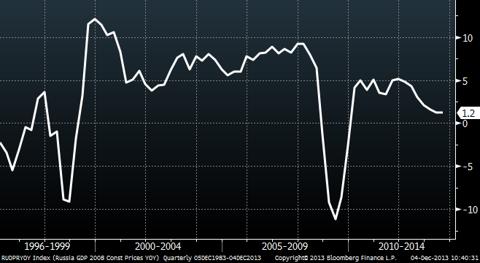 Maintaining economic growth is one thing, but calming a feisty population is quite another. Brazil, Russia, India, and China were anointed BRIC status partially because of their young demographics. Young people tend to be the ones lashing out against government when their situations do not improve, and recently headlines suggest deterioration in these countries. The Chinese, at least, seem to understand that an employed populous is a less rebellious populous and go to great lengths in order to maintain the appearance of growth. At this point in time, the same can't be said for the BRI countries and that could eventually be their undoing.
Bonus: Man rescued after being trapped in a sunken ship for three days.