12/9/13
Featured Chart: Chinese Yuan (12-month forward)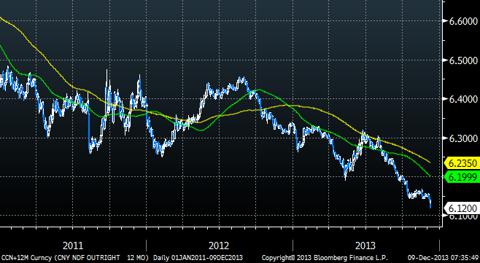 The Chinese Yuan (NYSEARCA:CNY) chart has been featured here before, but mainly because it continues to appreciate in a stealthy manner. It's interesting that the PBOC chose Friday to strengthen the CNY when it knew the world's attention would be focused squarely on the US employment report. The Chinese are clearly trying to shift towards a consumption-driven economy on their own terms. Up until earlier this year, the pattern was for the CNY to strengthen leading up to major political summits with the US in order to avoid being labelled a currency manipulator - only to weaken once the summits were over. Now, especially after Joe Biden's high-profile visit last week, the CNY doesn't have much correlation with politics.
Gold in the Headlines:
China's biggest jeweler sees gold in the masses - CNBC
Superman and the Angry Birds team also feature in Chow Tai Fook Jewelry Group's range of fashionable, and affordable, pieces which the company hopes will win over the millions of Chinese who live outside major cities but who are reaping the benefits of a rapidly growing economy and who remain enamored by the gleam of gold.
Gold miners drop over 50% with no bottom in sight - MarketWatch
Many major gold companies have lost at least half their value this year after a more than 25% plunge in gold prices, but analysts aren't convinced that miners have hit bottom - and tax-loss selling may further the declines.
Global upturn drives down the price of gold - The Australian
The price of gold's current slide is a huge signal to investors everywhere. Why? Because gold is not just a metal, a currency or a raw material for jewellery; it's the ultimate "fear index". It's the purest window we have to sentiment among investors the world over.
Overnight Macro Developments:
Asia
China trade data for Nov - China's November exports rose 12.7%oya (consensus: 7.0 %) while imports rose 5.3%oya in November (consensus: 7.0%)
Japan - Kuroda warned central bankers not to use overly complex forward guidance; the BOJ stuck to his prior language about maintaining the present accommodative policy framework until the 2% inflation goal is achieved - Reuters
Japan - Abe's political support drops sharply; "National polls taken over the weekend universally showed a rapid downturn. Kyodo News reported that support for Mr. Abe fell 10.3 percentage points to 47.6%, while Japan News Network reported a 13.9-point fall to 54.6%" - DJ
Japan - the country hopes to expand or restart bilateral currency swap agreements w/5 Southeast Asian nations and could make an announcement this weekend - Reuters
Thailand - the country's PM called snap elections although protests continued unabated - Reuters
Europe
ECB policy - Executive Board member Yves Mersch said QE is possible for the ECB but poses immense challenges. "To define portfolios of government bonds of euro zone member states and then to buy them would pose immense economic, legal and political challenges for the ECB," said Mersch - Reuters
Germany makes important concession in bank union talks; Schauble will acquiesce to the European Commission becoming the central authority deciding the fate of failing banks. Previously he was insisting the European Council make such decisions - FT
German trade numbers come in ahead; exports were +0.2% (vs. the St -0.5%); imports came in +2.9% (vs. the St +1.1%) - Bloomberg
Greece - the country's parliament passed a 2014 budget early Sun that envisions 0.6% economic growth and a primary budget surplus. Troika members still haven't given their blessing to the Greek plan and will return this week to continue discussions. Greece's fin min said the two sides have narrowed their differences to less than EU1B - Reuters
UK + Europe - Business Minister Vince Cable said there was only a ~5% chance the UK would leave the EU - Reuters
Yield search spurs risky activity according to new BIS warning; the BIS published a report in which it warned that the search for yield has led to a rise in risky lending practices - FT
Americas
Fed from Hilsenrath in WSJ - the Fed is getting closer to commencing the tapering process and a decision on that front could occur as soon as Dec. Many at the Fed are growing increasingly comfortable w/beginning the process of reducing LSAPs. Tapering will be discussed at the Dec meeting although some may want to wait until the Jan gathering before actually pulling the trigger. While data certainly is improving, the jobs market is far from robust while inflation remains below the Fed's preferred level - WSJ
Fiscal drag from Washington set to lift, providing added boost to economy heading into 2014. "No major new bouts of austerity are expected. And there's growing optimism that a high-profile budget committee will forge a deal next week to soften the blow from the deep spending cuts known as sequestration" - Washington Post
Volcker Rule will give banks discretion to continue w/market-making activities; gov't officials have sought to sooth concerns in recent days about Wall St and the Volcker Rule; while the final language will be more stringent than anticipated, banks will be allowed to continue w/market-making activities - WSJ
Big investors change how they trade stocks according to the WSJ; some of the world's biggest investors are increasingly shifting towards conducting "upstairs trades" in which activity is done away from the broader market. Investors blame the fragmentation of liquidity and the rise of algorithmic trading for the change in trading behavior - WSJ
Commodities
Mexico - the nation's two biggest political parties have struck a deal allowing private companies to develop Mexican crude fields, effectively ending the government's monopoly over the industry; foreign companies will be allowed to reflect reserves for accounting purposes - Bloomberg
Commodities - innovation and investment help to pop the commodities bubble - WSJ
US Navy forces stay in Gulf; the United States will maintain military pressure on Iran while giving diplomacy a chance to work - NYT
Bitcoin prices plunge after BIDU said it would stop accepting payments using the virtual currency - WSJ
Metals/Mining
Anglo American to announce job cuts: The Sunday Times writes that the co will announce 7.5K job cuts during their investor day this Thursday - Sunday Times
Indian gold imports may fall 70 percent in the final quarter of 2013 from 255 tonnes in the year-ago period and are expected to be half usual levels at 500-550 tonnes next year if new import rules are maintained, a top trade body official said on Friday. To curb a record trade deficit, India imposed an import duty of 10 percent on gold, and tied imports for domestic consumption to exports, creating scarce supply of the yellow metal and boosting premiums to a record - Reuters
A strike by workers at Peruvian mining company Buenaventura's largest silver mine has paralyzed production, a company executive said on Friday. Workers at the Uchucchacua mine have been on strike since Wednesday demanding the restitution of 12 workers who were fired by Buenaventura for "serious misconduct of labor law," the company said in a statement - Reuters
Hedge funds and money managers raised their bearish bets in U.S. gold futures and options close to a 7-1/2 year high, data by the Commodity Futures Trading Commission showed on Friday, a sign that short covering could boost bullion prices, analysts said. In the week up to Dec. 3, the U.S. derivatives regulator said speculators cut their bullish bets in gold, and they turned silver into a net short position for the first time since late June. In addition, they trimmed their net shorts in the copper market - Reuters
GBI Data Points*: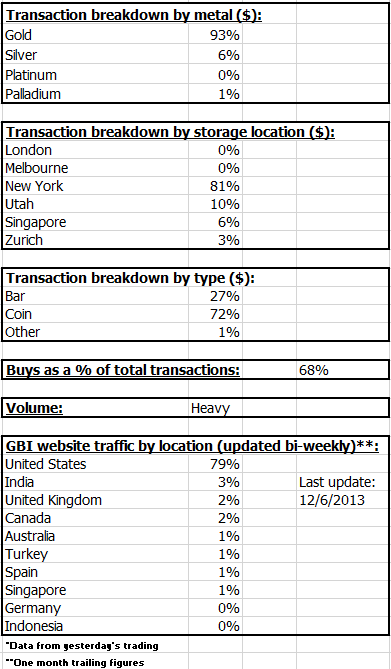 Ruminations:
In 2011, commodities were considered the can't-miss asset class for the future. Two years later, the CRB index is down 25% from the peak and price action has been very choppy - an extremely difficult environment for traders. This year, 15 of the 24 commodities in the S&P GSCI commodity index have fallen. It appears that investors have finally had enough and some large players are even throwing in the towel.
CRB Commodity Index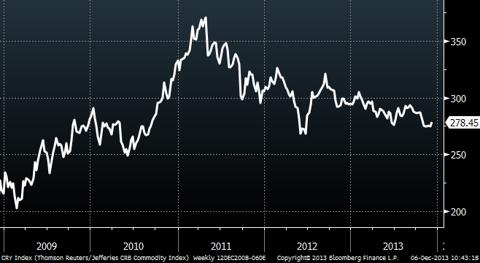 Citigroup estimates a record $36bn has been pulled from passive commodity funds in 2013, compared with net inflows of $27.5bn in 2012. Deutsche Bank recently announced that they are pulling out of raw commodity trading altogether - although this is partially attributed to mounting regulatory pressure, not necessarily prices. 200 people are expected to lose their jobs.
Merrill Lynch 3m Commodity Volatility Index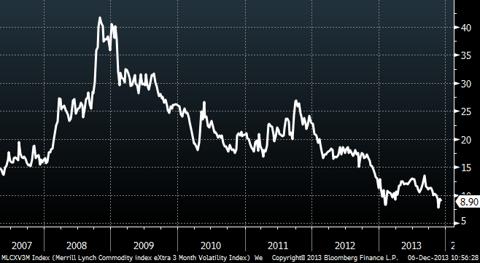 Unfortunately, with all kinds of capital fleeing the commodity space now is probably the best time to get involved. Traders thrive on volatility which has been completely absent from all markets, but especially commodities over the past few years. The chart above shows 3-month commodity volatility at a measly 8.9, which practically mirrors the VIX, but it can't stay like that forever. Contrarians must be taking note because fewer participants means higher margins, and higher margins typically result in more money.
Bonus: I'm sure the Raptors GM wishes he could do this with a few of their contracts.