12/13/13
Featured Chart: Thomson Reuters S&P 500 Negative-to-Positive Guidance Trend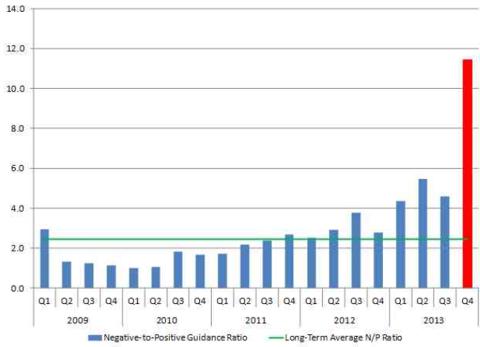 This chart from Thomson Reuters shows that corporations have turned very negative in their future expectations. From an investment perspective, you could draw two wildly different conclusions from this: 1.) sentiment is increasingly negative without a substantial change in the underlying market fundamentals, which implies the market has plenty of room to run higher, or 2.) corporations have a first-hand view of developing weakness and are reporting that sales expectations may be overly optimistic. It's impossible to tell which view will be correct, but the degree to which S&P 500 companies have turned negative is startling and might hint that the latter conclusion is correct.
Gold in the Headlines:
IAMGOLD Says Price Of Gold Is Too Low For A Dividend - Forbes
"While our outlook for gold over the long term is optimistic, in light of the current gold price we are suspending the dividend to preserve our balance sheet. We are on target to reduce costs by $100 million this year and will continue to look for further reductions next year," IAMGOLD president and CEO Steve Letwin said in a statement. "This decision to suspend the dividend allows us to conserve cash and ensure we maintain the flexibility we need to take advantage of opportunities when they arise."
Investors urge caution as miners consider return to gold hedging - Reuters
Investors in major gold miners say a return to hedging future production after a slump in gold prices would be a sign of financial weakness in companies and could rob them of the chance to reap the rewards of any price rebound.
Are Gold, Art And Bitcoin Worth Your Money In 2014? - Forbes
It has been a great year for stocks, but T. Rowe Price's U.S. equity chief warns that investors shouldn't expect a repeat in 2014. "Moving forward, U.S. stocks are unlikely to match their recent strength," he said at a recent even in New York, noting that 2013 marks one of the few years since World War II without at least one more-than 5% correction. Add the fact that at 57 months the bull market is getting long in the tooth and many investors are rightly reconsidering their asset allocation and ways to shift some stock gains into other asset classes.
Is North Korea selling 'large amounts' of gold to China? - MineWeb
Reports out of South Korea (NYSE:ROK) suggest that North Korea is selling 'large amounts' of gold to China because of an economic crisis within the country.
Overnight Macro Developments:
Asia
Japan/BOJ - Kuroda gave an interview to the FT; he said the BOJ would continue w/its present policy until inflation achieved and maintained the 2% goal; the BOJ may become more accommodative if price gains begin to flag. According to the FT, Kuroda's remarks suggest the "ultra-easy money could remain in place well beyond the two-year timeframe the BoJ has given itself to reach the goal" (in the interview Kuroda emphasized how he wants inflation to stabilize at 2%, not simply hit that level) - FT
Japan - the BOJ's accommodative policies has revived investor interest in using the yen to fund purchases of higher-yielding assets although analysts don't think "yen carry trades" are being put on aggressively just yet - Reuters
TEPCO's banks are considering 2tr JPY in new loans tied to the success of certain projects - Bloomberg
India - RBI chief Rajan said on Thursday that he was "very uncomfortable" with the Thurs inflation reading, a remark strongly hinting at a rate hike during the upcoming Wed meeting - Reuters
Australia - RBA Gov interview clears the way for further downside in AUD/USD - In a wide ranging interview given to the Australian Financial Review newspaper this morning, the RBA Governor took the opportunity to continue the RBA's orchestrated verbal intervention efforts on the AUD/USD. He reiterated the message that FX intervention remains part of the RBA's arsenal, but was at pains to emphasize that such policies are not costless and played down the possibility of Swiss-like intervention - AFR
Europe
European labor numbers - "long decline in Eurozone employment may have ended" according to a DJ article. "SNews warns that the jobs market has at least stabilized are a positive development for the euro zone's recovery prospects" - DJ
Ireland - the country has successfully exited its bailout package according to a gov't announcement Friday - Reuters
Cyprus - Cyprus has no plan to sell gold reserves to fund its 10 billion euro ($13.75 billion) bailout - Reuters
Europe published a formal warning re Bitcoins; the EU's banking watchdog warned that owners could suffer losses and that the currency doesn't have regulatory oversight - FT
Americas
Fed update - slowing inflation means the Fed could leave the ZIRP in place for an extra year, delaying rate hikes until 2016 - WSJ
Stanley Fischer, the person reportedly being considered to replace Yellen as Fed Vice Chairman, is optimistic on US growth in 2014 - WSJ
Hedge funds - while return expectations have declined, investors continue to favor hedge funds as a form of protection against a market pullback. Hedge fund managers meanwhile are dropping fees for large investors and offering more customized products - FT
Commodities
Saudi Arabia shies away from its role as swing producer - the Kingdom won't unilaterally lower crude production and wants OPEC to make a decision that is agreed to by all its members - WSJ
Anglo American: CEO Paulo Castellari told analysts at the company's investor day that the company had inked two large sales agreements for iron ore produced from the $8.8 billion Brazilian Minas Rio project and confirmed it remains on course to start commercial production by the end of next year - WSJ
Indonesia + coal: The Indonesian Ministry of Energy and Mineral Resources said that coal producers will not be allowed to increase production next year as the gov't seeks to provide price support - Bloomberg
Metals/Mining
Deutsche Bank - German authorities have demanded documents from Deutsche Bank as part of an investigation into potential manipulation of gold and silver prices - FT
Anglo American Platinum, the world's top producer of the precious metal, said on Friday the hardline AMCU union had increased its membership in its shafts to 60 percent from 40 percent in July. Company spokeswoman Mpumi Sithole also told Reuters that a wage deal agreed this week with AMCU's rival the National Union of Mineworkers, only applied to it, two other unions and non-unionised miners - Reuters
African banks are playing an increasingly significant role in the continent's new generation of mines, providing cash for projects considered too risky or expensive for rattled markets and cautious international lenders. Central and West Africa is home to some of the world's largest untapped deposits of gold, iron ore and other minerals, but the promising mine projects often require billions of dollars to be spent on bridges, roads, railways and ports - Reuters
GBI Data Points*: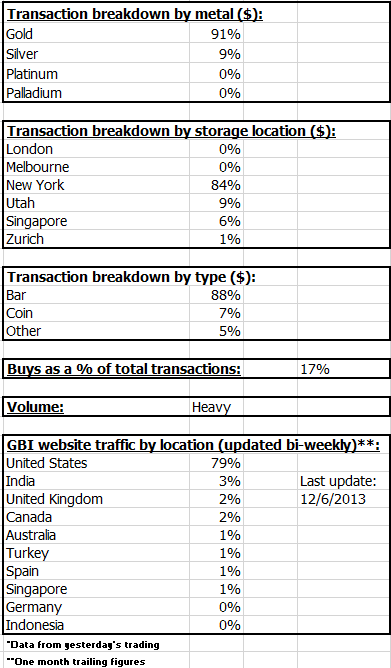 Ruminations:
Every year ExxonMobil publishes their forecasts of the energy market over the next 30 years, and the 2013 had some interesting predicts. To start, Exxon believes that by 2025 natural gas will become the world's second most-used fuel, behind oil, on an energy-equivalent basis. In addition, by 2040 Exxon expects natural gas demand to rise 65% from current levels as it overtakes coal as the world's largest energy source for power generation.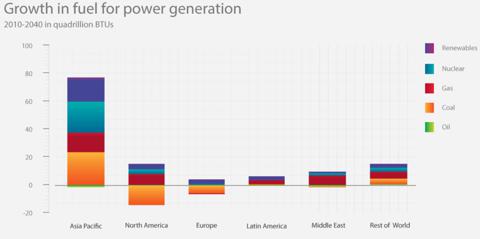 Coal, which produces twice the carbon dioxide as natural gas in generating the same amount of electricity, is forecasted to flat line in terms of demand, although the IEA is forecasting a small rise. Oil and gas companies have long resisted efforts to combat climate change but apparently see an opportunity in displacing coal.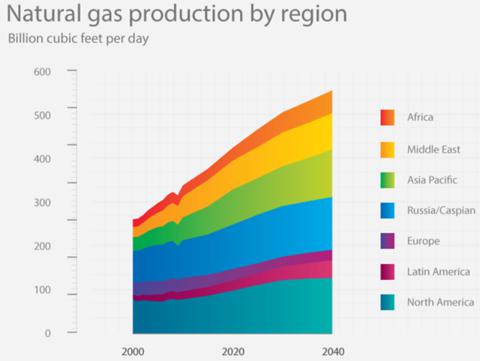 Exxon's VP for strategic planning did say that renewable energy and renewable energy would grow, he emphasized that they both faced constraints. There was also little mention of carbon trading, which seems like it will play a major long-term role in energy markets. Perhaps this is more of a reflection in ExxonMobil's exposure than their genuine belief.