12/19/13
Featured Chart: Iron Ore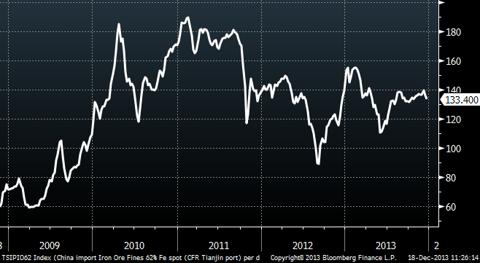 Iron ore isn't thought of as an important commodity in the US, but can be a very useful tool in gauging economic activity in Asia. Iron ore, along with coking coal, is used to make steel which the Chinese have been producing like crazy (China's steel industry consumes two times more energy than global production of wind and solar energy). The Chinese currently account for nearly 50% of imports, making them by far the most important source of demand. While iron ore prices have held strong during the commodity sell-off this year, there have been some bearish anecdotes recently. Rio Tinto's (#2 producer behind Vale SA) CEO said on Wednesday that he expects prices to drop next year, and Australia (world's largest exporter) is expected to ship more than previously forecast. While these are both supply-side anecdotes, weaker prices of bulk commodities would be yet another deflationary force pressuring the global economy.
Gold in the Headlines:
State buying may explain China's gold import surge - FT
The Chinese state could be behind a surge in bullion imports that will see China overtake India as the world's largest consumer of gold, according to one of the sector's most influential investors.
How strong is gold's "Wall of Worry?" - MarketWatch
Consider the average recommended gold market exposure among a subset of short-term gold market timers tracked by the Hulbert Financial Digest (as measured by the Hulbert Gold Newsletter Sentiment Index, or HGNSI). This average currently stands at minus 16.7%, suggesting that the typical gold timer is allocating a sixth of his gold-oriented portfolio to shorting the market.
Gold Town Turns to Dust as Metal Decline Shutters Mines - Bloomberg
The scene, resembling something from an apocalypse film out of Hollywood, is an extreme example of the impact gold's 25 percent drop this year may have on towns around the world that are dependent on the precious metal.
Overnight Macro Developments:
Asia
Japan - the country will likely drop the word "deflation" from its monthly economic report (due out this Tues); the report will reflect the government's view that Japan is closer to escaping deflation - Nikkei
China - inflation expectations in the country are rising according to a new central bank survey. The People's Bank of China said that its index of inflation expectations stood at 72.2 percent, up 1.7 percentage points from the previous survey - Reuters
China + pollution - scientists in China say pumping extremely cold nitrogen into Beijing's atmosphere could help clear up the city's excessive smog - Time
China State Construction Engineering Corp - agreed to acquire Manhattan-based Plaza Construction for an undisclosed sum. The deal marks China State Construction Engineering's first acquisition in the US - WSJ
India doesn't fear the taper - India is better prepared than it was months ago to deal with the Federal Reserve's reduction of its monetary stimulus, Finance Minister P. Chidambaram said on Thursday - Reuters
Europe
UK auto sales ex auto came in +2.3% (vs. the St +2.4%) - Bloomberg
Greece - the country's unemployment rate inched lower to 27% in Q3 vs. 27.1% in Q2 - Reuters
Americas
S&P update on growth - the improving economic landscape for 2014 is becoming clearer. Our 2014 growth forecast is currently 2.6%, led by the private sector, which will expand by 3.1%. The private-sector economy has multiple points of strength, including the housing market, consumer spending, an energy sector boost, and a resurgent manufacturing sector. With the passage of the Ryan-Murray budget plan, growth should be even stronger - S&P
CFTC is underreporting the true size of the swaps market; the CFTC had said the swaps market was worth $390T notionally but that figure could be as much as $10-55T higher - WSJ
Fidelity - the firm launched two "event-driven" mutual funds, entering further into markets traditionally dominated by hedge funds - WSJ
Commodities
Morgan Stanley - the WSJ discusses how MS is deliberately shrinking its commodities footprint; revs in the commodities business will prob. be ~$700MM in '13 vs. $3B in '08 - WSJ
Coal - Sen. McConnell vows to protect the coal industry against the EPA's "excessive, overly burdensome" regulations - WSJ
The Jakarta Futures Exchange (JFX) has received government backing to launch coffee and rubber futures contracts, a regulatory official said on Wednesday, as Indonesia moves to secure itself a bigger role in pricing commodities. Indonesia is the world's biggest exporter of refined tin, nickel ore and thermal coal, the biggest grower of palm and the second-largest producer of rubber and robusta - Reuters
Metals/Mining
Mozambique plans to increase central government and local participation in new mining projects, a government official said, as the former Portuguese colony tries to ensure its citizens benefit from its mineral wealth. The move comes as the country is poised to launch the next rounds of bidding for coal, oil and gas next year - Reuters
GBI Data Points*: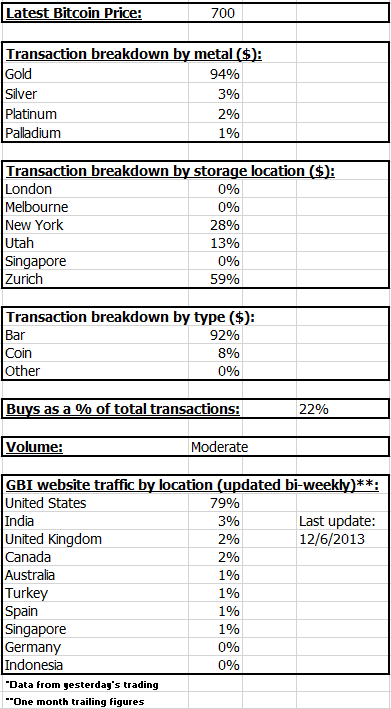 Ruminations:
Headlines continue to come pouring out of Ukraine after the government struck a deal with Russia. The deal is more or less a bailout for the cash-strapped Ukraine. Russia will buy $15bn in Eurobonds issued by Ukraine, and also receive a 33% discount on gas supplies from state-owned OAO Gazprom.
OAO Gazprom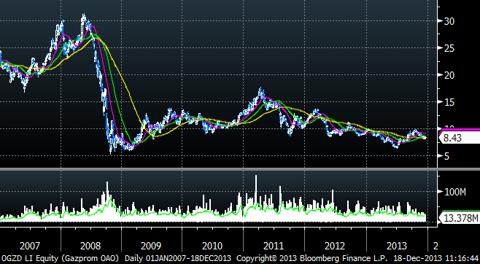 This doesn't say very much about Gazprom's status as a publicly traded company, if the Russian President can cut deals seemingly without board approvals. This deal is a big bet by President Putin on a country that doesn't have a lot going for it.
Ukraine Sovereign 2-Year Yields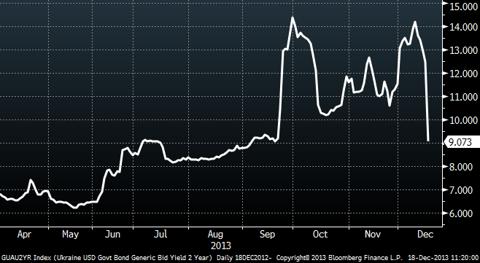 Ukraine's 3Q GDP growth was -1.5% Y/Y, and CPI has been negative more-or-less since May 2012. Industrial production growth has also been negative since early 2012, and doesn't appear destined to turn around anytime soon. The Russian loan has reversed some of the bleeding in Ukrainian debt (chart above) but the country is a long way from being in the clear.
Bonus: A Day with a Russian Billionaire.