12/20/13
Featured Chart: S&P 500 vs. MSCI World Index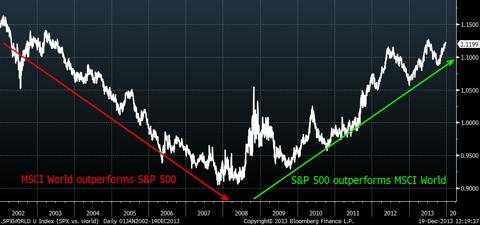 It's interesting that the 2008 Lehman bankruptcy so clearly marks the trend reversal of the MSCI World Index (which tracks both emerging and developed countries) outperforming the S&P 500. At least somewhat, this reversal shows the Federal Reserve's incredible response to the financial crisis, even as the rest of the world was skeptical. If you recall, the ECB raised interest rates 25bps on July 3, 2008 even as equity markets had started breaking down. Now that the Fed has started it's much anticipated tapering of asset purchases, we may be at a turning point for this trend. While it's hard to say the Fed is tightening policy (after all they are still buying $75bn worth of securities until further notice), is it at least "easing less" at a time when the ECB, BoJ, and RBA have all talked about, or already implemented, more stimulus going forward.
Gold in the Headlines:
How to Keep Banks From Rigging Gold Prices - Bloomberg
Authorities around the world are gradually piecing together a shocking picture of how banks have manipulated benchmarks that influence the price of everything from mortgage loans to foreign currencies.
Bitcoin, Gold, And Silver Bubbles Go Bust -- Are Treasuries And Stocks Next? - Forbes
Bitcoin investors have had a rough time lately. The digital currency dropped more than 35% in five days, and more than 50% from its all-time high two weeks ago.
Fed taper: A nail in gold's coffin? - CNBC
For gold, which has plunged 27 percent this year and is on track for its worst performance in over two decades, is the Federal Reserve's decision to begin scaling back its stimulus a nail in the precious metal's coffin?
Overnight Macro Developments:
Asia
China money market rates climbed further Friday despite a liquidity injection from the PBOC late on Thurs; a variety of technical factors is contributing to the liquidity squeeze but rates are nonetheless approaching dangerously high levels once again. The 7-day repurchase rate spiked ~100bp Friday and averaged 7.6% (this number was just 4.3% a week ago). Newspaper reports suggest the Thurs short-term liquidity injection was worth $33B, a very large amount. However, investors are disappointed the PBOC allowed liquidity to become so tight to begin with - FT
China steps closer to introducing a deposit insurance system; the government has signaled it is about to implement the system, an action that was expected but would help provide banking stability and invite more competition into the market - WSJ
Japan - the BOJ maintained its present policy (as expected) and reiterated its pledge to stay accommodative until the 2% inflation goal is reached. The language describing growth was upgraded slightly although the BOJ cautioned that the upcoming sales tax hike could weigh on the economy ("such language is a signal that further easing could be in the cards") - FT
India will need to slash government spending; according to gov't officials quoted in the WSJ, the government will need to slash spending by ~$15B in order to meet present budget targets - WSJ
Europe
The EU's long-term credit rating was downgraded one notch by S&P on Friday (from AAA to AA+); "EU budgetary negotiations have become more contentious, signaling what we consider to be rising risks to the support of the EU from some member states….we consider that the EU's financial arrangements have deteriorated, and that cohesion among members has lessened" - WSJ
EU disputes S&P action; "The Commission disagrees with S&P that member states' obligations to the budget in a stress scenario are questionable. All member states have always, and also throughout the financial crisis, provided their expected contributions to the budget in full and in time" - Reuters
UK eco data - the Q3 current account balance came in -20.7B (vs. the St -14B). Y/Y Q3 GDP was revised from +1.5% to +1.9% - Bloomberg
Deutsche Bank - the co's chairman said DB needed to stay a universal bank if it wanted to remain competitive globally - Reuters
Americas
Yellen heading for Jan vote; Yellen will face an important procedural vote Friday but her final confirmation is now scheduled for Jan 6 (it had been expected this Sat) - WSJ
Fed expected to still have major presence in the mortgage market; the Fed purchased ~90% of new, eligible MBS issuance in Nov and even w/tapering will be a massive player going forward. This is one of the big reasons the Fed was almost forced into tapering (they are running out of stuff to buy) - WSJ
Fed's asset portfolio passes $4T milestone; in a development that was expected and largely symbolic, the Fed Thurs night revealed its balance sheet is now >$4T - WSJ
Bitcoins - OSTK is expected to become the first major US online retailer to accept Bitcoin - FT
Mexico - S&P upgrades to BBB+ from BBB. Note that S&P was lagging behind Moody's and Fitch - S&P
Brazil - Brazil's central bank slightly lowered its estimate for inflation in 2014 and saw it easing further in 2015. The bank revised down its estimate for economic growth to 2.3 percent this year from 2.5 percent previously - Reuters
Commodities
Grain + China: China has rejected 545K tons of US corn this year for cargoes carrying the GMO strain MIR162. The article points out that the rejection exemplifies the challenges biotech companies face in tapping a relatively vast market - WSJ
Rio Tinto: CEO Sam Walsh said that Chinese mills are buying more high quality iron ore to reduce the environmental impact of producing steel - Bloomberg
Metals/Mining
Gold prices in Vietnam, Asia's fourth-largest consumer of the metal, dropped to their lowest in more than three years on Friday, tracking a sharp drop in international spot rates. By 0220 GMT, the domestic spot gold selling price dropped to 35.12 million dong ($1,666) per SJC-branded tael, which is equivalent to 37.5 grams or 1.21 troy ounces, the lowest since early November in 2010 when the price was at 34.9 million dong, according to Saigon Jewelry Co (SJC) - Reuters
A Canadian securities regulator has accused a short seller who ran a high-profile campaign against miner Silvercorp Metals Inc two years ago of fraud. The British Columbia Securities Commission said in a statement on Thursday that Jon Richard Carnes "wrote a false negative report" about Silvercorp and published it anonymously on a financial blog he controlled - Reuters
GBI Data Points*: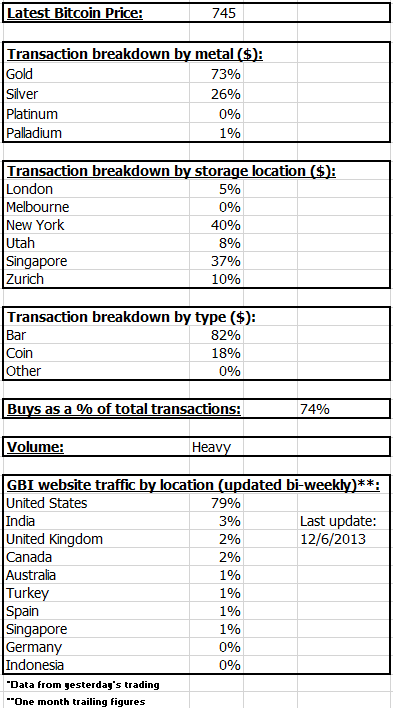 Ruminations:
A quick search to find the best performing equity market in 2013 leads one to Venezuela, which has returned 294% in USD-terms, and an obscene 479% in local currency (VEF). However, before you start buy up Venezuelan shares, you should release two things:
Venezuelan Stock Market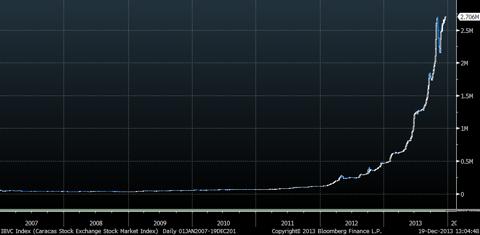 The risk is rather concentrated. The entire index is comprised of only 14 companies, and total market capitalization is only $120bn USD.
The stock market outperformance has occurred mainly because many believe the country is on the verge of a currency crisis. In February the government devalued the VEF by more than 30% relative to USD, and inflation is running above 50% Y/Y.
Venezuelan CPI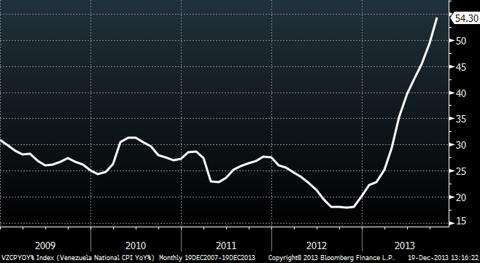 The strong returns have also come despite Hugo Chavez's (who passed away in March) successor Nicolas Maduro. Chavez, never a fan of the private sector, regularly seized company assets which scared away foreign investment. And since Maduro has shown no sign of changing course, the run-up in equity prices this year has likely been fueled by domestic investors desperately trying to protect their savings.
Bonus: The Digital Universe, developed by the American Museum of Natural History's Hayden Planetarium.