1/6/14
Featured Chart: Trade-Weighted Turkish Lira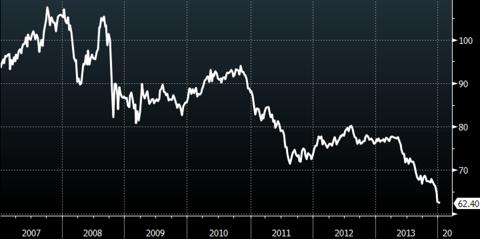 The Turkish Lira has faced many obstacles since the 2008 financial crisis, including elevated inflation and a sizeable current account deficit, but the combination of political turmoil and rising interest rates in the US has slammed the currency. It doesn't help that Turkey shares a border with geopolitical choirboys Syria, Iraq, and Iran as well as economic powerhouse Greece. If US interest rates rise from here and capital continues to pour out of the country, Turkey might start to look a lot like neighbors Ukraine, Egypt, and Russia - all of whom have huge swaths of their respective populations looking to oust the current government.
Gold in the Headlines:
Gold has its S.O.S. moment, and it's bullish - MarketWatch
Make no mistake about it - gold had its Lehman moment in 2013.
Smuggling in India on rise as gold tax hits bridal budgets - Associated Press
No one does jewelry quite like an Indian bride, who by tradition wears all the gold she can stand up in and her family can afford. These days, though, even the most ambitious bridal budgets don't bring the bling like they used to, thanks to hikes in import duties and a rise in gold prices that have shoppers like Rajanikant Mehta grumbling.
Coins Remain a Bright Spot for Gold - Wall Street Journal
Sales of gold coins are booming even as the metal's price is falling, a testament to gold's continued appeal for small investors and collectors despite its first bear market in more than a decade.
Gold bulls lose faith in bullion's allure - Financial Times
Nearly all believed the metal would rise in 2013, according to the London Bullion Market Association's annual survey. Even the most conservative saw only tiny declines. "We remain gold bulls," Joni Teves of UBS said in a view shared by many. Analysts issued an average price forecast of $1,753 per troy ounce.
Overnight Macro Developments:
Asia
China HSBC/Markit services PMI slipped M/M from 52.5 in Nov to 50.9 in Dec - Bloomberg
PBOC actions beginning to clamp down on debt issuance; at least 35 Chinese companies cancelled or postponed previously planned bond sales totaling 59 billion yuan ($9.75 billion) in the last two months - Reuters
Gazprom: The co is close to a deal for gas supplies to China. Sources say deal would allow gas to arrive in eastern Chinese markets at $13/million BTU - FT
China - another case of H7N9 was reported in Zhejiang. This follows 2 cases being reported in November and is the 2nd case to be reported in China in 2014. Xinhua H7N9 was found in a sample collected at a poultry market in southern China's Guangdong Province in addition to 2 new cases being reported in the province - People's Daily
Europe
Eurozone PMIs - the overall Dec composite PMI was right inline (52.1) and services was inline too (51). Looking at individual services numbers: France 47.8 (vs. the St 47.4), Germany 53.5 (vs. the St 54), Italy 47.9 (vs. the St 48.5), Spain 54.2 (vs. the St 51.6), and the UK was 58.8 (vs. the St 60.3) - Bloomberg
Germany - Merkel has been hurt in a cross-country ski accident and will rest in Berlin for three weeks - Bloomberg
Europe is facing outright deflation and its time policy makers begin to recognize this risk and take action - WSJ
Europe - US Treasury Sec Lew will renew pressure on Germany to boost domestic demand; Berlin will also be urged to embrace a deeper banking union - FT
UK - a senior BOE official said the world's major CBs should consider making bilateral FX swap agreements larger and permanent given the interconnectedness of the global financial system - Reuters
Turkey's fin min acknowledged to the FT that the recent lira slide could have negative implications for growth - FT
Americas
Fed's Plosser thinks the recession has inflicted permanent damage on the economy, implying potential output may not be as great as many think - CNBC
Fed's Dudley says much of QE remains mysterious and economists still don't know precisely how asset purchases provide stimulus to the economy - WSJ
Fed's Rosengren repeats dovish view on policy; Rosengren continues to think the Fed should be slow to withdraw accommodation given inflation remains below the 2% objective - Bloomberg
Fed's Lacker expresses skepticism towards 2014 growth outlooks; Lacker sees the US economy growing at a ~2% rate in '14, below the 3% being modeled by many economists - Marketwatch
Obama to push forward w/his agenda in early 2014; the President will use his State of the Union (on 1/28) to argue for a federal minimum wage worth $10 or more per hour, an idea that could generate some bipartisan support on Capital Hill (while helping Democrats into the mid-term elections). Health care and NSA spying also will be prominent topics in early
'14 - Washington Post
Iran - John Kerry became the first senior US government official to suggest Iran may participate in the upcoming Syrian peace talks (those negotiations will commence on Jan 22 in Geneva) - NYT
Commodities
US crude production - prominent North Dakota Republican calls for the state to curb its crude/gas output following another crude-by-rail train explosion - Reuters
Utility consolidation will pick-up going forward given slowing industry demand according to the head of Duke Energy; electricity demand will grow at a much slower pace going forward given improved efficiency. The link between economic growth and electricity consumption is breaking - FT
China/rare earths - the country has embarked on a consolidation of its rare earths industry; China wants to rationalize production and clamp down on unlicensed output - WSJ
Metals/Mining
SNB - the SNB said it would report a loss of around ~$10B in '13 inc. a 15B franc loss on its holdings of gold - WSJ
Turkey's gold imports jumped to 31.65 tonnes in December from 19.29 tonnes in November, BorsaIstanbul said on Friday. In 2013 as a whole, gold imports surged to 302.3 tonnes from120.8 tonnes a year earlier, said Borsa Istanbul, which includes the gold exchange - Reuters
Gold price premiums in India, one of the top buyers of the metal, fell further due to lack of demand even as supplies trickled in from a few importers. Local traders quoted a premium of $105 an ounce on London prices, down 12.5 percent from levels quoted last week. Premiums had struck a record of $160 in early December - Reuters
GBI Data Points*: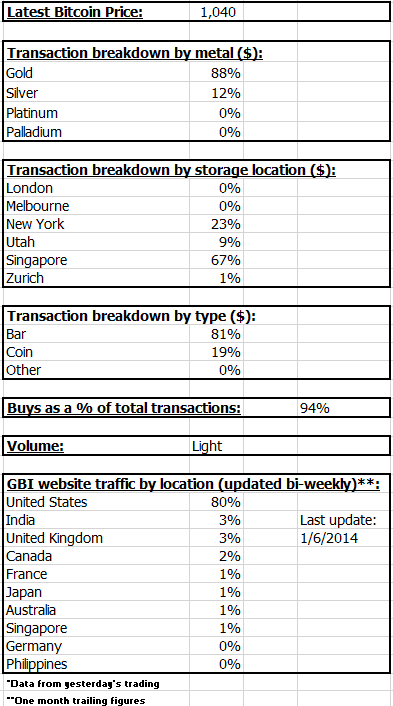 Ruminations:
The concept of "voting with your feet" is detailed in the in the book How Money Walks by Travis H. Brown. Between 2000 and 2010, millions of Americans moved between states, taking with them over one trillion dollars in adjusted gross incomes. Some states, like Florida, saw tremendous gains ($86.4 billion), while others, like New York, experienced massive losses ($58.6 billion).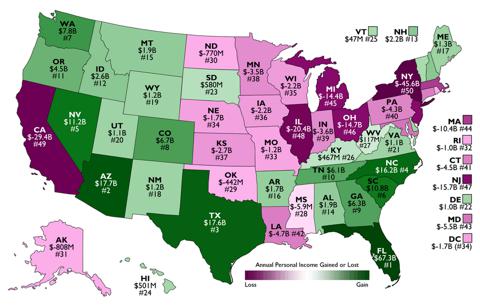 The nine states with no personal income tax gained $113.17 billion in adjusted gross income between 2000 and 2010; the nine states with the highest personal income tax rates lost $90.05 billion over the same period. Florida was the biggest winner, adding $67.3 billion in income. Arizona, Texas, North Carolina and Nevada rounded out the top five.
Map of Right to Work States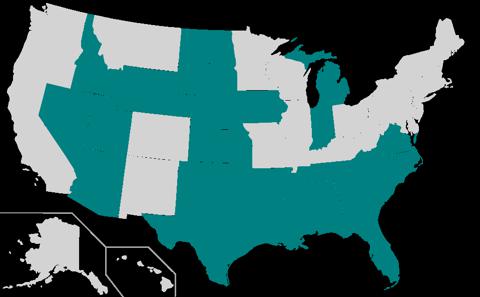 It's probably not a coincidence that each of the five largest winners are right to work states. Even with the news that labor unions in Washington were able to strike a huge deal with Boeing, it is clear that citizens are willing to forgo union privileges in order to avoid income tax.
Bonus: 1950s F1 driver Stirling Moss meets current F1 star Lewis Hamilton.