1/9/14
Featured Chart: Irish Stock Exchange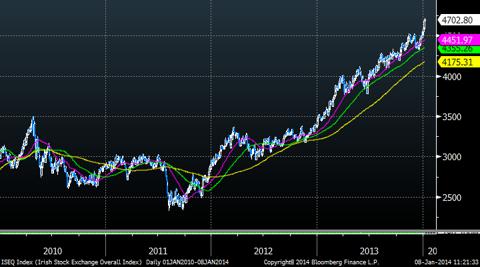 It's hard to get too excited with an index that is down 53% from its 2007 peak, but the Irish Stock Exchange has rallied more than 100% since 2011. Ireland exited its bailout in December, and managed to successfully auction more than $5bn worth of government debt this week. Even though their stock market is rallying and GDP has moved back into positive territory at +1.7% Y/Y, the Irish are far from out of the woods. Non-financial debt is still four times nominal GDP and youth unemployment is still 25%, although the total unemployment rate is now below 13%.
Gold in the Headlines:
Gold Miners Can Shine After Three Straight Years Of Thrashing - Forbes
While gold stocks have a history of higher volatility compared to the overall U.S. market, consecutive periods of declines are rare. In 30 years, the XAU never had a losing streak of more than three years.
Chinese Gold Demand Strong At Start Of 2014 - Forbes
The premium in China has risen to $20 an ounce, perhaps $10 higher than a week ago, said Bernard Sin, global head of precious metals trading with MKS (Switzerland) SA.
Gold Mining Deals Seen Rebounding on Price Discount - Bloomberg
Investment bankers see gold-mining deals rebounding this year from a near-decade low as producers target assets at fire-sale prices after the metal plunged. Gold-mining companies are close to their cheapest relative to book value in at least two decades, according to data compiled by Bloomberg. Meanwhile producers will be enticed to replace some of the output lost when they sold or curtailed less-profitable mines, said Barclays Plc's Paul Knight.
Overnight Macro Developments:
Asia
China CPI/PPI both come in below expectations; China's December CPI inflation rate eased further to 2.5%oya (consensus: 2.7%), compared to 3.0%oya in November. PPI deflation rate stayed unchanged at -1.4%oya in December (consensus: -1.3%) - JPM
China's banking regulator told lenders to publish data including off-balance-sheet assets and interbank liabilities - Bloomberg
China - China's sales of motor vehicles rose 14% in 2013; Sales of passenger vehicles grew 16% - WSJ
Japan - public pension funds in Japan had record returns in '13 thanks to surging stocks. The Government Pension Investment Fund is said to have earned ~18% in '13 - Nikkei
Japan - Sayuri Shirai, a BOJ board member, said the central bank shouldn't hesitate to step up its monetary stimulus if growth or inflation diverge sharply from present forecasts. "We should take additional easing measures without hesitation to avoid jeopardizing the Bank of Japan's credibility if it becomes clear that economic and price conditions have sharply diverged downward from our baseline scenario". Shirai made similar comments in Nov. - DJ
South Korea -The Bank of Korea left policy rates unchanged, in a move that was largely expected
Indonesia - the country's CB left rates unchanged
Europe
Eurozone economic confidence for Dec came in at 100 (vs. the St 99.1) - Bloomberg
UK/BOE - "it is time for Carney to consider raising interest rates" - the UK may soon violate its BOE thresholds and rather than changing them Carney should consider raising rates - FT
German Nov IP came in +1.9% vs. the St +1.5% - Bloomberg
Americas
Fed officials were briefed at the December meeting by staff from the Fed's Office of Financial Stability about market risks on the horizon. The report concluded that risk levels were "moderate." The staff said stock market valuations were "broadly in line with historical norms." - WSJ
CFTC is poised to push interest-rate and credit swaps onto trading platforms - Bloomberg
Funds that manage >$100B in assets may receive the "too big to fail" label according to international financial regulators. Hedge funds with trading activities exceeding a set value of $400 billion to $600 billion would also be assessed by national authorities to gauge whether they need extra rules - Bloomberg
Detroit Auto show: The WSJ points out that this is the first time since 2006 that a Chinese car company will not hold an exhibit at the show. The article says that some people believe the Chinese absence from the show is a result of Chinese autos not meeting stringent US safety Standards - WSJ
Bird Flu: N. America reported its first death from the bird flu, but Canada's health minister says the risk of the disease spreading is very low - Telegraph
Commodities
Keystone Pipeline - Obama's former national security advisor said he would probably approve the Keystone pipeline - WSJ
China/rare earths - China will promote 6 companies to lead consolidation in the rare earth market - Bloomberg
Metals/Mining
India/gold - the RBI said lenders accepting gold as collateral can now lend up to ~75%; shares in some companies related to the decision rallied (Muthoot Finance, Manappuram Finance) - WSJ
Chinese consumers have been picking up gold at a brisk pace ahead of the Lunar New Year celebrations at the end of this month, boosting premiums in the world's top buyer of the metal. Retailers are seeing packed stores, according to local media, as middle-aged women - a key section of China's gold buyers - rush to buy jewellery while others purchase coins and bars with horse motifs to usher in the year of the horse - Reuters
Canada's Goldcorp said late on Wednesday that its annual gold production could rise up to 18 percent even as it expects to rein in costs over the next two years. Goldcorp, one of the world's biggest gold miners, said it expects to produce between 3.0 and 3.15 million ounces of gold in 2014, an increase of 13 to 18 percent - Reuters
JPMorgan Chase & Co, the world's biggest dealer in over-the-counter metals derivatives, has added its metals futures brokerage to the sale of its physical commodities business, sources familiar with the matter said. A JPMorgan spokesman initially declined to comment, but later said: "JP Morgan's metals futures brokerage is not up for sale and we continue to be committed to that business." - Reuters
GBI Data Points*: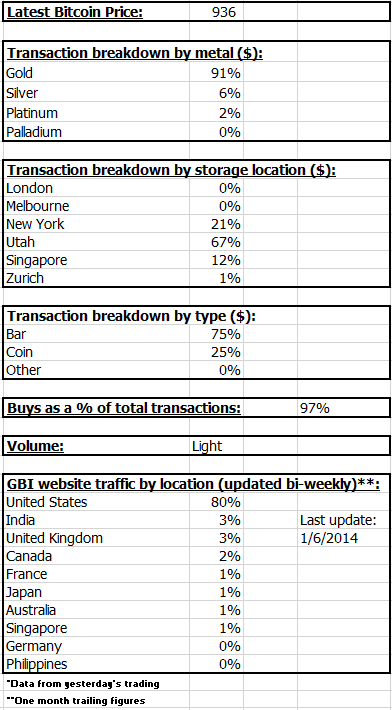 Ruminations:
On the surface, at least judging from its exploding stock market, it appears as though conditions in Greece are getting better. However beneath the surface conditions are different kinds of explosive. Athens is currently trying to plug a funding gap by tapping into funds allocated to a bank rescue vehicle, which the ECB opposes.
Athens Stock Exchange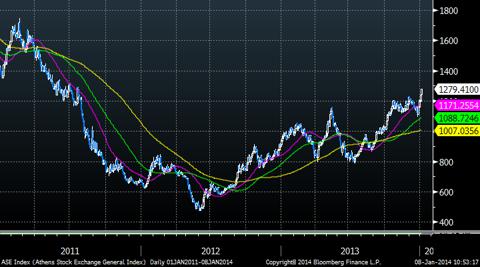 The official unemployment rate remains at 27% and an unbelievable 57% for youth workers. Greece returned to a primary budget surplus in 2013, but this austerity might ultimately result in a humanitarian crisis. Greek politicians are seeking to cut off state funding to the neo-Nazi Golden Dawn party (far-right), while also fretting about a left-wing terrorist.
Greece GDP Y/Y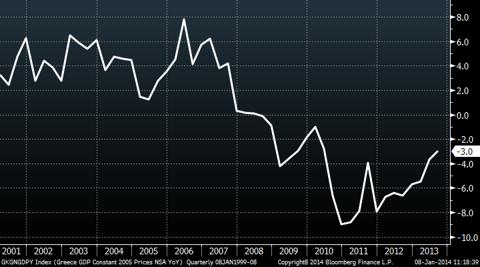 The fact that the Athens Stock Exchange is rallying is a perfect example of how markets do not trade off of conditions, data, or headlines but rather conditions, data, and headlines relative to expectations. Greece is still many years from being on sustainable path economically or socially, but often the most distressed assets provide the best long-term value.