GBI Daily Insights: 1-10-14
Please Note: Blog posts are not selected, edited or screened by Seeking Alpha editors.
Seeking Alpha Analyst Since 2013
A collection of the GBI teams daily market thoughts.
1/10/14
Featured Chart: Brazilian IBOV vs. S&P 500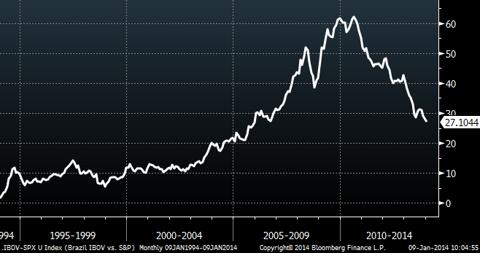 It's hardly revelatory that Brazilian equities have dramatically underperformed the S&P 500 since August 2010; not long after the COPOM began hiking interest rates, although it has since cut rates to a new low and hiked them back up again. The economic data isn't getting any better. Brazil car market, the world's fourth largest, reported its first annual decline in sales in over a decade. Also, net dollar outflows totaled $12.26bn last year - the most since 2002 when investors pulled investments after the election of the leftist President Lula. The vast majority of these outflows came in December when investors pulled $9bn before year end. A few years back, many were anticipating a boom in Brazil with the World Cup (coming up in a few months) and Olympics (2016) but these results are clearly lackluster.
Gold in the Headlines:
U.K. Royal Mint Runs Out of Sovereign Gold Coins on Demand - Bloomberg
The U.K.'s Royal Mint, which traces its history back more than 1,000 years, ran out of 2014 Sovereign gold coins as prices near a six-month low led to "exceptional demand."
Manappuram, Muthoot rally 20% as RBI allows gold NBFCs to lend more - The Economic Times
NEW DELHI: Gold loan companies such as Manappuram Finance and Muthoot Finance rallied as much as 20 per cent each in morning trade on Thursday, after the Reserve Bank of India (RBI) revised upwards loan-to-value (LTV) norm for NBFCs engaged in gold loans.
Bank of America Merrill Lynch slashes gold call to $1,150, warns it could be ugly - MarketWatch
In one of the first, if not the first, calls on gold this year, Bank of America Merrill Lynch slashed its average 2014 forecast for the shiny stuff by 11% to $1,150 an ounce on Thursday, with a warning it could get even uglier.
10 Reasons the Gold Bugs Lost Their Shirts - Bloomberg
When used properly, the metal is a potentially valuable tool in an investment arsenal. There are times when it makes for a profitable part of a portfolio, as in the 2000s. There are periods when it is a speculative and dangerous trade -- such as the 2010s. There have also been decades when it does nothing, earning no return, generating no income, essentially dead weight to a portfolio, as in the 1980s and 1990s.
Overnight Macro Developments:
Asia
China's December exports rose 4.3%oya (consensus: 5.0%), compared to the rise at 12.7%oya in November. Imports rose 8.3%oya in December (consensus: 5.0%), compared to the rise at 5.3%oya in November - JPM
Japan - Japan's Ministry of Finance said Friday that it has begun recruiting consulting firms ahead of the launch of private-sector management of Japan's massive foreign reserves - DJ
F: Ford looks to expand Japanese presence: After posting a 0.1% of Japanese market share last year, Ford announced that its new Fiesta compact car designed for global drivers will be sold in Japan. Ford Japan CEO said that Ford wasn't all about muscle cars and that the Fiesta will be able to navigate Japan's narrow streets - NYT
Australia - sales of newly built homes in Australia rose at the fastest pace in four years in November - DJ
Iraq - Washington is considering resuming the training of Iraqi military commandos to help clamp down on the rising insurgency; training would be conducted in Jordan and wouldn't involve US troops re-entering Iraq - WSJ
Europe
Ireland - Moody's says the Irish bond sale is a credit positive although has no direct relationship to the country's rating; there has been rising speculation that Ireland could be upgraded to IG by Moody's
Germany - Germany's AAA credit grade was affirmed by Standard & Poor's - Bloomberg
UK IP came in +2.5% Y/Y (vs. the St +3%) - Bloomberg
UK manufacturing production came in +2.8% Y/Y (vs. the St +3.3%) - Bloomberg
Americas
Banks - the 6 big US banks are set to post net income of $73B in '13, up ~22% since '12 and the best annual profit figure since the crisis - WSJ
Wall St + mortgage settlements - Wall St could pay as much as $50B to settle outstanding mortgage lawsuits according to the NYT. A recent settlement by one of Wall St's largest banks has now become the template by which people are judging the industry's total possible liability. "A payment of $50 billion, made up of a string of separate deals, would amount to roughly half the total annual profit of large American banks in 2012" - NYT
Fed/Bernanke - Bernanke expressed optimism on eco outlook during meeting with Democratic Senators (the meeting took place Thurs); he thinks the recent fiscal deal in particular was a positive and removes some uncertainty. Democratic senators gave Bernanke a standing ovation Thurs - WSJ
Fed - the Fed will likely send the Treasury ~$76.3B in profits in '13, down from $89B in '12 - WSJ
Obama nearing overhaul of US security policies; White House may extend privacy protections to non-US citizens and could restructure the NSA meta-data collection program; an announcement may come next week - WSJ
Governments should consider offloading some assets - governments are sitting on trillions in assets they should consider selling in order to bring down indebtedness - The Economist
Commodities
Grains: Corn prices hit their lowest levels in more than three years while wheat hit a 24 month low. The WSJ reports that the leg to the downside in grains is a reflection of fears that Friday's US gov't crop reports will show last year's harvest was bigger than expectations - WSJ
China + commodities: Bloomberg reports that China bought a record amount of iron ore, crude oil, and coal last year that demonstrates how resilient demand amid slowing economic growth - Bloomberg
Metals/Mining
The Shanghai Gold Exchange plans to launch an international board in the city's pilot free trade zone in the first half of this year to attract overseas capital to invest in China's gold market, local media reported on Friday. "We are pushing for the international board to be launched during the first half," Song Yuqin, deputy general manager of the Shanghai bourse, was quoted as saying in the Shanghai Daily - Reuters
Harmony Gold Minig: The co plans to slash cost at each of its S. African mines to less than $37K/kg of bullion by increasing productivity and reducing spending on equipment and Exploration - Bloomberg
GBI Data Points*: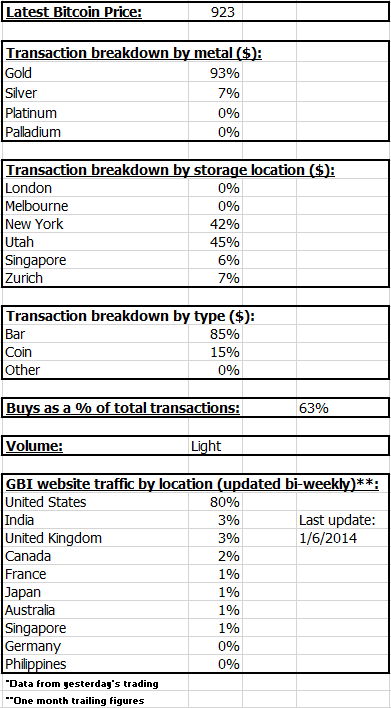 Ruminations:
Yesterday Rolls-Royce Motor Cars reported its fourth consecutive annual sales record. While it might seem obvious that this is further evidence of a widening disparity between the 1% and everybody else, a closer look at the numbers shows that much of the growth in sales is being driven by expansion in new markets - especially China. In fact, the carmaker said that China, behind only the US, is its second most important market. This not only highlights that the Chinese are getting wealthier, but also that car sales are picking up rapidly.
China Passenger Car Sales Y/Y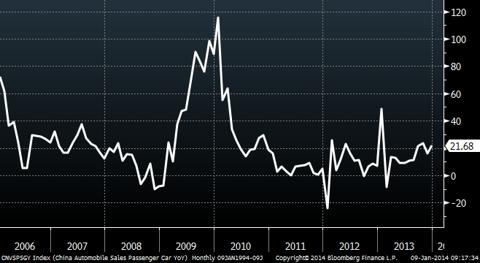 In 2013, total Chinese car sales rose 16% Y/Y to 18m units, compared to an 8% increase in the US, a slight Y/Y decline in Brazil, and a 16% decline in India. Including commercial vehicles, China's auto sales rose 14% Y/Y to 22m units in 2013. Automakers sold 10 times more cars in China than in India last year.
Palladium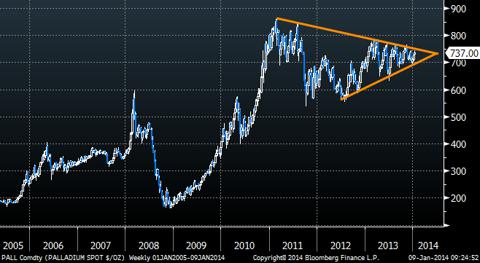 All of this has major implications for platinum and palladium which are used in the catalytic converters of automobiles. Platinum is typically found in diesel engines (common in Europe) and higher sales of Chinese vehicles should have a bigger impact on palladium which is more commonly found in gasoline engines. Not only does demand project to be stronger, but palladium is really only found in Russia and South Africa - two countries that are extremely volatile at the moment.
Seeking Alpha's Disclosure: Past performance is no guarantee of future results. No recommendation or advice is being given as to whether any investment is suitable for a particular investor. Any views or opinions expressed above may not reflect those of Seeking Alpha as a whole. Seeking Alpha is not a licensed securities dealer, broker or US investment adviser or investment bank. Our analysts are third party authors that include both professional investors and individual investors who may not be licensed or certified by any institute or regulatory body.