I've been interested in the mechanical operations and effects of market-makers, with regards to short sales, for some time. I have come to believe that in non-catalyst environments the market-makers have a big effect on share-price. I also believe that when they find themselves severely out of a market-neutral position, or desirous of stimulating activity to make some money, they move price around, to their benefit and the detriment of the typical investor.
A little note about the data I've used is in order.
FINRA and the SEC require that all short sales be marked as such. If the market-maker sells shares not in his portfolio, he must flag them as short sales even though the sale may be in response to an order from a organization that holds the shares and delivery would normally occur in the normal settlement time of three trading days.
There are exceptions and John Petersen has pointed out one. Many of the long-term original holders of Axion have physical certificates that must be converted to electronic form and registered in street name, which takes some time, to eventually arrive under the market-maker's control. Then, I presume, either the market-maker's position is netted via some DTCC process or the market maker may have done covering buys for some or all of the shares that were originally shorted.
In the latter case the market-maker would (possibly) have a net-long position when shares backing the order arrive. In this case the shares can be sold into the market, netting some additional profit for the market maker if the market-maker's cost for the shares was lower than what they can be sold for. Keep in mind that the market-maker made money on the naked short sale, which may have depressed prices, possibly allowing a covering buy at a price lower than the naked-short sale price.
In summary, even though the market-maker is allowed to naked short and sale may have been in response to a sell order for which the shares were real and owned by somebody (individual, institution, broker, ...), they still must flag those sales as short if not currently under the control of the market-maker. These are not real shorts as we would typically think of them, but are rather just a temporary effect of the market-maker providing liquidity, often in response to buy or sell orders.
Now, this activity is reported daily by FINRA and other organizations. The numbers will never match the semi-monthly reports because covering buys and netting by the DTCC are not reported. So the supposed transparency provided by the daily reports is non-existent to the normal user and useless for normal analysis for investing or trading purposes.
But if one can gain enough insight into the mechanics of the market-maker operations, it may be that useful patterns emerge in the available data.
The charts below are posted in an attempt to identify patterns that may prove useful.
I've not carefully analyzed them yet, but a cursory examination seems to suggest that some patterns and correlations exist that may be useful. My purpose in posting them is to let as many folks as possible examine them and help identify useful patterns and correlations, if there are any.
First, some caveats.
I had to manually coalesce several disparate data sources so the opportunity for error is large. If you spot any errors, please let me know and I'll attempt to correct them quickly.
Second, I'm rather inept at the creation of this stuff and only passingly familiar with how to do all the things to make the chart I would've liked to end up with. So what I've got is a little "kludgy".
In order to get as much detail as possible (and leave the results without too much clutter) I've made charts of two months each with an extra week bracketing the period of interest, for context. I've also selected only data that I hope will be useful in combination - stuff normally available from traditional charting is mostly not included.
You can download the charts with a right-click and save them for viewing in a local facility, such as a slide-show presentation, your browser or whatever. You can then print them (or even print without downloading) for more convenient and detailed examination.
The last one in the series will be aperiodically updated and a new chart added at as the first chart about every two months as long as my interest holds.
Comments are welcome to help identify any useful patterns. When, and if, there seems to be some agreement that some useful patterns have been found, I'll post a summary, with links to the comments ahead of the charts.
Suggestions for improving this presentation are welcome. One I can envision is breaking up future post to reduce loading time.
I already plan to add the buy sell ratios I've been collecting to see if that is useful, but I only have a few(?) months of that.
I'm hoping to obtain some dates of major catalytic events as well so that behavior around those periods can be differentiated from other times, if necessary.
If anybody wants the spreadsheets, which also contain the charts, send me a private message on SA with your e-mail address and what format (e.g. MS Excel 2007) and if OpenOffice, which I use, supports it, I'll send the stuff on. If you would like them in a zip file, state so.
If you elect to receive the files, make improvements and offer them, I'll gratefully accept your help and consider replacing my stuff with your versions.
As of this moment (1/24/2012), the size totals about 1.7M. I'll be adding the buy:sell ratios to some of the later charts as time permits, which might marginally increase the size. I think I started collecting that in November(?) 2011 or so.
Some things to know about the charts:
- Left Y axis relates to price, right to short percentage (and buy:sell when added),
- to expose as much detail as possible, scales are adjusted for each chart,
- Legend high and low are share price extremes for the day,
- Legend Sh % is the percentage of volume flagged as short sales,
- Legends 10D & 25D AVS are 10 & 25 day average short percentage,
- the volume columns have a bit of "creep", left-to-right - be alert to that.
That's all I can think of. Suggestions are welcome. Help in examining the charts and comments are welcomed as well.
HardToLove
(Click to enlarge the chart)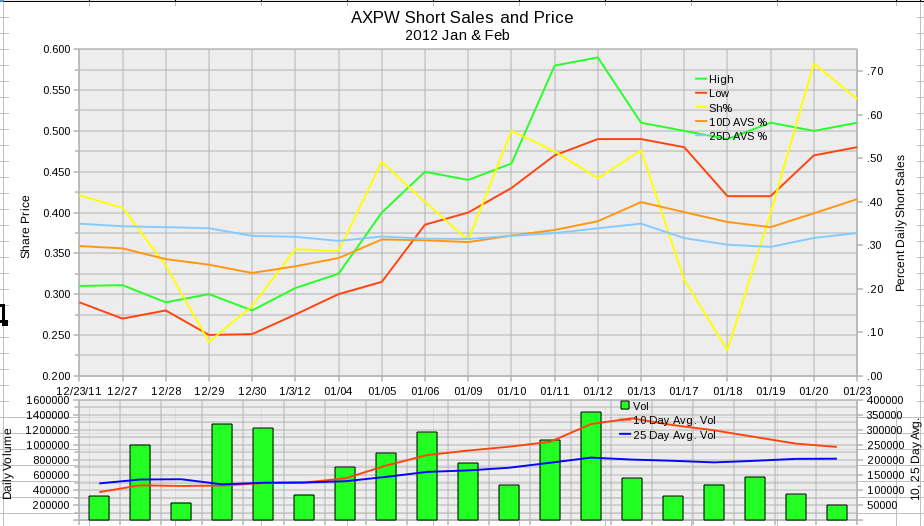 (Click to enlarge the chart)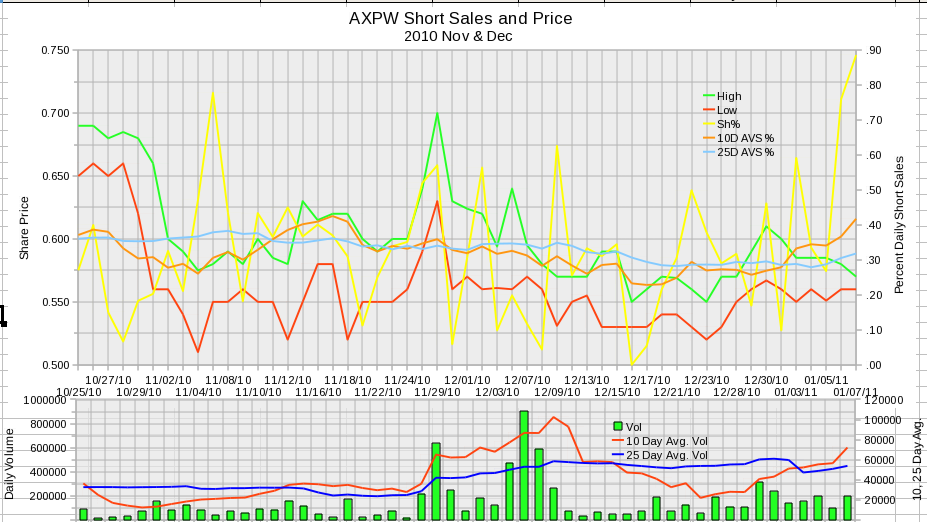 (Click to enlarge the chart)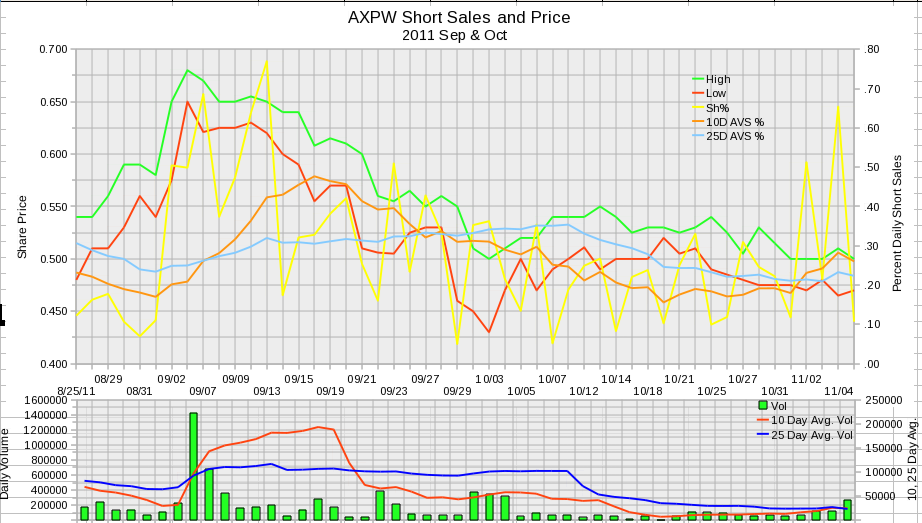 (Click to enlarge the chart)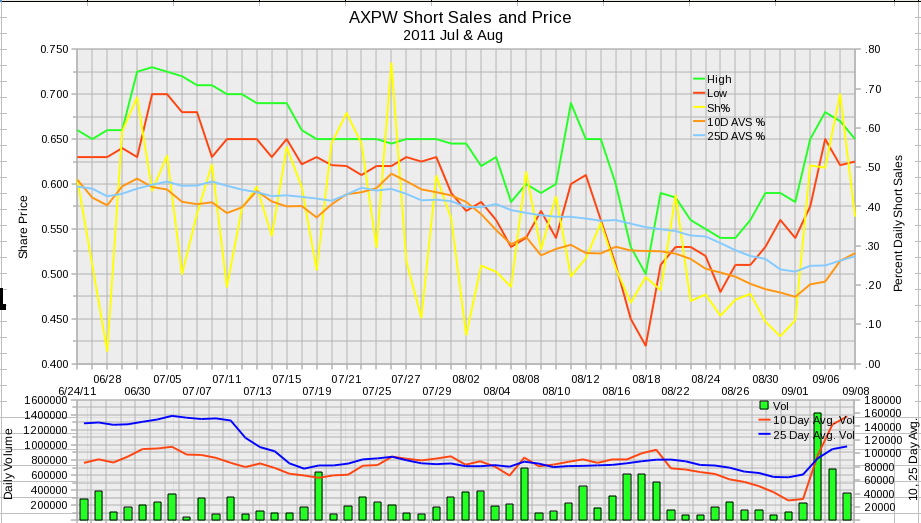 (Click to enlarge the chart)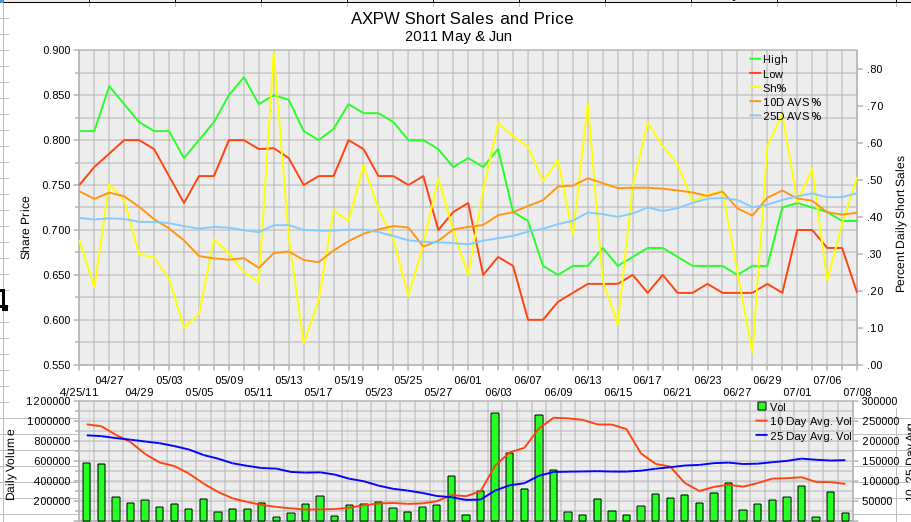 (Click to enlarge the chart)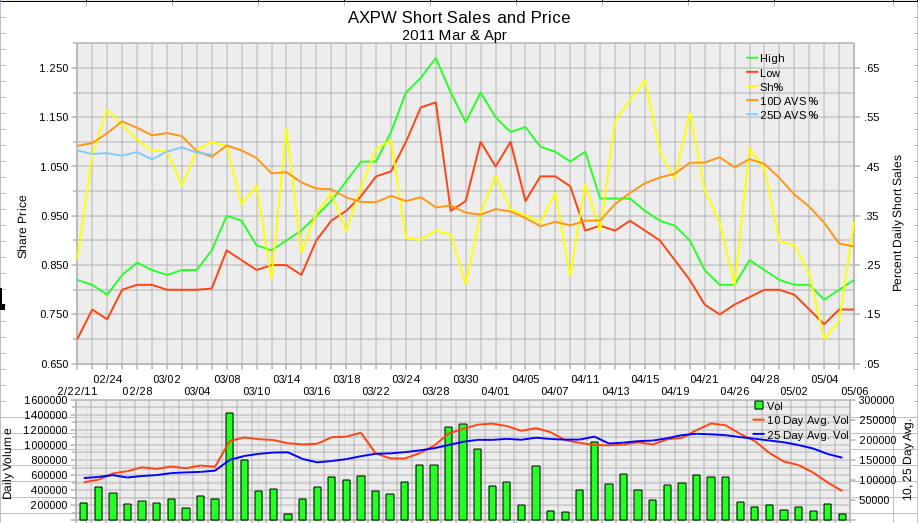 (Click to enlarge the chart)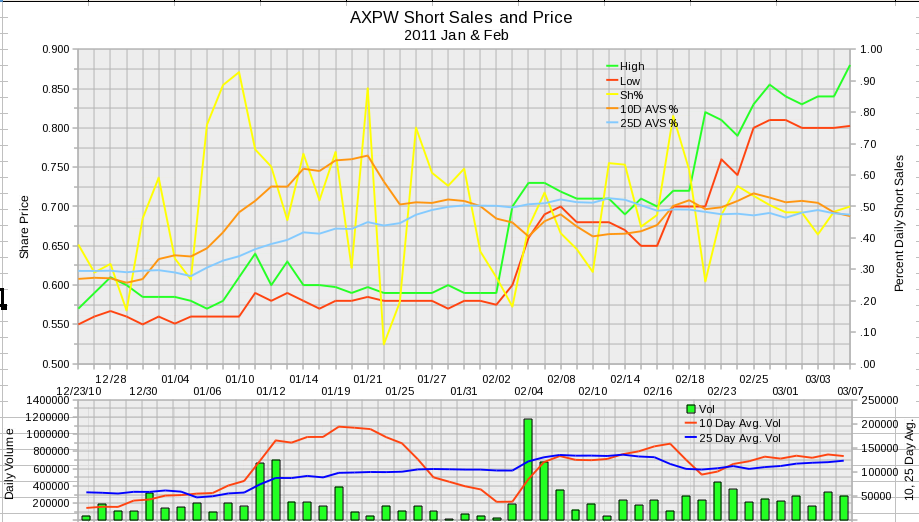 (Click to enlarge the chart)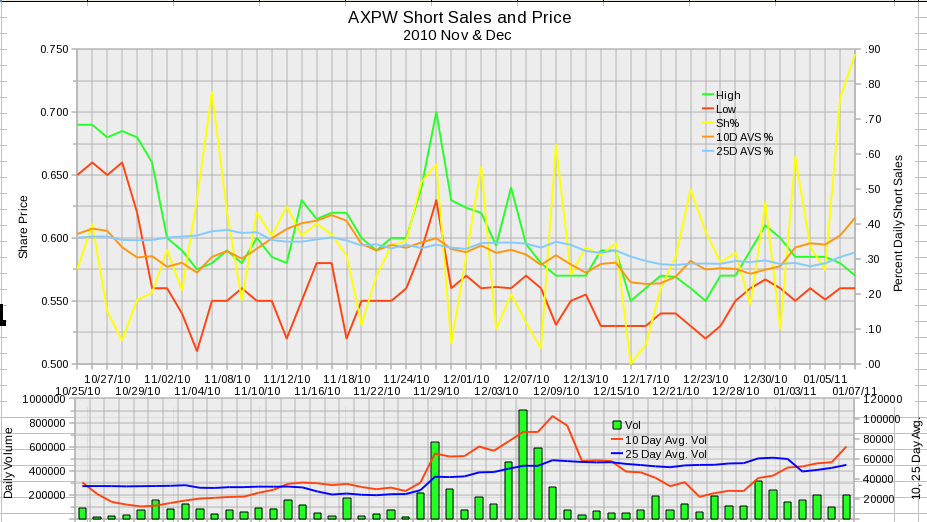 (Click to enlarge the chart)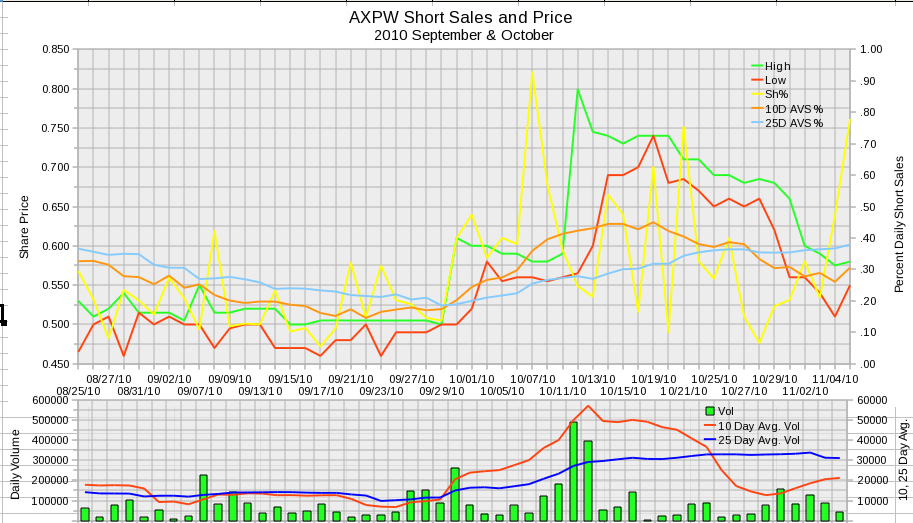 (Click to enlarge the chart)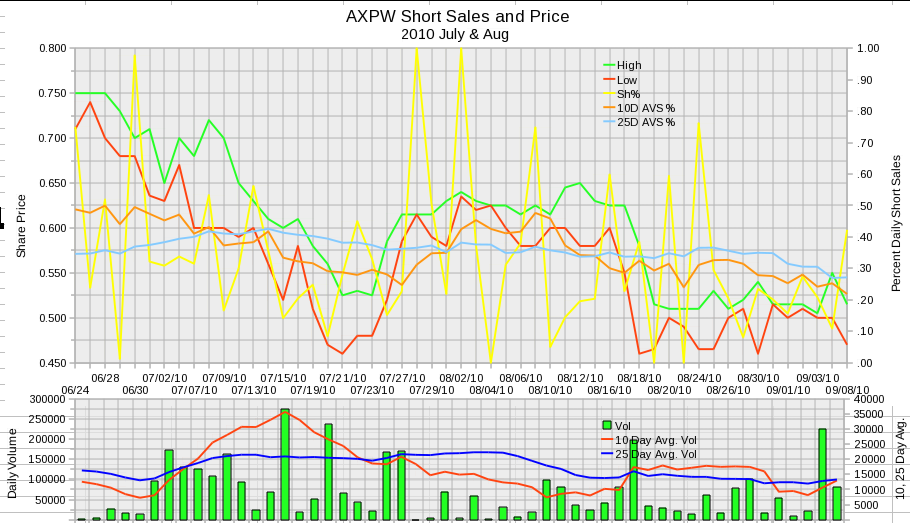 (Click to enlarge the chart)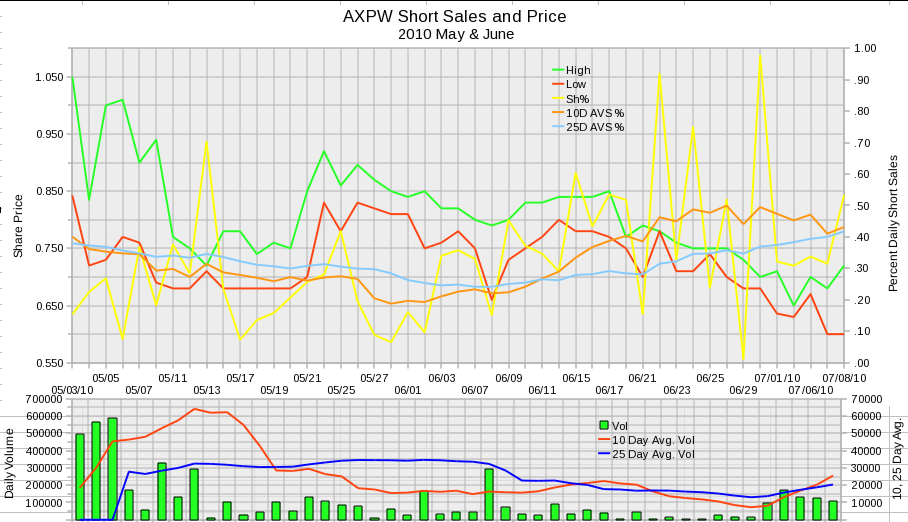 Disclosure: I am long AXPW.