This is a table of UQM semi-monthly reported short interest and changes since 2/14/2014. Notice since the peak report 5/30/2014 that short interest has fallen -34.94% as of the 1/15/2015 report (32.4% when this was first posted in November of 2014). The peak was following a run up from a 5/15/2014 close of $1.94 to the close of $2.35 on 5/29/2014, about a month before I (and some other folks?) exited UQM on 6/30 at $2.30 to await a new entry point.
I did re-enter and have core and trading blocks that have a cost basis (including fees) that run from $0.99 to as high $1.36 in one account. This ignores profits and/or losses in the past.
UQM reached a high of $2.47 on 5/29/2014 and closed at $2.35. From there it nose-dived to close at $1.78 on 6/4/2014 and recovered to a high and close of $2.34 on 6/27/2014. Thereafter was a long grind lower to an intra-day low of $0.98 on 10/13.
UPDATE: Subsequently several legs down occurred and a nadir of $0.71 for the intra-day low occurred on 1/8/2015. Note the 3.78% increase in short volume reported 12/15/2014. Related to our low? Price has started a slog back up and hit as high as $1.18 on 2/3/2015, just before the quarterly report.
On 2/6/2015, the day after the quarterly report, it traded $1.03-$1.14 on 133,714 shares (excluding odd-lot trades) with a value of $142,232.97 in trades resulting in a VWAP of $1.0637.
I believe the following table sheds some light on the effects and activity of shorters. Since I had mentioned recently that I thought I saw signs of shorts doing covering buys, I decided to take a peek and see.
Yep!
UPDATE: a 3.78% short volume increase occurred in the 12/15/2014 reporting period and has been decreasing again subsequently.
Nothing fancy in the below - "Just the facts ma'am, just the facts".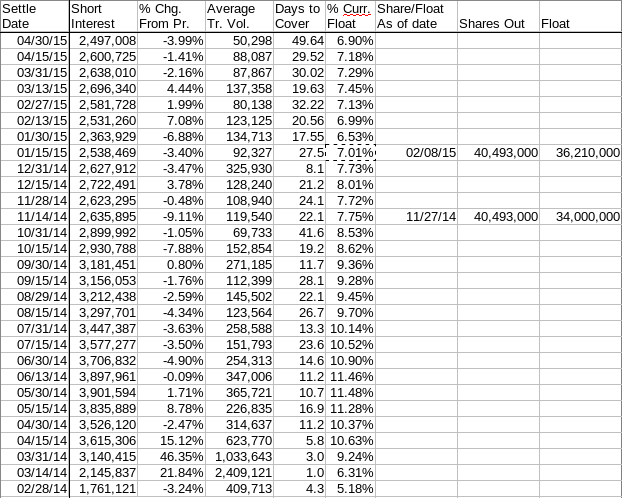 I'll update this every so often.
UPDATE: Call your broker and tell them you don't want your shares lent out! If enough longs do that the shares will become hard to borrow and expensive to borrow and the "phantom shares" created by the legal shorting process will mostly disappear. Fewer "shares" in the market equals a better supply/demand balance.
Disclosure: The author is long UQM.
Disclosure: The author is long UQM.