Not much to say. I've been manually collecting this data while volume was low and it was therefore reasonable to do so. I'll stop when it gets too large unless I can craft a mechanized capture of most of the stuff.
I'll update this daily as long as I can for anybody that might find it useful. The chart will stay here and the text updates expressing my most recent thoughts will follow after the chart.
Note that the volume is inverted to enhance readability! Be aware when you view it!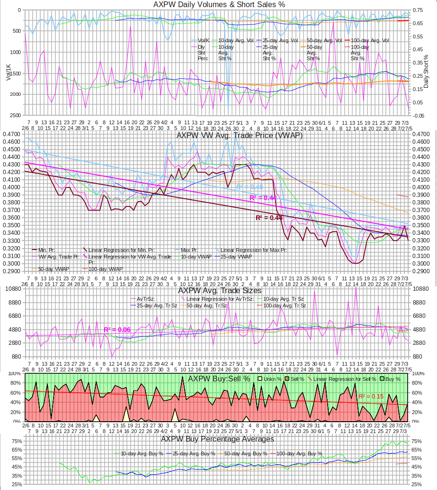 In the charts above I had to:
- estimate 3/27 buy:sell ratio because I couldn't get ADVFN screen-shots that day,
- omit 3/28 data due to garbage from the ADVFN feed.
7/5/2012: FINRA data is incomplete - ignore short sales for today. Comment copied from concentrator.
# Trds: 32, MinTrSz: 100, MaxTrSz: 10000, Vol 103800, AvTrSz: 3244
Min. Pr: 0.3300, Max Pr: 0.3500, VW Avg. Trade Pr: 0.3461
# Buys, Shares: 21 64550, VW Avg Buy Pr: 0.3479
# Sells, Shares: 11 39250, VW Avg Sell Pr: 0.3432
# Unkn, Shares: 0 0, VW Avg Unk. Pr: 0.0000
Buy:Sell 1.64:1 (62.2% "buys")
Some things worth noting about today. The $0.33x trades were only 8.5K in the first 26 minutes and all but 1.5K were in the first 3 seconds of the day. Figuring those were sales by retail investors and don't reflect sentiment (as suggested by the rest of the action I'll discuss next), our price range was $0.34-$0.35, very tight as has been the case of late.
Moreover, if we take them out completely, our buy:sell goes to 2.1:1 (67.7% "buys").
Is this significant? Could be because it seems to support what was seen during the day (and by my newer charts). Looking at bid/ask only when trades went off, we see the open with asks of $0.35 and never was below $0.3499 (remember, at time of trades *only*) *except for an ask of $0.34 for the four trades from 11:04:34-11:39:07.
The bids went a different way: they started (before any trades) at $0.33. I saw them move to $0.3301 and finally some trades (at $0.3499) with bids at $0.3302 *after* the 09:56 last $0.33 trade. Then one more time a bid was at $0.34 (trade $0.3499) and bids from 12:22 onward stepped up from $0.3302 to $0.3499 and back to $0.345.
I'm reading this as two things: sellers with patience and backbone and buyers that have a bullish sentiment and doing their best to be bottom-feeders. But they apparently see little risk and figure this is a good price regardless.
Had an AH trade at $0.345 for 9.4K shares, almost precisely 10% of the volume prior, 94.4K.
If this is the price the market-maker gave Quercus, we can count on price starting (or staying?) predominately there or above until those shares are offloaded by the market-maker. But with our VWAP of $0.3462 (without the AH trade), it could be the market-maker just covering what he shorted during the day and his position could be netted out by the DTCC, leaving a neutral position.
I'll have the new version of my intra-day tracking with the, hopefully, more useful charts up later tonight (I see SA fixed the instablog index problem) which will be much shorter for a while.
When you get a chance to peek at the new charts I believe you'll see the "stealth bullishness" stuff I mentioned in an earlier comment.
On the traditional TA front, nothing going on. Still mixed (stochastic trying to convince me it's going to pop), ADX saying down, mot of the other running towards neutral.
Prognosis for the near-term is no big change. The sellers are "capping" us and the buyers are supporting us as they recognize good value with little relaxation by most of the sellers on price.
FINRA data delayed due to their file being wrong: reporting total volume of 33.6K when it was 94.4K on the tape and 103,800 including AH trades, as reported by me, ETrade and ADVFN.
7/3/2012: Seeking Alpha Author Board broke - doesn't show this, so I just want to get the new (and hopefully improved) chart up.
6/29/2012: Copied from my EOD APC comment.
# Trds: 41, MinTrSz: 100, MaxTrSz: 13000, Vol 145580, AvTrSz: 3551
Min. Pr: 0.3300, Max Pr: 0.3439, VW Avg. Trade Pr: 0.3360
# Buys, Shares: 21 66090, VW Avg Buy Pr: 0.3393
# Sells, Shares: 19 77490, VW Avg Sell Pr: 0.3332
# Unkn, Shares: 1 2000, VW Avg Unk. Pr: 0.3350
Buy:Sell 1:1.17, DlyShts 14400, 9.9%[17]
[17] An AH trade of 13K, which doesn't show in FINRA numbers, is almost exactly 10% of daily volume through EOD, 132580 (FINRA's total). This trade at $0.34 (classified as "buy" with bid/ask $0.33/$0.344 then) seems most likely to be a short sale by the market-maker that accounts for shares (to be?) sold by Quercus. Excluding this trade entirely from EOD stats would move buy:sell ratio to 1:1.46. Presuming it was a short sale, not a "buy", would move the ratio to 1:1.70. Moreover, adding it to the FINRA volume as *not* a short sale would move the short sale percentage to 9.9% from the reported 10.86%. If those shares were short sales, the volume of short would move to 27,400 (18.8%), when including the 13K in both total and short sales volume.
Working off the above note, daily short sales would be just below the "normal range" indicated by the 10 through 50 day averages, around the 21% - 25% range. Choppiness is still evident, preventing any guess that some move is or is not on the horizon.
Volume remains low, below the 10, 25 and 50 day averages of 157K, 185K and 269K respectively. I had thought it might be coming back to run towards the 50-day average, but that move is at least deferred.
Trade sizes are continuing to indicate that only retail is on the buying side and they are apparently loathe to commit much ATM as price remains in a weakening trend overall with $0.3431, $0.3379 and $0.3717 showing for the 10, 25 and 50-day averages for VWAP.
There is some scant hope for a reversal as the 10-day VWAP average has moved above a descending 25-day average and the trend line for the minimum price. But other than that we are seeing what I've been suggesting so far - a creep lower. Maybe that will reverse after the holidays as folks return refreshed, invigorated and ready to act on moves they may have been considering.
This stuff can be seen in the charts in my instablog if you're more visually oriented.
Speaking of which ...
After I put up the chart for 6/29, I'll freeze that instablog and start a new so that those with an interest don't have to wait long for loading. I've also got enough data for 100-day averages now and will be adding those in and looking to get averages for the buy:sell percentages in some readable form added in.
On the traditional TA front, no change in what I think I see. Trying to creep lower, but support is trying to hold at $0.33. The highs are compressing though. On the bright side, there's two longer-term supports, one flat at $0.30 and one rising from the $0.25 lows that suggest support. But neither can be considered to have demonstrated strength yet as the number of tests are low (only the origin and 2 subsequent tests for the flat line and no tests of the rising one).
0629 Vol 0132580, Sht 0014400 10.86% LHC 0.3300 0.3439 0.3439 b:s 1:1.17[17]
0628 Vol 0178419, Sht 0012875 07.22% LHC 0.3303 0.3498 0.3350 b:s 1.55:1
0627 Vol 0038050, Sht 0001000 02.63% LHC 0.3370 0.3500 0.3450 b:s 1:1.10[16]
0626 Vol 0146951, Sht 0068051 46.31% LHC 0.3391 0.3500 0.3450 b:s 6.62:1[15]
0625 Vol 0110396, Sht 0043600 39.49% LHC 0.3350 0.3500 0.3350 b:s 1.67:1[14]
0622 Vol 0307804, Sht 0130667 42.45% LHC 0.3349 0.3500 0.3500 b:s 4.61:1
0621 Vol 0105850, Sht 0032150 30.37% LHC 0.3321 0.3500 0.3479 b:s 51.93:1
0620 Vol 0096235, Sht 0016685 17.34% LHC 0.3400 0.3500 0.3499 b:s 5.16:1[13]
0619 Vol 0304080, Sht 0159006 52.29% LHC 0.3300 0.3500 0.3495 b:s 3.16:1
0618 Vol 0079382, Sht 0005000 06.30% LHC 0.3052 0.3449 0.3311 b:s 2.10:1
0615 Vol 0210011, Sht 0073800 35.14% LHC 0.3010 0.3400 0.3400 b:s 10.76:1
0614 Vol 0434858, Sht 0050925 11.71% LHC 0.3000 0.3090 0.3090 b:s 1:3.96
0613 Vol 0096728, Sht 0019048 19.69% LHC 0.3010 0.3100 0.3060 b:s 1.11:1
0612 Vol 0588233, Sht 0136133 23.14% LHC 0.3052 0.3250 0.3070 b:s 1:2.60
0611 Vol 0198576, Sht 0053800 27.09% LHC 0.3150 0.3345 0.3250 b:s 1:1.43
0608 Vol 0131165, Sht 0006000 04.57% LHC 0.3240 0.3500 0.3479 b:s 1:1.24
0607 Vol 0013803, Sht 0001900 13.77% LHC 0.3421 0.3500 0.3490 b:s 3.18:1
0606 Vol 0204575, Sht 0133750 65.38% LHC 0.3420 0.3500 0.3500 b:s 2.28:1
0605 Vol 0157000, Sht 0073858 47.04% LHC 0.3401 0.3500 0.3500 b:s 6.85:1
0604 Vol 0152292, Sht 0013200 08.67% LHC 0.3220 0.3500 0.3380 b:s 1:4.53
0601 Vol 0062000, Sht 0008000 12.90% LHC 0.3320 0.3409 0.3409 b:s 1.57:1
0531 Vol 0158067, Sht 0030319 19.18% LHC 0.3310 0.3500 0.3450 b:s 1:3.28
0530 Vol 0389900, Sht 0157100 40.29% LHC 0.3400 0.3650 0.3500 b:s 1.59:1
0529 Vol 0118006, Sht 0035506 30.09% LHC 0.3400 0.3800 0.3640 b:s 12.15:1
0525 Vol 0140057, Sht 0040600 28.99% LHC 0.3480 0.3555 0.3480 b:s 1.96:1
0524 Vol 0220877, Sht 0073291 33.18% LHC 0.3300 0.3598 0.3594 b:s 1:1.50
0523 Vol 0482294, Sht 0180210 37.37% LHC 0.3400 0.3698 0.3501 b:s 1.02:1
0522 Vol 0133015, Sht 0032150 24.17% LHC 0.3450 0.3650 0.3501 b:s 2.46:1[12]
0521 Vol 0253600, Sht 0085000 33.52% LHC 0.3500 0.3754 0.3500 b:s 2.66:1
0518 Vol 0354724, Sht 0065695 18.52% LHC 0.3310 0.3600 0.3500 b:s 1:1.44
0517 Vol 0525836, Sht 0070200 13.35% LHC 0.3400 0.3799 0.3500 b:s 1:5.07
0516 Vol 0571819, Sht 0238018 41.62% LHC 0.3601 0.4100 0.3799 b:s 1:1.12[11]
0515 Vol 0503859, Sht 0116091 23.04% LHC 0.3700 0.4200 0.3801 b:s 1:2.64
0514 Vol 0278334, Sht 0078500 28.20% LHC 0.4100 0.4280 0.4200 b:s 1.31:1
0511 Vol 0236187, Sht 0020200 08.55% LHC 0.4106 0.4280 0.4200 b:s 1:1.27
0510 Vol 0117575, Sht 0000000 00.00% LHC 0.4100 0.4200 0.4150 b:s 2.43:1
0509 Vol 0116441, Sht 0004141 03.56% LHC 0.4100 0.4200 0.4150 b:s 1:2.76
0508 Vol 0079083, Sht 0012524 15.84% LHC 0.4120 0.4280 0.4121 b:s 3.46:1
0507 Vol 0080830, Sht 0009734 12.04% LHC 0.4110 0.4289 0.4200 b:s 1:4.25
0504 Vol 0190417, Sht 0008500 04.46% LHC 0.4241 0.4400 0.4241 b:s 2.07:1
0503 Vol 0181530, Sht 0028500 15.70% LHC 0.4300 0.4400 0.4350 b:s 1:1.04
0502 Vol 0143270, Sht 0016000 11.17% LHC 0.4300 0.4549 0.4410 b:s 1:1.39
0501 Vol 0222824, Sht 0008132 03.65% LHC 0.4300 0.4500 0.4301 b:s 1.23:1
0430 Vol 0542734, Sht 0048465 08.93% LHC 0.4300 0.4700 0.4399 b:s 1:1.66
0427 Vol 0297980, Sht 0047025 15.78% LHC 0.4200 0.4600 0.4110 b:s 2.11:1
0426 Vol 2336112, Sht 0449700 19.25% LHC 0.4000 0.4610 0.4180 b:s 1:1.60
0425 Vol 0353994, Sht 0063842 18.03% LHC 0.4210 0.4498 0.4271 b:s 1:1.82[10]
0424 Vol 0193103, Sht 0012390 06.42% LHC 0.4200 0.4300 0.4300 b:s 1.38:1[9]
0423 Vol 0296220, Sht 0075500 25.49% LHC 0.4180 0.4300 0.4200 b:s 1.13:1
0420 Vol 0060724, Sht 0000000 00.00% LHC 0.4202 0.4300 0.4260 b:s 1.64:1[8]
0419 Vol 0113650, Sht 0021940 19.30% LHC 0.4160 0.4445 0.4202 b:s 1:1.60[7]
0418 Vol 0136851, Sht 0010000 07.31% LHC 0.4200 0.4300 0.4250 b:s 1:2.38
0417 Vol 0111155, Sht 0000814 00.73% LHC 0.4200 0.4349 0.4202 b:s 1:1.26[6]
0416 Vol 0282254, Sht 0071350 25.28% LHC 0.4210 0.4450 0.4211 b:s 1:2.07[5]
0413 Vol 0211898, Sht 0055500 26.19% LHC 0.4300 0.4600 0.4359 b:s 1:1.18
0412 Vol 0228191, Sht 0068800 30.15% LHC 0.4250 0.4450 0.4400 b:s 1:1.01
0411 Vol 0128110, Sht 0012900 10.07% LHC 0.4151 0.4440 0.4300 b:s 1.33:1
0410 Vol 0279098, Sht 0046200 16.55% LHC 0.4100 0.4449 0.4150 b:s 1:12.4[4]
0409 Vol 0101030, Sht 0023236 23.00% LHC 0.4252 0.4399 0.4349 b:s 1.28:1[3]
0405 Vol 0122244, Sht 0008000 06.54% LHC 0.4100 0.4350 0.4251 b:s 1.30:1
0404 Vol 0478031, Sht 0044399 09.29% LHC 0.4170 0.4549 0.4300 b:s 1.15:1
0403 Vol 0717579, Sht 0114178 15.91% LHC 0.4050 0.4549 0.4500 b:s 1.30:1[2]
0402 Vol 0512831, Sht 0187175 36.50% LHC 0.3910 0.4180 0.4180 b:s 1.98:1[1]
0330 Vol 0112741, Sht 0011662 10.34% LHC 0.4001 0.4100 0.4021 b:s 1:1.26
0329 Vol 0341458, Sht 0174100 50.99% LHC 0.3930 0.4100 0.4000 b:s 1:2.56
0328 Vol 0158771, Sht 0022436 14.13% LHC 0.3900 0.4028 0.3930 b:s 20.5:1
0327 Vol 0184578, Sht 0049631 26.89% LHC 0.3916 0.4050 0.3920 b:s UNKNOWN
0326 Vol 0190535, Sht 0039250 20.60% LHC 0.3801 0.4100 0.4050 b:s 1.75:1
0323 Vol 0208760, Sht 0082800 39.66% LHC 0.3760 0.3899 0.3801 b:s 1:1.88
0322 Vol 0192407, Sht 0013794 07.17% LHC 0.3820 0.4100 0.3820 b:s 1:3.31
0321 Vol 0245476, Sht 0057576 23.45% LHC 0.3810 0.4170 0.3999 b:s 1:1.78
0320 Vol 0254186, Sht 0029586 11.64% LHC 0.3700 0.3950 0.3900 b:s 1:1.50
[1] AH 20K sell @ $0.405 would make b:s 1.77:1
[2] AH 9,449 sell @ $0.435 would make b:s 1.26:1
[3] AH 10K sell @ $0.4R29 would make b:s 1.28:1
[4] AH 28K sell @ $0.418 would make b:s 1:13.8
[5] AH 13.2K sell @ $0.42 would make b:s 1:2.21
[6] AH 11K sell @ $0.424 would make b:s 1:1.48
[7] AH 11K sell @ $0.427 would make b:s 1:1.75
[8] AH 6K buy @ $0.426 would make b:s 1:1.93
[9] AH 19K sell @ $0.427 would make b:s 1.12:1
[10] High was one 100-share trade at open (MM?). "Real" high was $0.44
[11] Including 45K in pre-market trades in both total and short sales gives 616,819 and 283,018 respectively. This would put the short sales percentage at ~45.9%.
[12] AH "sells" of 11K @ $0.35 don't appear in the FINRA numbers. Adding that to shorts, because they were "sells", gives 43,150 and 30%.
[13] 10K pre-market trades not included. Including those moves volume to 106,235 and short percentage to 15.7%.
[14] Including AH 11K sell @ $0.335 as short would make short percentage 45%.
[15] Including 2 AH trades of 16K and 20K takes volume to 182,951. Treated as non-short (since they are "buys") would move short to 37.2%. If they were short sales that figure moves to 56.9%.
[16] An AH trade of 3.8K does not appear in FINRA data. Volume's so low it doesn't see worthwhile to calculate the effect on short sales, but you can do the scenarios if you desire.
[17] An AH trade of 13K, which doesn't show in FINRA numbers, is almost exactly 10% of daily volume through EOD, 132580 (FINRA's total). This trade at $0.34 (classified as "buy" with bid/ask $0.33/$0.344 then) seems most likely to be a short sale by the market-maker that accounts for shares (to be?) sold by Quercus. Excluding this trade entirely from EOD stats would move buy:sell ratio to 1:1.46. Presuming it was a short sale, not a "buy", would move the ratio to 1:1.70. Moreover, adding it to the FINRA volume as *not* a short sale would move the short sale percentage to 9.9% from the reported 10.86%. If those shares were short sales, the volume of short would move to 27,400 (18.8%), when including the 13K in both total and short sales volume.
6/28/2012: Copied to concentrator today.
# Trds: 44, MinTrSz: 100, MaxTrSz: 13000, Vol 178419, AvTrSz: 4055
Min. Pr: 0.3303, Max Pr: 0.3498, VW Avg. Trade Pr: 0.3366
# Buys, Shares: 25 108155, VW Avg Buy Pr: 0.3367
# Sells, Shares: 18 69664, VW Avg Sell Pr: 0.3364
# Unkn, Shares: 1 600, VW Avg Unk. Pr: 0.3400
Buy:Sell 1.55:1, DlyShts 12875, 7.2%
The combination of low volume, Quercus and maybe Blackrock (although I wonder about that ATM) selling, Axionistas having a lot and awaiting movement, potential buyers knowing all this and that a capital raise is in the future, no news, holiday weekend, ...
Any wonder why bid/ask went from $0.34/$0.3498 at open to $0.3303/$0.335 by day's end? It wasn't unidirectional though - we briefly saw $0.336 ask and got 8,020 shares traded at that price 9:57:02 - 9:58:28. But that's the highlight on that front - the next 5.5 hours ask bounced between $0.34 and $0.345 and then moved to $0.335 and stayed there from 14:30 to the end of the day.
During the period after the 9 A.M. hour up to 14:30, the bids at the time trades went off stayed steady at $0.335x. At 14:31, they dropped to $0.3302/3 and stayed right there through the end of the day even as trades went at $0.335 (except for 10.5K at $0.3303 at 15:42) for the rest of the day.
At least we had a little volume come back and the VWAP stayed above $0.335.
Although we had almost 13K of daily short sales, the percentage was very low so I don't expect a change in the trend down.
In a PM exchange yesterday I had occasion to take a look at a long-term chart for AXPW, which I had no done before. Every year beginning with 2005 it looked like pps had a swoon during the summer months. Maybe JP can add some light to this since he's been tracking it for so long.
With Quercus needing to average >12K shares/day over 60+ trading days to get their 850K out the door, I don't see any reason for the summer swoon to be skipped unless we get some positive PR about the company. Let's hope Blackrock has stopped for the summer.
Shorter-term, I expect continued low(er) prices. Medium-to-long term, sans positive PR, it could get worse, IMO. I don't expect any rapid move, but just a inconsistent creep in the wrong direction.
My experimental charts have switched to the point that I again have to conclude that the short sales spike that I thought might suggest some upward movement is out of play. The traditional TA stuff supports this as everything is currently neutral to bearish.
I think buyers are pretty much sidelined right now and we've moved from my "pull" scenario to a "push" scenario, albeit at a much lower level of pressure. That' why I'm thinking "creep" rather than "plunge".
My strategy is to continue using other instruments to garner dry powder so I can add more when prices enter the "totally, absolutely, incomprehensibly ridiculous price" range.
6/27/2012: Copied from my EOD comment.
Whoo-hoo! Big day - including Quercus sale indicated by the AH trade of 10% of the day's volume prior to that, we got 41,850 shares in 16 trades!
The AH trade of 3,800 @ $0.3430 was almost exactly 10% of the volume prior to that trade, 38,050. Note the strong similarity in VWAP and the Quercus trade price.
The daily short sales were only 1K so I'm guessing that it wasn't indicative of Quercus's 3K, but just one of the three 1K trades for the day (I'm betting it was one of the two that went at $0.3499 - *very* close to the high of the day).
# Trds: 16, MinTrSz: 100, MaxTrSz: 10000, Vol 41850, AvTrSz: 2616
Min. Pr: 0.3370, Max Pr: 0.3500, VW Avg. Trade Pr: 0.3432
# Buys, Shares: 11 18050, VW Avg Buy Pr: 0.3482
# Sells, Shares: 4 19800, VW Avg Sell Pr: 0.3384
# Unkn, Shares: 1 4000, VW Avg Unk. Pr: 0.3450
Buy:Sell 1:1.10, DlyShts 1000, 2.4%
With volume this low it is really hard to have confidence in any of the traditional TA stuff, other than to say a change could be near. All the oscillators are weakening ATM.
Trying to stretch things, regardless of the volume ...
On my experimental charts, looking at the period after 3/19 shorts spike, we may indeed be matching the pattern. When the daily short sales got as low as we were today, we were at the high range of the price movement! =>8-O
Well, right now it looks the same, but in a lower range. The follow-on action was weakening price, as we all know.
Having said that, I'm going to discount the possibility of any big drop in price. There's too many differences.
Most of the differences are in the degree of "choppiness" in daily short sales, average trade sizes, volume fluctuations. Further, we've made an apparent low and risen above it and hung in there fairly steadily.
Add in that there's a holiday coming up and it's likely that trading is down in stuff that's not traded mostly by the HFT computers (recall that I commented earlier that we only had 6 MMs showing. I later noticed the high count for the day was seven) and I think that 'splains the volume weakness.
So we're more likely just in a period of some stroking along until the recent spate of articles have a big effect or the holidays are over.
6/26/2012
: Copied from my EOD comment.
First, note the oddity of two AH trades of 16K and 20K noted in my comment ...
# Trds: 34, MinTrSz: 100, MaxTrSz: 58000, Vol 182951, AvTrSz: 5381
Min. Pr: 0.3391, Max Pr: 0.3500, VW Avg. Trade Pr: 0.3481
# Buys, Shares: 24 158951, VW Avg Buy Pr: 0.3494
# Sells, Shares: 10 24000, VW Avg Sell Pr: 0.3395
# Unkn, Shares: 0 0, VW Avg Unk. Pr: 0.0000
Buy:Sell 6.62:1, DlyShts 68051 37.2%[1]
[1] Considering the 2 AH trades of 16K and 20K as short sales would move short, based on FINRA-reported values, to 56.9%. We don't know if they were shorts or not.
Considering general trends, the 10-day VWAP has left the flat trend and been rising the last three days while the high has been holding essentially flat. The 25-day average VWAP has left it's down trend and gone to flat. The price compression (maintaining <= 1.5 cents the last five days) combined with continued low volume and a rising trend in daily short sales percentage suggests a change is quite near.
We have strong indications that Quercus is providing shares to the market now and there is suspicion that Blackrock may also be doing so. Given this scenario, I'm surprised that VWAP has been holding up well: 0.3479, 0.3474, 0.3467, 0.3461, 0.3429, 0.3481.
This is reflected in changes to the 10-day average: 0.3277, 0.3275, 0.3274, 0.3282, 0.3304, 0.3340.
In my experimental charts there is still a lot of choppiness in the buy:sell ratio, daily short sales and average trade sizes. This makes me think we don't have a stable trend establishing yet, in spite of the positives mentioned above.
On the traditional TA front, there are suggestions that we'll see some weakness in price develop. However, with the recent spate of articles concerning AXPW, I wouldn't be banking on this yet - TA indicators are backwards looking and should not yet be reflecting any change in sentiment that might overwhelm, even marginally, the Blackrock and Quercus effects, if any.
6/21/2012
: Copied from my EOD comment.
# Trds: 27, MinTrSz: 100, MaxTrSz: 18600, Vol 105850, AvTrSz: 3920
Min. Pr: 0.3321, Max Pr: 0.3500, VW Avg. Trade Pr: 0.3467
# Buys, Shares: 26 103850, VW Avg Buy Pr: 0.3470
# Sells, Shares: 1 2000, VW Avg Sell Pr: 0.3321
# Unkn, Shares: 0 0, VW Avg Unk. Pr: 0.0000
Buy:Sell 51.93:1, DlyShts 32150, 30.4%
All the following posted *before* reading any of the comments from the folks that attended the AGM, except for Rick's, so keep that in mind.
Since it's not obvious without thought, I wanted to point out that the low of the day (embodied in the "sells" readings) was a single trade at 12:10:04. Trades before that (1 - 13) were all >= $0.3489 and trades after (15 - 27) were >= $0.3449. What prompted someone to let that one go like that is beyond my ken (and Barbie too! :-).
Without that one trade, the low for the day would be $0.34 - another tight-spread one-penny day.
The combination of average trade size, buy:sell ratio (unsustainable?) and VWAP suggests two things to me: 1) the sellers at the $0.35 level are adamant about getting their price, or *very* near it, and 2) most buyers are retail that see the price as attractive or at least low downside risk.
I'm reading this as a growing sentiment in the market, likely due to the recent articles and these concentrators, that AXPW is on the right path for *investors*, not just short-term traders, who would likely be dealing bigger blocks to reap worthwhile short-term gains.
This leads me to say that if the "flippers'" backs are broken, or they get smarter about maximizing their profits, there's a good chance of a move upwards commencing.
Along those lines, I don't (yet?) see any evidence in the price, volume or trade sizes, and certainly not in the buy:sell ratio, of an inrush of the 2M shares from the bankruptcy trustee being available.
Maybe my fond hope that a back-channel deal got done has been fulfilled.
Volume is remaining choppy but trending lower. I believe this is causing some instability in the daily short sales ratios as it is also quite choppy and tending lower. I mention these only because the traditional TA indicators suggest a move *ought* to be coming and the instability of these items seems to support that. But ...
Since I haven't mentioned it for a long while, I should remind that even my "traditional TA" stuff has experimental settings - shorter than normal periods, reduced by about 1/3.
While most of the normal oscillators are still decidedly neutral (an oxymoron for sure), the stochastic entered oversold 6/19 and continues up ATM. This, while volume is trending down, would normally suggest we've topped out (supported by the Williams %R being near the extreme top), although it's not uncommon for this condition to remain for some time with continued price appreciation. But over the last year (maybe not a fair comparison, all things considered) this has not been the case for AXPW. *Usually* we get a quick turn down ... *until* recently. In our latest case, circa 4/3, we just went flat for a month.
Looking at other traditional TA indicators, and my experimental stuff, I believe the latter scenario is most likely *if* we don't "bust a move" up.
MFI has been trending up since 6/13 and has now gone slightly above neutral to 59.64. This indicator is considered to be one of the few leading oscillators and I really hope it's telling the truth here.
The momentum oscillator has shifted from bear (~.83) on 5/23 to bull, now at 1.13.
The rest of the oscillators remain sort of neutral, in line with the uncertainty suggested by my experimental chart factors.
My feeling remains unchanged - we seem to be consolidating at this range as we clean out the "flippers" at $0.35 and there appears to be both little downside risk and a very slight bias towards the upside.
A short-term triangle supports the consolidation scenario and wants us to believe a break is coming. But it's totally ignorant, I think, and I believe we break the apex of that and just continue mostly sideways for now.
Remember - I'm experimental and learning!
6/19/2012: Copied from my EOD comment.
# Trds: 71, MinTrSz: 100, MaxTrSz: 18400, Vol 304080, AvTrSz: 4283
Min. Pr: 0.3300, Max Pr: 0.3500, VW Avg. Trade Pr: 0.3479
# Buys, Shares: 55 231050,VW Avg Buy Pr: 0.3486
# Sells, Shares: 16 73030, VW Avg Sell Pr: 0.3457
# Unkn, Shares: 0 0, VW Avg Unk. Pr: 0.0000
Buy:Sell 3.16:1, DlyShts 159006, 52.3%
First I want to note that the average trade size is likely much larger than indicated as there were several occurrences of multiple trades in the same second at the same price, or in adjacent seconds at the same price, that I would judge as a single bid or offer entered that the market-maker needed multiple steps to fill (supported because they totaled up to "round numbers" too). With a conservative cursory consolidation of these (only considered trades in the same *reported* second), we'd have 5,154 as the average, 20% larger. Of course, there were others largely more fragmented time-wise that I wouldn't recognize.
The *unadjusted* 10, 25 and 50 day averages are 5326, 5475, 5212 respectively. Even the unadjusted 4283 for today is pretty much smack in the "normal" range.
Volume was well above the 10, 25 and 50-day averages of 226K, 262K and 277K respectively. The 10-day average volume is starting to make a run at crossing above the 25-day average, although it's still very choppy and we can't rely on a continued ramp up yet. But it is within spitting distance.
Buy:sell (76%) still holding strongly to the bullish side, exceeding averages for those same intervals of 56%, 53% 50% respectively.
Note that daily short sales are up again - just like last time we got in this price range around 6/6.
I've got to put my "similar to 5/19" scenario back on the table after looking at my experimental charts. Although there's a little difference in the intervals, the patterns are remarkably similar, including such things as a second "spike", to a lesser degree in both cases, in daily short sales.
Further, the 10-day average short sales percentage is apparently shortly going to be below the 25-day average, just as it was shortly following the 5/19 short sales spike.
I don't believe we'll see the low-$0.4x area yet on this leg up - we know we have folks dumping at $0.35 and we are starting from a lower price level. But if this is the cycle during which we exhaust the last of those shares, we could move further than I think.
On the traditional TA front, we closed right at that very short-term descending resistance on relatively good volume. If we can close above $0.35 with continued improvement in volume we would normally proceed to $0.37 without much trouble. The "flippers" at $0.35 are the fly in the ointment for now.
Most of the oscillators I watch are still neutral but a couple are strongly bullish. None are suggesting a bearish move ATM. The overall configuration is still one of too early to say a trend is in place.
With known resistance points every two or three pennies I guess we shouldn't be surprised at this.
6/18/2012
: Copied from my EOD stuff.
# Trds: 23, MinTrSz: 100, MaxTrSz: 10000, Vol 79382, AvTrSz: 3451
Min. Pr: 0.3052, Max Pr: 0.3449, VW Avg. Trade Pr: 0.3356
# Buys, Shares: 17 53771, VW Avg Buy Pr: 0.3385
# Sells, Shares: 6 25611, VW Avg Sell Pr: 0.3295
# Unkn, Shares: 0 0, VW Avg Unk. Pr: 0.0000
Buy:Sell 2.10:1, DlyShts 5000, 6.3%
Watch out for sideways or downward price movement. Last three times daily short percentage was down in this range in this down trend we had sideways or downward price movement. I suspect this is because the market-maker(s) already have shares in hand, either shares backing prior sell orders entering or shares placed at owning brokers, at a low price and can sell at lower prices and still profit.
However, going back one more occurrence, when we were at elevated prices (low/mid $0.4x early April) coming off an uptrend, we did up and sideways for a few weeks (see chart in my instablog). That period was characterized by (what appears to be) more stable trade sizes, on average, and more stable buy:sell ratios. Daily short sales were also more stable, albeit declining slowly.
Our current situation includes highly unstable average trade sizes, buy:sell ratios and daily short sales percentages. It has broken the pattern of the prior huge daily short in both average trade size volatility and the price action. So I don't look for relief any more from similar behavior.
Having said all that ...
We hit an apparent bottom in VWAP, in conjunction with an absolutely horrid buy:sell ratio, and have two consecutive days with VWAP rising and buy:sell gravitating towards "normal", although it is still very volatile these last few days.
Ignoring the knowledge that Quercus has filed a new Form 144 and that we suspect the Mega-C trustee may have 2M shares to unload ...
On the more-traditional TA front we had a relative "volume spike", often indicating a trend end, 6/12. This at the same time as price bounced off *two* trend support lines, one flat and one rising. Subsequent days demonstrated volatility in many respects, suggesting a change is in the offing. We also penetrated and closed above a medium-term falling resistance and are now pushing hard against a very short-term falling resistance at ~$0.345.
But with volume falling off, I have to call it near-term consolidation ATM with no ability to have confidence that a trend in either direction is about to "bust out all over".
This is reinforced by the oscillators I watch being mixed - a couple showing early signs of moving towards bullish but most neutral ATM.
My feeling is slightly bullish with another attempt to move towards that almighty $0.37 again, just like we did last time I had this feeling (*IIRC*) and we hit $0.38 5/29 (spent the week around that day hammering just below $0.37) before falling back again.
As always, we need to see some stability with a grind up, IMO, to bring confidence to folks that might be considering long position entry or additions.
6/14/2012: Copied from the EOD comment.
# Trds: 39, MinTrSz: 200, MaxTrSz: 101000, Vol 434858, AvTrSz: 11150
Min. Pr: 0.3000, Max Pr: 0.3090, VW Avg. Trade Pr: 0.3011
# Buys, Shares: 13 87645, VW Avg Buy Pr: 0.3032
# Sells, Shares: 26 347213, VW Avg Sell Pr: 0.3005
# Unkn, Shares: 0 0, VW Avg Unk. Pr: 0.0000
Buy:Sell 1:3.96, DlyShts 50925, 11.7%
Note the absolute daily short volume, as well as the short percentage, is overall trending down regardless of the general trend up in total volume. Knowing it's likely many retail investors are exiting positions I think this suggests the shares held at brokerages owning market-maker services are hitting the market-maker portfolios immediately, reducing the need for sell orders to be flagged as short sales. Some of this might be from the Mega-C bankruptcy shares as well, but we can't ever know that.
TVol., ShVol, Sh %
198.6 053.8 27.1
588.2 136.1 23.1
096.7 019.0 19.7
434.9 050.9 11.7
I would like to say that we must be near a turn as the tendency is for the retail investors to get out at or near the bottom. But that would be too trite, as well as an unreliable indicator of anything, knowing about the bankruptcy shares and ...
JP also posted that another Form-144 was filed by Quercus for 850K shares to be put into the market as well. Have they already begun?
This poor stock just can't catch a break. It feels like "piling on" doesn't it?
The average trade size was quite large, relative to what's been seen in the past, with 10, 25 and 50-day averages currently running 5555, 5633 and 5248 respectively. Today's average size was approximately double all those averages. It would be nice to suggest that the single 101K trade skewed the results but 16 of the day's 39 trades were well above all of those averages.
Considered in light of the buy:sell ratio, 80% sells (10, 25 and 50-day averages center around 50%), I'd like to say this looks like a bottom. But knowing the things that are *not* reflected in charts of any kind, I can't reach that conclusion here. We need to see reducing volume and average trade size combined with some sideways price movement to even start looking for this. A daily short sales bottom and turn up is probably needed too.
Adding that to shorts, because they were "sells", gives 43,150 and 30%.
6/13/2012: Copied from the EOD comment.
# Trds: 24, MinTrSz: 500, MaxTrSz: 32940, Vol 96728, AvTrSz: 4030
Min. Pr: 0.3010, Max Pr: 0.3100, VW Avg. Trade Pr: 0.3046
# Buys, Shares: 16 50823, VW Avg Buy Pr: 0.3071
# Sells, Shares: 8 45905, VW Avg Sell Pr: 0.3019
# Unkn, Shares: 0 0, VW Avg Unk. Pr: 0.0000
Buy:Sell 1.11:1, DlyShts 19048, 19.7%
Number of trades, compressed price range, buy:sell ratio, and average trade size all unremarkable considering both what we know about the Mega-C bankruptcy shares potentially coming on the market at some point and the accompanying current sales by some retail folks that are exiting their positions. Daily short sales percentage continues at a reduced level, but not yet at an extreme.
All combined I think no change in trend is suggested yet.
6/12/2012: Just copying comment from the evening.
(NASDAQ:AXPW): EOD
# Trds: 65, MinTrSz: 240, MaxTrSz: 100000, Vol 588233, AvTrSz: 9050
Min. Pr: 0.3052, Max Pr: 0.3250, VW Avg. Trade Pr: 0.3127
# Buys, Shares: 25 163278, VW Avg Buy Pr: 0.3145
# Sells, Shares: 40 424955, VW Avg Sell Pr: 0.3120
# Unkn, Shares: 0 0, VW Avg Unk. Pr: 0.0000
Buy:Sell 1:2.60, DlyShts 136133, 23.1%
With this volume, it won't take long to gobble up 2M shares, even if it's 2:1.
Note that the daily short sale percentage is not going ballistic on us at 23.1%. The 10, 25 and 50-day averages are currently 26.20%, 24.21%, 19.23% respectively. With 72% of trades classified as "sells", this low short sales percentage suggests we apparently have some shares at the market-maker.
Has the broker (or his market-maker) already bought them at some low price? Since there's apparently no effort to manage the price to maximize gain, I suspect so.
So the question becomes "How Low Can You Go?".
I'm waiting, but not just for that reason.
6/11/2012: Yesterday we learned that another 2M shares would likely be pushed into the market by the trustee for the bankruptcy of Mega-C. How much benefit my experimental chart might eventually provide in this scenario is even more questionable under these circumstances.
It appears that effects have begun to show already as buy:sell has been in a deteriorating trend four consecutive days, unusual, and the daily short sale percentage rebounded sharply from 4.6% to 27.1% (10, 25 and 50 day averages are 26.89%, 23.77% and 18.97% respectively), the high, low and VWAP all nose-dived rather than trending sideways for a while as I thought might happen. All this while volume remained low - barely above the 10-day average and below the 25 and 50-day averages.
Further, the buy percentage fell to 41%, below the 10, 25 and 50-day averages of 57%, 52% and 50% respectively.
I had thought that the rising short sales percentage was part of the set-up for a move higher, as it was somewhat matching the patterns preceding and around the 3/19 short sales spike. With this new information in hand I suspect that short sales may not be useful as the shares related to this distribution should (shortly?) be in the hands of a broker that owns a market-maker. If this is so, the sale of these shares might not require a market-maker short sale since the shares can be quickly placed in the market-maker's portfolio. If the broker holding the shares doesn't own a market-maker, there may still be some utility in this factor. We'll have to wait and see if we can tell.
6/8/2012: Interesting day in light of yesterdays action. First I want to touch on the low, $0.324.
The $0.32x prices occurred between 14:28:53 through 14:36:42, an 8 minute period. The total volume was 22K, about 16.8% of the day's total volume.
Prior to that the day's low was $0.335 and subsequent to that the low trade was $0.34. So 83.2% of the day's volume traded at $0.335 or higher. 47,265 (~36%) traded >=$0.335 and less than $0.34 while 61,900 (~47.2%) traded >= $0.34 and <= $0.35.
The price trend had been from high to low - opened at $0.35 and the last few trades prior to the $0.32x trades had trended to $0.339 and then two trades at $0.335.
Given the trading before and after those low prices I think some trader just got panicked and dumped when the two $0.335 trades, which went off 9 and 29 seconds prior, came into view.
Beginning 34 seconds after the last $0.32x trade and ending 2:13 later, we traded $0.3479, $0.34 and $0.3479, totaling 4K shares, to end the day.
All considered, I don't consider this intra-day low to be a factor of consideration when trying to figure "what's next". I realize throwing away data points might be less rigorous but I just can't see those price as significant points of consideration when trying to detect sentiment trends. With the high 5 of the last 6 days being $0.35 and seeing a similar situation 6/4 (similar volume, low, VWAP, worse buy:sell, also a low daily short sales percentage), I expect we'll bounce right back to pushing $0.35 with a narrow price spread just as we did following 6/4's action.
So, when looking at the price chart above, I'm going to consider the price action to be "flat", which seems reasonable with ~83% of the days trade volume going at >= $0.335. Without these trades, our VWAP was $0.3406, rather than the $0.3379 we ended with. This puts us in line with the prior three days - $0.3484, $0.3497, $0.3477.
What about progress in my experimental chart's suggestion that e might have a mini-replication of the pattern of 3/19'2 daily short sales percentage spike?
Well, allowing for the anticipated week delay, we still have a matching low and relatively flat volume, a daily short sales percentage that plummeted the next couple days just like before, average trade size recovering to the "normal" range (and we'd like to see it hold rather bouncing around the way it has recently).
There's some differences: our high has been absolutely flat at $0.35 for 5 days (or short spike was 2 days ago) rather than making an erratic trend higher as happened before. Our VWAP and low was down but if we remove the $0.32x trades, they are relatively flat in trend, just as before.
All considered, the hoped-for correlation between then and now has yet to develop and all I can think is wait and see a bit longer. If it doesn't show quickly, the thought that the short sales spike might suggest a trend up a week or so after will have to be scrapped I think. That wouldn't be surprising to me as I truly believe that it's got to be a combination of characteristics that would provide reliable indicators.
On the traditional TA front, we're still mostly showing neutral except that stochastic is making a run for overbought and those $0.32x trades caused the MFI and ADX stuff to take a turn towards bearish. But Williams %R and accumulation/distribution are still trending bullish. In aggregate, it looks like there's no strong indication yet of trend away, in either direction,
So, as usual we find ourselves in wait mode - looking either for the start of a run up to add or prices so ridiculously below what we believe is a good value that we just have to buy (I'm in that former camp, but a good enough price could bring me over to the other side).
6/7/2012
: Copied from yesterday's EOD comment.
(AXPW) EOD Summary: Phhht!
Details, as if they matter with 13.8K shares traded ...
# Trds: 12, MinTrSz: 300, MaxTrSz: 4400, Vol 13803, AvTrSz: 1150
Min. Pr: 0.3421, Max Pr: 0.3500, VW Avg. Trade Pr: 0.3477
# Buys, Shares: 9 10503, VW Avg Buy Pr: 0.3495
# Sells, Shares: 3 3300, VW Avg Sell Pr: 0.3421
# Unkn, Shares: 0 0, VW Avg Unk. Pr: 0.0000
Buy:Sell 3.18:1, DlyShts 1900, 13.8%
6/6/2012: What caught my eye today was a spike in the daily short sales percentage to 65.4%. This is the highest seen since I began tracking this stuff. The previous high was seen 3/19 at 62.5%. A week later we started a run to the eventual share-price highs on 4/4, 4/13, 4/26 and 4/30 of $0.4599, $0.46, $0.461 and $0.47 respectively. So I looked to see if there were similarities between the period leading to that run and where we are now.
There are lots of similarities, although the magnitudes vary - we maybe be rhyming rather than repeating. Both spikes are preceded by a period of:
very low and rising daily short sales percentage, resulting in a spike;
very low 10-day average daily short sales percentage that began to rise into the spike;
falling and very low volume that began to increase prior to the spike in daily short sales and eventually the prior period moved above the 10 and 25-day average volume shortly after the spike (and the latest period looks to be doing the same);
falling 10 and 25-day average volume - the 10 started a rise prior to the spike;
falling and bottoming average trades size followed by a recovery to a more normal short-term level, although this latest trend is much less stable than the earlier one;
a price fall to a low, the prior period stabilized and we are still waiting to see if this one will do so;
falling 10 and 25-day VWAP; a difference is that in the prior period the 10-day average had started rolling up prior to the short sales percentage spike;
buy:sell ratios generally heavily biased towards the sell side with an extreme reversal to a buy bias on the day of the sort sales percentage spike in the prior period, which had been much less volatile leading into the reversal, while the current period reversed the day prior to the spike and has been less stable in the trend leading to the reversal;
a trend of decreasing sell bias (through visual examination - looks like I need to add some moving averages).
On the traditional TA front, we have a very short-term ascending triangle developing after dropping, apparently, to a lower trading range. On a longer time-frame Bulkowski says this breaks upward 70% of the time. I can't say if this will hold on a very short time-frame pattern. There is a long-term rising triangle that may affect this but we are not far enough along it (~62% of the lateral duration) to expect a break either way on that one.
Oscillators have all left oversold and the stochastic has gone to the bullish side as the others hold in a neutral attitude ATM.
All told, I believe we are close to moving to and above the $0.37 area shortly if my experimental data is valid.
6/5/2012: A pretty good day. Early traditional TA indicators suggests we are now making another move to challenge the $0.37 level. But it is early. Other than that, my comments last evening detail my thoughts.6/4/2012: For some reason FINRA reports 1K fewer shares traded than the ADVFN "Trades" screen. The ADVFN number and details are confirmed by Etrade "Time & Sales" panel. The effect is minimal on calculated results, so we can ignore this discrepancy.
Other than that, my thoughts are contained in my comment.
5/31-6/01/2012: Not much to add from 5/30. Volume continues to fall, price continues to compress, daily short sales percentage continues to fall. The bulk of my thoughts are in this comment.
5/30/2012: Average trade size spiked to 10,538 today. However, 80K was a single trade. If we remove that trade the average was 8,608, a still-robust number. That trade was also a buy and removing it would bring the buy:sell from 1.59:1 to 1.06:1. The VWAP would move from $0.3488 to $0.3484, inconsequential.
In the following, I'm ignoring the effect of the skewing caused by the single large trade seen - keep in mind that without that trade the average size is about 20% smaller, but it's still a robust trade size.
Of note is the last time we had trade-size spike like this, 5/16, we ended a trend down. We proceeded sideways in the $0.33-$0.36 range, where we reside today. Following the prior spike on 4/26, we saw a week or so of slightly higher prices before entering a long down trend. Another previous smaller spike was shortly after the share issue so I don't believe I can make any comment about it's contribution to what might be ascertained from it, other than to say we moved down and traded sideways during the next two weeks and then began a noticeable move up over the next couple of weeks.
We continue to observe a compressed spread between the daily high, low and VWAP. There seems to be a decent amount of support in the $0.33x range, which I had believed we wouldn't see after 5/18. I guess there's either some general market fear causing folks to exit positions or there's still some "flippers" from the February share issue exiting their positions.
I've been trying to add at these $0.33x levels, but have so far been unsuccessful. This attempt is driven by the belief that there is very little downside risk at these levels while there's lots of upside potential.
5/29/2012: Most everything I want to say today is in this comment, which you've likely seen if you follow the APH concentrators.
5/25/2012: Volume getting lower again, in a classic case of consolidation near ending, while the 10 and 25-day average volumes are flat to slightly increasing. The daily short sales percentage remains in the normal range but dropping over the last two days, suggesting that the weak hands I suggested wouldn't take long to exhaust may be near exhaustion. Why do I draw this conclusion? As price deteriorated over the last week and a half or so the short sales were ~15% or less. As the bottom was hit the last holdouts put in the sell orders, which market-makers immediately short. So I think the volume, price and short sales action indicate that the weaker hands are about gone. The remaining longs that might have an interest in selling are likely holding out for a higher price now.
This seems supported by the daily short sales dropping the last two days, suggesting that fewer sell orders are entering the market-maker system.
Because I believe there is good buying interest, especially at these depressed prices, I still think down risk is minimal.
Further, if the admittedly limited set of data I've collected so far has any validity, the compression of the high, low and VWAP range supports this. Average trade size meandering around the upper side of its mid-range seems to support this as well. We came off a low in that metric to stabilize here and that is one of the things that seems to occur as price stabilizes in a range and then moves, in this case up. But some time may pass while this plays out.
As before, I believe purchases in these ranges have minimal down-side risk.
5/24/2012: Not a bad day. Reasonable volume, higher close and price trended up a bit after the initial opening low-ball trades. We didn't have the volume surge higher later in the day, but the average trade size remained in the higher range of what has been normal and the VWAP increased a quarter penny.
On top of that, the daily short sales stayed in the range of what I used to consider normal. For some reason, we seem to need this in order to have price movement. Based on what the chart shows, when we don't have a "decent" percentage price doesn't move much. When we do get there's price movement and it can be either up or down. We need to see if we can figure why this is - I've some ideas I've been mulling, but I've not firmed my feelings about them yet
I suspect that for one direction, up, the market maker receives orders from a "larger" client for sell at a price higher than current. To accommodate the order the price must be walked up to a point, that on average, will allow short sales to be at a price at or above the price the larger client wants.
For the down direction, I suspect the market maker has received an order from a larger client to buy at a price below current market price range. In this case the price must be walked down, with the market maker accumulating shares at a price average below what the customer has specified.
I think if neither of these two conditions are extant, the markets do what they will with little "guidance" by the market makers.
With these thoughts in mind, we can surmise that price is being driven by a larger seller. The market maker needs price to move up and needs to draw buyers in so that he can short sell the shares related to his customer orders.
One thing to keep in mind is that inter-broker and intra-broker trades can go off that get reported but bypass the market-maker. So it's still possible to see volumes and prices without market-maker involvement. I suspect that this is less common on our penny stocks than it might be on a major exchange for a very liquid equity. I know it happens frequently with (NASDAQ:CPST).
This weekend I think I'll start looking at some monthly short sales tapes to see if I can find sufficient information to support or discredit this scenario.
I'll quit here as there's not much more of note.
5/23/2012: Well, yesterday I said I thought $0.37 was possible. Got $0.3698 early in the day. Close enough for "gummit work" I guess.
First, a couple of traditional TA things ...
Today presented some positive signs. First we had higher highs and lower lows (i.e. a bigger price spread). This is a common symptom of a change coming as traders and investors are uncertain of trend. This is reinforced by what seems to be a volume spike - 3.35 times yesterday's volume and 43.4% above yesterday's 25-day average (~336K), which included the 2.35M volume of 4/26. Such a spike often indicates the end of a trend, in this case down, is here or near (to my heart! :-)p
Any support for this? Yep! Although it very short-term and early in the pattern development, our high and low start a rising channel from the high and low of 5/17. Of course it is too early to say the channel is defined and strong, but every pattern starts somewhere. The slope is +$0.01 over four days. Heh! For us, that's pretty darn strong movement! :-))
So, with foolish confidence, I think we see at least $0.37 today as a high and $0.3425 as a rough approximation of the low. But to call a low that close is stupid, (pick me, pick me teacher!), so it should be ignored. A close at or above $0.37 would be desirable, but overly optimistic this early in the trend, IMO.
None of the other oscillators have changed much since the MFI left oversold.
BTW, I suspect some late-day manipulation to keep the reported close at $0.3501. If that's true, I see the real close at $0.355. My suspicion, due to changes in trading profile, is that the market-maker is servicing a client that wants to accumulate, Briefly, this POV is suggested by the change from a profile of open high and trend lower throughout the day to a profile of open weaker and then finish on higher price and volume in the latter part of the day. This suggests to me the market-maker is holding price down and accumulating during the early part of the day and then completing a received buy order at a higher price later in the day. We can't count on this as a trend though - we don't know the size of the order(s) being satisfied nor how long it will take to complete it (them).
On my experimental intra-day data and charts, I think there is support for the above down-trend ending, and even a possible short-term move up.
Daily short sales have moved back into more normal levels. The 10 and 25-day volume averages are rising and above the 50-day average volume. There's an early indication that the VWAP has indeed bottomed out and might establish a continuing uptrend. Average trade size looks like it's stabilizing and the buy:sell ratio is much less bearish (biased towards selling pressure).
5/22/2012: Had some AH trades which do not appear in the FINRA data. They were "sells" and I have allocated their volume, 11K, to short volume. Without that adjustment, short sales would still be to the low side at ~18%. However, recently I'm suspecting this may be the new normal. But it's too early to make that determination and this may be the new "high" range.
Some early positive signs are developing. The first is that the daily short sales percentages are returning to a more normal range, 30% now, over these last three days. The last two of these days the VWAP has not only been moving up, but moving up faster than the highs. Adding in the continued reduction in the average trade size and two consecutive days of a strong buy:sell ratio gives me a strong sense that we have, indeed, bottomed out.
Another indicator I think is a good indicator is the continued reduction in the average trade size. Why do I think this might be good when I have such a limited set of data so far? Well, first is that in that limited set it can be seen that when trade size comes off an extreme high size into a more normal range the price tends to stabilize. Moreover, when it gets really small and hits its nadir and starts moving up for an extended period to a high value, we get large price moves.
Combining some stuff, an apparently bottomed price that has started to move up supported by a two-day good buy:sell ratio with reducing trade sizes leads me to think of a push/pull scenario.
ISTM that when the conditions exist that drive price lower, we have a push scenario where holders of shares want to exit and push shares into the market. In the converse situation the sellers at a given price are loathe to dispense those shares until buyers start offering more attractive prices - right in line with John Petersen's supply/demand thoughts. Here we have a pull scenario. The buyers are sucking the shares out of the hands of potential sellers with higher bid prices. The great thing, ISTM is this creates a vacuum that must be filled.
As long as the sellers at the current bid levels are loathe to surrender their shares, the vacuum should pull more buyers in to "fill the void". As we all know, nature abhors a vacuum! So I think this is why the combinations I mention above appear. They are the symptoms of a vacuum created by stronger hands being in control of the shares available to the marketplace. JP has touched on this aspect many times, summarized by his assertion that once a holder sells he is irrelevant.
Anyway, this tends to give me some hope that what I'm seeing is the start of what I've mentioned before - a long slow steady grind upward. This is much more attractive to me than a sudden pop as it suggests that the holders are, indeed, strong hands and that buying pressure will not be exhausted in a single explosive move that puts everyone on both sides at bay waiting to see what happens next.
I believe that a long steady move engenders greater confidence in both buyers and sellers that the trend is sustainable. This results in a virtuous feedback cycle wherein the belief reinforces the action which reinforces the belief... A pop doesn't not provide this.
5/21/2012: Very narrow range (one-penny spread), slightly falling volume, range moved back above a falling trend support penetrated Friday, and stayed at or above Friday's close all day and closed "flat".
These suggest the down move is over and some kind of change is in progress - flat or up.
More positive indications include a return of daily short sales to more normal ranges. I think this means the market-makers are no longer long in their portfolio or "back-channel (inter/intra-broker) trades are falling off.
An important, I think, indicator from my charts is that the high, low and VWAP are all close together with the average trades size back into our previous normal range. Moreover, it looks like the average trade size may be trying to move up (but it's very early yet, so don't give it too much weight yet). In the limited data I have so far, it appears that a combination of closely spaced price points combined with average trade size moving smartly up heralds a decent move upwards.
I'm not expecting a sudden burst here, rather a possible short pause followed by the start of a move up towards $0.37, which might offer good resistance for at least a few days (unless the near-term sellers in that price range are exhausted already) and then a move into the $0.40-$0.42 range, for another "pause that refreshes".
5/18/2012: Added some volume and short sales data. No other comments at this time.
5/17/2012: As I expected, the fall in prices continued today and it was on "good" volume, although lower from yesterday. The 10-day average VWAP also crossed below the 50-day average. Considering price action, volume, the TA charts, etc., I think another down day is in store. However, it's common for big moves in either direction to abate after three days and a pause or reversal beginning a reversion to the mean is quite common. This may be supported by what I note in the next two paragraphs.
There's a potential minor support point at $0.35, where we closed yesterday, but it doesn't appear strong to me. However, the intra-day action did break below $0.35 around 12:25, bottomed at $0.34 at 12:40 and centered around the $0.35 area for the rest of the day with excursions to $0.34 and $0.36 thrown in.
It's also interesting that we have a potential support demarcated by a falling trend line originating at the low of 2/1 ($0.38 when the share issue was announced) and touching the lows of 3/2-3/9 (~$0.37). This line is right at the low of yesterday, $0.34. So a bounce is possible. But with the volume and price action being what they are, I think we at least penetrate this level before any bounce occurs. To overshoot such a line by a penny or two is not unusual at all.
A support area that seems to offer greater chance of holding is in the $0.30-$0.31 area.
The daily short sales moved to a lower range again yesterday, although not to the extremes seen recently. There were either a lot of shares held at brokerage accounts that had market-making arms or lots of shares flowing into market-makers from prior sell orders (assuming the weren't netted out at the DTCC, which I don't know). During periods when the daily short sales percentage has been very low there seems to be a tendency for price to stabilize.
If looking to add, a bid in the $0.30-$0.31 range seems very save as the apparent down-side risk seems to be at $0.25. This seems highly unlikely as it was hit during the selling that occurred in December when selling by Quercus and SS and tax-loss selling (my SWAG) were all going on at the same time. Possibly Black Rock too.
If you really want to add and have a better chance of filling, I suggest $0.33 is a price likely to be seen.
All the above is, of course, very iffy as there's likely a lot of long-term investors that see the current price levels as very attractive. If that's correct and they decide to make their move at these levels, we may not see any lower price.
5/16/2012: A very unusual occurrence today was that we had pre-market trades. Seven were 5K at $0.39 and two were 5K at $0.395. Adding these 45K shares to the FINRA-reported daily short sales bumps the day's total to 616819. Including them in the sort sales (raising that to 283,018) would put the short sales percentage at ~45.9%.
If John Petersen is right that high short sales indicate certificate holders selling, I guess Quercus is back in. If the 45K pre-market sales were Quercus shares (and there's nothing suggesting they were) they would represent ~7.9% of the market-hours shares traded. AFAIK though, based on JP's suggestions and my own observations, the market-maker apparently takes action late in the day for those shares by either buying to cover shares shorted during the day or selling short. This latter scenario seems likely as from right around 15:00 through the end of the day the "sells" were 58K, just a tad over the 10% of the days volume (excluding those shares) figure calculated to be at ~56K. Further, they were near the mid-to-lower price range for the day, averaging $0.3793. The VWAP for the day was $0.3844. Trying to use "buys" if the market-maker was covering prior short sales was fruitless as no late-day combination of shares traded came up near a 10% of the day's total, excluding guessed-at short sales.
My guess is that about 58K were sold.
On the charting front, it looks like the 10-day VWAP will cross below the 25-day average today. Both are trending lower while the 50-day is still trending up. The average trade size was very large at 8,224 with the VWAP being $0.3844. The trade size was skewed by a 100K share trade. Without this trade, it would still have been much higher than normal at 6984.
Including all considerations my conclusion, which will surprise no one, is that folks are exiting their positions rapidly, expecting further price erosion.
On the traditional TA front, the volume suggests at least one more day of down or flat. This is supported by the status of the various oscillators. A previous strong support area exists at the $0.37 area though, so maybe we'll hold there. As we broke through there yesterday we immediately came back above it. If some big seller isn't busy just dumping as he can, I think chances are good we will stay at or above that area.
5/15/2012: market didn't like the CC. Buy:sell reversed course and VWAP dropped big on an average order size nearer the high side of our typical range. Volume approximately doubled over the prior two days. We broke below $0.40, going as low as $0.37 and closing at $0.3801. Daily short sales stayed pretty much in the same range as before the conference call.
If behavior follows typical patterns, we shouldn't see any recovery for at least three days and do stand a chance of seeing further price deterioration.
Since I'm long-term oriented, with only a couple relatively small trading blocks, I'm looking for buying opportunities In spite of the reaction by folks that must have a shorter time-horizon than I, my feeling is still that any price below $0.42 is a good buy. This is based on my suspected time-frames for intermediate and longer-term price activity that will result from catalysts as various initiatives progress over time.
5/11/2012: Not really much changing as yet, although volume came back Friday with a double of Thursday's volume. The high/low spread remains very narrow, the VWAP remains right in the range it has been in. The 10 and 25-day moving averages are flattening, a slight improvement from the very mild downtrend that had developed.
With release of results Monday and the CC Tuesday, I expect we might see some changes in trend develop.
5/10/2012: There were zero daily short sales reported by FINRA. This is a very infrequent occurrence. The high and low keeps on creeping lower, overall, along with a trend of falling volume. On 4/25, before a big volume spike (4/26, 2.35M), the 10-day average was 204.5K and as of 5/10 it was 195.74K. For the same dates the 25-day averages were 246K and ~281K respectively. Note this latter figure includes the 2.35M volume spike.
I've taken a page from John Petersen, in an attempt to smooth out the noise a bit and add some potentially useful indications, by adding 10, 25 and 50 day VWAP SMAs. When I've got 100 days (I've got that, but I've cut off at 2/6 when the share issue effects started to abate), I'll add that as well.
The 10-day SMA has crossed below the 25-day SMA and both are trending down.
5/8/2012: With WVAP, average trade size, high and low all below trend and traditional TA displaying a descending short-term triangle, which breaks down ~60% of the time per Bulkowski, I expect we'll see $0.40 today. I expect support to be demonstrated there, but with the reduced average trade size having been in a down trend for some time, suggesting either the market-makers having to work harder to fill larger orders or a predominance of retail trading, the support might break down relatively quickly (over just a few days?).
OTOH, I've beat the drum for a long time that any price below $0.42 was a good entry or add point. Doesn't seem to have helped much recently, but maybe at $0.40 we see some believers come in strongly. This might be encouraged or discouraged by the 10 and 20-day SMA, $0.4258 and $0.4266 respectively while the 50-day SMA is at $0.4111. The low has been holding above that 50-day.
TA oscillators are mostly bearish - a couple in oversold - with only the MFI, which reacts more quickly than the others, showing any curling up. It's still below neutral though and tends to reflect the buy:sell ratio behavior averaged over 9 days.
4/30/2012: Pretty much "normal" day in that we started off with the best prices of the day early ($0.47 & $0.4699) in the first 11 minutes and trended down to as low as $0.43xx by 9:54 and stayed mostly between there and $0.45 the rest of the day before closing at $0.4399.
Notice the daily short sales percentage is again very low. Seeing this for an extended period suggests that there has been some fundamental change in the share flow. Either most trades are being funneled directly from their owning brokers to their market-makers (avoiding the need for short sales), there are more inter/intra-broker trades being done or the shares from prior daily market-maker short sales are not being netted out by the DTCC. In this last case, the implies that the market-makers are taking the incoming shares backing prior sell and buy orders and releasing them into the market at additional profit.
This would be completely contrary to what John thought was happening (and what I never could be sure of). I have some confidence that the change in behavior has occurred because of the change in average trade size suggests larger players might be here. It has lasted beyond the Quercus selling periods. Some representative average trades sizes 4/16 through 4/30 follow. Prior to this period I would say we ran mid 3K to high 4K, on average.
4971, 4652, 6517, 5936, 2640, 5589, 4611, 6000, 8950, 4382, 7367
4/27/2012: Back-fill through 2/8 completed and a potential pattern relating to minimum and VWAP with trade size may have begun to emerge. Whether this is, or will become, an indicator we can use will be left open to discussion (the more eyeballs the better) and time. My early assessment is that if the pattern is indeed indicative of future behavior, we'll see prices moving lower again and likely break below $0.40 at some point in the near future - maybe a week or less? This seems supported by the continued very low daily short sales percentage. All told though, I need to see what the trade sizes and low and VWAP does today to gain confidence that we may have a valid indicator.
4/26/2012: Today we got a press release, Axion Power Receives Initial Norfolk Southern Order for PbC® Batteries. This caused huge volume with a wide price range. But instead of having a big sustained pop, the price trended back towards its recent range.
I had suspected that we had some larger sellers in the market, as mentioned elsewhere yesterday, primarily based on the trend of the daily short sales, volume and price action recently. Look at the percentages 4/17 through 4/25. when they are this low I think we have one or more of the following going on: shares flowing into the market-makers' portfolios from prior sell orders allowing sales without shorting; shares available from the customers of the brokers owning the market-makers being sold; inter/intra-broker trades in negotiated trades that bypass the market-makers.
Regardless of which scenarios are in play, the very low daily short sales have suggested little price movement, to me, in the past. Combining this with the gravitation towards the recent range around $0.42 seen today, after hitting highs in the $0.46 range, seems to confirm a comment I made elsewhere that the selling was already in place before we got the news. Today just offered higher price and volume to let those that were apparently in sell mode benefit from price and get a quicker exit from their positions.
However, some that were ready to sell apparently panicked as we saw a trade as low as $0.40. With volume what it was and price so volatile, I believe we'll see price stay low again today because I think the selling is not over. This is now looking more like the folks that bought the shares issued 2/1 were not the strong hands we had hoped they might be.
All this seems supported by both the still-high buy:sell ratio (see the chart) and the daily short sales from yesterdays action. Note that as volume went up 6.6 times the prior day, short sales went up ~7 times the prior day's volume. But the percentage barely moved. This does suggest that both the inter/intra-broker trades were in play and new sell orders were flowing in to take advantage of the price and volume.
It'll likely take a few days for things to stabilize before we can see what trend develops. With luck, there's lots of new buyers that will have buying incentive from the NSC news who are smart enough to wait for stable behavior and then start buying. This may provide two benefits: an opportunity to current holders looking to fill out their positions at what must be seen, now, as very attractive price (possibly even lower than $0.40?); an opportunity for new investors to enter at a still attractive price with a more stable path forward being seen. This should reduce the angst, and therefore the impetus to exit, leading to a more stable price appreciation path over the long term most of us are pursuing.
4/25/2012: Two days update included today. Pay attention to the recent short sales percentage trend in conjunction with HLC in the FINRA daily short sales data below. Note the very low short sales percentage and volumes. This tends to suggest lack of price movement when the percentage is far from the approximately 36% long-term average.
Apparently we can no longer count on an after-hours trade to signal that Quercus is selling.
The morning of 4/26/2012 a press release announced an initial P.O. from Norfolk Southern for an aggregate $475K.
More data backfill - we now get back through 3/8/2012. As this has been done, the correlation between the trend lines and prices has slowly improved.
Ignoring this mornings positive PR, I would still be thinking we are in a sideways grind with a narrow price spread even though volume has gotten volatile the last few days.
Note the buy:sell ratio leans towards the sell side as prices are moved by the market-maker. This reinforces my view that the market-makers are servicing some larger customers by putting price range where it is attractive for them to sell. It seems the bottom-feeding mentality is not the ruling force right now, so there is some possibility of price appreciation, especially if the P.R. from this morning has immediate effect.
Yesterday we had what I believe was market-maker manipulation to support some larger customers. The daily high was set at the open on a 100-share trade at $0.4498. That was never seen again. The real high of the day was at $0.44 on a 5K trade at 11:06:20.
Generally, the intra-day volume-weighted average selling price is still within a weakening trend, as are the highs while the lows seem to have flattened, at least for the near-term.
4/23/2012: Volume, along with daily short sales reported from FINRA, began to come back today as the trend of the high price remained capped at $0.43 recently and the low prices continue to trend lower, albeit in micro-increments. The buy:sell assignment weakened from yesterday's (see the following short sales summation).
With no after-hours trade yesterday, I can't ascertain if Quercus is/was in the market. With today's volume it would have been an excellent time for them to get a larger sell done.
On the traditional TA front, oscillators continue at neutral or trending slightly towards increased weakness.
I'm maintaining my view that we are in consolidation in a range (sometimes called basing) with a two or three cent range, maximum, for the near-term. However, I believe the near-term bias is for lower highs and lows with $0.43 becoming a less-frequent high and the lows continuing lower. I'm thinking that $0.39 is becoming more and more likely.
I wish I knew where the selling was coming from. I wouldn't think that folks that bought the 2/1 share issuance and hadn't sold at higher prices shortly after the issue would be selling now. I can only guess that some short-term (momentum?) traders that bought near the nadirs of 3/1-3/26 are getting out. If this is the case, we should see volume collapse again.
Last, the volume-weighted average selling price continues to diverge below the rising trend line. However, even with a couple more days of back-fill the correlation is not yet strong so we can't rely heavily on what the trend line shows.
We can rely on what the falling daily average trade price shows though because even with the volume coming in the average price weakened further.
4/20/2012: As of EOD Friday 4/20, the combination of month-long trend of falling average trade size with rising prices (volume weighted, minimum and maximum) and a recent (one week ended 4/20) trend lower of the volume-weighted average trade price along with the highs and lows, contrary to prior trend, makes me think that a move lower may be in the offing.
The market maker is having to work harder (if involved at all) to get any trades done. We may have predominately smaller retail investors making most of the trades the last few days. There doesn't seem to be any large players in ATM.
The FINRA daily shorts sales by the market-makers are not showing strength (normal should be around 36% or so) and the buy:sell can't be viewed too favorably with volumes as low as they are the last few days.
The rest of this, through the notes for the daily FINRA short sales data, will float up to remain immediately following the latest commentary as it is added.
In most cases when an after-hours trade was seen the early trading the next day tended to have most volume at or above the price of the after-hours price. With the suggestion from John Petersen, we came to observe that the after-hour trade seems a fairly reliable indicator that Quercus has sold some shares to the market-maker, in a quantity of approximately 10% of the volume seen during the day.
Disclosure: I am long AXPW.