I've never done one of these blog things, so I thought I'd let my curiosity run rampant for a few minutes today. It turns out it's a better way to keep notes on stuff of interest to me. I think I'll continue this.
I'm really new at investing/trading, so keep that in mind.
This blog is primarily for myself. If you decide to place any weight on what I've posted, remember that I'm a really new investor/trader and just starting the long learning curve. For me, this is just a "stream-of-concio... note-keeping tool.
IT'S NOT INTENDED FOR PUBLIC CONSUMPTION! BUT PERUSE IT AS YOU SEE FIT.
Since I'm new at all this, these will be simple presentations. Later I may follow my urge to do something more sophisticated.
To find a particular thing, like a date, use your browse's search facility.
Whenever I add something, there will be a "SUMMARY UPDATE DoyOfWk mm/dd:" entry near the "CHANGE LOG" top.
CHANGE LOG
SUMMARY UPDATE SUNDAY 6/28: Added a chart for 6/26 close of UNG and some other stuff to see if I can see any kind of pattern that reliably predicts trands near last trading day. Even if I think I see something, will need to be cautious because volumes and volatility is so unusual the last couple of months.
Use you search capability to look for 6/28 below and go right to the stuff near the end.
SUMMARY UPDATE Saturday 6/20: Won't be updating really, but I had to note this article that discusses UNG vs. others like USO or FCG and this comment by AndrewBaker seekingalpha.com/user/329934/comment/555384
SUMMARY UPDATE Wednesday 6/17: Looks useful? Hao Jin's "Is Natural Gas a Long-Term Investment?" and another seekingalpha.com/article/143656-tyler-cowen-s-thoughts-on-america-s-energy-policy and another seekingalpha.com/article/143498-will-oil-continue-its-rise and another omrpublic.iea.org/ (I'll clean up the links to be more descriptive later).
SUMMARY UPDATE Tuesday, 6/16: Haven't updated previous days yet, but have to go get 6-month teeth cleaning today. POTENTIAL CATALYST found today here Michael Fitzsimmons - H.R. 1835: Legislation for Natural Gas Transportation.
It's an April 5, 2009 article. Need to follow up on this to see if it's going anywhere, as well as update previous days commentary.
There has been some discussion, and uncertainty about the traditional relationship twixt oil and natural gas. It has been determined that the traditional ratio has disintegrated. This chart, from StockCharts.com, demonstrates it. I think my 18:1 ration is probably alright for now, but may need further update. Oil may come down, but NG is not going up anytime soon.
P.S. Have to laugh as the "Fast Money" folks complained that NG rolled over and they had to get out! As if *we* didn't know it would do this!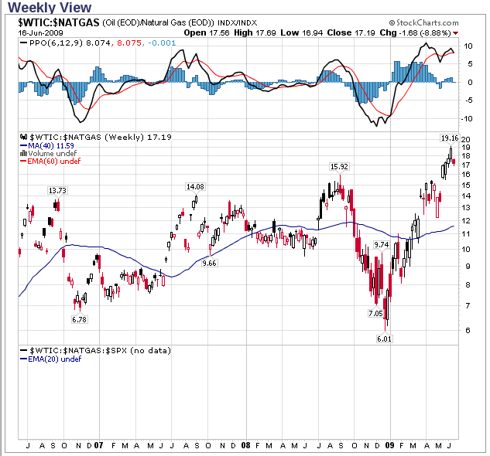 Another article William Smead's "Don't Believe This Rally in Oil" believes that the oil price rise is overdone and will come back down, sooner or later. If correct, and it does match my bias, the traditional price-ratio should leave the 18-19 range and go towards something nearer the long term average via an oil-down, not natural-gas-up, mechanism.
SUMMARY UPDATE Monday, 6/15: Found an interesting article to day about a potential shortage of UNG available for issuance. I'm unsure exactly how this might affect the prices of UNG. Since it is stated it is only available a couple days from Dow-Jones News Service, I took a snapshot so it will be available for those who may be able to help me understand the potential impact. I'll put it at the end with a general update for today - it looks like this will be an interesting day.
Another thing that was mentioned in one of the comments I've referenced previously was that the UNG prices were being manipulated by futures traders. This was easy to do because they know that UNG will roll 100% of its contracts and when they will do so. It seems that we may be able to identify a pattern useful for predictive purposes, if this is so. One might think that such was an obvious normal occurrence. Regardless, I've put a link to the expiration dates and related data in the update for today near the end.
SUMMARY UPDATE Sunday, 6/14: Another gem found today, James Bibbings "Oil's Running - How Strong Are It's Legs?" Although not NG-related directly, it predicts a retracement in oil prices, which should (by conventianal wisdom anyway) put pressure on NG and, therefore, UNG.
In support of the "green weeds" corollary of the "green shoots" theorem, saw this post today "Mortgage Delinquencies as a Percentage of Loans by Richard Shaw",  The Proof That There Are No 'Green Shoots' by Karl Denninger and Green Shoots Are Parched by Tom Lindmark.
The tidbit of note from Richard Shaw's piece was "Prime loan delinquencies rose to 6.06% from 5.06% one quarter ago, a significant and disturbing increase from a group of borrowers that aren't expected to default".
This is the first statistical support of an assertion I saw previously that defaults had spread to prime borrowers. This implies that, indeed, we have not begun a real recovery. By inference, certain consumer-driven actions that would increase NG demand are forestalled even more.
Karl's piece was a presentation of the math to demonstrates that the Fed's  ZIRF/QE policies have failed to hold mortgage rates down and that this, when combined with ARM resets, eliminate the possibility of recovery in the commonly projected time-frames.
Lindmark's piece drew on the "Beige Book" to support his thesis. But check the comments from Thiazole. He post URLs that he says support "shoots", not "weeds".
SUMMARY UPDATE Saturday, 6/13: Got some interesting comments today off an SA article. Investigate how these integrate with what we've observed. The first, tunaman4u2's comment to "Time to Go Long Natural Gas and Short Oil?", asserting manipulation, deserves investigation.  Woolyboogur's comment in the same article provides some useful information about energy content vs. price of oil and NG.
I've added a detail section below to track what I find about these things.
SUMMARY UPDATE Friday, 6/12: Figured I'd get ahead of the curve today, so started early. First, $ index up at 07:49 to 80.326, +$0.916, a slight weakening from 07:45 at $8.336 and still weakening at 08:05 to $80.219. Oil -$1.39 to $71.29, gold -$14.70 to $937.40, NG front-month at $3.933 (+$0.225) from last night at 18:12, all but three basic commodities sectors going negative at 08:00. After Market Update: $ index $80.142, +$0.732. Oil $72.13, -$0.55. Gold $$939.80, -$22.22. NG front-month $3.857, -$0.076. Heard commentary during the day that the energy/tech was "overpopulated" and everybody was jumping ship. As a result, health care and utilities finished up strong, consumer/non-cyclical and capital goods up a bit and all other sectors down.
On the UNG charting front, even though %K crossed up over %D in the stochastic, I believe it is purely result of the volume of the recent price action overwhelming the slower indicator. RSI, MACD, MFI all still "neutral", although MACD is slightly to the negative it indicates a cross up (due to the same volume factor I just mentioned I think). A/D still out of its mind at 223+. After Market Update:Indicators have very small incremental changes, but all their trends remain in place. Nothing to add to that here.
So, what will happen today? Well, yesterday we said either another UNG up day, but with lower volume or another down day with higher or similar volume. After Market Update:Finished down, but on lower volume - only 55.17MM shares. This puts the volume in-line with the six days preceding yesterdays huge volume. A return to the "new normalcy"?
Today's bet: UNG down on similar or higher volume. May try to break above the $15.50 resistance, intra-day. If it does, then we re-assess. But with weaker oil, $ up a bit still, basic materials down, ... I still expect it to trend down. Should be "in the know" by about 10:45-11:00. After Market Update: At 11:40 it finished a charge up to $14.80, but couldn't sustain the assault on the $15.50 resistance. Thereafter it zig-zagged to the close, getting down to $14.46 at 14:14. Closed at $14.67, -$0.13.
At todays open 2.62MM shares trade, a major increase from normal (.6-1MM shares appx.). I believe this means that we may not see as many or as large intra-day 1 minute volume spikes as we've seen previously. But at 11:00 (.23 of the trading day) we had seen 23.2MM shares so we could see 100MM if that .23 ratio predicts the rest of the day. With yesterday's 96.388MM shares trade, if the pattern of big-volume-up-day followed by slightly-higher-volume... holds, it's not out of reason. But I think I'll bet on around 97-98 MM shares traded. After Market Update:Volume for the day ended more in line with the 6 days preceding yesterday's huge volume.
We commonly see a large volume trade right at the close.Yesterday 2MM. Being Friday, not seeing the morning intra-day spikes around the 10:45 time, hard to tell how it will play out. After Market Update:we did see an anemic EOD spike - only 544.6K shares. Further, the number of intra-day 1-minute spikes were fewer and weaker.
After Market Conclusion: $ strength and sector-rotation are playing the key rolls here. With sector-rotation apparently occurring, I expect to see further weakening in NG/UNG and oil next week unless the dollar weakens. So, near-term outlook for NG/UNG unchanged. My suspicion that UNG resistance may have moved to $15.00 is reinforced by todays action. Of course it is Friday and the dollar is flaky right now, so don't get too confident that this holds.
SUMMARY UPDATE Thursday, 6/11: Interesting day. Dollar continuing to slide, EIA reported and some commentary and news chipped in. There's enough going on to justify an add-on at the end. So All the details are at the end. As a summary, Henry Hub front-month +$0.225 to $3.933 and Aug->Oct futures all improved about $0.25 as well. But still only $5 for November. UNG spiked big, nearing my $15.50 resistance, and then settled back closing at $14.29, +$0.75. HUGE VOLUME - THE BIGGEST SO FAR ON THE 200 DAY CHART!
SUMMARY UPDATE Wednesday, 6/10: Well, my guess yesterday about UNG was right... dinner time now, back later or tomorrow A.M. Dollar down to $80.329. Strangely, the commodities were not roaring up as they had previously, but for oil. Gold essentially flat for the day. However, NG continued it's inexorable slide down, closing front-month at $3.731 on volume of 119.1K contracts.
This puts a 19.33:1 ratio for NG/oil, well off the normal 18:1.
BTW, both crude and gasoline stocks had unexpected drawdowns. Why are they unexpected? Everyone knows that JPM and many others are storing oil in off-shore tankers awaiting higher prices. For some reason the market sees the drawdown as a problem and start trading higher. You know that when JPM et al see the price they want, we'll have an "unexpected rise" (or less-than-expected drawdown). And GS has tons of high-priced futures - they'll be doing their part to drive the price (called for $85 this year, $95 next).
On the UNG front, it closed at $14.04, down another $0.13. Volume was huge - the 4th highest in 200 days - at 64.3MM shares traded. The really disturbing thing is that the down day volumes are increasing while the big-volume up days have not shown increased volume.
BAD JU-JU HERE!
It is now trading below all four SMAs, 200/100/50/20. The RSI and MFI are both again weaker, 44.1 and 35.7 respectively. MACD signal is negative and MACD line is below that, -.15 and -.24 respectively. Maye A/D is irrelevant now - still showing strong accumulation - although it finally looks like it may rollover. It's "down" to +208.2, a very large number.
A concern of which I became aware recently is the action in the treasury bonds. From the chatter on the tube, rising treasury yields imply more than just inflation. It seems that it also indicates a fear of increased risk of default, weakening or aborted recovery in the economy, etc. Why? Well one reason is there is a direct effect on mortgage rates. While the Fed is trying force rates down, the rates are rising. This implies an inability of the Fed to cause further beneficial effects. Rates already at 0, QE done (although the $ is just sitting on the bank's balances, improving their capitalization) and what else can the Fed do to kisk-start the housing, considered an important of the recovery effort.
This then has teh effect of keeping the market from breaking higher, implies continued commodity deflation, etc. So NG and UNG are under even more pressure than that provided by oversupply. It means that the near/intermediate outlook for (rising) demand may not be enough to offset even the anticipated reduction in supply as more shut-ins occur.
GREEN SHOOTS? I'm not optimistic, but at least UNG hasn't touched support again, like it did last Thursday, 6/4 (low of $13.40). It looks like it may be trying to make a "broadening bottom". If it succeeds, there is hope for the upside. BUT (don't you just hate "big buts"? pun intended ;-) EIA report comes out tomorrow, fundamentals of the economy still no good, dollar weakening again in early-morning trade, Thursday 6/11, etc.
Still, the stochastic %K/%D, currently 31.4/39.8, looks to be narrowing. But it's too early to tell if they may cross.
My take-away "green shoots" are only 2: a) that a foolish optimism may surface in those that are only chartists and provide a trade opportunityand b) JPM, GS, et al will succeed and there may still be enough linkage twixt oil and gas to drag it up too, another trading only opportunity. But it'll need to be a quick in with tight stops (probably$1_ on UNG.
The EIA report may be critical. If we see a surge in shut-in wells, then there is room for price improvement down the road in NG/UNG. I'll keep an eye on it. Ignoring that, the pattern has been a large volume down followed by a large-volume up. I expect that trend to be broken today unless the EIA report shows that increased shut-in number grows a lot.
Nothing more worth posting, so I've not added anything beyond this point.
SUMMARY UPDATE Tuesday, 6/9: Dollar strength waning again, closed @ $79.78, -.237. NYMEX oil rose, settling at $70.01. Gold +$2.30 to $954, just a "sneeze" compared to common recent moves. So, NG settles at $3.731 on 101495 contracts. UNG had another huge volume day to the upside. 70.85MM shares traded (2nd largest on my 200 day chart, only 72.27 on 6/4 being larger) and finished the day at $14.17 after opening at $14.13. High/Low $14.22/$13.80. Volume throughout the day was consistenly higher than normal and several large (>=.5MM shares) 1 minute periods were seen, most closing down.
I think there is a break coming - can't determine direction yet. But I thought it woud be worth adding some more detail and comments.
Pre-market, NG up 0.125 to $3.856. Looks like another run towards the $4.00 handle is happening.
Two additions below, a new daily and 200 day chart snapshot to demonstrate what we're seeing.
SUMMARY UPDATE Monday, 6/8: I can't believe it! One of the talking heads (somebody important at some sell side house, I guess) said that the traditional ratio of NG to oil price was 18:1 so everybody should by NG now. With oil at $68+, dollar rising, oil prices only rising due to manipulation by GS/JPM et al, we know 2 things: the traditional ratio has broken down (although it aperiodically comes back into range) and oil can't make the stupid target that GS set ($85) as long as demand continues to weaken. The futures that GS/JPM et al hold is stored off-shore for now. but they can't continue it forever if the dollar doesn't weaken substantially again. WIll it?
BTW, NG today at 15:25 is down to $3.747 (below the ~$3.812 that 18:1 would dictate) and UNG is at $14.15, -$0.428. Most commodities are down again today, with the major indexes. Oddly, w/gold down ~$10, GDX ends essentially flat.
UNG opens at $14.12 and finishes at $14.13, high/low $14.31/$13.90. Since Friday closed at $14.58, this was a down day. 52.28MM shares traded, a very high volume (the second highest on the 200 day chart). Other than the abnormally big volume at the open, only to other abnormal volume spikes were seen. The first happened around the time of the talking head assertion (852.27MM closed down) and another at 15:35 of 633.18MM closing up. So overall high volume down for the day, RSI/MFI/MACD trending down, stochastics neutral and A/D trending up. Definitely indecisive. 200/100/50 SMA trending down (as one would expect), 20 SMA above 50 but turning down. I'm betting it heads towards that $13.50 support. NG closed at $3.756, down $0.112.
Of course, if the dollar weakens, driving oil up and NG follows, I'll look like a fool. But recently, NG has not been following, so I may get off without getting my ego crushed, no matter how much it needs it.
No need for another chart or discussion now. So nothing new below this entry.
SUMMARY UPDATE Sunday, 6/7: Reviewing some of the NG related posts from the past, came across, FuturesTrader's Comments in an article by Jim Letourneau: "Natural Gas ETF Jumps on No News - Turning Point?" which details some of the operation of UNG. It has implications I need to think about for both long-term and short-term use. ISTM that it should affect the chart behavior for short-term trading as well as the long-term performance of the fund. He also mentions that trading the futures directly might be a better way to go and there are tax implications. Lots of useful information there.
I need to check on the expiration dates of the futures contracts and look at the chart to see if there is an exploitable relationship there. If it acts like normal options, might be. Google gave a nice hit here NYMEX Natural Gas Futures Information. I'll need to investigate this to see if it might be useful in my situation.
AHA! The June contract last trading day was May 28, the day of the big spikes up. I checked a few months prior and there appears to be a tendancy for a price rise on the last trading date. But it wasn't that consistent. MIght have been affected by external events. I need to investigate further.
A take-away from that comment is that 1) UNG is really nothing more than a long call options play, which means we experience time-decay, and 2) as the UNG rollover from the front-month contract occurs, from a usually lower current price to the next month at a higher price, fewer futures contracts would be "owned". If the UNG shares outstanding stayed the same, the value of each share should be slightly lower, due to the fees, albeit small. Over time the effect would be more noticeable I think. Otherwise, the value of the underlying is the same, just fewer contracts at a higher price.
SUMMARY UPDATE Friday, 6/5: After dollar down/commodities up day on 6/4, dollar index up today and some commodities down again. At NYSE open gold already down $21.40 to bid/ask of $959/$960. Phoney unemployment numbers raise the market. 2 yr bond yields spike up. 2/10 spread narrows as 2yr jumps much higher than 10 year.
This post seekingalpha.com/artic... says the stimulus has not been seen yet.
SUMMARY UPDATE Wednesday, 6/3: added comments about action for 6/2, added Henry Hub futures table from after close 6/2, summary comments on 6/3 action.
SUMMARY UPDATE Tuesday, 6/2: Modified 6/1 summary to mention gaps, added 6/2 summary.
SUMMARY UPDATE Friday, 6/5: After dollar down/commodities up on 6/4, dollar index up again today and most commodities down again. At NYSE open gold already down $21.40 to bid/ask of $959/$960, finished down . Phoney unemployment numbers raise the market. 2 yr bond yields spike up. 2/10 spread narrows as 2yr jumps much higher (Chinese effect? They have started buying shorter-term bonds, probably out of fear of our long-term reliability) than 10 year (up to 3.84% yield) and 30 year jumps to 4.64% yield. Looks like the inflation expectations are now dominating. For the first time, I hear talk of the Fed being expected to increase interest rates as early as September of this year.
Henry Hub open $3.750, high $3.935, last trade +.058 to $3.868 on total volume of 135,773 at 12:34 P.M.
New stuff added at end and marked with 6/5 date
SUMMARY UPDATE Wednesday, 6/3: Well, a good thing I noticed those gaps. After I had already decided to be a little more cautious about entry, Wednesday started normally and then trended down severely. I guess that CSU predicting milder-than-normal hurricane season, the futures closing lower at Henry Hub (chart of 6/2 closing added after 200 day chart), dollar strengthening, all commodities, and oil specifically taking big drops (oil -$2.86 to $66.69 at 13:18), all the major indexes off by 1% or more, ... even gold off more than 2%, caused all this. NG is down $0.35 to $3.76 - well down from the $4.24 it had attained.
At the end of the day, here was what was going on. Dollar index strengthened, all commodity-related classes tanked (gold down 2+%, oil down 2.44 to $66+, copper down, etc.). DOW, S&P500, NASDAQ all down.

I wonder if the treasury secretary worked out a deal while in China to tank basic materials they want to buy if they keep buying our junk bonds.

UNG closed at $14.32, down $1.31 on high/rising volume. At one point it dipped as low as $14.00. Total volume was 49.49MM shares and no really exceptional high-volume periods were seen - trade volumes seemed normally distributed although volume throughout the day was up, matching the volumes seen 5/28 and 5/29.

Oil reports indicated much higher quantities in storage (build up 1.5MM bbls) than expected (draw-down much less than expected - no demand) dragging the whole energy sector down.

According to Bill Perkins, an energy trader based in Houston, in after-market comments, he says NG storage is "near overflowing" and he's shorting NG. He sees no near/intermediate-term catalysts to reverse the trend.

Combined with all the judgments I've been able to make so far, I see UNG dropping below $13 again, and it shouldn't take too long either.
YOW! Henry Hub prices settled at 3.766 at 14:13 today, down -0.354. This was on volume of 89186 contracts.
SUMMARY UPDATE Tuesday, 6/2/2009: When I took a look at a 5 minute 5 day chart of UNG this morning, something jumped out at me that I had failed to notice. Friday's open was a big gap up from Thursday's close - from Thursday's close at $14.90 Friday opened at $15.41, a $0.51 gap. However, it acted a lot like an exhaustion gap (relatively low volumes and prices flat to slightly down near the end of Thurday's trading) and it had filled the gap by 12:20 and the rest of Friday it trailed off, finally closing at $14.60.
On the other hand, there was also a gap opening on Monday 6/1. Friday had closed at $14.60 and Monday's open was $15.38. But this one looks more like a breakaway gap. There was rising volume and prices near the end of Friday's trading and Monday traded trending down only slightly until it hit its low of $15.18 at 12:55. From there onward, the trend was up and no attempt to fill the gap appeared.
SUMMARY UPDATE Monday, 6/1: I've added a 200 day chart (the third one) so that if anyone stumbles across this they can judge for themselves.
There was another spike up. Volume was again good and there were a couple of nice spikes again, but the spike's volume was about 1/2 of what was seen Thursday 5/29. I think this is good - maybe stuff is a little more stable from here forward.
A big item was that what I think was resistance of $15.50 was soundly broken with a close at $15.96. Further, RSI, MFI and A/D have turned bullish (slightly for now) on good volume and stochastics are positive. MACD appears ready to make a cross to the up side.
However, the last 20 minutes of the day had falling prices on increasing volume. It would not surprise me to see another exhaustion gap-down open Tuesday.
If there is not a gap down, and the early trends stay moderately flat-to-up on good volume, I expect that another run up to the $17.50 level may occur (or higher if the uptrend in energy continues and the dollar continues to weaken). If the up-trend holds tomorrow, Tuesday June 2, I'll get in in the morning with some trailing stops in case I'm wrong.
Another significant point is the NYMEX Henry Hub futures showing some increase in July, and other months', futures prices. The July price made $4.249 on volume of 103934. The previous day's close (5/29) was $3.835 on volume of 142531.
The following few months show increasing prices, lower incremental steps, at lowering volumes until the October contract. Then there is a nice incremental increase, but still with weak volume.
My feeling is that either someone knows something or is getting ahead of the curve. But since I really know very little about all this yet, I don't put a lot of faith in my assessment.
Time will fix that, maybe.
ORIGINAL SUMMARY
In a couple of posts on Seeking Alpha over the last few days, a few folks had mentioned natural gas and UNG specifically. I had recently been following UNG, so I posted responses about what I had seen. Below are a few charts that will give visual representation to what I described in this comment in an article -  Hugoton Royalty Trust: A Stock for the Natural Gas Contrarian by Kurt Wulff.
On Thursday 5/28 there were a couple of unusual spikes up that carried the stock price from an opening of $13.73 to close the day at $14.90. The only factors of note were that energy was beginning to run up, due to weakening dollar I think, and natural gas futures were nearing and trying to break above $4. The $4 was achieved, plus a few pennies, but then dropped back below $4 on Friday 5/29/2009. Meanwhile, there had been no change I'm aware of in the fundamentals, such as supply, demand, unusual risk from weather, etc. I later took a look at some futures contracts for July and did see some activity there that might be related. Unfortunately, I'm too new at this to know if there is a direct correlation.
With all of this occurring below what I think is resistance, and below the 100 and 200 day SMAs, and with no change in the fundamentals, I felt that this was a "head fake" and decided to be cautious.
DISCUSSION: The first thing of note is the activity I saw on Thursday 5/28. This caused some to determine that the price of UNG was on an uptrend. Notice the two big spikes at 10:30 and 11:00. From these spikes, the trend stayed up.
Click on the chart to enlarge it.
From an open of $13.73, there wasn't much happening until 10:30. Then that spike up (1.74MM shares) hit and the price jumped as high as $13.92. From there it kept dinking up, to as high as $14.46 at 10:59. At 11:00 it spiked again to as high as $14.92 (1.44MM shares). Note that between these two spikes the volume was relatively high, while before the first spike volumes were "normal" and after the second the volume tailed off to "normal" again.
Then the activity looked more normal and UNG closed the day at $14.90.
The counter-balance to this chart came on the next trading day, Friday 5/29. Note that other than the 876K shares traded at the open, the volumes seemed normally distributed, with the next largest intra-day volume being 674K shares traded at 1:24.
From an opening at $15.41 the day trended down overall, to a low of $14.35 at 2:41 and closed the day at $14.59, down $0.89 from the open.
What is not apparent from these two charts is that the volume on the down day, Friday, slightly exceeded the volume of the up day, Thursday.
Click on the chart to enlarge it.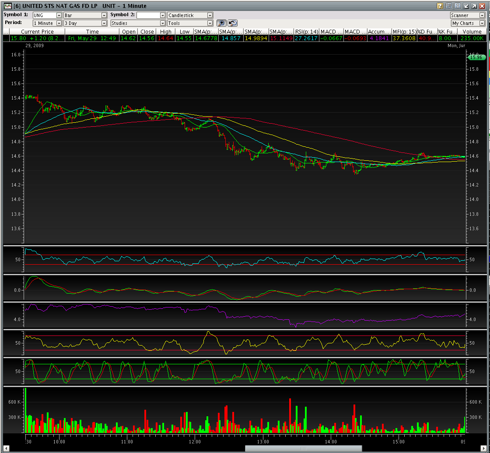 On June 1, another big rise on good volume occurred. However, with a potential gap down at the open, I'll have to watch and decide whether to get in.
Here is the 200 day chart. To my untrained eye, things appear to support a change in sentiment to bullish. Tuesday I'm going to jump on it and place some trailing stops, JIC. NOTE: below I detail some things I noticed later that changed my intentions. I guess I'm ready for Treasury: as new information became available I adjust my plans!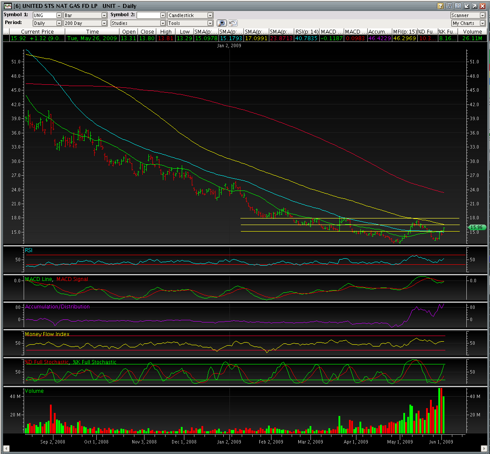 Well, I discovered a table of Henry Hub futures available on the web. Here it is, from 6/3 at 07:xx in the morning. Notice the almost $0.11 drop in the July contract price on good volume again.
Here's the same chart after NYSE close (17:20) 6/3/2009. What a bummer!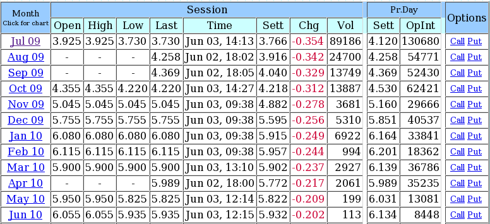 Friday, 6/5/2009 was another interesting day (see the summary at the top for details). Here I'm just going to add a daily chart, an updated 200 day chart and a couple of reminders.
6/5 volume distribution was normal except for the 1.06MM shares right at the open. Keep in mind that the dollar strengthened again today, driving commodities generally down slightly and the traders (apparently) crazy.
BTW, you should have noticed by now that "you're playing with the big boys" and they can turn this L.P on a dime. I presume that means they can also do it to the underlying, be careful about what you do!
Total volume (through 17:45 - I forgot to capture that) was 44.065MM chares. You can compare to other days on the 200 day chart following. The daily range was $14.06-$14.96. That's a pretty decent range, probably an effect of the uncertainty with the dollar and inventory builds whipping the traders' thoughts around.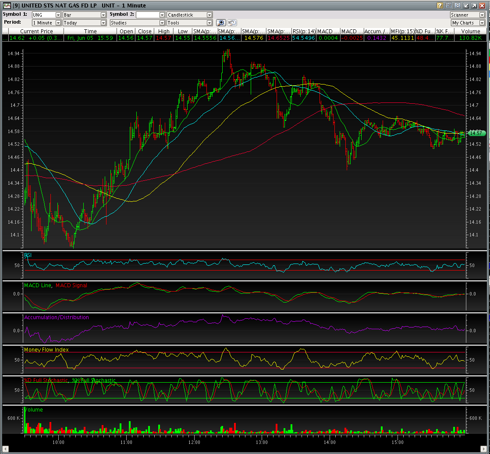 The 200 day chart below, end of 6/5, would make me think we've entered a trading range if I didn't know how the dollar index was whipping us around. I think a catalyst will be needed to make any kind of big trend change. No catalyst on the horizon at this time. Until I see one, or the chart changes, I'll presume a range-bound chart and just keep an eye on it.
Do keep in mind that congress has started working on their energy bill. Details may have an effect when they get into the public domain.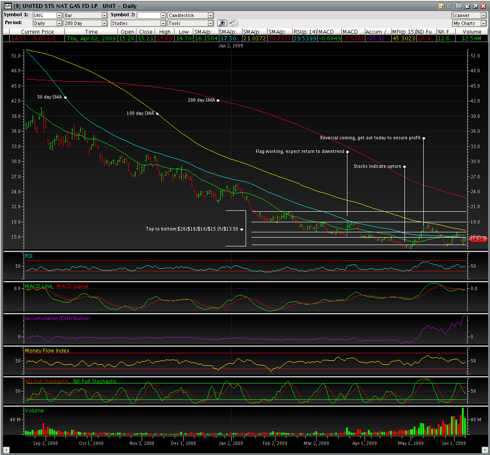 Notice that volume is still relatively high, although it's off the recent peaks of the last week or so. Notice also that it's less volume than 2 of the 3 preceding down days. A/D, if it can be believed, says a lot of accumulation is going on. But note that RSI/MFI and MACD are neutral and the MACD has crossed below the signal line. Stochastics are now reflecting the recent downtrend, but with what's going on, we'll need to be quite cautious.
If I had to guess, I suspect we are temporarily in a trading range of $13.50-$16.00. However, it may now have resistance at $15. Since volume has been good, we could give it some weight. But we need to see what happens when the dollar stabilizes a bit.
Tuesday, 6/9: looks like some kind of a break-out-of-range is nearing. The volume has been trending much higher since 4/23.
With a near-term weak downtrend in place, the 200 day chart shows a Hamarai Cross (dojo). Definite price struggle going on. With the high volume, that says price really wants to rise, but because I think there is some manipulation going on here, I'm betting on a gap-down open, based on past chart activity. We'll see.
Here's today's (6/9) 1 day chart.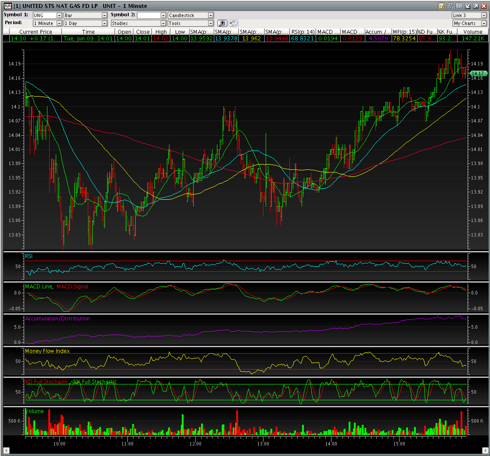 Since 4/23/2009 there has been a general trend of increasing volume - really huge volumes now. The tendency has been that a high-volume up day is followed by a higher volume down day, sometimes two down days of lower individual but aggregate higher volume. Some really big money is playing here. Here's the 200 day chart. Taken in the morning of 6/10, ignore the last mark - no trading yet.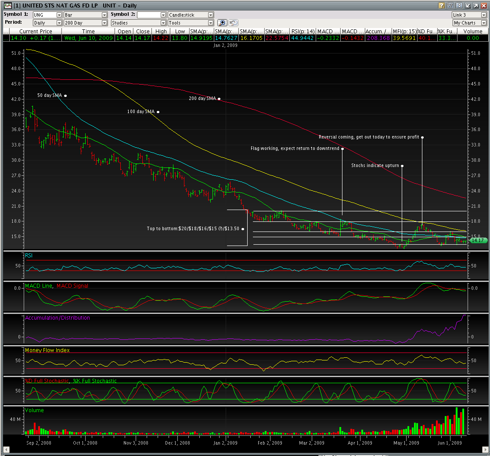 It's important to note that the last two days are almost dojos and 6/9 makes a "hammer". This should indicate buyers outweigh the sellers and keep driving the price towards the upside. With strong volume, this is significant indication of a reversal to the upside.
RSI/MFI slightly weak, 44.95/37.75. MACD still slightly negative and below signal. Trades are below all SMAs and the 20 day tipped down and is near the 50 day SMA. The stochastic %K/%D gap is narrowing and flattening (expected since we've observed two consecutive days of narrow range with open/close within a few pennies of each other, almost a dojo) - MAY BE A BREAK OUT-OF-BAND TO THE UPSIDE COMING.
A/D still strongly positive.
What's it all mean? Well the trading range is nearing that $13.50 support and looks like it is going ...? This will not be technically driven, but sentiment-driven.
With dollar weakening, commodities generally (and oil and gold specifically) trending higher and UNG price nearing support I think it will break up in the next day or two, mostly dragged higher by sentiment (mostly about oil/energy, not fundamentals). If so, we have upside to at least $15 before the nearest resistance. But based on what's happened recently, I believe we'll have one more high-volume down day that will bounce off $13.50 again.
If it does not happen - it either penetrates $13.50, goes higher or we see weaker volume - reevaluate.
If it happens, enter for a short-term trade, expecting upside to at least $15.00. With the downside risk to only $12.80 (let's call it $12.50) and next resistance at $15.00 (which I expect it will blow through towards the $17.50-$1800 resistance) this trade can be made safely with trailing stops of: $1.50 to avoid stop-out on largest recent one-day range (that 5/28 day); $1.00 to avoid stop-out of "normal" one-day range.
Keep in mind that right at the open each morning is a large trade that tends to move the price. But it's only a few pennies and is not a reliable indicator of direction. One needs to wait a little and see what the trend is, usually that general trend for the day is determined reliably by 10:30-10:45. But again, big money plays here, so be careful.
6/11/2009 Update: Dollar continuing to slide (cash -$0.919 and June contract -$0.91) and EIA reported. Henry Hub NG front-month +$0.225 to $3.933 and Aug->Oct all improved about $0.25 as well. But still only $5 for November. UNG spiked big, nearing my $15.50 resistance, and then settled back closing at $14.29, +$0.75. LARGEST VOLUME ON THE 200 DAY CHART - 96.39MM SHARES!
A potentially large reason for some activity: job loss onky 601K this period, down some 33K from the comparable previous report. Not only fear would be ameliorated, but optimism about future economic recovery might be increased. I wish I actually believed government was giving us the truth. Since unemployment is 9.4%
First, the $ chart. The change is pretty dramatic. Odd that gold just muddled ($955.40, +$0.70) around while oil went to $72.38, +$1.05. All but two of the basic materials sectors showed decent gains, so I guess only gold and such "frittered" the day away.

As a side note, the bond auction had good coverage and large indirect bid interest. It finished high, but then the market settled back at 3.86/4.70% yield for the 10/30 year bonds. Still high, but not the highs recently seen (yesterday 4% was touched by the 10 year). It looks like risk/inflation fear has temporarily moderated. This may indicate one of the reasons we saw good gains in NG/UNG and "flat" in gold.
The EIA today reported an injection of 106 Bcf. Expected injection was 106-111 Bcf. Then Marketwatch.com published a bullish article on NG, based on the contango. With Joe Bastardi (Accuweather.com) predicting a milder summer, this contango may not hold up more than a few weeks. I've not found a good fall/winter forecast yet.
Another possible "catalyst", CNBC guest, President of Cameron Hanover, Peter Beutel commented this morning on oil and gas.
He is predicting oil will eventually (late this year, early next?) return to a $40 or so level and feels NG is a better investment. He stated that the normal ratio, this century, is 8.5:1 (in the video, but not in the text on the web site) and says the ratio has been out of whack for some time and is expecting a return to that normal.

Question: I've been using 18:1, which I've seen used many times. Which is correct?
Here www.cxoadvisory.com/bl... one poster was using 6:1.
Here seekingalpha.com/artic... it says the normal is 10:1. I've also seen 14:1. But it seems that the 18:1 I've been using is a near-term phenomenon. Maybe it is now valid because of the over-supply of NG and the perceived shortage of oil?

Anyway, Peter Beutel expects the gain in NG to be over 5-6 years. Would folks jump on this for a 5-6 year potential unquantified gain? Would folks really be buying UNG (as a proxy), with it's 100% roll-forward, and fees every month eating profits, this early? Must be some ancillary plays that pay better over that timespan.
A new thought that occurred to me was short interest. Here, shortsqueeze.com/short... was a small piece of data I'm not sure is useful. Only .1 days to cover.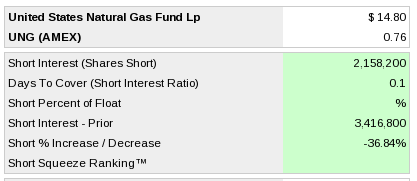 How much all that combined was responsible for a really nice surge in UNG price in early trading, I can't guess. The only thing I can say right now is that I had expected an up day, but the range displayed surprised me. NYMEX Henry Hub NG at 14:00 was at $3.908, a nice +$0.20 bump ($3.95 at 14:30) and closed at $3.933, +$0.225.
Here's the NG chart for the end of the day.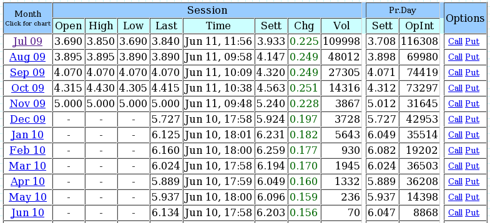 Going with the flow, at 13:44, UNG peaked at $15.33 (I wish I was a day-trader today, $1.29/share would be a nice rake-off from a $14 and pennies one-day investment). It started trending down from there, zig-zagging its way towards final close at $14.79. Her's today's chart. We may be nearing an inflection point. So I want to capture this one and really think about it.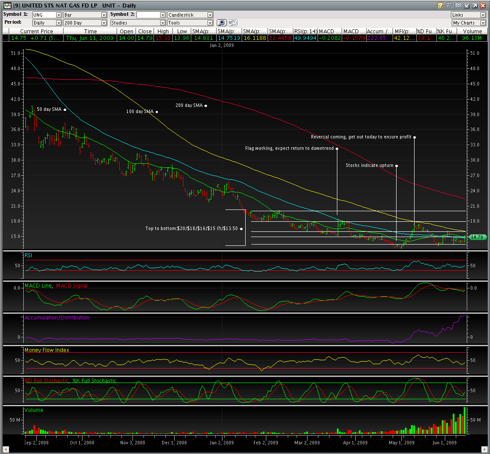 Take note of the huge volume today, 96.38MM shares. YOU REALLY DON'T WANT TO BE ON THE WRONG SIDE OF THIS!
Note the two up-days in a row on June 4 and 5. That also started on a dramatic change from the even-then-climbing volumes that preceded. Then we fell into up/down/up/ ... as the most common scenario.
Does this mean sentiment has changed and NG is now on a run? Many of the producers rallied today as well. But I don't easily buy UNG's move until I see it break above what I think is resistance at $15.50 or so for a couple days, the economy's fundamentals improve, supply begins to reduce substantially for a time, etc.

Right now, I'm just looking at today's action as another cycle we've observed on high-volume days. So tomorrow I expect we'll be able to see the trend by 10:45 or so. For now, I'm thinking a possible repeat of what began 5/28 and it may follow that trend. If so, tomorrow higher, Monday down, etc.
THE BIG QUESTION: Am I just staying married to my position? Has something fundamental changed that I've missed? Is the weakening of the dollar a longer-term trend (I think so) and, if so, what effect should I expect to see on NG prices (possibly via maintenance of some ratio to oil price)? I guess that the "energy content ratio" can't hold anymore as it ignores the supply/demand issues.
Saturday, 6/13 Update: As mentioned in the summary, found some item of interest. The first one, tunaman4u2's comment to "Time to Go Long Natural Gas and Short Oil?" had a statement that caught my attention.
"Its usually at its low pre inventory report... dont forget the contracts rolling soon... people dump the front month that don't want to take delivery & pile into month 2 before UNG does... So easily manipulated".
To investigate this, we need to know the futures expiration dates and a little history. Here's a part of the Nymex Henry Hub Futures Contract expiration schedule.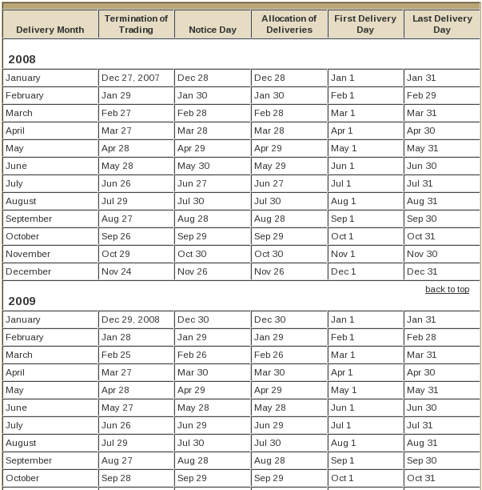 And here's an annotated UNG and DBO (for comparison) chart to see if we can spot a pattern (I'll replace it with a new one once the July trades have closed June 26.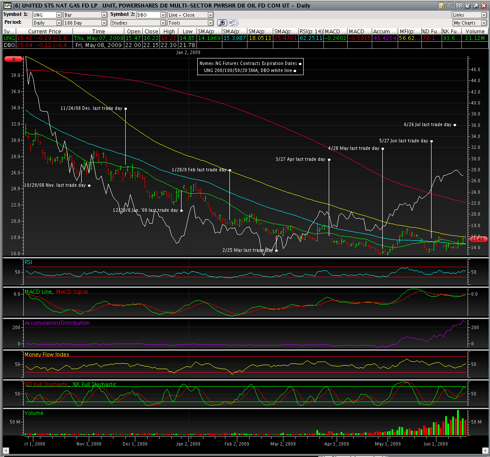 More to come - out of time for now.
The second item of interest was Woolyboogur's comment in the same article which provides some useful information about energy content vs. price of oil and NG.
More to come - out of time for now.
Monday, 6/15 Update
: The dollar continues to strengthen today (at 13:25 cash was +$1.13 to $81.27 and the front-month - June - contract was +$0.66 to $80.835) and oil, gold and most commodities weakened.
But NG defies the trend and breaks big to $4.156 by 12:40 today.
Now the questions are why and will it hold and is there a trend beginning? There is no catalyst in the fundamentals to cause this. At this time oil is at $$69.96, -$2.12, gold at $929.60 -$11.10, S&P500 at $923.34 -$22.27, and UNG at $15.58 +$0.91. By 12:50, UNG seems to have peaked and started the normal afternoon downward trend.
The empire mfg index was down today, indicating to the market that the economy is still not responding to the constant jaw-boning about "green shoots". Is this NG spike up, regardless of the above, a sign of the manipulation stated in one of the comments to an article on NG? I don't know. But here's a link to NYMEX Natural Gas Contract Dates so we can try to ferret out the truth and any pattern that may be discernible.

Another concern appeared on the Dow-Jones Newswire today about a possible shortage of shares for issuance by UNG. I'm trying to integrate just what this might mean with what I've garnered so far. Any thought will be appreciated. The article will only be available a couple of days, so I took a snapshot so we can reference it even after it goes away on-line..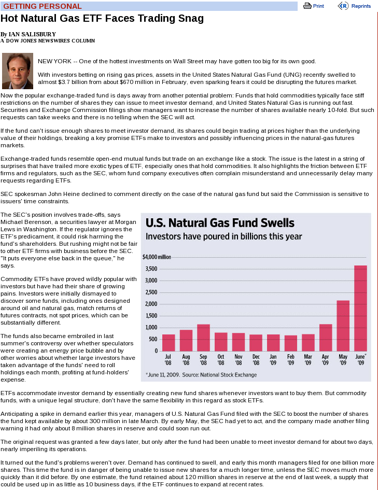 Looks like another good volume day. At 13:08 42.98MM shares had traded.
Before I forget, what's the underlying doing at 13:30? $3.857 +$0.257. Volume already approaching 97K contracts. Might as well make it easy to look things up - go to  Nymex NG Session Expanded Table.
Sunday 6/28 Update: Was just waiting for the last trading to close Friday 6/26 to see if we can spot a pattern in UNG trading that might be useful in predicting price.
Since the 6/11 post, UNG managed to go above the $15 resistance, penetrated $16 and started right back down, going below $15 again. This retreat was expected because the reducing volume of trades during this period indicated weakening support. This was also predicted by folks' comments on SA that mentioned that the price drops just before the expiration date (Friday, 6/26).
After looking at this next chart, look at the following one. It shows the dollar, the underlying NG futures and oil,
Notice in the below chart that the dollar, in the week of the 15th began to show a little strentgh, which caused oil to begin to drop. Notice that NG did not respond as if linked to the price of oil - that is as oil price began to weaken, NG futures continued to rise. UNG matched this NG movement fairly closely.
In the subsequent week the dollar lost its support and began to sag a bit and oil price showed a little revival. NG didn't care - it promptly began to see a fall in price. UNG tracked this behavior. NG and UNG continued this trend through Wednesday, the 24th, 2 days before the futures contract last trading day on Friday the 26th, breaking below $4 again. Then as the roll-forward began taking place, a little bump up to over $4 again occurred and UNG tagged along again.
One thing to consider: if the concerns about the extraordinary UNG interest are correct, it could be that UNG is driving the NG action, rather than the other way around.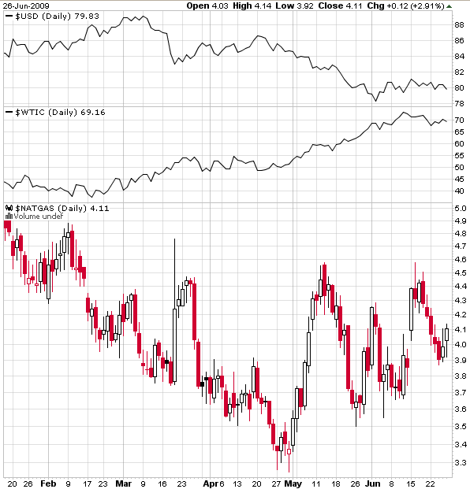 As one might expect on the last trading day for the July contract, high volume was seen in trades of the July contract. Looking back at the 6/5 notes, we see 116.3K of open interest for July and 48K for August. In the chart below, July has reduced substantially and August has popped from 70K on 6/5 to 124.3K of open interest, about +54.3K contracts. Since the July contracts fell by about 104.9K contracts, what happened to the other 50.6K contracts? There was a mention that UNG has had to do a lot of its purchases to satisfy new positions via swaps (if I recall correctly). I don't know what this implies, as I'm completely ignorant about all this. Maybe this accounts for the difference?
I don't know if the following is a reasonable thought, but ...
Because we've seen reducing volume in UNG, is it possible that positions are being closed and UNG does not need to own as many contracts to satisfy positions? I don't know the mechanicals of this. Does UNG buy back UNG positions in the open market (maybe to maintain liquidity or something)? Since they open positions to meet demand, it seems they must have some mechanism to close positions. This seems a reasonable thing to do so that owners can get in and out as desired and not be stuck with dead positions. UNG could also profit in this because positions sold when NG contracts were at one price could be closed when those contracts were at a different price. An arbitrage between the price differences between the sold and bought positions for UNG and differences in the futures price at times of opening and closing could yield a profit. Since I know of no requirement that positions in the underlying must be effected at the same instant that UNG positions are effected, this seems reasonable.
This is all pure speculation by me, as I really have no inkling of how all this works.
I was surprised that the July volume was so much smaller than the August volume. This might be explained by the same thing I mention above, the need to trade in other-than-normal channels. Since the difference in volume traded on the July and August contracts is 53.5K, approximately the same as the missing change in open interest noted above, I think this is plausible.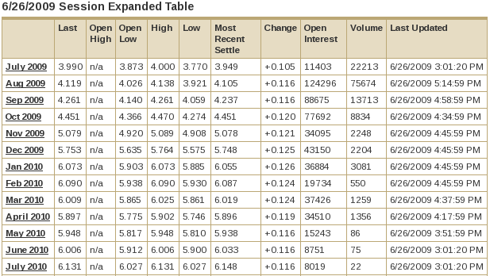 The chart below is just for us to look at later and see if we can identify any fairly reliable pattern in UNG as it approaches and passes futures expiration dates. As noted previously, we have seen a pattern (excluding the May expiration) of an intra-day low, 2 to 3 days after expiration, that is lower than the intra-day low on expiration day. Our interest is really in what happens, generally, in the periods leading and following the expiration date.
I'll come back and consider this later.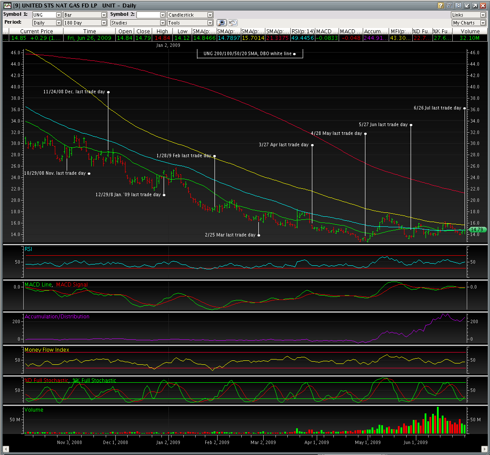 HardToLove