According to status.salesforce.com, there's currently a large-scale outage affecting portions of Salesforce's SaaS platform that has not been resolved as of 3:15 PM ET.  CRM stock is down 2.65% to $154.30 as of that time.
The Salesforce Technology team is investigating an issue impacting Salesforce customers who use Pardot, or have used Pardot in the past. The deployment of a database script resulted in granting users broader data access than intended. To protect our customers, we have blocked access to all instances that contain impacted customers until we can complete the removal of the inadvertent permissions in the impacted customer orgs. As a result, customers who were not impacted may experience service disruption. In parallel, we are working to restore the original permissions as quickly as possible. Customers should continue to check Trust for updates.
The following are some curated tweets illustrating why the outage may be more severe than other recent outages.  There is currently a lack of coverage in the broader media.
https://twitter.com/ifeellikemacmac/status/1129453035799711746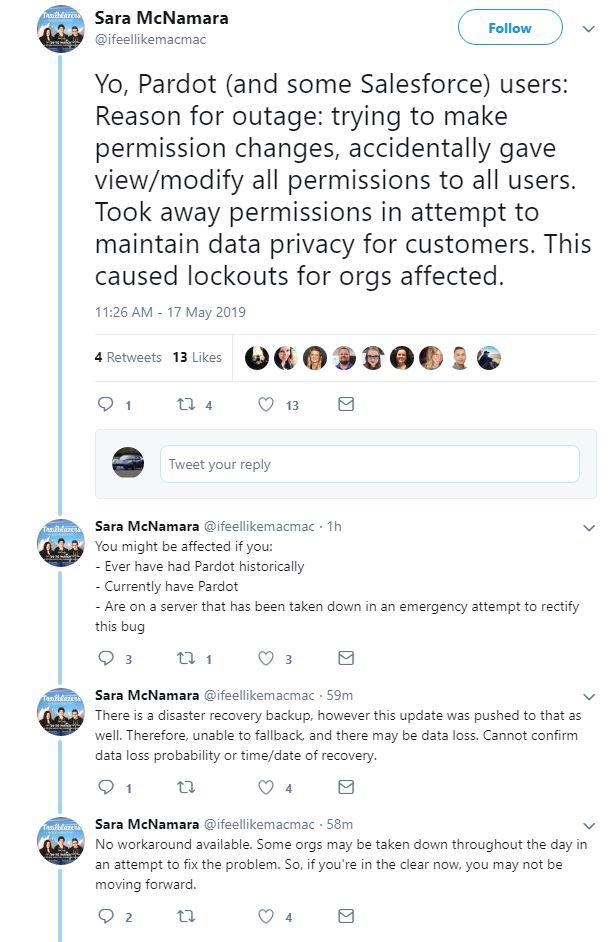 https://twitter.com/BSMike/status/1129457006279045121

https://twitter.com/OlsonAH82/status/1129417546762018821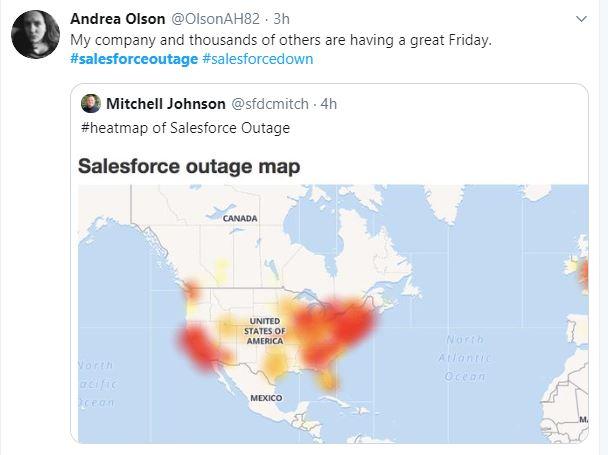 List of potentially affected instances (source: status.salesforce.com):
NA42, NA44, NA51, NA33, CS21, CS25, CS26, CS30, CS50, CS51, CS53, CS60, CS13, NA63, CS12, CS23, CS52, CS54, CS59, CS138, CS99, NA146, NA92, NA56, NA50, NA57, NA49, CS97, CS93, CS79, CS78, CS67, CS66, CS47, NA58, CS18, CS64, CS65, CS77, CS98, CS11, CS10, CS9, NA32, NA68, NA62, NA37, CS70, CS71, CS90, CS20, CS19, NA77, NA72, NA65, NA46, NA66, CS84, CS85, EU7, CS91, CS61, CS62, CS63, CS68, CS69, NA155, NA196, NA99, CS17, CS16, CS15, CS14, NA87, NA86, NA78, NA74, NA73, EU8, EU9, EU12, EU13, EU14, EU15, CS7, NA39, NA40, NA76, NA88, NA45, NA47, NA52, NA53, NA54, NA59, NA60, NA61, NA64, NA67, NA79, CS8, CS94, CS95, CS96
Disclosure: I/we have no positions in any stocks mentioned, but may initiate a short position in CRM over the next 72 hours.