Right time for an IPO at first?
Elevate Credit have put forth (again) their IPO up in the air earlier in this week. Everybody know that the overall feeling is positive in the equity market in the US after the election results. So, no question on why Elevate tries again for going public at this juncture. I think this is very right time for the fintech company to float their shares up for sale.
Last year, in 2016, as well Elevate had tried to make the IPO happen but unfortunately it didn't happen due to cumbersome market conditions then. Even the pricing also seems sensible to me. They aim at $12-14 per share (Enova's closing price on March 30 was $14.75). Elevate's aim of raising about $100million+ in this IPO is not an impossible or an exaggerated task for the company. This is completely in-line with other companies in this space. You can take an example of Enova, a competitor to Elevate, where it's trading at around $15 a share. Their price keeps increasing in last few months. So, I would say this is the right time and missing out this market condition would not be a good thing for Elevate.
Why for an IPO now?
Let's look at Elevate's IPO offering. We know that pricing makes sense and no comments on that. They aim for diluting about 8million common shares to raise about $92-108million with a price range of $12-14 per share. I think one of the reasons that the company goes for an IPO is to raise some funds to pay-back their debts outstanding with Victory Park Capital (VPC) as some parts of that facility is maturing in January 2018. So, they need funds to avoid any non-payment case with VPC.
If you look at their debts outstanding, it's around $500million as at Dec 31, 2016, a huge amount for a private company.
Elevate has mentioned in the IPO filing about what they will do with the funds:
"We will use approximately $86 million of the net proceeds to pay down or pay off the ELCS Sub-debt Term Note, the 4th Tranche Term Note and the UK Term Note outstanding under the VPC Facility and the remainder, if any, for general corporate purposes, including to fund a portion of the loans made to our customers..".

The debt maturity dates are:

So, the main reason seems to be the case what we discussed above. Unless Elevate find some funding now, they might face the notes default issue in January next year. Thanks to the prevailing market conditions that support stocks to grow!
How Elevate compares with Enova
If we want to do a comparative analysis with one of the market leading companies (in this case, Enova), it looks that Elevate spends more than Enova, but I think that could be smoothen out in coming years. At this stage (Elevate launched all its existing brands only in 2013), Elevate seems to be a performing company when you look at Enova simultaneously. Though Elevate is making losses, I think it can be stabilized over years and believe this is normal in this industry and at this sort of early stage of companies.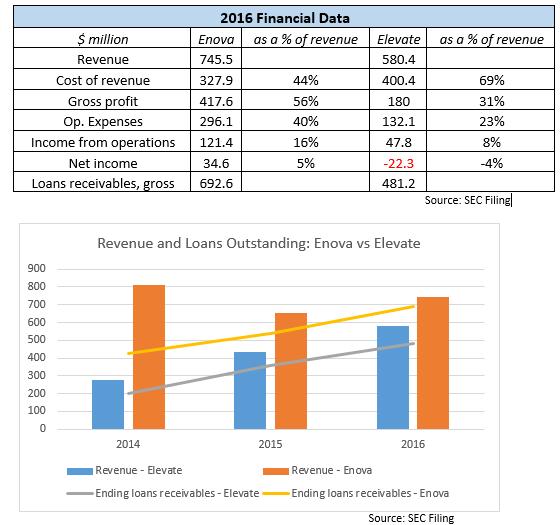 My take on IPO
I think Elevate seems to be on a growth path (though their costs are higher) and might turn positive soon on their income. Looks to fit for an IPO with these amazing numbers!