Remittances - Unsung Capital Flows to Frontier Markets
When people think about money flowing into frontier markets (NYSEARCA:FM) and developing countries, the first things that spring to mind are usually foreign direct investment (NYSE:FDI) and foreign aid. Remittances, however, receive very little attention despite their monumental size. The world has approximately 232 million foreign workers who remitted US $401 billion in 2011. Remittance flows are expected to grow at 8.8% annually for the next two years to reach US $515 billion by 2015. Though these sums of money are staggering, the real value of remittances still remains drastically under reported as 25-50% of those who report sending sums of money home did so person-to-person rather than through formal channels such as banks or money transfer companies. The importance of this is drastically underemphasized even as international agencies such as the World Bank and IMF have begun to take the level of remittances into consideration when calculating sovereign creditworthiness in some countries (including Vietnam).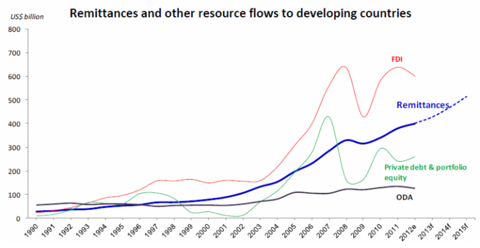 Sources: World Development Indicators and World Bank Development Prospects Group
Increases in remittances sent to Pakistan and Bangladesh in recent years have pushed South Asia to become the largest regional recipient in the world, growing 12.3% to US $109 billion in 2012. Pakistan, Bangladesh, and Vietnam all receive at least US $1 billion per month in remittances and this will continue to increase. Private foreign workers from Bangladesh, Pakistan, Nepal, and Sri Lanka send home more money collectively each year than each of their countries hold in foreign reserves. Furthermore, the vast sums of money being transferred will continue to bolster the overall balance of payments in these markets as well as support the local currencies. Looking forward, the AFC universe is likely to see remittance growth continue in the future as the skilled foreign workers who are currently abroad begin to earn higher salaries as the result of human capital investment in previous generations. Tens of millions of increasingly educated, tech-savvy young persons are poised to enter the workforce in the coming years with skills that will be desired at the competitive wages they demand.
Some frontier markets in Asia may have the potential to move towards the levels of more economically advanced remittance giants such as China and India, countries which sent home US $60 billion and US $69 billion respectively in 2012. Whilst it may be suggested that the large populations of India and China could diminish the importance of remittances in their current growth story, this does not detract from the importance of this factor in nearby frontier countries. Emerging market growth will be impacted by remittances from their own foreign workers and will benefit the frontier as the growth of wealth in these markets will see both an increased emigration by poorer neighboring countries as well as a growth destination for exports. There is in fact more migration between countries in the developing world than from developing to developed. In 2012, foreign workers in India remitted US $2.2 billion to Pakistan and US $6.6 billion to Bangladesh alone. In smaller, less-developed countries remittances do not just play a part in the growth story but are the dominant source of economic growth. In Nepal, these flows make up 25% of total GDP and as much as 48% of total GDP in other frontier countries such as Tajikistan.
The continued rise of remittances around the world depends on two factors: the continued permission of nationals to work overseas and the employment situation in the host country. North America as well as Europe have seen economic upheaval in recent years and a surge in unemployment. In times of economic despair it is frequently the case that employment nationalism rears its head to the detriment of foreign labour participants. Many overseas workers, however, are skilled laborers, as it is primarily skilled individuals who emigrate and then send money home to their families. This trend will continue to support the returns on education in developing countries, which will support future growth in domestic human capital, whilst simultaneously increasing domestic consumption and investment in the near term as these funds are spent.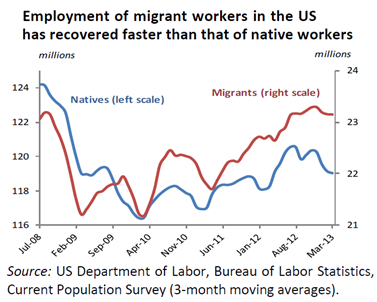 There are, however, high costs involved with sending money home in these markets and the global average of fees for remittances was 9% of the total sent. Frontier countries, such as Pakistan, recognize the importance of remittances to their continued development and some are moving to decrease the transaction costs of this process to encourage more foreign citizens to remit whilst simultaneously increasing the total amount of money that reaches its target destination. This will further boost the impact of funds that are sent home which can continue to support economic growth in frontier markets.
Disclosure: I have no positions in any stocks mentioned, and no plans to initiate any positions within the next 72 hours.