In Gas We Trust: Will Papua New Guinea's Resources Really Transform the Country?
As one of the most isolated and remote countries on earth, Papua New Guinea "PNG" has caught the eye of investors due to its substantial natural resource wealth. PNG achieved an impressive 8% GDP growth in 2012 and 6.1% growth is projected this year, thanks to the mining sector. Growth is expected to slow to 4%, however, as Exxon-Mobil's (NYSE:XOM) US $19 billion Papua New Guinea Liquefied Natural Gas (PNG LNG) project nears completion in 2014. Revenues flowing to both mining companies and the PNG government have been hit by sliding global commodity prices, highlighting why Papua New Guinea must diversify its economy to avoid the perils of its resource windfall.
PNG's political climate has become markedly more stable since Prime Minister Peter O'Neill was reelected in 2012 in a largely peaceful election. O'Neill's government has pledged to efficiently manage the country's natural resource assets and boost fiscal spending on law and order, infrastructure, and health, all of which have been severe hindrances. The economy, traditionally reliant on foreign assistance from AusAid, the IMF, and the Asian Development Bank "ADB", is gradually weaning itself off of aid, which fell from about 20% of total government revenue in 2003 to roughly 10% currently. Due to the country's large mineral deposits, Papua New Guinea has been able to tap into new sources of financing, from Chinese foreign direct investment "FDI" to exploring the market for PNG government-issued bonds. The government has used mining revenues to retire some of its public debt, which, as a percentage of GDP, has steadily declined in the last decade.
Natural resource extraction is the main driver of PNG's economy, and endowments of liquefied natural gas "LNG", copper, gold, nickel, cobalt, and silver account for over 70% of export earnings. By far the largest economic effort in the country's history, the PNG-LNG project is quickly nearing completion. Construction on the plant, facilities, and 700-km pipeline began in 2008 and production is slated to commence in 2014, although significant revenues are not expected to flow until 2015-16. PNG LNG has a production capacity of 6.9 million tons of LNG per year and it is estimated that throughout the life of the project, more than 9 trillion cubic feet of gas will be produced and sold. The four major customers of PNG LNG's gas are China Petroleum and Chemical Corporation (Sinopec) (NYSE:SNP), Osaka Gas Company Limited (OTC:OSGSY) (OTCPK:OSGSF) and The Tokyo Electric Power Company Inc. (OTCPK:TKECF) (OTCPK:TKECY).
The project has transformed PNG's economic landscape and propelled GDP growth, but also went deeply over budget, exceeding the original cost ceiling of US $15 billion by over 25%. With construction winding down as production commences, PNG LNG's contribution to the economy will decline, and the ADB has projected that the number of workers employed by the project will fall from 20,000 to 600 by the time production begins in 2014.
The flagship Exxon-Mobil PNG LNG (XOM) project is not the only project focused on liquefied natural gas in the country. InterOil (NYSE:IOC) and Talisman Energy (NYSE:TLM) are both moving forward with exploration and drilling and Papua New Guinea is estimated to have 26 trillion cubic feet of natural gas, with much of the country still unexplored.
However, Papua New Guinea's LNG sector will face increasing global competition, as Australia is developing over US $165 billion of LNG projects in its Northern region, the US is experiencing a boom in shale gas production, and China is estimated to have shale gas reserves of 21 trillion cubic meters. Despite increased competition, global demand for natural gas is projected to grow 60% by 2040, with the Asia-Pacific region becoming LNG's largest single market as powerful Asian economies such as China and India continue to industrialize and seek larger amounts of energy.
PNG's gold sector has been hit hard by recent dips in market prices. Australia's largest listed gold miner, Newcrest Mining (OTCPK:NCMGF) (OTCPK:NCMGY) Mining Company Ltd. is another major player in the sector, with interests in Hidden Valley, an open-pit gold and silver mine and extensive exploration tenements.
To try and avoid the Dutch Disease that has plagued many resource-rich nations, Papua New Guinea has revived the National Petroleum Company of PNG "NPCP", a state-owned company that will be the custodian of PNG's 16.8% stake in the ExxonMobil-led PNG LNG Project and other future gas projects. NPCP aims to be the biggest petroleum company in the Pacific while prudently managing the country's resources to ensure that resource income is fairly distributed to PNG's citizens.
Another initiative by the government to combat the resource curse is the establishment of a sovereign wealth fund "SWF" to manage the country's investments and try to ensure stable future growth. The National Superannuation Fund of Papua New Guinea "NASFUND" had approximately US $1.3 billion in assets and returned 10% interest at the end of 2012. NASFUND maintains a diverse portfolio of public and private investments in sectors such as real estate, agribusiness, and telecoms, both in PNG and overseas.
Papua New Guinea has also explored the feasibility of restructuring its mining, petroleum, and state-owned enterprise assets to move them to a new holding company, Kumul Trust, with subsidiaries to be created for mining, petroleum, and additional holdings. The Kumul Trust is modeled off of Singapore's Temasek Holdings, but the prospect of bringing NASFUND under the umbrella of the Kumul Trust has raised doubts about the government's ability to transparently manage such sizeable assets. The plan outlines that former prime ministers and government officials will be shareholders of the Kumul Trust; a major liability given the country's poor corruption and governance track record.
The mining boom has had some spillover effect in other sectors in Papua New Guinea's economy, particularly in the services, construction, and logistics sectors.
The financial services sector has quietly expanded, particularly with the introduction of rural banking, pioneered by the Bank of the South Pacific "BSP". 90% of Papua New Guinea's population remains unbanked due to the country's remote landscape and poor infrastructure. BSP Rural, a subsidiary of BSP, has tapped in to PNG's unbanked population through its network of rural branches and cash agents. Using only a tablet computer and a Wi-Fi connection, BSP Rural's team can set up a bank account in PNG's remote areas in 5 minutes and give a customer a debit card to use at an installed ATM or trade store. The mobile banking units have created thousands of new accounts in PNG's largely inaccessible hinterland and have transformed the livelihoods of farmers and villagers through advances in mobile payment and saving. Rural banking will surely be an attractive sector to watch as its reach continues to spread, and Asia Frontier Capital is invested in BSP.
In moving away from overreliance on aid and mining, private sector entrepreneurs will be crucial to assisting PNG's economic growth. One domestic pharmacy chain, which Asia Frontier Capital is invested in, has expanded to movie cinemas, supermarkets, pizza outlets, and hardware retailers to piggyback on the recent growth in PNG and the general lack of high-quality consumer goods available in the country. But despite the importance of small and medium enterprises "SMEs", the private sector remains constrained by bureaucratic business legislation, difficult access to finance, and general inefficiency.
Agriculture is a mainstay for Papua New Guinea's largely rural and remote population. 85% of PNG's labor force works in agriculture, growing cocoa, coffee, copra, palm oil, yams, and coconuts. Several international firms have established operations in PNG to develop production. New Britain Palm Oil Limited (OTC:NBPOF), dual listed on the London Stock Exchange (OTCPK:LDNXF) and the Port Moresby Stock Exchange "POMSoX", is the largest palm oil plantation and milling operator in Papua New Guinea, producing sustainable palm oil on an industrial scale. (OTC:NBPOF) recently received a partial takeover bid from Kulim Berhad (Malaysia).
PNG's electricity infrastructure is in need of major overhaul. Only 13% of the country has access to reliable mains power, and most mining companies rely entirely on independent generators. The total installed power capacity in PNG is 500 MW, nearly half of which is provided by hydropower. There are a number of planned hydropower projects that will help fill the country's energy gap, and PNG has longer-term ambitions to use its own natural gas to fuel the country's power stations, instead of importing expensive diesel.
Many mining companies active in PNG choose to list in Australia, Canada, or London, but investors keen to participate in the country's capital markets can trade stocks on the Port Moresby Stock Exchange "POMSoX", founded in 1999 through funding from the central bank, the Bank of Papua New Guinea. The POMSoX has received assistance from the Australian Stock Exchange (OTCPK:ASXFF), which helped PNG's bourse to revise its business and trading rules to incentivize local companies to list. An electronic settlement system was also introduced in 2012 to upgrade the exchange. Mining and petroleum companies account for the majority of the listings on the POMSoX, with financial services, agribusiness, retail, and aviation sectors also represented. Currently, there are only two licensed stock broking companies in PNG, Bank of South Pacific "BSP" Capital and Kina Securities.
The Bank of PNG has explored the possibility of a secondary bond market, which would allow private PNG companies to issue their own bonds and provide an alternative way to raise capital rather than launching an IPO or issuing a rights offering on the POMSoX. Currently, only government bonds are available and a secondary bond market would surely help PNG's credit rating.
As a relatively isolated country, Papua New Guinea has maintained strong relations with neighboring Australia. Australia is PNG's largest trade partner and its investment in PNG is valued at US $18.6 billion. Kevin Rudd, Australia's Prime Minister, visited PNG in July to discuss economic engagement between the two countries and ways in which Australia could assist PNG with its law and order problems. Relations between Australia and Papua New Guinea were thrust onto the global spotlight in July when Australia announced that it would send all asylum seekers to detention facilities in PNG in an effort to stem the arrival of refugees fleeing by boat to Australia. The Australia-PNG Regional Resettlement Arrangement stipulates that PNG will process applications from asylum-seekers for resettlement, and Australia will bear the cost of the program. The announcement of the policy ahead of Australia's national election has sparked fierce debate in Australia, PNG, and across the globe. Opponents of the policy have argued that PNG is an undeveloped nation with its own problems and cannot cope with an influx of refugees.
In addition to Australia, Papua New Guinea has increased trade with China. Combined imports and exports between China and PNG hit US $1.2 billion in 2011, and will grow from China's agreement to purchase 2 million tonnes of LNG per year once PNG LNG's production begins. Chinese state-owned enterprises "SOEs" have been active in PNG in infrastructure (ports, roads), mining (US $1.5 billion Ramu nickel and cobalt mine), and construction (shipbuilding, convention centers). China EXIM Bank recently announced a US $2.67 billion loan targeting infrastructure projects, which could expand to a comprehensive credit package of up to US $4.44 billion.
PNG has also developed closer ties with a handful of other nations, ratifying a double-taxation treaty with Indonesia in June that follows a similar agreement signed with New Zealand in 2012. PNG has continued to build trade and diplomatic ties with Fiji, New Zealand, Thailand, and Japan. Thai Union (OTC:TUFRF) (OTC:TUFUF), the world's largest fish processor, recently opened a tuna processing plant in PNG and Mitsubishi is planning a US $1 billion petrochemical plant for Port Moresby.
Moving forward, PNG will need to address many challenges to stay on the path of successful development. Perhaps the biggest question mark is whether PNG will be able to efficiently manage its natural resources. The country is all too familiar with the dangers that resource wealth can bring. In the late 1980's, the Panguna copper mine in Bougainville province was the largest non-aid revenue source to the PNG government, contributing 20% of GDP. The mine became the nucleus of the bloody Bougainville Civil War, in which locals took up arms against Bougainville Copper Ltd. (OTCPK:BOCOF), accusing the company of environmental degradation and unjust resource exploitation (Bougainville received roughly 0.5% of the mine's profit). The mine was forced closed in 1989 due to the threat of terrorist attacks on mine employees and Bougainville is still pushing for more autonomy from Papua New Guinea. Amazingly, (OTCPK:BOCOF) is still listed on the ASX (OTCPK:ASXFF) even though it has not been operational for 24 years. Bougainville Copper's Chairman remains optimistic that the mine may resume activities within five years, but such an outcome seems unlikely given the political uncertainty and lingering hostility from the local population towards (OTCPK:BOCOF) and the mine.
Another key measure that PNG will need to prioritize is sound macroeconomic management to prevent inflation from spiraling out of control. High fiscal spending and the sudden influx of FDI and expatriate money have led to skyrocketing costs in the country, with the Financial Times reporting that a three-bedroom house in Port Moresby rents for over US $3,300 a month, an astronomical sum in a city with a violent crime level rivaling Mogadishu, Baghdad, or Caracas.
PNG must overcome severe problems in crime, poverty, and corruption. 55% of businesses in the country employ private security guards and Port Moresby regularly ranks as one of the world's most dangerous cities. The BBC reported that an estimated one million people in PNG live in extreme poverty on less than US $50 a year, with limited access to cash income, health and education services, transport, and food security. Public services, especially in health, are woeful and 85% of the population lives in remote villages, surviving only on food they can produce themselves.
Compounding PNG's problems is it extremely underdeveloped infrastructure. Transport is slow and expensive due to the country's difficult terrain. Port Moresby is not linked by road to any of PNG's other major towns, and domestic flights are the most efficient way to move about the country, but prohibitively expensive for the majority of the population. Infrastructure improvements have been prioritized by the government, but the increase in fiscal spending may overheat the economy and lead to higher inflation.
Despite many hurdles to overcome, Papua New Guinea continues to be an intriguing investment destination. Mining exploration has only scratched the surface of the country's resource reserves and PNG's predominantly rural and remote population has just begun integrating into the economy through access to banking and slowly improving infrastructure. Asia Frontier Capital remains bullish on PNG's growth prospects and sees many opportunities for the country in the years to come.
Travel NotesPapua New Guinea: Port Moresby, Lae, and Bulolo
For this month's travel notes, our Marketing Director, Stephen Friel, recaps his travels in Papua New Guinea "PNG" with insights into the conditions businesses face on the ground in this remote island.
Perhaps eyebrows were raised when the PNG tourism board chose the slogan "Land of the Unexpected" for its international advertising campaign, but there has never been a more truly fitting description for the impression it leaves visitors. PNG has bountiful reserves of natural resources, from minerals and natural gas to rainforests (timber) and wildlife. It has become a mecca for mining and exploration companies as well as eco-tourists looking to get experience the island's natural wonders.
My first trip to PNG was in 2010 to visit some family friends, long term expatriates who had spent the past 20 years living in PNG running businesses. The plan was to fly in to the capital, Port Moresby, before heading to a historic gold mining township that rested in the mountains above Lae, the country's second biggest city.
Upon arrival in Port Moresby, I was met at the airport by one of the local expatriates who had been living in the capital for more than a decade running an auto-mechanic shop. He would act as our guide for the next few days and could hardly contain his excitement about the prospects for Port Moresby as the new liquid natural gas "LNG" project had recently gotten underway. He was particularly enthusiastic about the increase in mining company fleet vehicles that his business was taking on and the opportunity to expand the selection of machinery in his workshop. Having read about the new project in Australian newspapers, I thought his excitement was surely warranted as the Exxon-Mobil funded project is expected to double the country's GDP in coming years.
Sitting in an old 4x4, the infrastructure leading to our hotel in the center of town was fairly smooth and much more developed than I had expected. We arrived at the 5-star Lamana Hotel with a rate of US $150-250/night. Since the LNG project has gotten underway, similar rooms have crept up to US$700 or more per night. The spike in prices is attributed to increasing demand from the influx of fly-in, fly-out mining workers who have a minimum hotel standard built into their contracts. With a limited supply of quality rooms, the prices at approved hotels have skyrocketed and local operators have scrambled to get their venues up to international standards. The money from large natural resources projects will primarily be seen in Port Moresby, likely leading to higher wages and an increase in urban migration as workers move in seeking higher standards of living.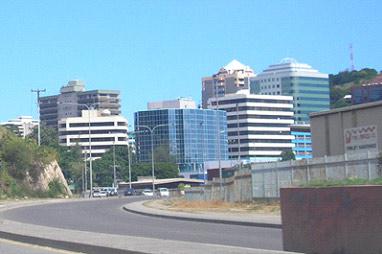 Port Moresby's downtown, with better infrastructure than I expected
After seeing some of the local sights, we moved on to Lae on the north side of the main island. Although I prefer to take in scenery from the ground when traveling, there is currently no major roadway connecting the country's four largest cities. This leaves room for infrastructure development, as most transportation is carried out by sea or air. Short on time, we hopped on an Air Niugini flight to Lae. Looking out of the window during the 45 minute flight, the seemingly endless expanse of untouched wilderness made me realize just how much room there was for the nation to grow economically as the market develops. Onboard, I also saw hints that the aircraft had previously belonged to another airline - I read a bathroom sign informing passengers that "it was illegal to smoke in the aircraft under Icelandic law".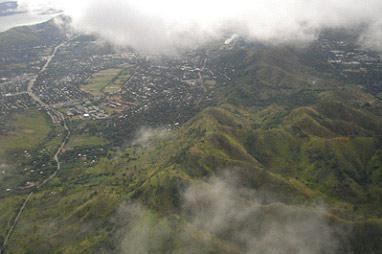 Flying over Papua New Guinea
Lae was not as busy as the capital, but the development of services to support companies and exports was quite extensive. Hotels offered crisp beer with ocean views where you could see massive trawlers and cargo ships making their calls to and from port. Trucks, materials and machinery arrived by ship to be used by local businesses to produce everything from canned fish to prefabricated homes, which were sent to be installed in expanding mine sites.
From Lae, we drove up the main road towards Bulolo, which started in the 1920s as a gold-mining town to house families of foreign workers in the days before commuting by air existed. The surrounding economy has since developed, as locally-owned industries have grown alongside the nation's largest chicken producer and numerous gold-trading businesses. The private town has only a few thousand people, but has local stores, golf, and even a branch of an Australian bank. There are also multiple grocery stores run by Chinese families who are capitalizing on the changing spending habits of the rural population as they grow wealthier.
'Tok Pisin' (Pigin English) is the national language in PNG, and most of the country's inhabitants speak it in conjunction with the 800 other native tongues. It is a phonetic blend of broken English, and even though I had never spoken or heard the language, it was possible to pick up some of what was happening with a basic grasp of English. Derived from colonial-era use of 'you fellas', 'yupela' translates to 'you', 'mipela' translates to 'me' and 'yumipela' means 'us'. 'Hamas' translates to 'how much' whilst 'nagat' means 'I don't have' or 'no' depending on the context and stemming from the rough phrase 'I no got any'. I began adapting to the unusual translation and instinctively understood when a local enquired as to how old I was, 'hamas krismas yu gat?'
The majority of PNG's population lives in rural villages built by hand with most families living without access to electricity at home. Interestingly, this has not stopped the boom in telecommunications, and it is common to see villagers making a weekly bus trip to charge their phone and pick up supplies. One of the country's largest mobile carriers, Digicel, has been turning the shifts in consumer trends into profits. The potential opportunities have even turned the heads of heavyweight investors such as George Soros, who recently put together a $9 billion bid in conjunction with Digicel to roll out a 4G mobile-phone network in one of AFC's other markets, Myanmar, where mobile penetration is estimated to be only 10%.
In the mountain ranges surrounding Bulolo, wild coffee grows in abundance and there is a thriving gold panning industry, and I hitched a ride to go on a coffee and gold buying run to one of the most remote villages on the mountain.
We roared out of town with a backpack full of cash, as the two-day walk to the nearest bank branch restricted rural dealers from accessing banking services. Buying gold and coffee collected by hundreds of villagers meant that the sums of money being exchanged sometimes reached more than ten times the annual salary of a rural worker. With few options for escape on a remote mountain track and little recourse for a misplaced bag full of unmarked currency, the pickup truck made a prime target for local criminal gangs known as 'raskals'. Chatter amongst business owners during drinks at the golf club kept track of raskal movements with incredible accuracy, as locals worked together to combat crime in their local area.
Our security detail for the trip comprised of two well respected ex-police veterans who sat on the back of the truck holding a shotgun and a rather explosive looking rifle. Locals casually jumped on and off the truck hitching a ride next to the guard station as we trundled up the mountain. The drive through the thick jungle took hours and I only knew we had arrived at our destination when the road ran out next to a crowd of locals. After formal greetings the tribe sent out their seasoned head of commodities broking to manage the price negotiations for their goods. Rather surprisingly, their agent was a 10 year old child who was selected due to his ability to speak both required languages whilst doing the math on a handheld calculator. The deal was done and money exchanged under the watchful eye of the security detail standing in the tray of the vehicle. As the containers of coffee were lifted onto the back of the truck, it became apparent how difficult life must be for rural villagers. Education opportunities were excruciatingly low due to the lack of schools and poor health was almost exclusively blamed on 'Black Magic', which had negative impacts on the quality of life
My return flight left in the afternoon from Bulolo to Port Moresby to Australia. Overall, the trip was a truly fascinating experience and led me to believe that the tourism board had been correct all along: Papua New Guinea, "the land of the unexpected"...