Mongolia Event Attendance Note And Mongolia Country Report
Please Note: Blog posts are not selected, edited or screened by Seeking Alpha editors.
Mongolia Investment Summit and Mongolia Business Forum
In November, we attended two Mongolia-themed events in Hong Kong: the Mongolia Investment Summit and the Mongolia Business Forum, which hosted the President of Mongolia.
The news coming out of Mongolia over the past year has not been great. Negative press due to the issues between the Government and Turquoise Hill Resources (TRQ) / Rio Tinto (RIO) regarding the Oyu Tolgoi project has contributed to falling foreign investment and a declining stock market.
Before delving into what we heard and saw at the events we attended, some background on the Oyu Tolgoi "OT" project should help put things in perspective. The OT project is one of world's largest copper-gold mines, with a strategic location about 80 km from the Mongolian-Chinese border. The project is majority-owned by Turquoise Hill Resources Ltd. TRQ, which controls 66% (Rio Tinto PLC is the controlling shareholder of TRQ and therefore is a party to the Oyu Tolgoi project) and the balance 34% is held by the Government of Mongolia.
Oyu Tolgoi Project Location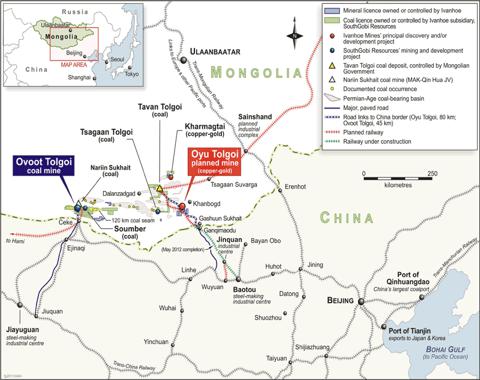 Source: Erdenes Oyu Tolgoi LLC
The OT project consists of two phases, Phase I and Phase II. The development of the first phase cost roughly US$6.2 billion (the biggest foreign investment to date in Mongolia) and consists of an open pit mine. Development is now complete, and copper concentrate shipments began in the second half of 2013. The second phase of the project consists of developing an underground mine. Development of this phase was suspended in August 2013 due to certain disagreements between the Government of Mongolia and TRQ/Rio Tinto regarding project financing. This disagreement has impacted foreign investor sentiment which has resulted in much lower foreign direct investment into the country in 2013.
In order to fund existing mine development, TRQ had taken on a US$1.8 billion interim funding facility and a US$600 million bridge facility from Rio Tinto. Both of these instruments mature on January 14, 2014. Since the project financing for Phase II cannot close until disagreements between the government and TRQ are sorted out, the upcoming repayment of US$2.4 billion will be refinanced through a rights offering, which will dilute existing shareholders if they choose not to exercise their rights.
TRQ claims in its filings that Phase II financing would require Mongolian Parliament approval, whilst government representatives have indicated that approval of Phase II financing has to be decided by the Board of OT LLC. It is possible that if these issues are not sorted out, more damage could be done to investor sentiment and Mongolia's reputation regarding foreign investment.
In light of this, most participants at the Mongolia Investment Summit and the Mongolia Business Forum were keen to learn what the outlook was for the country in light of the current OT disagreement. The highlight from both of these events was the talk by Tsakhiagiin Elbegdorj, the President of Mongolia. He was quite frank in his views that certain mistakes have been made and the government is committed to improving the business environment. Hopefully this positive tone can be seen as a sign that the investment climate can improve in 2014. The other government representatives who spoke also gave the impression that they are ready for the country to move forward. A positive sign and hopefully it will translate into action.
President of Mongolia at the Mongolia Business Forum, Hong Kong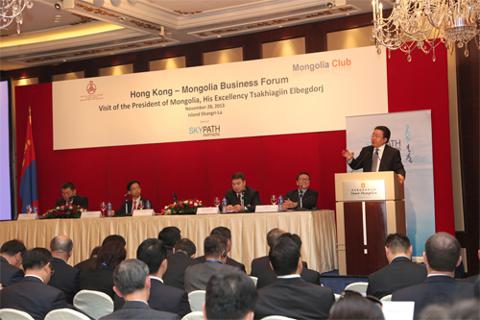 Source: www.president.mn
These positive postures and signals by the government have led to changing fortunes for the Mongolian Stock Market with the MSE Top 20 Index up about 10% since the beginning of October in US$ terms. On an YTD basis, the MSE Top 20 Index is down roughly 27.5% in US$ terms and the depreciating Mongolian Tugrik has not helped. Declining foreign investment and a widening current account deficit have led to the Tugrik depreciating by about 25% since the beginning of the year.
Though trading volumes on the Mongolian Stock Exchange have dropped in the past year and are lower than some of the other Asian frontier markets we invest in, they have picked up over the past few months with October and November having an average daily value of stocks traded at US$1.2 million and US$0.76 million respectively. This is significantly higher than earlier in the year, when average daily value traded between January-September 2013 was ~US$ 68,000.
As of November 2013, there were 262 listed companies on the exchange, of which only 88 traded during the month - which explains why volumes are still low in the market. Stocks on the MSE Top 20 Index, comprised of Mongolia's top 20 companies by market capitalization, have the highest volume and are relatively more liquid than non-Top 20 companies. The Mongolian economy and its stock market are still in the early stages of development and it will not be surprising to see further developments to the stock market in the near future.
The exchange recently signed an agreement with FTSE to adopt a global index methodology by Q2 2014 and the Revised Securities Markets Law was also recently passed. Exchange infrastructure has also been upgraded in the past year through a partnership with the London Stock Exchange, which involved implementing a new IT System.
Movement of the MSE Top 20 Index and MNT/USD Currency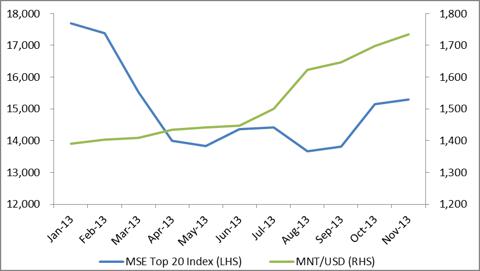 Source: Bloomberg
Leaving the OT issue aside, there was not much surprise in what the other resource-focused companies said, as most mineral exports from Mongolia make their way to China. With the Chinese economy slowing, Mongolia's GDP growth has also slowed from 17.5% in 2011 to 11.5% in the first nine months of 2013. Since the first quarter of 2013, however, growth has picked up due to agricultural output and construction. The government has made low cost funds available to finance housing and construction projects and the growth in construction activity is a reflection of this policy. As a result, we were not surprised to see a few Mongolia-focused real estate players at the Investment Summit. Not many may be aware that Mongolia also accounts for roughly 20% of global Cashmere production, and Mongolian Cashmere products are known for their high quality. The growth of the Cashmere industry has led to textile exports from Mongolia reaching US$260 million in the first ten months of 2013, a growth of 21% and accounting for 7.5% of exports.
The negative sentiment in the market due to the OT issue and slowing economic growth has provided us an opportunity to look at some good companies in the non-resource space and we have increased positions in these companies over the past month. Though the macro fundamentals of the economy may not look great due to slower exports and lower foreign investment, the new Investment Law and the OT issue being resolved will help improve these fundamentals going forward. It is a known fact that Mongolia's economy can see significant developments due to the abundant natural resources it possesses and we believe that once the dust settles over the various issues the country is going through, potential winners can emerge and our fund will look to capture those opportunities.
Mongolia Country Report
With an estimated $2 trillion of undeveloped mineral deposits and the Mongolian Stock Exchange (MSE) ranking as one of the world's best-performing bourses in 2010 and 2011, Mongolia's outlook seemed bright until a year and a half ago. Since then, investor confidence has been rattled by a dispute between Rio Tinto, developer of the $6.2 billion Oyu Tolgoi ("OT") copper and gold mine, and the Government of Mongolia ("GoM") regarding revenue shares and the previously-negotiated investment agreement for the project. OT is seen as a litmus test for overall investor confidence in Mongolia, with onlookers watching anxiously to see how the GoM will continue to deal with a vast project that is projected to transform Mongolia.
The period from Jan 2012 to July 2013 presented a score of setbacks, however. In July 2012, the GoM passed a foreign investment law that limited foreign ownership to 49% in strategic industries such as mining. In December of last year, an even more stringent minerals law was enacted that levied a 68% tax on profits from mining projects. The Government's overreaching policies towards mining and foreign ownership served to deter investors and contributed to plummeting equity prices both on the MSE and for Mongolia-related equities trading on foreign exchanges in London, Toronto, and Hong Kong.
In the first half of 2013, Mongolia's resource-centered economy was battered by the curtailment of foreign direct investment and slumping global commodity prices. In 2013, a 15% dip in the price of coal, Mongolia's largest export, led to a 47% reduction of earnings from coal exports. The Mongolian Tugrik - which has historically remained relatively stable - depreciated 15% in Q3 2013 alone, leading to the Tugrik being proclaimed the world's third worst currency in Q3 after Syria and Iran. The Mongolian Stock Exchange has suffered as a result of the recent economic turmoil, with the MSE Top-20 Index dropping 23% in the first half of 2013. Signifying the uncertainties of foreign investment in Mongolia, FDI dropped 17% in 2012 to $3.9 billion and had dropped 49% YoY as of September 2013.
But despite the impediments of the last 18 months and the abundance of negative press coverage that Mongolia has received, there have been a number of positive developments for the country's investment outlook.
Mongolia's political sphere is one bright spot for the country. On June 26, Presidential elections were held and the Democratic Party incumbent, President Tsakhiagiin Elbegdorj, was reelected with 50.2% of the popular votes. Elbegdorj's victory was cheered by foreign investors and geopolitical analysts who underlined the necessity to structure clear guidelines for dealing with the country's mineral wealth, infrastructure and environmental problems, and widespread corruption. All three Presidential candidates ran on a platform of resource nationalism, but Elbegdorj was viewed by foreign investors as taking the most moderate stance on this issue, as mentioned by AFC Frontier Fund's Fund Manager Thomas Hugger in a CNBC interview on June 26th. Mongolia's peaceful Presidential elections were a very positive sign for investors, as it is not often that one finds a functioning democracy in a resource-rich developing country.
With the reelection of the Democratic Party, Mongolian lawmakers were able to move forward with changes to the country's uncertain mining and investment regulations to improve the country's investment climate and sovereign credit rating.
In October, Mongolia passed a new foreign investment law to revive foreign investment by relaxing restrictions on investors in strategic sectors, including mining, and by providing greater clarity on the taxes they must pay. The new law removes the distinction between foreign and domestic investors, and private firms will no longer need approval from the GoM to invest in strategic sectors such as mining, telecommunications, and banking. The updated investment law also protects investors from expropriation, allows profits to be repatriated out of Mongolia, and reaffirms the right to arbitration. Additionally, the new law gives investors 5 to 22 years of stability on value added tax, corporate income tax, mining royalties, and customs duties.
The newly-enacted investment law will help address foreign investors' concerns relating to the stability of investment projects in Mongolia. Two additional events that would contribute to improved investor confidence would be the successful second funding phase of Rio Tinto's Oyu Tolgoi mine, and concrete steps towards the launch of an initial public offering for Erdenes' Tavan Tolgoi coking coal mine.
Mongolia's GDP growth has retreated in recent years, but still remains in double digits. GDP growth reached 11.5% through Q3 2013, and Mongolia's Central Bank Governor announced in November that GDP growth could reach 17% in 2014 due to renewed investor confidence and progress on the $4 billion second phase of development for the Oyu Tolgoi copper and gold mine.
Mining exports account for roughly 90% of Mongolia's GDP, and the country is susceptible to changes in commodity prices and China's economic growth - China buys over 86% of Mongolia's exports. Mongolia has been negatively affected by China's slowdown, as the Chinese economy is forecasted to suffer its lowest GDP growth rate in over two decades.
Despite China's deceleration, a number of investment agreements were signed in October between Beijing and Ulaanbaatar, including an oil exploration project in eastern Mongolia headed by PetroChina Co. Mongolia is aiming to increase its number of border trade checkpoints with China from one to four and is narrowing down its list of companies bidding to develop Mongolia's railways. Currently, Mongolia's railway tracks are 3.4 inches wider than Chinese tracks, a remnant of the Soviet era. The difference between the two countries' rail lines requires trains exporting coal from Mongolia to China to switch train cars at the Chinese border, significantly increasing the cost of railroad freight export. Proceeds from a USD-denominated $1.5 billion sovereign bond issued in November 2012, the 10-year "Chinggis Bond", are being used to finance Mongolia's New Railway, with the aim to build a 1,800-km railway by 2016. Mongolia is also looking to issue up to US $1 billion of Japanese yen-denominated sovereign debt in either 2013 or 2014, and may potentially explore the feasibility of issuing Chinese Yuan-denominated bonds to help finance expansions in Mongolia's energy and transport infrastructure as the country gears up to increase exports and production.
We believe that Mongolia's renewed stance on foreign investment and the legislative changes that have been made should contribute to improved investor confidence in the country. Mongolia remains well-positioned for fundamental long-term growth, with an estimated $2 trillion of undeveloped minerals and over $10 billion already committed to deep mining and infrastructure projects. Mongolia's small population of 3 million stands to experience major benefits from the country's projected economic growth, as existing mining projects have just scraped the surface - only 17% of Mongolia has been explored thus far for commodity deposits. This overall increase in economic welfare will support growth in consumer, building materials, and financials stocks as income levels rise. The GoM has also made progress on initiating a new program that will provide 20-year mortgages at 8% to home buyers, instead of the previous 17-20%. Additionally, Mongolia's central bank is altering its monetary policy strategy to make the economy less vulnerable to swings.
Mongolia still presents many opportunities to investors, and valuations on many stocks on the MSE are at 1-year lows and trading at substantial discounts to book value. For investors who believe in Mongolia's long-term growth potential and the steps that the country is taking to rectify its mistakes and rebuild investor confidence, now is a good time to invest in fundamentally-sound Mongolian equities at bargain prices.
Disclosure: I am long TRQ.
Additional disclosure: The AFC Asia Frontier Fund also has a long position in APU Company JSC
Seeking Alpha's Disclosure: Past performance is no guarantee of future results. No recommendation or advice is being given as to whether any investment is suitable for a particular investor. Any views or opinions expressed above may not reflect those of Seeking Alpha as a whole. Seeking Alpha is not a licensed securities dealer, broker or US investment adviser or investment bank. Our analysts are third party authors that include both professional investors and individual investors who may not be licensed or certified by any institute or regulatory body.