Pakistan Investor Day Note
We attended the Pakistan Investor Day in Hong Kong in January and it provided us with a great opportunity to meet with company management teams as well as policy makers. These are our key takeaways from the event.
When you tell someone that you are investing in Pakistan, you are usually met with surprise, given the media's general depiction of the country. This spotlight on Pakistan's shortcomings and security issues does not tell the whole story however.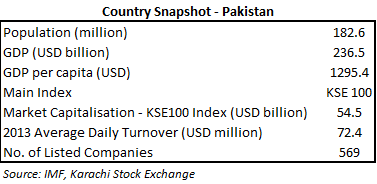 It is important to put things in perspective. Pakistan has a population of roughly 183 million, a median age of 22, and 52% of the population is between the ages of 15-49, an age linked to income generation. The country's GDP is USD 237 billion with the informal economy accounting for about 37% of GDP (as per a 2010 World Bank study). Literacy rates, though low, have improved in the past decade and are comparable to the country's peers in the region. More importantly, literacy rates in urban areas (which comprise 37% of the total population) are much higher at 75% compared to 65% in 1999. Overall literacy rates were 45% in 1999 and have now improved to 55%.
All of these statistics suggest that Pakistan cannot be ignored in terms of investment opportunities. There is a sizeable population that is getting more educated and looking to earn an income which will lead to greater consumption in the coming years. The fact that fear and negative publicity have deterred many foreign investors provides opportunities to buy companies trading at valuations which are extremely attractive!
The economy has had its fair share of problems since 2008 due to a combination of security issues, poor governance, and a shortage of power. The shortage of power has been a contributing factor for the sluggish economic growth and Pakistan has been producing well below its potential GDP. The lack of power is estimated to have knocked off 2 percentage points from 2013 real GDP growth, with power outages of 8-10 hours a day at times of peak demand.
During December 2013, for instance, the total peak demand in the country was 13,652 MW but supply was 9,580 MW, a shortfall of 4,072 MW. A combination of factors such as inefficient public sector power plants, lack of adequate gas supply, dependence on imported and high cost furnace oil, and government subsidies have led to the current power crisis. The critical factor that has caused the current power shortage crisis is the lack of gas supply, which has led power producers to use high cost furnace oil that needs to be imported. This has increased the cost of production, leading to a mismatch between revenues and cost as the government provides subsidies to energy users and creating a pile up of receivables in the energy industry. This pile up of receivables, also called 'circular debt', reached about 4% of GDP as of June 2013.
Power generation capacity has not increased in past 5 years.
Heavy dependence on high cost imported Furnace Oil to generate power


Besides the power shortage situation, the macro scenario has also not been great as foreign reserves have decreased due to lower foreign investment over the past few years. This led to a balance of payments problem in 2013 leading to the IMF providing an assistance package of USD 6.7 billion which will be disbursed in phases over 36 months.
This funding from the IMF requires the government to take various measures to reform the power sector and the economy in order to get things back on track. As a result, the current government has already increased electricity and gas tariffs for both industrial and commercial consumers. The government has also reduced the 'circular debt' in the power sector leading to an improvement in the fundamentals of companies engaged in the energy industry. Going forward, the government is also expected to pass measures to expand the tax base as well as reduce its stake in various public sector companies that it controls.
In light of the issues the country has been facing, the performance of the stock market and of the various companies tells a different story. The KSE 100 index gained 49.4% in 2013 and 49.0% in 2012, outperforming most emerging and developed markets. The key reason for this has been (1) very attractive valuations (2) healthy fundamentals of companies in spite of the country having macro issues and (3) improving sentiment due to a new business friendly government. The P/E of the KSE 100 index in 2012 was 7.6x and in 2013 was 9.5x with a dividend yield of 6.5% and 5.7% respectively. RoE's for companies in the KSE 100 index were 19.4% and 19.8% in 2012 and 2013 respectively. These numbers are hard to ignore in spite of all the noise about drone attacks and the Taliban in the media.

The bottom line is that there are companies in various industries that are performing well, are fundamentally sound, and above all are available at very attractive valuations! When you come across companies showing double digit earnings growth, free cash flow, and healthy return on equity without leverage, Pakistani companies' valuation is compelling relative to some other emerging market names. There are various companies operating in businesses such as consumer food, consumer beverage, cement, and textiles which have been performing well over the past few years. These companies have been around for more than two decades with a proven ability to conduct business in a tough environment. Furthermore, there are quarterly and annual disclosures by listed companies and getting information is not difficult. In terms of liquidity, relative to other frontier markets like Mongolia or Iraq, Pakistan's daily volumes are quite high and were USD 72 million on average in 2013.
These attractively-valued companies are the types of stocks the AFC Asia Frontier Fund has invested in and whom we met with on the Pakistan Investor Day. Currently the AFC Asia Frontier fund is invested in companies in Pakistan across sectors such as cement, consumer, financials, healthcare, utilities, and textiles. The conference had representation from companies in the banking, cement, consumer, fertilizer and oil & gas industries. The management teams that we met displayed deep knowledge of their businesses and the discussions we had were equivalent to interacting with company management teams from other emerging/frontier markets such as India or Sri Lanka. There was also representation from the Pakistan Central Bank which helped give a different perspective on the way forward for Pakistan's economy. The key takeaways for us from the conference were that (1) management teams of businesses in the cement, consumer, and oil & gas industries are positive on their outlook (2) the economy appears to be getting back on track in light of the reform measures (this seems to be reflected in the recent manufacturing industry and credit growth numbers) and (3) the security situation linked to the US pull-out from Afghanistan is something to watch out for.
Unfortunately, there was no representation from the textile industry in the conference but there have been some important developments for the Pakistan textile industry over the past few months. The country was recently granted GSP Plus status by the EU which provides for full removal of tariffs for imports into the EU. Given that Pakistan will receive this status from January 2014 onwards, industries such as the textile industry are poised to benefit as the EU accounts for 28% of textile related exports from Pakistan. There has also been news that China-based Shandong Ruyi group is expected to invest USD 2 billion in the Pakistan textile industry in order to take advantage of the EU GSP Plus status. There exist profitable textile companies in Pakistan with revenues of greater than USD 200 million and trading at P/E ratios of 2x-6x and not heavily leveraged. These valuations are at a significant discount to textile companies in most emerging markets.
Pakistan Textile Exports to Benefit from EU GSP Plus Status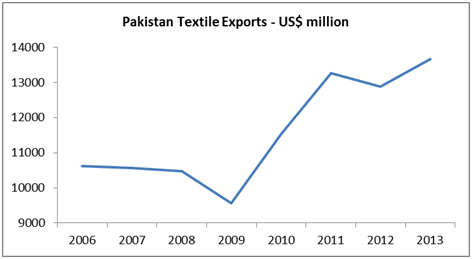 Source: Pakistan Bureau of Statistics
There is also expectation that trade with India can open up further going forward. Pakistan could possibly open up its market to more Indian products in the future and vice-versa. This could create some competitive pressure in the long run for Pakistani companies but it would also open up a big market like India for Pakistani companies.
In conclusion, Pakistan does face issues on the economic and security front, but which country in the region doesn't? With US troops expected to pull out from Afghanistan in 2014 things could get a little tense on the border, but Pakistani companies have adapted to the situation and have been surviving and growing over the past two decades. We are quite confident that though there could be setbacks at times these companies will grow and survive for the coming decades as well. The market has reached an all-time high, but valuations are still at a discount to other frontier and emerging markets. We would prefer to be selective in our stock picking and look for companies which still offer value.